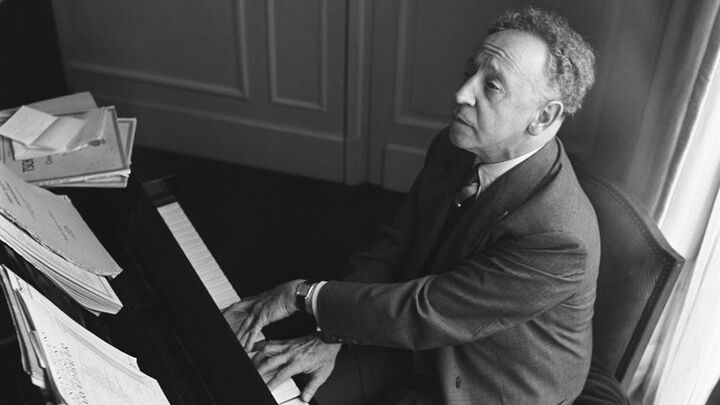 Herbert W. Armstrong Hosted Arthur Rubinstein's Tribute Performance
The 39th anniversary of an ICCY benefit concert and The Last Recital for Israel
"There are not words in the English language to describe the maestro's performance," said Herbert W. Armstrong. According to the Jan. 20, 1975, Worldwide News, "The noted pianist, who performed before a standing-room-only crowd, drew five standing ovations, and was lauded by Los Angeles music critics."
The day before the concert (Tuesday, January 14), Mr. Armstrong personally greeted the acclaimed pianist outside the Ambassador College recital hall. While in the foyer of the Loma D. Armstrong Academic Center, the two viewed and discussed a sculptured bust of famed violinist Yehudi Menuhin.
Afterward, Rubinstein spoke to an assembly of Ambassador College students with area music critics and local press attending. Prior to the concert he familiarized himself with the piano on stage and oversaw its fine tuning.
A Polish-born Jew, child prodigy, entertainer of allied troops in World War i, humanitarian and supporter of Holy Land archaeology, Rubinstein's spectacular career glittered that Wednesday evening in Pasadena, California. The invitation-only benefit was titled, Arthur Rubinstein for Israel. A special Hebrew scroll presented to Mr. Armstrong in 1971 by Jerusalem's International Cultural Center for Youth and signed by its Chairman Moshe Kol, was copied and included in the concert program.
The Worldwide News added, "Although the celebrity had complained of an aching finger the day before, he showed no signs of it as he launched into his opening piece, Beethoven's Appassionata Sonata in F Minor, Op. 57". The two-hour performance featured additional selections from Schumann, Chopin and Debussy, repeatedly bringing the 1,200-member audience to its feet with applause.
"No money was exchanged for tickets; all seats were by invitation of Ambassador College. Mr. Rubinstein performed the benefit without fee for the International Cultural Center for Youth (iccy), an Israeli charity dedicated to fostering education for international understanding among youths. Although no contributions were solicited during the evening, those wishing to aid the iccy could do so by sending their checks to the iccy in care of Ambassador College."
After the performance, as was his practice when meeting world leaders, Mr. Armstrong presented the maestro with a piece of Steuben Crystal. "The crystal depicts Moses casting down the tablets of the covenant given him on Mt. Sinai. The figure of Moses, which is fashioned of 18-Karat gold, holds a pair of tablets inscribed with the first 10 letters of the Hebrew alphabet, representing the Ten Commandments."
"You do me honor, in sharing with me in the superb Ambassador Auditorium, an evening never to be forgotten, with the great humanitarian and foremost pianist of our century, Maestro Arthur Rubinstein," wrote Mr. Armstrong in the concert program.
During construction of Ambassador Auditorium, its founder mentioned to Moshe Kol, then Israeli minister for tourism, his desire to have the the noted pianist perform. In September 1974, Mr. Kol invited Mr. Armstrong to Jerusalem for the inaugural Arthur Rubinstein International Piano Master Competition. While there Mr. Armstrong spoke with Mr. Rubinstein about performing at Ambassador College. Upon arriving back in the U.S., Mr. Armstrong was informed by Mr. Kol that Mr. Rubinstein wanted to perform at an iccy benefit hosted at the Auditorium. "It was a dream come true," Mr. Armstrong recalled.
The stellar evening was preserved and bmg Classics released it under the title, The Last Recital for Israel, available either on audio cd or video laser disc.
"Rubinstein is still much with us in audio recordings, but this video embodies his music in a presence of majestic simplicity and humanity," wrote the Los Angeles Times. "Until the encores and a final presentation from Ambassador founder Herbert W. Armstrong, the cameras stick devotedly to their subject, the shifting views and infrequent superimpositions for once thoroughly engaging the eye without alienating the ear or mind."
Today, as the successor to Ambassador Auditorium, located north of Oklahoma City in Edmond, Armstrong Auditorium is one of the country's newest performing arts halls.
Founder and chairman of its sponsoring foundation, Gerald Flurry, has followed in Mr. Armstrong's footsteps maintaining a humanitarian and archaeological bond with Israel.
Additionally, Mr. Flurry reviewed the exterior, interior and acoustical blueprints of Ambassador Auditorium to use that design as a model for construction of its $25 million successor.
Continuing the great tradition of Ambassador, pianist Menahem Pressler, founding member of the famed Beaux Arts Trio and a Holocaust survivor, will perform at Armstrong Auditorium on March 18, 2014, with the New York Chamber Soloist Orchestra. A few weeks prior, on February 27, the Haifa Symphony Orchestra of Israel will appear at Armstrong in a special gala concert with Israeli violist, Avshalom Sarid, as part of the orchestra's inaugural North American Tour. Visit ArmstrongAuditorium.org for more information.