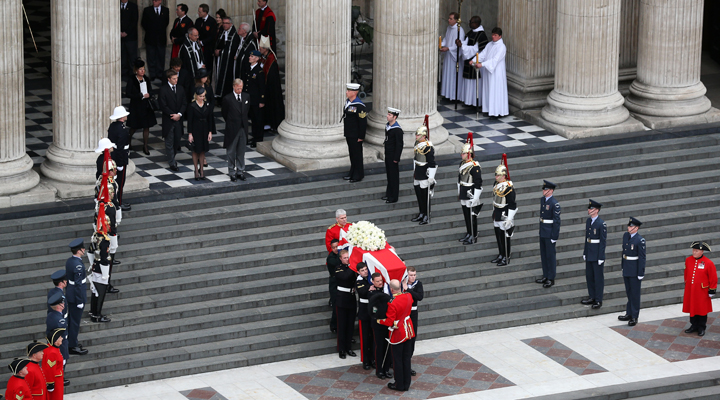 Obama Administration Snubs Thatcher Funeral
So much for America's 'special relationship' with Britain.
President Barack Obama did not send any officials from his administration to attend the funeral of former British Prime Minister Margaret Thatcher. In a briefing at the White House on Monday, the president announced that the U.S. secretaries of state of the Reagan and H.W. Bush administrations—the top U.S. diplomats during Thatcher's premiership—would attend Wednesday's funeral of Britain's "Iron Lady" instead.
The former secretaries of state George Shultz and James A. Baker iii led the presidential delegation that also included chargé d'affaires to the United Kingdom Barbara Stephenson and former ambassador to the United Kingdom Louis Susman.
Such a "distinctly low-key official representation to Lady Thatcher's funeral," as the Guardian described it, is a far cry from normal tradition. Heads of state and/or high-ranking government officials typically attend funerals of other heads of state, more so if they were allied together.
An example that puts this into perspective is the funeral of Margaret Thatcher's dear friend and colleague President Ronald Reagan in 2004. Thatcher herself attended it, and so did then British Prime Minister Tony Blair and Prince Charles.
The UK's Daily Mail wrote on Tuesday about this latest let-down in Anglo-American relations by the Obama administration:
Friends and allies of Baroness Thatcher expressed "surprise and disappointment" last night as it emerged President Obama is not planning to send any serving member of his administration to her funeral. … Though President Obama himself had not been expected to attend, there had been speculation that he would be represented either by Vice President Joe Biden or wife Michelle. However, the Obama administration had said it would not be attending Thatcher's funeral ….
The president's announcement, as the Mail noted, was made well before the bombings in Boston. So this rules out security concerns as an excuse for the snub. It also rules out that President Obama needed to stay in America to deal with the aftermath.
The Washington Post's editorial board wrote after her death that Margaret Thatcher was clearly a great leader in every sense. The Trumpet has written extensively about her outstanding principles and leadership qualities.
Attendance of government officials at her funeral is a sentimental and diplomatic way of expressing appreciation for those leadership qualities. Queen Elizabeth ii attended the funeral—the first time the British monarch has attended a former prime minister's funeral since Winston Churchill's in 1965.
The Obama administration's snub of Margaret Thatcher's funeral is another example of America distancing itself from the "special relationship" it has historically had with Britain both in good and bad times. As Trumpet columnist Joel Hilliker wrote when President Obama began his presidency by returning a bust of Churchill back to Britain, "the weakening of the relationship will only weaken both countries and make them more vulnerable to being trampled by ascendant powers."
To learn more about America's special relationship with Britain and the prophetic significance of how it's unraveling, read our article "Band of Brothers" and our book The United States and Britain in Prophecy.