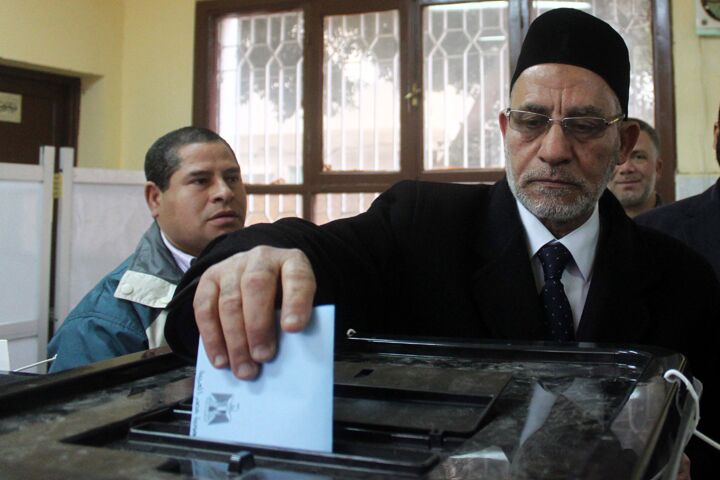 Egypt's Islamists Control Both Houses of Parliament
The world wakes up to an Islamist future for Egypt.
A Muslim Brotherhood member, Ahmed Fahmy, was elected leader of the Shura Council, the upper chamber of Egypt's parliament, on February 28, as Islamists take control of both houses of parliament.
The Brotherhood control 58 percent of the seats on the council, and 47 percent of seats in the lower house. The ultra-conservative Al-Nour has around a quarter of the seats in both houses.
Meanwhile, the rest of the world is finally starting to wake up to the fact that Egypt's future is dominated by the Muslim Brotherhood.
"If you want to influence the next government's policy, you need to talk to the Brotherhood, and you need to talk to them in depth," Reuters quotes an anonymous Western diplomat in Cairo as saying.
"The steady stream of delegations driving up the hill to the Brotherhood's new headquarters on a plateau overlooking central Cairo testifies to the fact that Western states, foreign businesses and international institutions are already courting the group as a government-in-waiting," writes Reuters. "Top U.S. diplomats and senators have been among the visitors to the new cream-colored headquarters with green shutters and an arched portico, filing through the cavernous reception where portraits of bearded Brotherhood leaders from the past hang."
The Supreme Council of the Armed Forces (scaf), Egypt's ruling military council, is responding to the change by supporting the Islamists' anti-American beliefs.
"The scaf appears unfazed by the turn of events, as if it has come to the conclusion that channeling against the hated Americans the frustration of increasingly disillusioned masses who have yet to see some positive results of the revolution is a sound political move," writes Zvi Mazrl in the Jerusalem Post. "Both the Muslim Brothers and the Salafists, who view American democracy as their most dangerous enemy, support them."
"But what happened to the much-touted friendship between American top brass and their Egyptian counterparts?" he asks. "What about a little gratitude for the considerable sums poured into Egypt to help the country's development and the modernization of its army? What about the generations of young officers who studied and trained in the U.S.?"
Despite all the money America has poured into Egypt, the nation is going down a radical Islamic path. Issam Alarian, a leading member of the Brotherhood, tried to blackmail America over the aid, saying that if it is cut, Egypt will end its peace treaty with Israel. Already America's money has become Danegeld, tribute to pay off the Islamists. Egypt is already the radical Islamist country that the Trumpet forecast it would become, years ago.