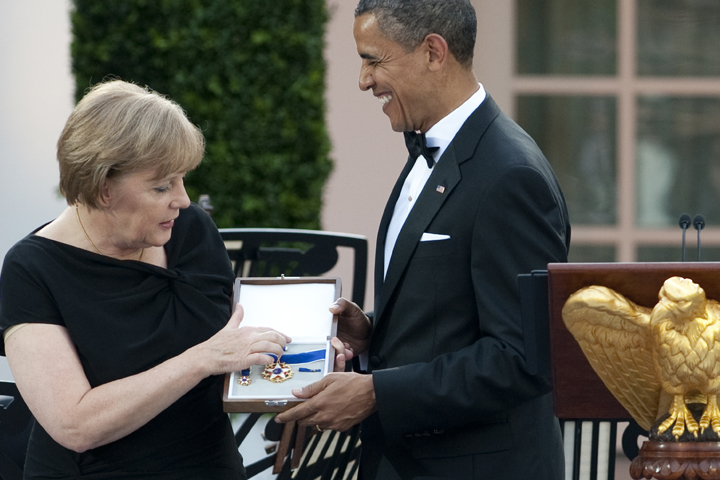 Merkel Receives America's Highest Honor
America tells Germany not to hide behind its history but to take its place in the world.
U.S. President Barack Obama awarded German Chancellor Angela Merkel the Presidential Medal of Freedom on June 7 amid America's finest pageantry, as America tries to woo Europe's most powerful nation.
"President Obama's reception of Chancellor Merkel was conspicuous for its pageantry and fanfare, especially in view of the mutual irritation the U.S. and Germany have shown for one another lately," wrote The Local.
The welcome put on by Washington shows the power Germany has within Europe. Executive director of the Transatlantic Academy, based in Washington, Stephen Szabo, said that Obama is courting Merkel to increase his influence in Europe.
"We'd love to see (EU Foreign Minister) Lady Ashton be a real leader of foreign policy, but that's not going to happen," he said. "Who do you have left? The Brits are the most reliable ally and most important militarily … but they are still kind of marginal and they don't have as much influence in Europe. The French? I don't think so. Who does that leave?"
As far as America is concerned, it is Germany that controls, leads and speaks for Europe.
The Local went on to write: "The U.S. believes it's time Germany stepped up and started acting like a regional and even a global leader—that was the subtext widely read by the German press as Merkel received the Presidential Medal of Freedom and wrapped up her two-day visit to Washington."
During the visit, Obama encouraged Germany to not hide behind its history and to instead pursue global leadership.
President Obama does not know what he is encouraging.
In 2006, we wrote: "Over the next few months and years, watch for America to increasingly become 'lovers' with Germany, foolishly looking to the greatest war-mongering nation in history for friendship, peace and safety. Fooled by rhetoric, America will lie vulnerable to German betrayal."
This is exactly what is happening. America is encouraging Germany to not be afraid to use its power. It will end in disaster for America.
For more information, see our article "Former Superpower Seeks Foreign Lovers."