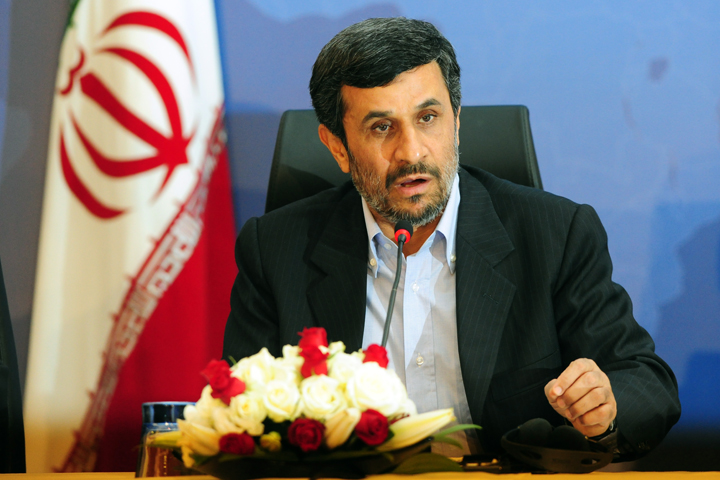 Ahmadinejad vs. Khamenei
It doesn't matter who leads Iran, its end goal is the same: global destruction.
Ayatollah Ali Khamenei is "God's representative on Earth," or so the majority of Iranian citizens and government and religious leaders believe. This belief has been repeatedly declared and widely reported particularly over the past few months—as an internal battle between President Mahmoud Ahmadinejad and the nation's double-decade spiritual leader Ali Khamenei has revealed who controls the throne of power.
The Iranian Constitution affords the president authority to appoint cabinet ministers after the approval of parliament and filtering by the 12-member Guardian Council. However, an unwritten golden rule requires all officials to be subservient to the supreme religious leader.
Ahmadinejad departed from this protocol on April 17 when he demanded Intelligence Minister Heydar Moslehi resign. Insiders and opposition politicians have surmised that the president's actions resulted from suspicions that Moslehi was spying on the president's chief of staff, Esfandiar Rahim Mashaei. Incidentally, Mashaei is apparently being groomed by the president as his possible successor, and it just so happens that Mashaei's daughter married Ahmadinejad's son. Mashaei is no stranger to controversy: As recently as July 2009 the ayatollah demanded he step down as vice president; it was then that the president appointed Mashaei as his chief of staff. Clearly the presidential resistance to the supreme clerical leadership has its beginnings going back well prior to recent events.
Touted as Iran's most controversial politician, Mashaei has made it clear by his actions that he and his supporters seek to undermine the clerics' involvement in the nation's politics. In May, a clerical court charged the president's Cultural Council head with sorcery due to his backing for a movie that declared the Twelfth Imam would soon appear on Earth. Since then, other accusations against Ahmadinejad's administration of invoking supernatural powers, sorceries and evil spirits have fueled the internal fire as storm clouds gather across the Iranian political landscape.
Reportedly Khamenei gave Ahmadinejad an ultimatum to either accept his supreme decision to reinstate the intelligence minister or else resign his presidency. In response, Ahmadinejad staged a week-and-a-half boycott of the presidential palace, refused to chair cabinet meetings and was apparently absent from religious services earlier this month at Khamenei's home. A leading cleric and past supporter of the president, Ayatollah Mesbah Yazdi, recently stated that disobedience to the supreme leader was equal to "apostasy from God."
It was only May 8 that the president was seen at a cabinet meeting with Intelligence Minister Moslehi. This result lit the national scoreboard with Khamenei 1 and Ahmadinejad 0. It sent a powerful signal to all political, military and clerical officials that Ayatollah Ali Khamenei is the unquestioned supreme leader of Iran and he does not trust Ahmadinejad.
This cooling in relations between the president and supreme leader comes after their unified front during the country's often reported "stolen" elections of 2009 when Ahmadinejad boasted the support of the ayatollah and Revolutionary Guard, both of which have now distanced themselves from the plagued political leader serving his second and final presidential term under Iranian constitutional law. The president is now seeing a swift flight of support for both himself and his administration. Iran's semi-official Mehr news agency reported that 90 of a required 175 parliamentarians had signed a petition to possibly impeach Ahmadinejad.
Although tension is certainly brewing between Ahmadinejad and Khamenei, it is unlikely to have any major effect on Iran's ultimate goal of regional dominance.
Even if Iran's leadership does change, its belligerent, provocative nature will not. In the end, biblical prophecy shows that Iran will get the fight it desires. In his August 2006 article "A Clash of Civilizations Is Imminent," our editor in chief wrote, "The Bible shows that Iran, 'the king of the south,' before achieving its ambition [of conquering Jerusalem], will be attacked by another 'king' in a spectacular clash! (Daniel 11:40-41)."
President Ahmadinejad knows his time is fast running out. His second constitutional term is up in 2013. He has repeatedly declared that the Twelfth Imam would appear at a time of worldwide turmoil. It's worthy of note that many clerics also support this viewpoint, though clearly the ayatollah is keen to make sure he—as supreme religious, political and military overlord—calls the shots from above. Watch Iran closely: Iran's leaders are looking for a clash of civilizations, and biblical prophecy shows they are going to get it!