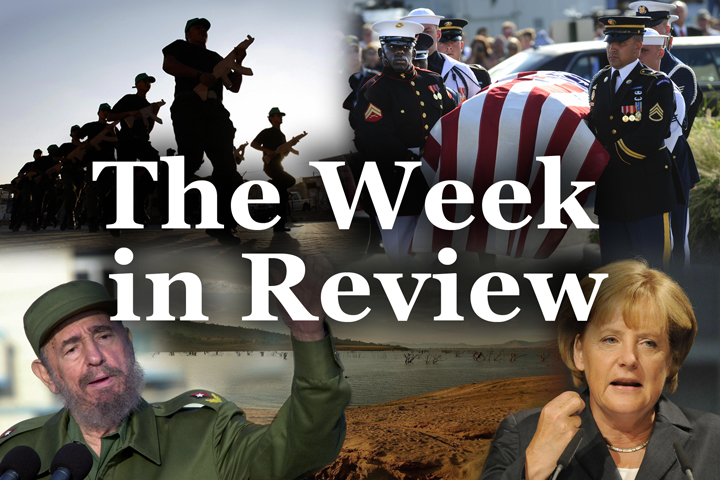 The Week in Review
Hamas youth camp; a new Iranian star in Iraq; another loss for the Kennedy dynasty
Middle East
The Obama administration has softened its hard-line stance that Israel immediately stop all settlement construction—including in East Jerusalem—as a precondition for resuming peace talks with the Palestinians. According to Haaretz, Western diplomats and Israeli officials both confirmed that U.S. envoy to the Middle East George Mitchell has dropped the U.S. demand for freezing construction in East Jerusalem. Now, however, Palestinian Authority President Mahmoud Abbas is maintaining that for peace talks to resume, there must be a total freeze of construction in Jewish settlements. The primary impasse is over Jerusalem, with neither side willing to yield. This means, regardless of any negotiations, a clash between Palestinians and Jews is inevitable.
Hamas has "educated" 100,000 children in Gaza this year at 700 summer camps, with a budget of $2 million, according to Arutz Sheva. As well as being indoctrinated with Islamic ideology, the children were given weapons and hand-to-hand combat training, as well as training on how to use explosive belts for suicide missions. Hamas launched an aggressive campaign to draw children away from the United Nations Works and Relief Association camps, which had over 200,000 in attendance. Through these camps, as well as other methods such as television, music videos and schooling, Hamas and other Islamist groups are poisoning the minds of a generation of Palestinian children to hate Israel. No amount of negotiations between Jews and Palestinians will change that.
Major Iranian-backed Shiite groups in Iraq announced a new coalition on Monday in a major realignment of Iraqi politics. The new alliance excludes Iraqi Prime Minister Nouri al-Maliki and is a strong move by Tehran to grab the reins of power in Iraq. The new Iraqi National Alliance (ina) was formed by Iran's allies in Baghdad in preparation for the country's upcoming parliamentary elections on January 16 and as a means of undermining Washington's influence in Iraq. The two main blocs in the alliance are the largest Shiite party, the Islamic Supreme Council of Iraq (isci), and the Al Sadr Trend, led by the anti-U.S. cleric Muqtada al-Sadr. Also in the coalition are smaller Shiite and also Sunni groups. By forming the new alliance on a nationalist platform, the ina is taking away Maliki's calling card of being a nationalist. If the new Shiite alliance holds, Iran will have a firm hand on the future direction of Iraqi politics.
Just two days after the new coalition was announced, Abdul Aziz al-Hakim, Iraq's most influential pro-Iranian Shiite leader, died of lung cancer. Hakim was the leader of the isci, the main driver of the new pro-Iranian coalition. His son, Ammar, is expected to take over leadership of the party. According to Stratfor, Ammar is likely to be more beholden to Iran. "[A]s Washington tries to draw down forces and increasingly relies on Maliki, Ammar likely will lead a new constellation of Shiite forces more closely aligned with Iran" (August 27).
On Sunday, Joint Chiefs of Staff Chairman Adm. Mike Mullen said that the situation in Afghanistan is "serious and deteriorating" and also expressed concern over increasing violence in Iraq. The Obama administration had hoped that increasing security in Iraq would allow a drawdown of troops so the military could then focus on Afghanistan. The situation in both countries, however, is getting worse. "Washington has been hoping to bring closure to its military engagements in the jihadist war in order to deal with other critical issues, such as the rise of Russia and the crisis with Iran. But in both Iraq and Afghanistan, to varying degrees, Washington is facing reversals: The political arrangements it has been trying to establish are threatening to break down" (Stratfor, August 24).
Europe
Germany's chancellor on Sunday reiterated her support for a memorial to Germans who had to relocate from Eastern Europe after World War ii. The Federation of Expellees, a group backed by the German government, is now moving forward with plans for a memorial in Berlin for these dispossessed. The Center Against Expulsions is to be opened by 2013. This is clearly another attempt to represent Germans as victims.
A statement from the heads of the German and Polish bishops' conferences, released as the 70th anniversary of the start of World War ii approaches, expresses the same sentiments, saying, "After the criminal war aggression of Nazi Germany and the immense wrongs inflicted on Poles by Germans and the wrongs and loss of homeland experienced by Germans due to expulsions, we repeat: 'We forgive and ask for forgiveness.'" What is at issue is the increasing tendency to portray the aggressors in a war as the victims. The crux of this trend is that victimhood in Germany is feeding an awakening of German national pride. Historically, this has had global repercussions—and biblical prophecy tells us it will again.
Asia
On August 26, the Financial Times reported that Russia is bolstering its relationship with Mongolia. Russian President Dmitry Medvedev signed a five-year contract Tuesday transferring management rights of Mongolia's railways to Russia. Until now, the railroads have been run jointly by the two countries. Russia also signed a deal to mine uranium in Mongolia. The Trumpet has often reminded our readers that Herbert W. Armstrong predicted the rise of a giant Asian superpower consisting of a modernized Russia and China tandem. Russia's building friendship with Mongolia, the "land bridge" between China and Russia, is another sign that this biblically based prophecy is being fulfilled.
On Thursday, Reuters reported that China has "called on the United States to reduce and eventually halt air and sea military surveillance close to its shores." The request follows a series of territorial disputes this year where Chinese vessels confronted U.S. surveillance ships in Asian waters, claiming that they had intruded into Chinese territory. In a special session on maritime safety between the two countries' militaries on Wednesday and Thursday, China's Defense Ministry said, "China believes the constant U.S. military air and sea surveillance and survey operations in China's exclusive economic zone had led to military confrontations between the two sides. The way to resolve China-U.S. maritime incidents is for the U.S. to change its surveillance and survey operations policies against China, decrease and eventually stop such operations." Such requests from China are coming with increasing frequency. They are another indication of China's increasing boldness as it flexes its military muscle. The speed with which China has refined and expanded its military potential has shocked many analysts, and Bible prophecies reveal that this development will build to a dramatic conclusion.
Latin America/Africa
Farmer strikes are returning to Argentina. In response to President Cristina Fernandez de Kirchner's veto of export tax relief during Argentina's drought, farmers will withhold meat and grain for a week, beginning August 28. In March 2008, strikes paralyzed transportation of food throughout Argentina, and President Kirchner is already in a precarious political position because of Argentina's rapidly failing economy.
President Obama has found an unexpected—and perhaps unwelcome—supporter for his agenda: Fidel Castro. "The extreme right hates him [President Obama] for being African-American and fights what the president does to improve the deteriorated image of that country," the former Cuban president wrote in his state newspaper column, "Reflections of Fidel," on August 25. "I don't have the slightest doubt that the racist right will do everything possible to wear him down, blocking his program to get him out of the game one way or another, at the least political cost." Whether he is the kind of support President Obama wants or not, one thing is certain: Fidel Castro knows a socialist agenda when he sees one.
Anglo-America
Conditions in Australia's most important farming region are the worst on record and are not expected to get better anytime soon. The eight-year-long drought is the worst in a century, ruining crops throughout the 410,000-square-mile Murray-Darling Basin, which is the size of France and Spain combined. The basin, which stretches through Queensland, New South Wales, Victoria and South Australia, is considered Australia's premier farming region, accounting for 40 percent of the nation's agricultural production. Lakes behind artificial dams near the Murray's delta are now below sea level; they are becoming acidic as lake bed soils turn into sulfuric acid when they are exposed to the air. Experts have detected acidity levels higher than battery acid in some of the small streams flowing into these lakes. The situation is not expected to improve. This month's drought update for the region said that river inflows were still two thirds below their long-term average.
United States Sen. Edward Kennedy, patriarch of the dynastic Kennedy family and a king of the Democratic Party, died Tuesday of brain cancer at age 77. After three days of mourning, the senator's family is anticipated to hold a Catholic funeral mass on Saturday with President Barack Obama and four former presidents in attendance. The senator's death is the most recent in a family known for sustaining what some have called a "curse" that has resulted in more than half a dozen deadly tragedies since 1944.
California's economic woes have not eased; the state will lose its last major auto plant in Fremont next March, a joint venture between Toyota and General Motors. Low sales and GM bankruptcy were cited as the reasons Toyota's board of directors decided Thursday morning to close the plant.