Happy Memorial Day. I Have a Nuclear Bomb.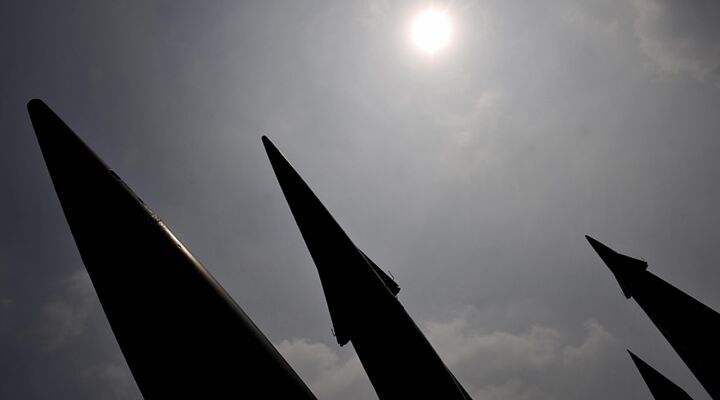 Happy Memorial Day. I Have a Nuclear Bomb.
Kim Jong Il is giving the United States a beating. It started May 25, as America honored its war dead on Memorial Day. The North Korean dictator chose that occasion to test his nation's second nuclear device, which was 20 times more powerful than its first (which, if you remember, he detonated on July 4, 2006, America's Independence Day. Kim has a thing for U.S. war-themed holidays).
Kim then announced that he would view America's efforts to stop Pyongyang's nuclear activities as a declaration of war. He threatened a "strong military strike" on South Korea and said the cease-fire with that nation—in force since 1953—no longer applies. He then proceeded to test launch six short-range missiles capable of reaching Japan. Then Pyongyang appeared to be shipping a long-range missile to a launchpad—similar to the one it illegally launched in April that could reach the U.S. West Coast.
So much for Washington's hope for a new era of international engagement. Clearly, Pyongyang doesn't want engagement. It wants nuclear weapons.
And who's to stop it? After that missile test in April, President Barack Obama issued some stern threats: "Now is the time for a strong international response," he said. "Rules must be binding. Violations must be punished. Words must mean something." To this day, the "strong international response" to that April test has yet to materialize. Words mean nothing.
After the string of provocations in May, U.S. Defense Secretary Robert Gates said, "What is now central to multilateral efforts … is to try to peacefully stop those programs before they do in fact become a 'clear and present danger.'" North Korea has tested nuclear bombs, as well as missiles that could hit the U.S., and it's not yet a "clear and present danger"? What would tip it over that edge? Secretary Gates said the U.S. would consider it a "grave threat" if Pyongyang transferred nuclear technology to other nations. That has already happened: North Korea's links with Iran's nuclear program are well documented. The nuclear site in Syria that Israel destroyed in September 2007 was running North Korean technology. How is this not yet considered a "grave threat"?
Secretary Gates believes there is time yet "to try to peacefully stop those programs." Any guesses how those efforts will fare? After its nuclear test in 2006, Pyongyang was punished with the resumption of multilateral negotiations. Today, North Korea has 6 to 12 nuclear devices. It has learned and learned again that there is absolutely nothing to fear in pursuing such weapons. In fact, Kim Jong Il appears ready to give up even the pretense of discussion. President Obama's special envoy to North Korea has made several offers to visit Pyongyang and been turned down.
What has been called "the post-American world" didn't start with President Obama. But his administration is rapidly leading the world deeper into it. The hallmarks of this world are numerous and frightening: the dangerous proliferation of weapons of mass destruction; a surge in militarism throughout Asia; the strengthening of rogue nuclear aspirants in the Middle East; and on and on. The only way that America is factoring into these trends is as a source of derision. The beating it has taken from tiny, Third World North Korea would be shocking—if it weren't something we have been warning for decades would happen, based on the scriptures explained in The United States and Britain in Prophecy.
Jesus Christ had a different name for the post-American era we are entering: "the times of the Gentiles" (Luke 21:24). He warned specifically that it would produce "great tribulation"—42 months of suffering "such as was not since the beginning of the world to this time [the end time—our day today], no, nor ever shall be" (Matthew 24:21).
Recent events in Asia should not be shrugged off. They represent a hastening toward the climactic fulfillment of Christ's prophecy.