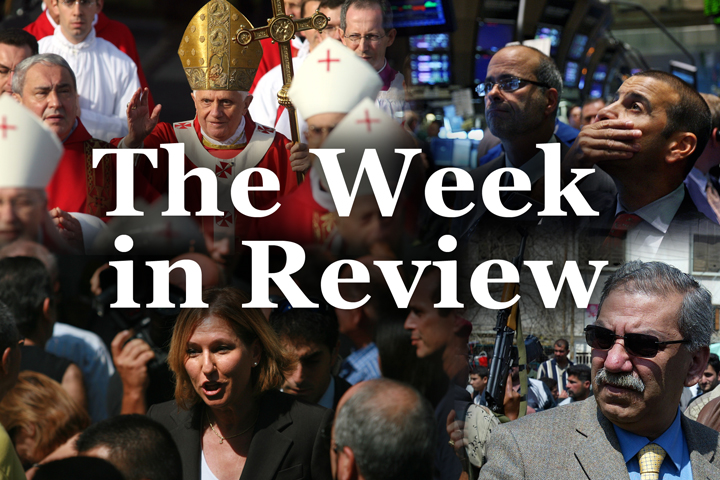 The Week in Review
Israel's government changes, Pakistan tells U.S. to keep out, and Wall Street tries to dodge apocalypse now.
Middle East
Israeli Foreign Minister Tzipi Livni is the new leader of Kadima following a narrow victory in a party leadership contest this week. Livni has now begun the process of forming a new coalition government. If she fails in that effort, there will be national elections. Recent polls indicate that if a general election was held today, Likud Chairman Benjamin Netanyahu would win.
There has been a concerning rise in Palestinian terrorism against Jews recently, according to the Israel Defense Forces (idf), in addition to a rise in Jewish disturbances. Incidents of Arab Molotov firebomb attacks and rock-throwing at Jewish-driven cars have increased over the past several days, according to IsraelNationalNews.com. Another violent incident, where a Muslim terrorist stabbed an idf soldier near Jericho on Monday, was the result of the removal of military checkpoints, according to the Almagor Terror Victims Organization. The United Nations is pressuring Israel to remove security checkpoints in order to boost Palestinian President Mahmoud Abbas's standing among Palestinians. Also this week, Palestinian terrorists in Gaza fired a rocket at Sderot on Sunday, causing a fire and one injury.
Angry members of Iraq's parliament voted September 14 to reprimand the secular Sunni chairman of Iraq's Democratic Party, Mithal al-Alusi, for visiting Israel to attend a counterterrorism summit in Herzliya earlier in the month. According to Reuters, members of the parliament said Alusi committed a crime by violating a law that had been in place during Saddam Hussein's administration. Alusi responded to the charge by telling Reuters, "The law does not allow them to do this. What they really want is to threaten any person who talks against Iran." At the summit, Alusi had said, "Iran is at the center of all the troubles in our region." Talking of America, he said, "If you leave Iraq, Iran will take your place."
Tensions between the United States and Pakistan over how to fight the Taliban are reaching a crisis point. The U.S. is carrying out unilateral strikes against the Taliban in Pakistan as the insurgency in Afghanistan intensifies. Pakistan hosts Taliban training camps and lines of supply to terrorists in Afghanistan. The Pakistani government is finding it difficult to stay on the tightrope between cooperating with the U.S. and maintaining public support among a population sympathetic to the Taliban. While Pakistan's government, under pressure from Washington, has increased its own operations in the tribal border areas of Pakistan, it has lashed out against incursions by U.S. troops, with a military spokesman saying the army is under instructions to hit back if confronted by any action by foreign forces on Pakistani territory. While the U.S. has no chance of making headway in Afghanistan unless it goes after the Taliban in Pakistan, U.S. military actions within Pakistan could exacerbate the already deteriorating political, security and economic situation within that country. The U.S. is increasingly finding itself in situations with no good options for victory.
Europe
Pope Benedict xvi and French President Nicolas Sarkozy have laid the groundwork for the biggest change in France since the revolution over 200 years ago. France's historic separation between church and state took a hefty blow last week. Sarkozy met Benedict at the airport, the first time he has done so for any leader, before hosting him at Élysée Palace. Here, Sarkozy advocated a "positive laïcité" that allows religion to help improve society. Both Sarkozy and the pope spoke not about the state moving toward religion, but rather the creation of a "positive" or "healthy" secularism. Benedict, though, made it clear that they spoke in Orwell's newspeak, saying, "Healthy secularism is fundamental to become more aware of the irreplaceable role of religion for the formation of consciences and the contribution which it can bring." War is peace; secularism is religion.
In France, religion is strictly a private matter. This privacy is engrained in both France's culture and legal system. The law of laïcité, or secularism, first established in 1790 and confirmed in 1905, strictly separates church and religion. This separation is far stricter than in the U.S.; in France, religion is kept completely out of public life. It is not taught at all in schools, and the government is forbidden to subsidize any religion. The pope believes it is time for a change, calling for a "new reflection" on the "true meaning of laïcité." Some in France accused Sarkozy of breaking the laïcité law by meeting and hosting the pope the way he did. Secularism is about to change. The Roman Catholic Church is rising in Europe. This visit represents France's first steps away from secularism. For more information on the pope's views on secularism in France, read our March 9, 2006, article "Benedict xvi's Goal for Europe."
The Vatican also caused a stir in Italy last week. Italian comedian Sabrina Guzzanti is facing possible prosecution for making controversial remarks about the pope at an anti-politics rally in Rome. Under the Lateran Treaty, made between Italy and the Vatican during the reign of Benito Mussolini in 1929, Guzzanti could face up to five years in prison for "vilification" and "offending the honor" of the pope. This type of court case is just another example of the barriers between church and state coming down in Europe.
Ukraine's government fell apart this week. Torn between Russia and Europe, the ruling coalition became divided, and fell. Ukraine now faces complicated coalition talks or a new election. The tug-of-war inside Ukraine exactly mirrors the tussle outside. Ukraine lies on the border of Europe and Russia, and is strategically important to both. As these two powers burst onto the world scene, watch for Ukraine to be torn apart, or rather carved up. Watch Ukraine as the line is drawn between East and West.
Asia
The president of the Georgian breakaway province of South Ossetia said on Thursday of last week that his republic intends to become part of the Russian Federation. This comment was almost immediately rebuked by Russian Foreign Minister Sergei Lavrov because it inferred that Russia's invasion of Georgia was an attempt to reclaim former Soviet territory rather than a humanitarian mission. Moscow has responded much more favorably, however, to comments from Georgia's other breakaway province, Abkhazia. The Abkhazian president stated that his republic wished to seek association with Russia through the Commonwealth of Independent States and possibly the Union State of Russia and Belarus. It is likely that Russia will use both of these organizations to exert de facto control over its periphery in an EU-type fashion, rather than risk the public outrage that could result from a 19th-century-style landgrab.
Lawmakers in the Crimean Peninsula—Ukraine's most pro-Russian province—defied the country's pro-Western leadership and called on Wednesday for the Ukrainian Parliament to recognize both of Georgia's breakaway provinces. Many European officials are concerned that the Crimea could become the next flashpoint of tension between Moscow and Brussels. Pressure on Europe to forge strategic deals with Russia—such as already may have occurred over Georgia, as we have reported—will increase, or crises like the one in Georgia will continue. The history of German-Russian deals is not positive: Several times in the past, they have been crafted just before one side or the other started a war. For more information on this relationship, read our September 1 article "Russia and Germany Fulfill Prophecy."
Africa, Latin America
Forty-one homicides were reported on September 12, the highest count for a single day this year, in Mexico. Twenty-four bodies, most of which had been shot in the head, were discovered about 50 miles from downtown Mexico City. Drug-related violence continues to dominate Mexico's news.
Zimbabwe's officials finally reached a power-sharing agreement last week—and are now deadlocked over the appointment of cabinet ministers. President Robert Mugabe, who retained much if not all of his power, knows exactly where he sits. He told a meeting of his zanu-pf party on Wednesday: "Anyhow here we are, still in a dominant position which will enable us to gather more strength as we move into the future. We remain in the driving seat." Regardless of who is appointed to the cabinet, Mugabe will keep his presidential position, head the cabinet, and control the army. Prime Minister Morgan Tsvangirai, who received the most votes in the March presidential election, will inherit Zimbabwe's 11 million percent inflation and little else of consequence. For more information, read our September 17 article "Power-Sharing Deal Reached in Zimbabwe."
Anglo-America
Even those who rarely follow financials were riveted by banking news this week. The Hartford Courant, Jim Cramer of Mad Money, and experts from Wall Street to Main Street reported that Monday was one of the worst days in Wall Street history. The Dow Jones industrial average dropped 504 points Monday on the news that desperate Merrill Lynch had sold itself to Bank of America, aig was seeking handouts from a standoffish federal government, and Lehman Brothers had gone bankrupt altogether. The Dow fell through the floor 450 points again on Wednesday, and world markets plummeted along with Wall Street. "Everybody is worried that the financial system is grinding to a halt," market strategist Hugh Johnson told the National Post. "The worry is that another shoe is going to drop from this centipede."
While American bank failures are becoming as routine as eating lunch, the Bank of England is telling Britain its economy is in for a "horrible surprise," a startling prospect, since Britons are already getting used to unsurprising headline after headline saying that major financial institutions are turning into tiny puddles of liquidity. The dire prediction came from David Blanchflower, of the Bank of England's monetary policy committee, who says that unemployment will rise by 60,000 per month starting in October and continuing for several months. Another Bank of England monetary policy committee member warned that house prices could fall by about 30 percent before the end of the year. This, with the pound at a multiyear low and unemployment climbing. Meanwhile, credible rumors are circulating in Britain that Halifax Bank of Scotland Group is in danger of imminent collapse.
"Islamic law has been officially adopted in Britain," London's Sunday Times reported at the beginning of the week. "The government has quietly sanctioned the powers for sharia judges to rule on cases ranging from divorce and financial disputes to those involving domestic violence. Rulings issued by a network of five sharia courts are enforceable with the full power of the judicial system, through the county courts or High Court. Previously, the rulings of sharia courts in Britain could not be enforced, and depended on voluntary compliance among Muslims."