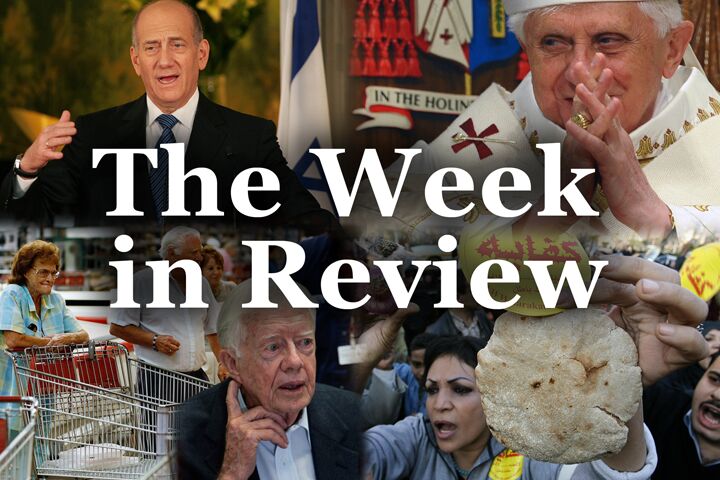 The Week in Review
An oil supply crunch, a global food crunch, Israel offers to give up the Golan, and it's official: North Korea and Syria were building nuclear weapons.
Middle East
Saudi Arabia warned that world oil supplies are becoming limited as crude oil prices hit an all-time high of $119.86 a barrel on Tuesday. Oil prices have almost doubled since April 9 last year, when a barrel of crude oil cost $61.51. Be prepared for oil prices to continue to rise as the world's oil supply fails to keep pace with growing global demand.
Former U.S. President Jimmy Carter concluded a nine-day tour of the Middle East on Monday, during which he met with Hamas leaders Khalid Mashaal and Nasser Shaer, and Syrian President Bashar al-Assad, among other terrorists and terrorist sponsors. This is simply the latest in a long line of foreign-policy initiatives by Carter that have helped legitimize and strengthen America's enemies, dating back to his own presidency when he aided the likes of Fidel Castro, Robert Mugabe and North Korea.
In congressional hearings earlier this month, U.S. Army Gen. David Petreaus extensively covered Iran's orchestration of the violence in Iraq. Iran, Petraeus said, represents "the greatest long-term threat to the viability of a democratic Iraq." Iran's designs on Iraq in fact go right back to the 1979 Iranian Revolution. Ayatollah Ruhollah Khomeini saw Saddam Hussein as the number-one obstacle impeding the forward march of the Islamic revolution. Almost 30 years on, Saddam has been removed and Iran is cementing its influence over the country. Trumpet editor in chief Gerald Flurry's prophetically based forecast that Iraq would come under Iran's influence, made back in December 1994, is getting ever closer to fulfillment.
Rumors of peace deals are once again circulating in the Middle East. Egyptian news agency mena reported on Thursday that Hamas will call for a six-month cease-fire if Israel lifts its blockade on the Gaza Strip. The announcement from Hamas leader Mahmoud al-Zahar came after a day of meetings between Hamas and Egyptian officials. The terror group promised to stop the rocket attacks on Israel if the blockade is lifted.
Also, on Wednesday, Syria said Israeli Prime Minister Ehud Olmert had offered to relinquish the Golan Heights in exchange for peace, according to the Jerusalem Post. Olmert's spokesman has not denied the report.
An example of the results of Israel's attempts at appeasement came this week when the United Nations reported an incident in which Hezbollah gunmen chased away unifil inspectors in south Lebanon after they identified a truck carrying weapons belonging to the terrorist group. The Jerusalem Postreported:
Sources in Jerusalem said the incident was a source of great embarrassment for unifil. The troops trailed the truck and stopped it, but when the troops approached the truck, armed Hezbollah members jumped out and threatened to hurt them if they would not leave the area. The source said unifil's men turned back and left the scene.
The UN resolution that enforced the cease-fire concluding the Second Lebanon War calls on Hezbollah to disarm. Of course, just the opposite has happened—and United Nations forces in Lebanon have repeatedly proven ineffectual in curbing Hezbollah's arms buildup.
Additionally, Stratfor reported April 23 that Iranian military experts are in Lebanon's northern Bekaa Valley training Palestinian terrorists and members of Hezbollah foreign operation cells. These Iranians have also reportedly been building a series of munitions depots and tunnels in the Bekaa Valley over the past two months.
Europe
Tensions between Russia and the West grew this week as Georgia accused Russia of shooting an unmanned spy drone over one of Georgia's separatist regions, Abkhazia. Russia denies attacking the drone but claims that its presence violated a 1994 agreement. Georgia has accused Russia of de facto annexation of Abkhazia as well as South Ossetia, another separatist region. Germany, France, Britain and the United States have come out in strong support of Georgia.
"The final political hurdle has been cleared for Galileo," Spiegel Online reported Thursday. The European Parliament approved a plan that will allow an extra $3.8 billion to be spent on the Galileo satellite navigation system. Another Galileo satellite will launch this weekend, and the system should be fully operational by 2013. Why is Europe willing to pay so much for a satellite navigation system when the U.S. has a system that works fine already? As the Trumpet wrote in December 2003, "[M]ajor wars will never be controlled from this Earth's surface again! From now on, all major wars will be controlled from space."
"We are in favor of a much stronger role for European defense, and that would include a military headquarters," said Polish Defense Minister Bogdan Klich this week. According to political science professor Frédéric Bozo, other Eastern European countries may follow Poland and look to Europe for defense instead of the U.S. and nato. Bozo also said that the Polish position could create a more coherent EU military policy.
Europe is on the rise as a world power. Europe's military will only increase in strength as time goes on. As the United States continues to decline in power, watch for an energetic Europe and a resurgent Russia to take on more aggressive roles.
Asia
The Congo has made an "irreversible choice" to pick China as its primary trade partner instead of Belgium or any other European nation, Congolese President Joseph Kabila said in an interview published Thursday. The announcement was made in retaliation against recent Belgian criticism of the Congo's human rights record. Nations across Africa are looking more and more to Asian countries that will not criticize how they handle their people or meddle in their internal affairs, like China and India, as trade partners. In response to this increasing Asian presence in Africa, the European Parliament has urged the 27-member European Union to develop a new strategy to counter China's rising trade dominance in the region. The EU is entering the beginning stages of a trade war with the nations of Asia over Africa's resources.
The food shortages of the Third World have spread to the First World, with global food shortages causing Japan to face a reduction in the quality and quantity of its food. Japan imports most of its foodstuffs, and is experiencing dairy product shortages and skyrocketing beef and wheat prices. The Japanese government was forced to use ¥55 billion from its emergency reserves to ensure it could continue feeding the nation. The fact that 80 percent of Japanese are frightened about what the future holds for their food supply shows that food shortages are no longer only a Third World phenomenon.
Africa, South America
In 2009, the lease will expire on the last remaining U.S. military base in South America. Ecuador does not intend to renew the lease, and the U.S. has no plans to replace the air base. Instead, drug surveillance flights will run from Key West, Fla., El Salvador and Curacao. As the U.S. leaves Latin America, watch for Europe to fill the vacuum.
Fernando Lugo, a former Roman Catholic priest, won the presidency in Paraguay on Sunday, April 20. Like many recently elected leaders in Latin America, President Lugo leans left politically. He is the first leader in 62 years not from the country's ruling party. You can expect the Vatican to use its influence with the former priest in Latin America, where the influence of Catholicism outweighs political concerns.
South Africa continues to face increasing food costs, with thousands of union workers in Johannesburg protesting against high prices last week, another instance of the global reaction to dwindling supplies of vital food staples. For more on rioting in response to the food shortage, read, "Are You Watching the Food Riots?"
Kenya finally swore in its new government on April 17, ending months of crisis and affording a return to corruption as usual. As Stratfor put it, "In the long term, the politicians will be too busy focusing on the lucrative aspects of their positions to resolve the tensions and inequalities that led to Kenya's post-election crisis." For the Trumpet's long-term analysis of Kenya's political crisis, read "The Unseen Danger in Political Violence" from the April 2008 issue.
Anglo-America
On Thursday, the Bush administration briefed Congress members on the details behind Israel's strike against a Syrian facility last year. The closed-door briefings are the first official break in an unusually tight silence by the White House, Israel and even the Syrians surrounding the event. Reports say that intelligence officials confirmed the facility was a nuclear reactor built with the help of North Korea. A month after the event, the Spectatorquoted a "very senior British ministerial source" as saying, "If people had known how close we came to World War iii that day there'd have been mass panic. … [Prime Minister Gordon] Brown really would have been dealing with the bloody book of Revelation and Armageddon."
Also on Thursday, President Bush met with Palestinian leader Mahmoud Abbas in the Oval Office. President Bush said the Palestinian state was a "high priority" and that he was "confident we can achieve the definition of a state" by the end of his term.
Stores across the nation renowned for amber waves of grain are implementing a measure unprecedented in recent times: food rations. Retailers on both U.S. coasts have begun limiting purchases of foodstuffs including flour, rice and cooking oil. Stockpiles for basic staples are at multi-decade lows, and prices are soaring. For over 12 years, the Trumpet has predicted that food shortages, which have recently intensified across the globe, will come to America.
The Australian leg of the 2008 Beijing Olympics torch relay this week saw Chinese supporters clashing with protesters who were trying to focus the world's attention on China's brutal crackdown in Tibet. Thousands of Chinese outnumbered the Tibet protesters, and people on both sides verbally and physically scuffled with each other, chanting, kicking and spitting, and cheering or jeering skywriting and banner-toting airplanes displaying pro-Tibet and pro-China messages overhead.