Deceived About the Royal Book of Revelation
The world usually views the book of Revelation somewhat like a horror movie. The Greek word for revelation is apocalypse. It conjures up pictures of terrifying calamity to most people. But the word actually means an uncovering or disclosure, to enlighten or give light!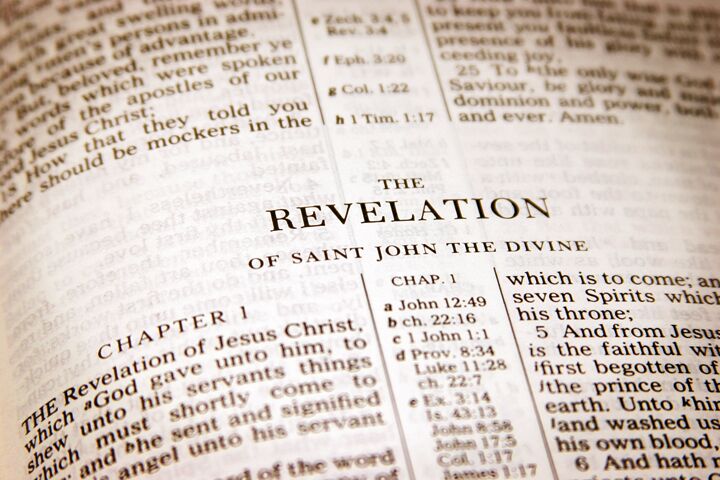 Deceived About the Royal Book of Revelation
The world usually views the book of Revelation somewhat like a horror movie. The Greek word for revelation is apocalypse. It conjures up pictures of terrifying calamity to most people. But the word actually means an uncovering or disclosure, to enlighten or give light!
The book of Revelation should reveal light to men. Instead it is the most misunderstood book in the Bible. God reveals it only to "babes"—saints with a childlike, teachable attitude.
What should give this world light instead pictures the darkest kind of horror. Because they have rejected God's light, this world causes their own dark and punishing tribulation!
People redefine apocalypse to their own shame.
The catastrophe comes upon those people who rebel against God's law, which is almost everybody. But in spite of their blindness, the book is still filled with hope.
There are 22 chapters in this book, and 17 of them discuss a throne. Twice the throne mentioned belongs to Satan. The other 15 refer to God's family throne.
Adam and Eve had a chance to replace Satan on his throne. But they rebelled. Then Christ, the second Adam, came in the human form and did qualify to replace Satan. Soon He will return to claim His throne as ruler over the Earth.
Now Christ is calling out a very elect. When He returns they will share His throne. This very elect will rule with Him for 1000 years. After that, they will help Christ rule the universe forever (Heb. 2:7-8; Isa. 9:6-7).
What a royal message!
Satan is the ruler of this world (ii Cor. 4:4). That means he won't give up his throne without a war. It is through this war, by conquering Satan, that the very elect qualify to replace him, just as Jesus Christ did. Those saints will then become the sons of God and the bride of Christ (Rev. 19:7). This salvation and reward are so great that men often label this teaching blasphemy!
Let's take a close look and see why this is the royal book of Revelation.
The Father
"The Revelation of Jesus Christ, which God gave unto him, to shew unto his servants things which must shortly come to pass; and he sent and signified it by his angel unto his servant John" (Rev. 1:1). This book was not revealed by John, or an angel, or even Jesus Christ! It was revealed by God the Father, who gave it to His Son. Christ then gave it to an angel, who gave it to John.
The book of Revelation came from a source higher than Jesus Christ. It came from the supreme authority in the universe—God the Father!
This means the book of Revelation has to be more important than many other books in the Bible! Perhaps it is more important than any other book in the Bible!
No other book is introduced in the same manner as the book of Revelation. This book provides a time frame or time sequence for all prophecy. Without that understanding, we wouldn't know when prophecies of the Bible are to be fulfilled. It has the big overview. That is why this book is so crucial to understand.
Only the Father knows the "day and hour" when these prophecies are to be fulfilled. "So likewise ye, when ye shall see all these things, know that it is near, even at the doors…. But of that day and hour knoweth no man, no, not the angels of heaven, but my Father only" (Matt. 24:33, 36). These are Christ's own words. He teaches us to understand that the Father is His superior. The Father has greater understanding, and that includes His knowledge of prophecy.
What kind of mind understands the day and the hour that these prophecies are to be fulfilled? Only the Father has that depth of understanding and foresight. This means we can trust Him implicitly. He is the ultimate royalty!
The first verse of Revelation demonstrates God's royal family government. The Father is the head of His family. Christ is the Husband of the wife, or God's Church. Those called after Christ returns are likened to the children. All together it is God's family.
The whole world is deceived about the very first verse. Christ is made the central figure of the gospel in this world's version of Christianity. But that is the Father's role. Christ said, "My Father is greater than I" (John 14:28). He also said He came to do the will of His Father—not His own. He was submissive to His Father.
This world—and most of God's own people—refuse to accept our Father as the head of His family. This is satanic deception that destroys the very family of God! It destroys the gospel, which is the good news of the coming Kingdom, or family, of God.
Without this understanding, there is no gospel or good news! This is the worst possible deception! Light is turned into the blackest darkness.
Christ did precisely what His Father commanded. So did John. But most men stumble because they rebel against God's family government.
The greatest truth in the Bible is about God's royal family. Animals were made after the animal kind. Yet man was made in the likeness of God! (Gen. 1:26).
Lucifer was never offered the honor of being in God's family. And now, as Satan, he hates men even more because of their incredible potential.
The Testimony of Jesus Christ
"Who bare record of the word of God, and of the testimony of Jesus Christ, and of all things that he saw" (Rev. 1:2). What is the testimony of Jesus Christ? Religious people are greatly confused regarding this question. That is because they try to interpret this book themselves. But the Bible interprets itself. This testimony reveals what is to happen in the U.S., Britain, Europe, the Middle East and the whole world. It also reveals your personal future!
The book of Revelation depicts a world crisis—and how you can escape it.
John was imprisoned for teaching God's word and this testimony! He was a prisoner when he wrote these words. "I John, who also am your brother, and companion in tribulation, and in the kingdom and patience of Jesus Christ, was in the isle that is called Patmos, for the word of God, and for the testimony of Jesus Christ" (v. 9). What is there about the testimony of Jesus Christ that could get you imprisoned or killed?
God's word makes that very clear. "Let us be glad and rejoice, and give honour to him: for the marriage of the Lamb is come, and his wife hath made herself ready…. And I fell at his feet to worship him. And he said unto me, See thou do it not: I am thy fellowservant, and of thy brethren that have the testimony of Jesus: worship God: for the testimony of Jesus is the spirit of prophecy" (Rev. 19:7, 10). The testimony of Jesus Christ is the spirit of prophecy. If you have the spirit of prophecy, that means you are given new revelation by God—to build on the old revelation. You must keep what God has already revealed, or you will be given no new revelation.
If we don't understand prophecy, we don't have the testimony of Jesus, which is the spirit of prophecy!
You can find where Jesus Christ is by finding the only group of people on this Earth who understand Bible prophecy!
How very profound these verses are. We must think long and hard on this teaching.
Who understands Bible prophecy today? Even a child should be able to tell. Find the people who truly understand prophecy and you will find Jesus Christ!
Prophecy is a major proof that God lives and works out His plan! Through the spirit of prophecy, we can prove where Christ is.
The number-one reason for prophecy is to show that God rules! Understanding prophecy proves that God is in Zion—His very elect Church!
If anybody scorns or ignores prophecy, then they don't understand the testimony of Jesus Christ! They don't follow Jesus Christ!
If people don't understand the book of Revelation, they don't understand Christ. This is true of any prophetic book. Without this understanding, we cannot even do God's work!
It is the "spirit of prophecy." It must be a prophecy of God's Spirit or it is bizarre prophecy—from the mind of man.
Christ's wife is making herself ready (Rev. 19:7). We cannot properly prepare for our royal marriage to our Husband if we don't understand and deliver a message of prophecy.
Christ's royal wife is preparing now to marry her royal Husband at their royal wedding! The very elect are Christ's wife now. Her royal majesty deeply understands the spirit of prophecy.
The spirit of prophecy reveals the course of future world history! That means you understand world news in advance! You grasp exactly what is happening on the world scene. You can fit it all into a time frame with the book of Revelation.
The Apostle John was in charge of God's Church when he wrote the book of Revelation. God's family-type government is administered through one man. He gave directions to the Church from prison on the isle of Patmos. Those who followed him had to be very submissive.
"Blessed is he that readeth, and they that hear the words of this prophecy, and keep those things which are written therein: for the time is at hand" (Rev. 1:3). Notice it is "he that reads" and "they that hear." God uses one-man leadership. He reveals to only one man. Then "they" who follow this man keep the truth that God reveals.
This is the way God has always led His Church. And He prophesies here that He will always continue to do so!
Without God's government, men always stumble at the law. That is because the law demands a government to enforce it.
Royal Martyr
The book of Revelation is addressed only to God's Church. Many of His own people rebelled against this message. But God always has at least a small remnant which keeps His lamp burning.
Anybody who wants to understand the Bible and world events must come to God's faithful remnant! There is understanding no place else on this planet! It is the only way you can really comprehend the fate of your own nation, or even your own life.
This is a difficult truth to accept, but God works through His very elect and nobody else. Everybody else is blind. It is that way now, it has been in the past, and shall be in the future!
"John to the seven churches which are in Asia: Grace be unto you, and peace, from him which is, and which was, and which is to come; and from the seven Spirits which are before his throne" (Rev. 1:4). We must come to deeply know the Being who was and who then came to this Earth, was crucified and was then resurrected from the dead. We must also know the God who "is to come." The book of Revelation is about His Second Coming. Our lives must revolve around that great cause—to the extent that we would die for it if necessary.
We also must know that the glorified, royal God "is"—He is alive today! (vv. 12-16).
Christ is at this very moment the High Priest of God's Church! We must know what He is doing right now.
If we fully grasp His love and power, then we have nothing to fear. We must conquer our fears. We win in the end—regardless of what happens to us today!
"And from Jesus Christ, who is the faithful witness, and the first begotten of the dead, and the prince of the kings of the earth. Unto him that loved us, and washed us from our sins in his own blood" (v. 5). Christ was "the faithful witness." The word witness is from the Greek word martus—from which we get our word martyr.
A martyr is one who dies for a cause. Christ "washed us from our sins in his own blood." He died for our sins.
Christ is the "Prince of kings," or "King of kings." He is higher than any human royalty ever could be. But He is "the faithful witness" to the most supreme royalty—His Father. He is "the Son of the Highest." "And the angel said unto her, Fear not, Mary: for thou hast found favour with God. And, behold, thou shalt conceive in thy womb, and bring forth a son, and shalt call his name JESUS. He shall be great, and shall be called the Son of the Highest: and the Lord God shall give unto him the throne of his father David: And he shall reign over the house of Jacob for ever; and of his kingdom there shall be no end" (Luke 1:30-33). Christ has a royal throne. His Father has a more exalted royal throne.
Imagine what it was like when the royal Father allowed His beloved Son to become a martyr for sinning men. And consider how the royal Son gave His life for you.
That is the kind of sacrificial love our royal God family has for their creation!
All of the first-century apostles except John were martyred for following Christ's example. And John was imprisoned. What is more amazing, these martyrs were usually killed by deceived religious people!
So when you decide to be a "witness" for Jesus Christ, you need to know what that means.
"And when he had opened the fifth seal, I saw under the altar the souls of them that were slain for the word of God, and for the testimony which they held" (Rev. 6:9). The word testimony is from the Greek word marturia, which comes from martus. (The same is true for the word testimony in Rev. 1:9.) These servants of God were loyal unto death.
Thayer's Lexicon defines marturia, "to hold the testimony, to persevere steadfastly in bearing it." It says those who held this testimony "after [Christ's] example have proved the strength and genuineness of their faith in Christ by undergoing a violent death."
These saints were not to be denied their reward. But that happened in the past. It will happen again in the future to God's lukewarm church. "And they cried with a loud voice, saying, How long, O Lord, holy and true, dost thou not judge and avenge our blood on them that dwell on the earth? And white robes were given unto every one of them; and it was said unto them, that they should rest yet for a little season, until their fellowservants also and their brethren, that should be killed as they were, should be fulfilled" (Rev. 6:10-11). They must die to qualify for God's Kingdom.
All of these martyrs were "under the altar." That refers to the altar of burnt offering where the animals were sacrificed in the temple. Today the temple is God's Church, and those sacrificing their lives are God's lukewarm saints—not animals!
It isn't easy qualifying for entry into God's Kingdom. But God repeatedly shows us the eternal glory we shall receive for doing so.
Christ was the "first begotten of the dead" (Rev. 1:5). The word begotten is incorrectly translated. It should be born. Christ was the firstborn, and later there will be a second and third born from the dead. If we should die serving God in a natural death, or as a martyr, we will be born into the royal God family!
Satan wants to confuse people with the word begotten. Who would die just to be begotten? But if you know you are going to become a member of God's family, looking like the glorified, majestic God in Revelation 1:12-16—a person can die for that cause!
We must not compromise one iota. That is how we become perfect in character—as God is.
Kings and Priests
The whole world is deceived about what I am about to write. And even many of God's own people won't get this supremely inspiring truth. "And hath made us kings and priests unto God and his Father; to him be glory and dominion for ever and ever. Amen" (v. 6). God has made His very elect kings and priests—past tense. Those called before Christ's Second Coming have already been made kings and priests. That means they are kings and priests right now—in embryo.
What will these kings and priests look like? Genesis 1:26 says that we are made in the likeness and image of God. Here is what that means to you. "And I turned to see the voice that spake with me. And being turned, I saw seven golden candlesticks [lamps, which represent the seven eras of God's true Church throughout history]; And in the midst of the seven candlesticks one like unto the Son of man, clothed with a garment down to the foot, and girt about the paps with a golden girdle" (Rev. 1:12-13). Christ is in the midst of the seven churches—observing, guiding and protecting His wife. Everything revolves around the Father and Christ, if the Church is loyal.
Christ is "clothed with a garment down to the foot." He wears the clothing of a priest, because He is our High Priest today (Heb. 7:21).
The firstfruits, like Christ, are also priests! They are priests for God the Father and Jesus Christ.
But that's not all.
He wore a "golden girdle," which symbolizes that He is a King. Most people know that, but do they know that God's saints are also kings in embryo?
Christ calls Himself the "Son of man" here in Revelation 1. In fact, He is the Son of God. But He is delivering the message of Revelation to man. He wants man to understand that this is his future. This is man's incredible human potential! God is bringing man into the family of God! The firstfruits are only the beginning of God's work. God is offering them a share of His throne forever—as the bride of Christ!
All of humanity was created to look like God, and to one day be born into God's family and to look like the glorified God. Let's continue. "His head and his hairs were white like wool, as white as snow; and his eyes were as a flame of fire" (Rev. 1:14). God's eyes are like a flame of fire. But that is also how your eyes will be in the future if you surrender to God! That is what the "Son of man" came to this Earth to accomplish! He died so that sinful men could be forgiven and offered that awesome future.
"And his feet like unto fine brass, as if they burned in a furnace; and his voice as the sound of many waters. And he had in his right hand seven stars: and out of his mouth went a sharp twoedged sword: and his countenance was as the sun shineth in his strength" (vv. 15-16). Christ's eyes are as a flame of fire, and His face shines like the sun in its full strength! That is how you and I will look when we are born into God's family!
Does that sound like blasphemy?
"Beloved, now are we the sons of God, and it doth not yet appear what we shall be: but we know that, when he shall appear, we shall be like him; for we shall see him as he is" (i John 3:2). When Christ returns in glory, "we shall be like him"! Can you and I believe God?
"Who shall change our vile body, that it may be fashioned like unto his glorious body, according to the working whereby he is able even to subdue all things unto himself" (Phil. 3:21). Our vile bodies will be "fashioned like unto his glorious body"—the glorious body described in Revelation 1:13-16! This is very clear. So why don't most religious people understand it? Because they don't believe God!
The problem is not a lack of knowing what these scriptures state—it is a faith crisis!
Again, we are going to look like the God described in Revelation 1:13-16! What a royal book Revelation is.
Even King David understood this truth. He wrote in one of his psalms, "As for me, I will behold thy face in righteousness: I shall be satisfied, when I awake, with thy likeness" (Ps. 17:15). David knew he would be resurrected with God's likeness—a body "fashioned like unto his glorious body"!
This is why the "Son of man" came to this Earth and died for man.
The Father wants a royal family. Christ wants a royal wife.
Some men can see that the glorified Christ is described in this book. But most men can't fathom that this is their very own potential! That is why they killed the Son of man—or Son of God.
Do we see why God's apostles, prophets and faithful saints could die for God? Can you live or die for such an incredibly awesome future?
We will never have equal rank with the Father or Christ our Husband. But we shall be members of the God family.
The fact that this message has been so totally destroyed in this world should help us understand that Satan the devil is the god of this world. And that he hates man and his potential to be God. This potential was never offered to him—only man. Mankind is super-special to God.
We need this majestic message to lead a godly, royal life. This is an ugly, vile world because man lives like Satan instead of God.
Until men capture this vision, their future will be disastrous—just like Satan's dark destiny.
Mankind desperately needs to comprehend the royal book of Revelation. God is inviting His firstfruits to respond now. If they do, they will receive a future as the royal bride of Christ. It will be a unique and exalted majesty that lasts forever. There will never be another position so exalted throughout eternity! There is only one royal bride!
We urgently need to grasp this message. But more importantly, we need to live like God's royalty now!