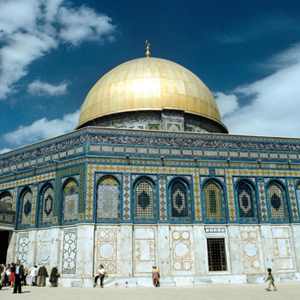 Muslims Reiterate Goal to Capture Jerusalem
On Friday, an Islamist leader in Israel claimed Jerusalem will soon be free of Jewish presence and become the new capital of Islam. Sheikh Raed Salah made the comments in southern Galilee at the 11th annual conference of the Israeli Islamic Movement, according to IsraelNationalNews.com.
Ha'aretz reported 50,000 attendees. IsraelNationalNews.com said they included "the Palestinian Authority-appointed mufti, Ikrima Sabri, and an archbishop of the Greek-Orthodox Church. Arab League Secretary General Amr Musa of Egypt sent his regards to the gathering, as well." It continued,
The conference was held under the slogan "Al-Aqsa [the Temple Mount mosque] is in Danger," which has been utilized as a theme repeatedly at Islamic gatherings in recent years, harking back to incitement that preceded Arab massacres of Jews in the pre-state period.
Likening Israeli sovereignty over Jerusalem to that of past non-Muslim rulers in the region, Salah said, "The Israeli occupation will leave Jerusalem soon. It will happen sooner than is thought." To aid in that process, Salah repeated a call of his from several months ago for Arab and Muslim states and organizations to establish a special fund aimed at "saving" Al-Aqsa Mosque and Jerusalem from the Jews.
While some continue to say that such extreme views do not represent mainstream Muslim thought, evidence continues to pile up showing that such views do have an enormous following. The credentials of the speaker, who leads the northern branch of the Islamic Movement, and the fact that he apparently enjoys the support of such an enormous and officially attended gathering, are enough to curl toes:
Sheikh Raed Salah was arrested, along with four other leaders of the Islamic movement and the mayor of Umm El-Fahm, in 2003 on charges of belonging to a terrorist group, passing information to an enemy, contact with a foreign element (an Iranian intelligence operative stationed in Lebanon), conspiracy to commit a crime, money laundering, and other security and corporate crimes.
Jerusalem is certain to be the central issue in future clashes between Muslims and Jews. The Trumpet's editor in chief has even expressed his belief that the city will be split in two, perhaps even sometime this year. Iran has long made clear its intention to secure the city for Islam—viewing it as the chief tool of leverage it can use to fire up its followers in their efforts to oust the State of Israel and push it into the Mediterranean. Thus, we expect Muslim leaders to continue to stir passions for Jerusalem in their followers.
At the same time, however, the Holy City is a prize increasingly desired by the Roman Catholic Church. As tensions build between the pope and Muslim leaders, we can also expect that Jerusalem will become a point of violent contention—as has been the case many times throughout history.