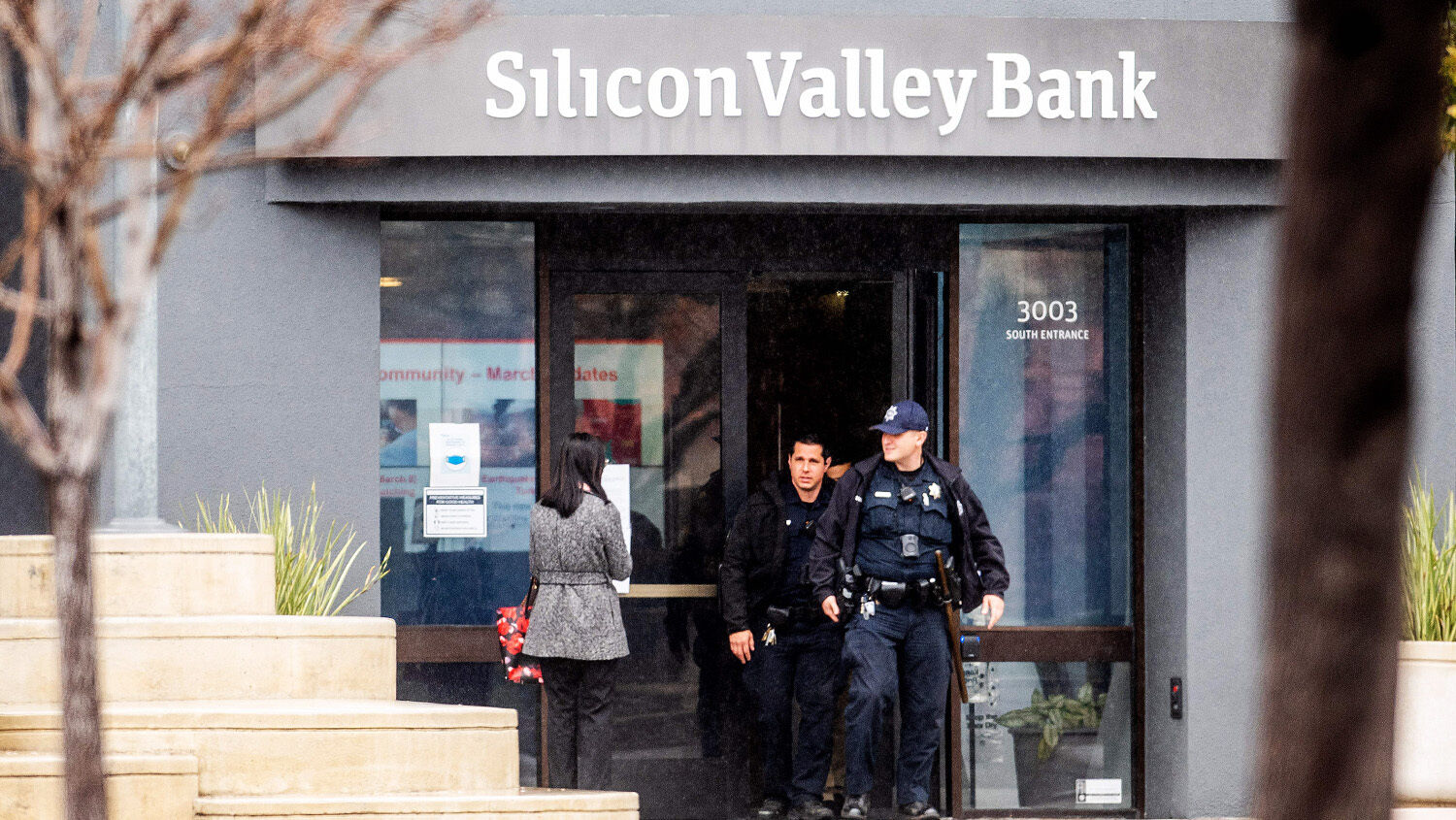 SVB and the Biggest Bank Failure Since 2008
The closure of insolvent Silicon Valley Bank on March 10 marks the largest bank failure since the 2008 financial crisis.
Ripple effects: In just one day, four of the biggest banks in the United States (JPMorgan, Bank of America, Wells Fargo and Citigroup) lost $52 billion of their market value. The crash on Thursday, March 9, was triggered after Silicon Valley Bank (svb) suffered a record daily loss on Wall Street with a drop of 60 percent. The next day, California regulators declared svb insolvent. Here is what led up to it:
svb

specifically catered to newly arising tech companies, which deposited large amounts of money during the pandemic.

svb

Financial used those deposits to buy what it thought to be safe assets, primarily U.S. Treasuries and government-backed mortgage securities.
As interests rates spiked in 2022, the securities lost value—not a big deal unless you have to sell them.
The higher interest rates also caused the tech companies to need their deposits. This forced the bank to sell its securities.
On Wednesday,

svb

announced that it sold securities worth $21 billion—at a loss of about $1.8 billion after tax. Its stated goal was to finance deposit outflows and fund new lending.
The announcement caused its stock to drop and venture-capital firms began advising companies to withdraw deposits. Peter Thiel's Founders Fund alone withdrew millions of dollars.

svb

is the first bank to collapse, but the whole banking network is in a crisis that could suddenly escalate.
Federal Deposit Insurance Corp. (fdic) Chairman Martin Gruenberg warned about this on March 6:
The current interest rate environment has had dramatic effects on the profitability and risk profile of banks' funding and investment strategies. First, as a result of the higher interest rates, longer term maturity assets acquired by banks when interest rates were lower are now worth less than their face values. The result is that most banks have some amount of unrealized losses on securities. The total of these unrealized losses, including securities that are available for sale or held to maturity, was about $620 billion at year-end 2022. Unrealized losses on securities have meaningfully reduced the reported equity capital of the banking industry.
After the crash of svb, Rep. Josh Gottheimer warned Treasury Secretary Janet Yellen in a letter dated March 12:
Right now, we are concerned about the depositors at svb, and at banks across the country, suddenly unnerved by svb's catastrophic failure that unfolded in just 48 hours, accelerated, in part, by social media and pack-mentality withdrawals. If Americans can't trust that their basic deposits are safe, we could suddenly face runs at banks of all sizes across the country.
svb's collapse also showed how the financial market trembles at every quake in the U.S. Europe is especially concerned.
In the Dax, Deutsche Bank lost 7 percent and Commerzbank 3.4 percent. In Paris, Société Générale fell by almost 5 percent, bnp Paribas by 3.5 percent. Barclays fell in London by 3.5 percent, Santander in Madrid by 5 percent. In Switzerland, Credit Suisse shares slid at times to a new record low.
—Handelsblatt
A prophecy to watch: If larger U.S. banks face a shock similar to svb, the European banking system would go down with the U.S. We at the Trumpet expect such a crisis will eventually occur. The late Herbert W. Armstrong wrote in 1984 that a massive banking crisis in America "could suddenly result in triggering European nations to unite as a new world power, larger than either the Soviet Union or the U.S."
This last crisis is a sign that this banking crisis could happen any moment. Once it does, watch Europe!
Revelation 17 speaks of Europe's unification and the rise of 10 authoritarian leaders. The Bible reveals that Europe will respond to crises through closer unity and authoritarian rule. Nearly 40 years ago, Mr. Armstrong warned it could be triggered by a financial crisis. Are we now on the outskirts of this very crisis?
It is more urgent than ever that you understand these prophecies. For more information, read "Uniting Against the Dollar" and "How the Global Financial Crisis Will Produce Europe's Ten Kings," by Trumpet editor in chief Gerald Flurry.