The Party and the Crash
Empires fail when people sacrifice character for free stuff.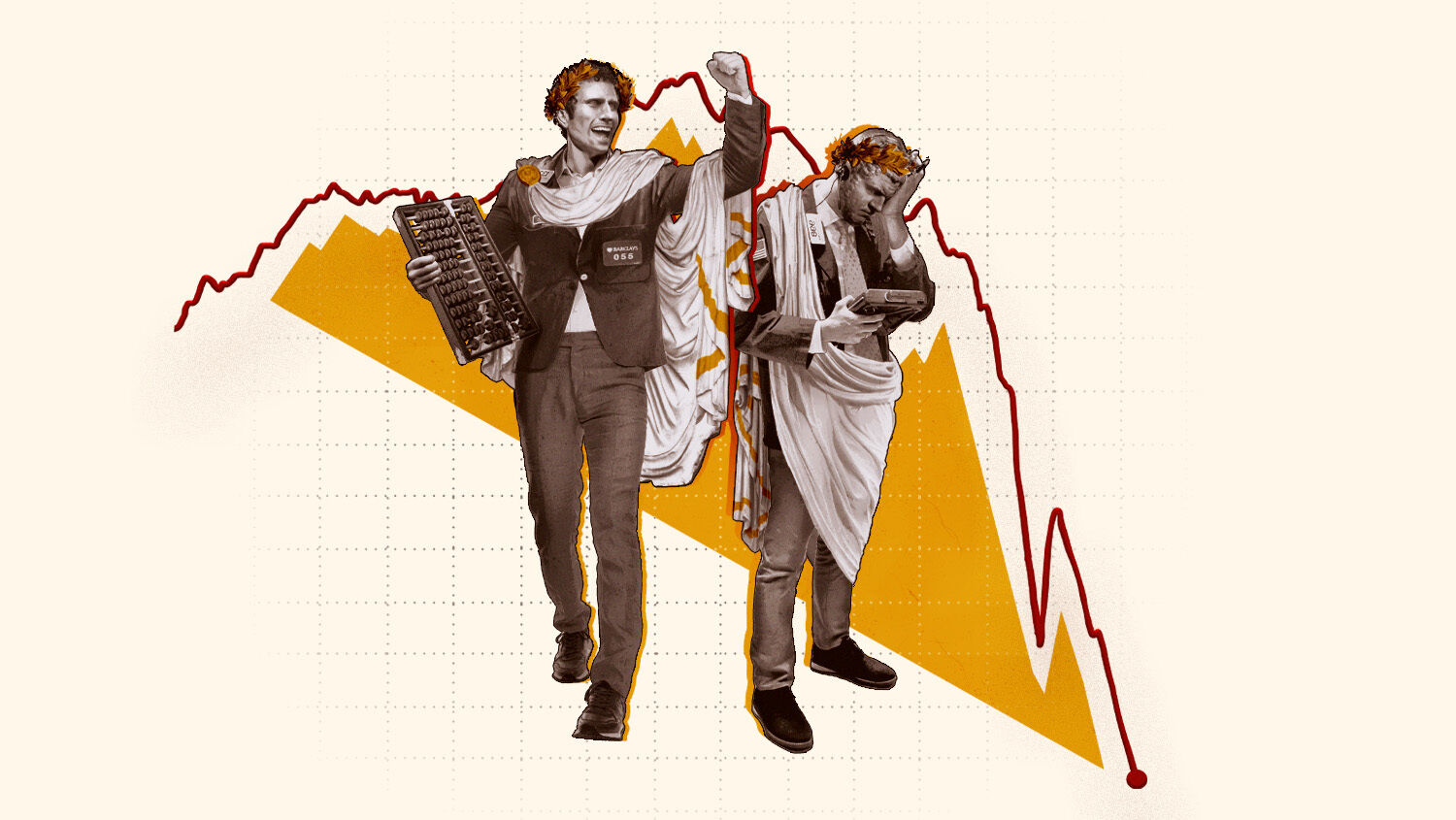 The Party and the Crash
Empires fail when people sacrifice character for free stuff.
Massive public works. Bureaucratic institutions. Government dysfunction. Rampant corruption. Bloated budgets. Trade deficits. Runaway inflation. Crushing tax burdens. Economic inequality. Political violence.
These phrases describe the last days of the Roman Empire as much as they describe America today. So it is imperative that every citizen wake up and take a look at them. America's founders were deeply inspired by the ancient Roman Republic. After studying the writings of Livy, Plutarch, Polybius, Sallust, Tacitus, Thucydides and, above all, Cicero, they established an economy based upon free trade, property rights and private enterprise. But just as Americans tried to duplicate Rome's success, they are also repeating Rome's failure.
Alexander Hamilton, America's first treasury secretary, was likely inspired by Rome's fixed exchange rates between the gold aureus, the silver denarius and the bronze sesterce when he established a bimetallic standard for the United States dollar. And Pierre Charles L'Enfant, the architect who designed Washington, D.C., was unquestionably inspired by Roman infrastructure when he drew up plans for the new U.S. capitol city.
Yet more than exchange rates or infrastructure, America's founders were inspired by Roman civic virtue. In the days of Rome's greatness, the Romans regarded themselves as their chief source of income. They worked hard to provide for themselves and their relatives because they knew that self-sufficient family units were the basic building blocks of any stable society. The Romans rose to greatness when they provided for their own, and fell into ruin when they abandoned self-responsibility and started looking to the government to provide.
One of the most important lessons of history is that no people who have lost their character can keep their liberties. Rome learned this lesson the hard way, and so will America if it doesn't learn from Rome's fall!
Entitlement Addiction
In the days of the Roman Republic, the government sporadically intervened to distribute subsidized grain to Rome's more impoverished citizens. During the constant wars of the republic, many farming families became impoverished while their breadwinner was away on campaign, so they sold their land to rich and powerful landowners in the Senate. Everyone knew there was a problem, but the Senate would not vote against their own interests. They kept buying farms and distributing grain to keep the poor on their side.
This grain dole became institutionalized when a demagogue named Publius Clodius Pulcher became tribune of the plebs in 59 b.c. He bribed Rome's electorate with promises of free grain at taxpayer expense and won office. People from the surrounding countryside flooded into Rome to receive free grain, and politicians tried to one-up each other by spending huge sums of money to win public favor. By the time Julius Caesar became dictator, roughly one third of the city of Rome's population was receiving free grain, according to the Cato Institute.
Caesar Augustus reduced the number of people on the dole from 320,000 to 200,000 by instituting a means test before handing over the grain, but the practice of distributing free food continued until the Roman Empire collapsed 500 years later. A series of emperors based their power on their huge handouts to the people, who became addicted to them. Henry Haskell described this tragic turn of ideas in his insightful book The New Deal in Old Rome: How Government in the Ancient World Tried to Deal With Modern Problems. "Less than a century after the republic had faded into the autocracy of the empire, the people had lost all taste for democratic institutions," he wrote. "On the death of an emperor the Senate debated the question of restoring the republic. But the commons preferred the rule of an extravagant despot who would continue the dole and furnish them free shows. The mob outside clamored for 'one ruler' of the world."
Emperor Aurelian, who reigned during a time of protracted crises in the third century, bolstered his popularity by giving people government-baked bread instead of giving them grain to make their own bread. He declared government relief payments a hereditary right and handed out free salt and pork to the masses.
Other cities followed Rome's example, and the citizens of Alexandria, Antioch and Constantinople also became dependent on government largesse. People were schooled to expect something for nothing, so they shirked work and sought leisure. It was the abandonment of the old Roman virtues of self-reliance and initiative that caused the Roman Republic to give way to the Roman Empire. And it was the absence of these same old Roman virtues that eventually caused the Roman Empire to fall into decay and ruin.
As the late theologian Herbert W. Armstrong put it, "When any nation begins to look to its government to provide, that nation is on a greased toboggan-slide to decay and to oblivion. It brought about the fall of Rome. It brought about the fall of proud Babylon long before. And it's bringing about the fall of America today" (Plain Truth, February 1956).
Runaway Inflation
In the early days of the Roman Empire, a denarius was worth about a day's wages for a skilled laborer or craftsman. These coins were of high purity, holding about 4.5 grams of silver. But as Roman emperors began spending more on wars, government relief payments and gladiatorial games, they found they did not have enough silver to pay for all their pet projects. But they soon found a way around this problem.
Rather than raise taxes, Emperor Nero reduced the amount of silver in a denarius to 3.4 grams so he could mint more coins with less silver. Of course, this made each denarius less valuable, and merchants soon wanted more denarii for the same goods and services. This cycle continued under Nero's successors.
Emperor Trajan (a.d. 98–117) reduced the denarius's silver content to 85 percent. Then Emperor Marcus Aurelius (a.d. 161–180) reduced it to 75 percent. Septimius Severus (a.d. 193–211) reduced it to 50 percent, and his successors reduced it more. By the time of Gallienus (a.d. 253–268), the newly named antoninanianus was a bronze coin with a veneer of thin silver that quickly wore off to reveal the poor quality beneath.
Barbarian mercenaries were paid in gold because they would not accept worthless Roman currency, but native Roman soldiers had to cope with the hyperinflation. Ancient records indicate that soldiers' annual wages increased from 223 denarii in the time of Caesar Augustus to 675 antoninanianus in the time of Gallienus. Yet the silver content in an antoninanianus had plummeted from 98 percent to 5 percent over this same time period.
As Mikhail Rostovtzeff put it in A History of the Ancient World: Rome, "To crown all these calamities, the emperors in their need for money issued a vast quantity of coin. Not possessing enough of the precious metals for these issues, they alloyed the gold with silver, the silver with copper, and the copper with lead, thus debasing the coinage and ruining in the end men who had once been rich. This measure cut at the root of trade and industry. The government mint in the third century became a vast manufactory of base coin. … It is no wonder that a social and economic crisis of extreme severity was brought about by these conditions."
With the survival of the empire at stake, Diocletian (a.d. 284–305) attempted to halt runaway inflation with price controls. But his plan backfired. Rather than fix inflation, his edicts made merchants afraid to sell merchandise lest they suffer devastating financial losses. Therefore, demand for merchandise skyrocketed and so did prices. Diocletian's price-fixing decree was soon abandoned while the emperor looked for a way to restore order without restoring the civic virtue and sound fiscal policy that had made the Roman Republic great.
Heavy Taxes
After the crisis of the third century, emperors were no longer able to obtain sufficient resources by debasing the currency to raise revenue. Yet Diocletian had already implemented a series of tax hikes so rigid and unwavering that many were driven to starvation and bankruptcy. Since money was worthless, the new system collected taxes in the form of goods and services. After calculating how much cloth, grain, oil, weapons and other goods it took to sustain a Roman soldier, bureaucrats figured out how much each family owed the empire.
In the 50 years after Diocletian's reforms, the Roman tax burden roughly doubled. Many abandoned their lands in order to avoid taxes and to receive public entitlements instead. This created a circumstance where, according to anthropologist and historian Joseph Tainter, "those who lived off the treasury were more numerous than those paying into it."
Tax riots and rebellion among those few who continued to work for a living grew commonplace, but this did not stop Valentinian iii (a.d. 425–455) from imposing an additional 4 percent sales tax. Under such debilitating circumstances, many lamented that they actually wanted Germanic barbarians to deliver them from the fearful load of taxes. One late-fifth-century writer, Zosimus, quipped that "as a result of this exaction of taxes, city and countryside were full of laments and complaints, and all … sought the help of the barbarians."
This is why Edward Gibbon, author of The Decline and Fall of the Roman Empire, listed increased taxation as one of the five major causes that contributed to the fall of the Roman Empire, alongside the breakdown of the family, an insatiable craving for pleasure, an unsustainable buildup of armaments, and the decay of religion.
"The economic oppression of the later empire increasingly ate the spirit, loyalty and pride out of the citizenry, high and low, and fostered a rash of other ills," reports the booklet The Modern Romans, published by Ambassador College Press in 1971. "It tore away at community and national spirit. The costs of running a gigantic empire were massive. They caused a perpetual administrative struggle to maintain a stable economy. The ever burgeoning government bureaucracy became horribly expensive. … It took a veritable army of officials to man and work the complicated dual supply and demands of both the government services and the military. This necessitated laying still heavier burdens of taxation upon already overburdened people."
The Prophet Amos foretold that burdensome taxes would be a key reason for the collapse of end-time America (Amos 5:11), but the American people are not paying attention. Soul-crushing taxes ravaged Rome's shrinking private economy and made it easy pickings for the Germanic leader Odoacer in a.d. 476, when the empire finally collapsed completely.
America's founders believed they could create a stable society by looking back on what Rome did right, so it is imperative for Americans to also learn from what Rome did wrong.
You don't have to believe it! It will happen, regardless. It is sure—the world's only sure hope. This advance good news of tomorrow is as certain as the rising of tomorrow's sun. Humanity won't bring it about—it is going to be done to us. Humanity is going to be forced to be happy—to enjoy world peace—to see universal abundance and joy fill the Earth.