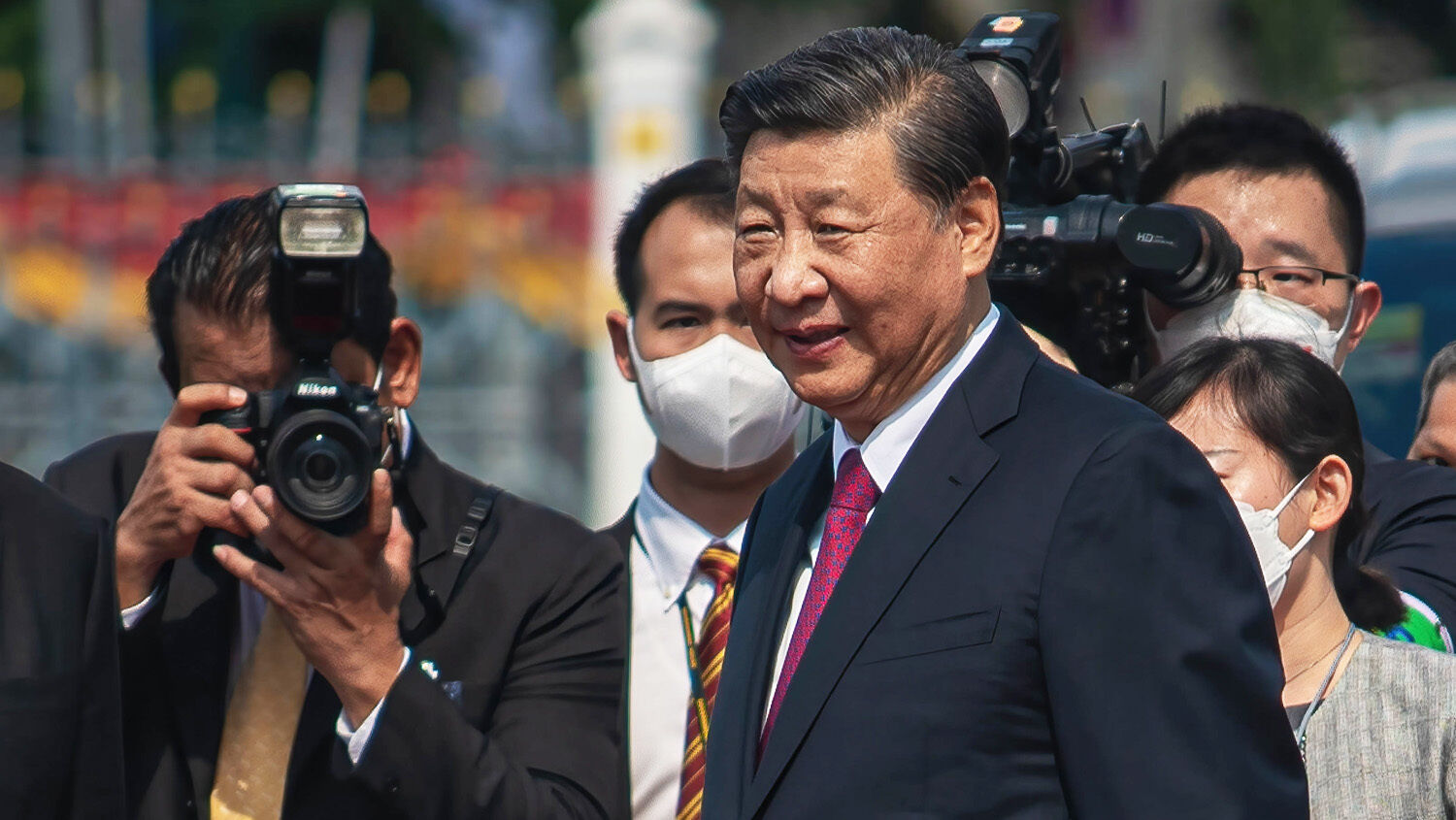 China Interferes in Canadian Elections
Do Canadian voters select our leaders, or does China?
Chinese General Secretary Xi Jinping publicly humiliated Canadian Prime Minister Justin Trudeau at the asean Summit in Cambodia, November 16. Xi rarely speaks candidly in front of Western media but used this occasion to dress down Trudeau for leaking confidential conversations to the media.
These interactions effect the prestige and soft power of a nation. Xi clearly displayed China as more dominant than Canada. "Xi Jinping's threatening rebuke of Justin Trudeau was a rare and surprising move by the Chinese president and highlighted the disregard he has for the Canadian prime minister, according to some experts and former diplomats," reported cbc News. "'He certainly wouldn't speak like that to the U.S. president. So it does suggest that Mr. Xi has a degree of disdain for the prime minister and does not see Canada as an important partner,' said Charles Burton, senior fellow with the Macdonald-Laurier Institute and a former diplomat to China."
Newly released intelligence reveals that Chinese actions inside Canada also display this absolute disdain for the country's sovereignty. China dominates Canadian finance, policy decisions and elections.
Foreign Interference
"Canadian intelligence officials have warned Prime Minister Trudeau that China has allegedly been targeting Canada with a vast campaign of foreign interference," reported Sam Cooper at Global News, "which includes funding a clandestine network of at least 11 federal candidates running in the 2019 election." The Canadian Security Intelligence Service (csis) briefed the prime minister and cabinet members on this intelligence in January.
The Chinese Communist Party (ccp) has developed a network of agents and affiliates that involves members of the Ontario and federal government. These operations are conducted out of the Toronto Consulate and seek to place ccp affiliates in parliamentary offices or campaign positions, influence policy, gain leverage over officials, and punish "anti-China" politicians. Global News continued: "Chief among the allegations is that csis reported that China's Toronto consulate directed a large clandestine transfer of funds to a network of at least 11 federal election candidates and numerous Beijing operatives who worked as their campaign staffers."
During the 2019 election, the ccp distributed $250,000 among 11 parliamentary candidates from both the Liberal and Conservative parties. The money was transferred through an Ontario provincial member of Parliament and a federal campaign staffer. This was not a campaign donation; it was covert money sent to directly influence candidates and campaign officials to impact government policy. In other words, it was a bribe. The total sum of money may not be much, but for these influential individuals, it was enough to altar their policy decisions to favor China.
Although the csis report did not state whether this interference changed the outcome of the election, 2019 saw the Trudeau government return to power with a minority government.
What does this disturbing information mean? Are some M.P.s sitting in Parliament now actually serving the ccp and not the Canadian people? What more is going on that we are unaware of? These are legitimate questions to ask.
Stolen Election?
2019 was not the only year China interfered in Canadian elections. In the fall of 2021 Trudeau called a snap election. This election coincided with a wave of the Omicron covid variant, which increased mail-in voting to historic levels and decreased voting locations across the country. These unprecedented conditions saw Trudeau win another minority government with the lowest amount of votes ever won for a prime minister.
"Former Conservative leader Erin O'Toole blamed a resurgence of covid-19 and the Chinese government for his loss in the 2021 election, arguing he was 'winning the entire campaign until the final days,'" reported the Western Standard. O'Toole believes his harder stance on China and the misinformation campaign directed against Conservative candidates likely lost him the election. The Western Standard continued: "O'Toole said the Conservatives lost 'anywhere between seven and 12 seats' because of China, mainly in the Lower Mainland region of British Columbia and Markham and Richmond Hill region of Ontario." This is the first public statement by a political leader claiming something was foul in the election.
The Trumpet reported on the evidence of Chinese interference last year after the election. It has since been confirmed that up to nine ridings were the target of an aggressive misinformation campaign over Chinese social media sites. Those targeted were supporters of legislation that opposed China's agenda. Multiple third-party organizations have concluded that the Chinese misinformation swayed Chinese voters in key districts.
Yet this was not the only interference that originated in China. The Western Standard continued:
O'Toole also claimed that the coronavirus cost him the election.

"We were winning the seat count until about two days out from the election. The winning of the popular vote, but not the seat count, was all due to the Omicron rise in Canada and Western Canada in particular. In Ontario, voters got spooked and we lost the vote. …

In an interview with the National Post's John Ivison, O'Toole said the Omicron variant's resurgence in the final week of the election made the Liberals' stance on vaccination more enticing to Canadians. While Prime Minister Justin Trudeau campaigned on vaccine passports that would bar Canadians from public spaces and travel, O'Toole advocated for reasonable accommodation for the unvaccinated.
Trudeau used the pandemic to garner an advantage in the election. First, he timed the election to coincide with an Omicron wave. Second, this allowed voting rules to be manipulated that favored Liberal strongholds and took away votes from Western Canada (such as not sending polling workers to oil sands work camps so they could vote). Third, it increased mail-in voting to unprecedented levels and actually suppressed the voting of tens of thousands of Canadians. Elections Canada admitted that over 205,000 votes were not counted. Some were for valid reasons, but others raise some questions. The Western Standard reported:
The agency sent ballot kits to 1,274,447 electors who asked to vote by mail. Of those only 1,068,543 were returned and counted.

The difference of some 205,000 uncounted ballots included 90,000 "returned late and not counted" and another 114,583 that were never returned. By comparison, the margin between Liberal and Conservative candidates nationwide totaled 190,790 votes.

Blacklock's at the time of the September 20 election documented cases in which electors applied for ballots by mail, but never received them in time to vote.
A number of ballots were sent out within five days or less before the due date, making it extremely unlikely that they would be returned in time. Ninety thousand votes were nullified because the mail-in ballots were distributed late. The only way to know if these would have swung the election against Trudeau is to do a full forensic audit of the ballots, which is unlikely to occur.
However, there is reason for concern, and again it emanates from China. Trumpet editor in chief Gerald Flurry exposes in America Under Attack how the coronavirus was created in a lab in Wuhan China with the help of the radical-left leadership in the United States. This Chinese-weaponized virus was used by the radical left to help steal the 2020 election by changing election laws during the pandemic to enable widespread fraud! Mr. Flurry writes:
The Communists covered up the virus's true origins and turned what should have been a local outbreak into a global pandemic. We must take seriously the theory that all this was deliberate. We cannot simply push it aside. This is the Communist Party of China we are talking about.

Very importantly, drastic government actions made possible only by coronavirus fears revolutionized elections in America. The push for mail-in balloting and other loosening of or illegally breaking long-standing election standards that protect against fraud could only have happened by heavily marketed virus fears. … The timing of all these events is deeply suspicious.
Is it possible Trudeau followed the example of the radical left in America and stole an election?
These are questions that need to be asked. The prime minister does not have a track record of integrity to suggest otherwise. He also has a very established history of enabling the Chinese Communist agenda within Canada and around the world.
Compliant Trudeau
When Trudeau was campaigning for Liberal Party leadership, his big foreign-policy idea was to pivot to an alliance with China. Since his father's time, Pierre Elliott Trudeau, China and the Liberal Party had built a lucrative business relationship through Montreal-based companies. The Canada China Business Council is a powerful lobby that connects the highest levels of the Liberal Party to business dealings with China.
Emerging from these origins, Trudeau has pursued pro-China policies to the detriment of the country. China increased its interference activities after Trudeau took power. Global News reported: "Still, the 2022 intelligence asserts that China conducts more foreign interference than any other nation, and interference threats to Canada increased in 2015 when Chinese President Xi Jinping elevated the ccp's so-called United Front influence networks abroad." As a part of this new effort, China has established 50 police stations around the world in foreign jurisdictions. These police stations enforce ccp law inside the country they operate, which is outrageously illegal. Three of the police stations operate in Toronto, Canada. These have been used to pursue Operation Fox Trot, which is a ccp attempt to clamp down on rivals and dissidents overseas.
Despite the prime minister knowing about these highly illegal and clandestine activities, the government has done nothing to interfere. Global News continued: "Dan Stanton, the former csis official, and David Mulroney, Canada's former ambassador to China, said that Canada is more exposed than other Western democracies to China's interference, and yet as the United States, [United Kingdom] and Australia strengthen their counter-interference laws and ramp up investigations into Xi's United Front networks, Ottawa remains strangely inactive."
Why has Trudeau not taken action? Is it because his soft policies on China have helped him stay in power through three elections and enriched loyal Liberal supporters? This corruption is being exposed, and it was all prophesied in the Bible!
In his landmark book The United States and Britain in Prophecy, Herbert W. Armstrong explained that the British peoples, including Canada, are descended from Ephraim. The Bible describes Ephraim in Hosea 7:11 as a "silly dove" that naively relies on alliances with foreign powers and not on God. To make it worse, Trudeau's radical-left government is trying to "blot out the name of Israel" as explained in 2 Kings 14:26-27. Trudeau is using this subservient alliance with China to pursue his goal to transform Canada. The same is happening in the United States and is causing bitter affliction on the end-time nations of Israel.
What does the future hold? Only the Bible can answer that question. To learn where your country is heading, and how events will unfold, read Mr. Flurry's free book America Under Attack.