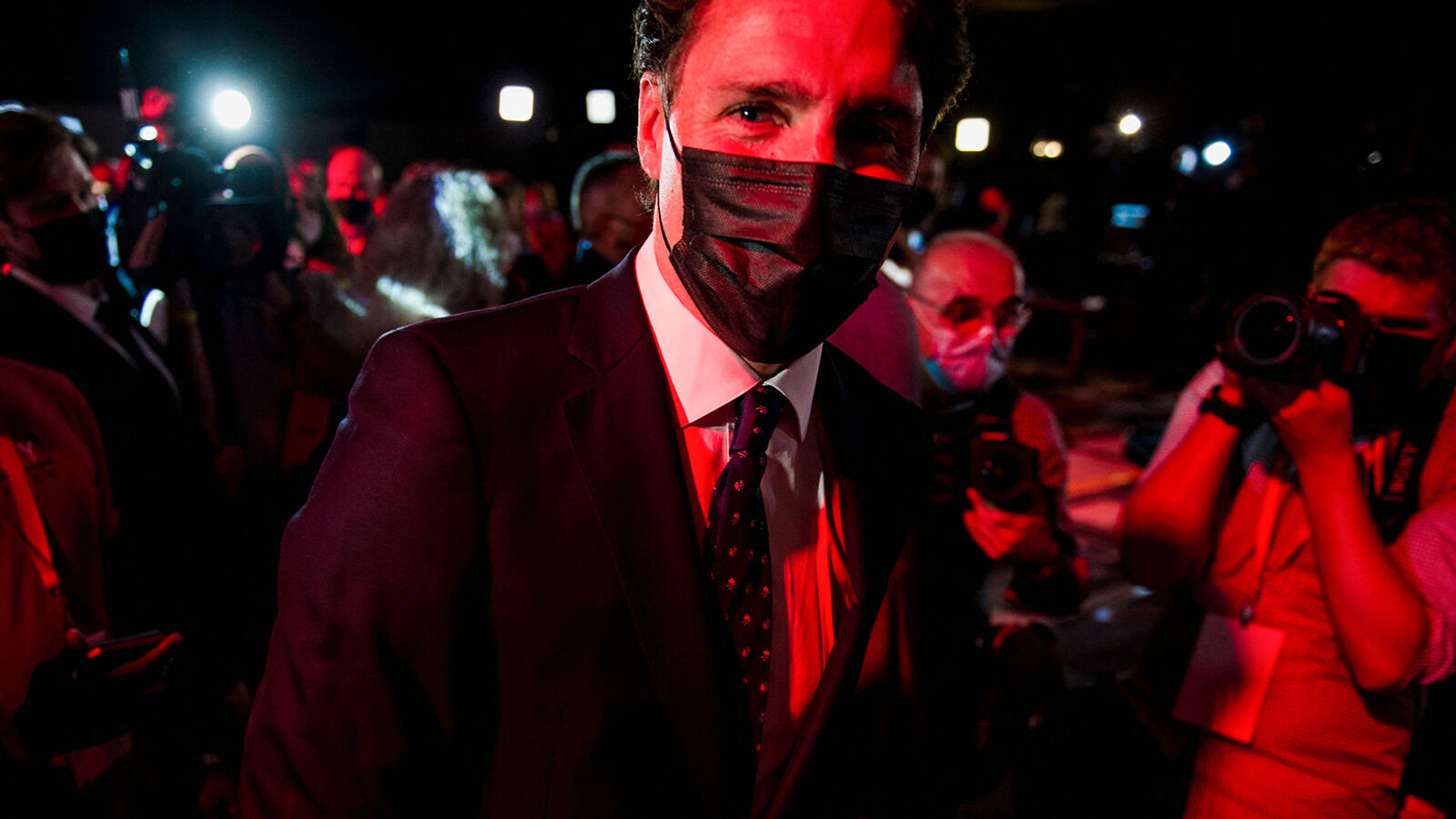 Did China Steal Canada's Election?
The growing evidence of Trudeau-Chinese collusion
The 2021 Canadian election is over. After 35 days of campaigning, voting in the middle of coronavirus's "fourth wave," days of counting mail-in ballots, and $600 million of taxpayer money spent, the election has yielded results nearly identical to the 2019 election.
Justin Trudeau will remain prime minister of a minority Liberal government. All parties will return to Parliament Hill in Ottawa with only minor adjustments to the number of elected seats.
However, the biggest winner of the Canadian election was the Chinese Communist Party (ccp).
Evidence is emerging of Chinese interference that resulted in voting irregularities. What has been titled the "status quo election" will actually yield Canada's most pro-China Parliament ever. It has also returned power to the nation's most authoritarian leader ever.
Deep corruption in the Chinese-Canadian relationship is being exposed. Most astounding is that the Canadian elite have deliberately pursued this dangerous relationship for decades.
Foreign Interference
The 44th general election saw the lowest voter turnout since 2008, with only 62.9 percent participation, according to Elections Canada. Nearly 17 million Canadians voted, including over 1 million mail-in ballots requested by voters. Trudeau is the least popular winner in Canadian election history, with the Conservatives winning the popular vote.
The Liberal Party won 159 seats (increase of two), the Conservatives 119 (loss of two), the Bloc Quebecois 33 (gain of one), the New Democratic Party 25 (gain of one), and the Green Party 2 (loss of one). This will give Justin Trudeau the mandate to form a minority government.
The source of Liberal victory was strong performance in the populous urban centers. Liberals captured 48 of 53 districts in the Greater Toronto Area and 15 of 23 districts in the Greater Vancouver Area.
Karamveer Lalh, a former Conservative organizer, observed on Twitter that although the Conservatives gained votes in Ontario and British Columbia, they did not win districts in the metro areas due to unexpectedly high Liberal vote counts. These regions did not follow the statistical pattern of the rest of the province. Lalh said "up to a dozen seats in heavily Chinese-Canadian areas may have been lost to the Conservatives due to Chinese-language efforts by pro-Beijing groups."
The National Post reported:
Defeated Vancouver-area Conservative Kenny Chiu certainly is strongly of the opinion that his staunchly anti-Beijing stance painted a target on his back. The Hong Kong-born Chiu lost his seat in Steveston-Richmond East by 3,000 votes; a defeat well out of proportion to the overall results of Election 44. Chiu was dogged throughout the campaign by Mandarin-language misinformation on WeChat, a popular Chinese social media site. A private member's bill introduced by Chiu requiring foreign agents to register with Ottawa, for instance, was spun as a measure to track and suppress anyone with links to China.
The evidence suggests that the Chinese government targeted candidates running in predominantly Chinese-Canadian districts who had strong views against China. In the election's early days, Chinese ambassador to Canada Cong Peiwu warned Canadians not to elect parties that "smear" China. The ccp-run Global Times had an editorial priming a "strong counterstrike" if the Conservatives won. The National Post continued:
South China Morning Post correspondent Ian Young also noticed a phenomenon of heavily Chinese-Canadian districts turning dramatically against the Tories. Richmond, Canada's most Chinese city, bucked national trends by defeating Richmond Centre Conservative MP Alice Wong—despite the fact that she won the riding by more than 20 points in 2019.
This is a disturbing development. Although the media scoffed at the prospect of foreign interference or fraud, the National Security Committee 2020 report specifically highlighted China as a threat for foreign interference.
There is also a correlation between the provinces with the most mail-in ballots and the provinces with the most Liberal votes. Currently 200,000 mail-in votes requested by voters have not been returned. Blacklock's Reporter revealed on September 24 that some voters who requested a mail-in ballot never received it, and the federal government is unsure of where these missing ballots are located.
Trumpet editor in chief Gerald Flurry wrote in the January 2021 Trumpet about the clear evidence of widespread fraud during the 2020 United States election. "Mail-in ballots open the door for terrible fraud," he wrote. "A great deal of disturbing evidence has been emerging of voting irregularities and fraud—and it always favors Joe Biden!" In Canada, all the irregularities and Chinese interference benefited Justin Trudeau.
Just as the Canadian election ended, the U.S. government suddenly made a plea deal with the chief financial officer of Huawei, Meng Wanzhou, who was being detained for criminal charges. Simultaneously, China released Canadian nationals Michael Kovrig and Michael Spavor after they were detained for over 1,000 days. Although the ccp insisted Kovrig's and Spavor's arrests and detainment were not connected with Meng, China clearly executed hostage diplomacy successfully.
It is shocking to witness the influence and power the ccp has within Canada. It was in the best interest of the ccp to have a Trudeau victory. But this relationship with the radical left has been cultivated over generations.
The Canadian George Soros
The man most responsible for Canada's pivot to China is Pierre Elliott Trudeau, the current prime minister's father. The Trumpet has reported on Trudeau's affection for and fascination with Communist dictatorships. He first visited China in 1949 and was one of the first Western leaders to normalize Mao Tse Tung's ccp. While visiting China during the "Great Leap Forward"—in which millions of Chinese people starved to death from famine—Trudeau wrote in his book about China: "We are convinced that we are witnessing the beginning of an industrial revolution."
This vision of Trudeau was fostered and developed by perhaps the most powerful man in Canada. It might seem stranger than fiction, but one corporate family empire in Canada has powerfully influenced nearly every prime minister since 1970. A two-headed monster has driven Canada's relationship with China: a political head and a corporate head. The Epoch Times reported in a January 2021 article "The Ties Between Beijing and Canada's Elite and Powerful":
The Montreal-based Power Corporation, a multibillion-dollar financial services company, has been described as "the premier gatekeeper of [Canada's] formal relations with China" by author Jonathan Manthorpe in his 2019 book, Claws of the Panda.
Paul Desmarais Sr. created Power Corp. after arriving in Quebec penniless. He built a powerful conglomerate of companies ranging from bus lines to hydropower to investment banking. Based in Montreal, Power Corp. became intertwined with Canada's ruling elite and literally became the kingpin of Canadian politics, as the Epoch Times reported:
Some of Canada's most influential people have links to Power Corp., including four former prime ministers.

Former prime minister Jean Chrétien's daughter is married to André Desmarais. Chrétien, Pierre Trudeau and former prime minister Brian Mulroney all served as advisory board members of Power Corp. after leaving office. Former prime minister Paul Martin was president of one of the company's subsidiaries, Canada Steamship Lines, and later bought it with a partner in the 1980s.
All four prime ministers had ties to Power Corp. before being elected into office, and all enjoyed strong financial support from the Montreal-based group. Nearly all prime ministers from 1970 to 2021 have ties to Power Corp. And whether Liberal or Conservative, all pursued a pro-Quebec, pro-China policy. The only exception is Stephen Harper, who was a wildcard from Western Canada and had no ties to the French political elite. Justin Trudeau restored the premiership to being loyal to the Power Corp. elite.
Paul Demarais Sr. is the Canadian George Soros. This relationship has helped furnish the Communist takeover of Canada and the pro-Chinese destiny of Canada. The Epoch Times continued:
Power Corp. is a founding member of the Canada China Business Council (ccbc), which was spearheaded by Paul Desmarais Sr. The business mogul once remarked that Mao was one of the four historical figures he respected most.
The ccbc was founded in 1978 and has probably been the most powerful lobby in Ottawa. The council has become a powerful instigator in the Liberal Party brain trust. Many members and former members of the ccbc have held cabinet positions, been ambassadors, or key advisers to Canadian governments over the past 40 years.
The founding members of the ccbc include the Chinese state-owned company citic, Power Corp., bmo Financial Group, Bombardier, snc-Lavalin (which Justin Trudeau has illegally shielded from charges of fraud), Barrick Gold Corp., Export Development Canada, Manulife Financial and Sun Life Financial. All of these groups are or were based in Montreal.
The Epoch Times article exposes the fact that the Canadian political and corporate elite enjoyed close relations with Chinese officials responsible for genocide, murder, concentration camps and political authoritarianism. The office of prime minister in Canada has become one of the chief enablers of the Chinese agenda of world domination.
The cover story of the February 2021 Trumpet, "Waking Up to the Chinese Threat," documents how the elite in America have sold out to China and enabled a Communist infiltration of our society. This has culminated in the leadership of Joe Biden, who has strong ties to China. This same process has taken place in Canada and has culminated in the leadership of Justin Trudeau. Our sins against God have weakened us from within and enabled our enemies from without.
"With America's dominance ending, the world is entering what Jesus Christ called 'the times of the Gentiles' (Luke 21:24)," we wrote in February 2021. "This is a dark, violent period when non-Israelite nations rule the world. The Bible prophesies that one of these dominant powers will be an Asian super-alliance headed by Russia and China."
This deep-seated corruption in Canada and America is fulfilling Bible prophecy. The Chinese election interference is the latest development in a long history of collusion.
The Outlook for Canada
What should we expect now that Justin Trudeau will remain prime minister of Canada?
Trudeau is looking increasingly authoritarian, with promises of restricting travel inside Canada, imposing vaccine mandates, moving toward restricting protests and legal challenges to authoritarianism, using the Canadian Revenue Agency to persecute political opponents, moving toward banning firearms, and legislating censorship of the media.
During the last days of the campaign, Trudeau committed to electoral reform, which would see Canada moving to a ranked ballot system (which makes fraud even easier), and indicated that if he did not gain a majority in this election, he would call another election in 18 months. Elections Canada is also scheduled to redraw the ridings in 2022, which would increase the number of ridings in populous areas. This would increase the amount of seats in Liberal strongholds.
Prepare for a far stronger, more authoritarian Trudeau government allied with the radical socialist New Democratic Party. Prepare for the continuation of collusion between Trudeau's government and the Communist Chinese.
There may be dark days ahead for Canadians. However, this bleak outlook is leading to the most hopeful, positive event you could ever imagine!
In his landmark book The United States and Britain in Prophecy, Herbert W. Armstrong explained that America and Britain are descendants of the biblical tribes of Israel. Specifically, the British peoples, including the Commonwealth nations, are descended from Ephraim, which includes Canada. The Bible describes Ephraim in Hosea 7:11 as a "silly dove" that naively relies on alliances with foreign powers and not on God.
The end-time nations of Israel will be severely corrected for their sins and corruption. But God has a master plan of redemption to save our nations and to save you! There is a way of escape, but it requires action on your part. To find out where all these events are leading, please read The United States and Britain in Prophecy.