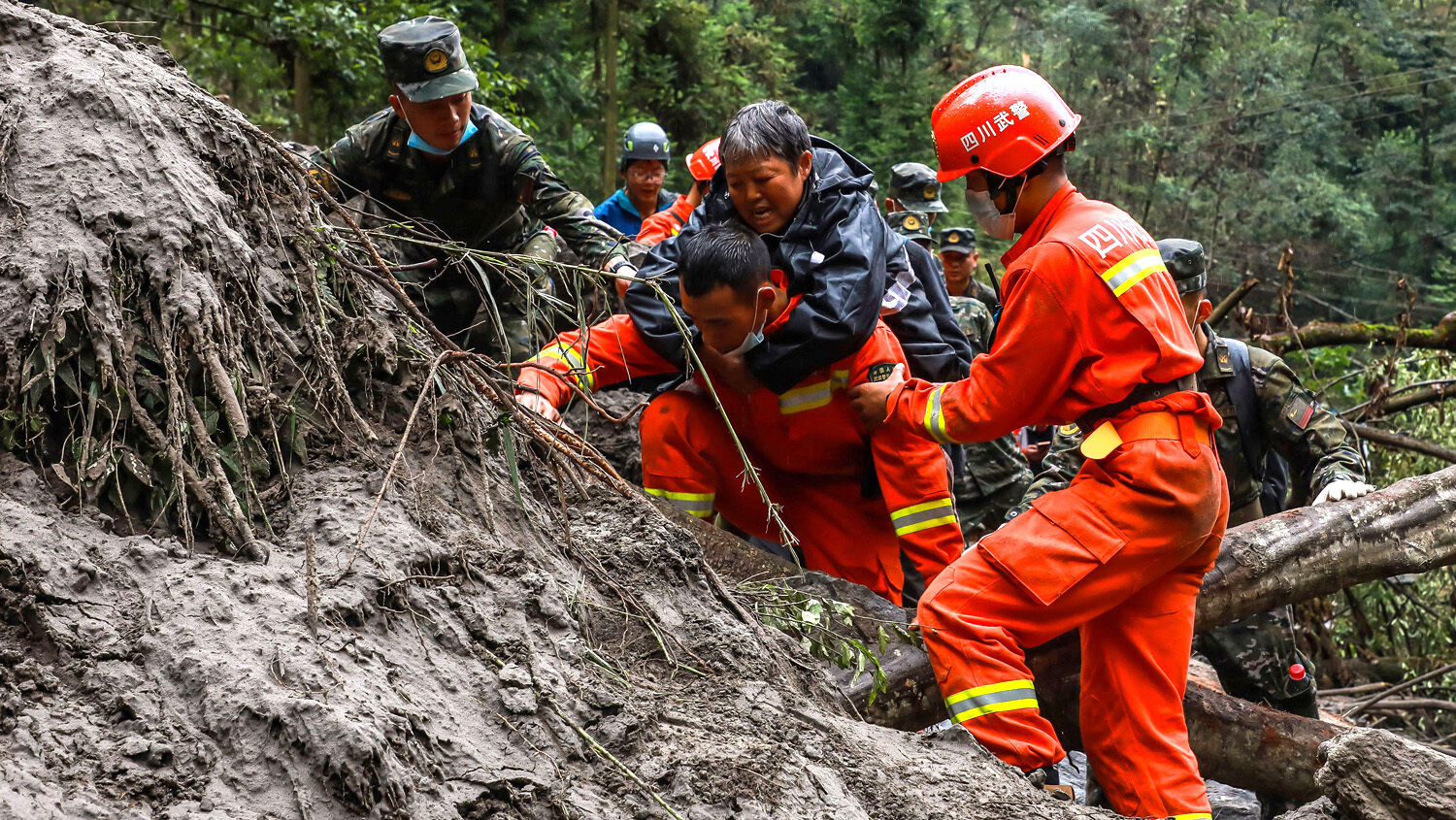 Chinese Province Hit With Earthquake and Drought
What is wrong with the weather?
China's Sichuan province experienced a deadly 6.6–6.8-magnitude earthquake on September 5. Its epicenter was over 100 miles away from Chengdu, Sichuan's capital, which has a population of roughly 21 million people. According to abc today, the death toll is 92.
The crisis has been exasperated by Chengdu's current covid-19 lockdown. China is employing a "zero-covid" policy where a small uptick in covid cases puts entire cities under draconian measures. (Shanghai was under a similar lockdown this spring.) Rescue workers from outside afflicted areas weren't allowed to help. Local rescue workers were required to have multiple, daily covid tests to enter buildings. Reports also exist of security guards keeping people locked in their houses.
This isn't the only disaster to hit the region of late. This summer, China experienced a record heat wave. On August 18, temperatures in Sichuan reached 113 degrees Fahrenheit, the highest temperature recorded in China (not including the deserts of Xinjiang in the far west). Poyang Lake, normally China's largest freshwater body, has receded to less than two thirds its normal levels. Water levels in the lake have been falling six inches a day. Parts of the Yangtze River, China's longest, are at their lowest levels since record-keeping began in 1865.
Climatologist Maximiliano Herrera claims the situation in China is unprecedented. "This combines the most extreme intensity with the most extreme length with an incredibly huge area all at the same time," he said. "There is nothing in world climatic history which is even minimally comparable to what is happening in China."
"All-time highs are being broken," wrote the Washington Post, "often only to be re-broken days later."
Sichuan is especially vulnerable to dropping water levels. The province relies on hydroelectricity for 80 percent of its power. Last month, Sichuan halted operations of factories in 19 localities to keep electricity supplies up. Sichuan has a population of over 80 million.
This may be a collective disaster for China. But a lesson in the Sichuan crises applies to the rest of the world.
Such "unprecedented" disasters are becoming all too common. Every year, headlines of record-breaking droughts, floods, hurricanes and other disasters inundate the news cycle. It's easy to become callous to them, to think this is the new reality. It's easy, after giving "our thoughts and prayers" in a candlelight vigil, to do nothing and move on. After all, a disaster in China may not directly impact someone hearing the story in New York or São Paulo or Istanbul.
But as horrific as weather disasters are to local populations, they have a message for a wider audience.
The Bible reveals that God is the one who ultimately controls the weather. The Prophet Nahum wrote "… The Lord has His way In the whirlwind and in the storm, And the clouds are the dust of His feet. He rebukes the sea and makes it dry, And dries up all the rivers. … The mountains quake before Him, The hills melt, And the earth heaves at His presence …" (Nahum 1:3-5; New King James Version). Amos 4:7 reads: "I also withheld rain from you, When there were still three months to the harvest. I made it rain on one city, I withheld rain from another city. One part was rained upon, And where it did not rain the part withered" (nkjv).
God has control of "[a]ll power … in heaven and in earth" (Matthew 28:18). Nothing happens on this planet without Him allowing it. This includes weather disasters.
But the question remains, Why?
Does God enjoy tormenting puny humans who don't know any better? Does He take pleasure in the suffering of others? Not at all! God uses the weather to speak to people! He wants people to be reminded of their own powerlessness in the face of nature and turn to Him. Amos's prophecy continues: "So two or three cities wandered unto one city, to drink water; but they were not satisfied: yet have ye not returned unto me, saith the Lord" (Amos 4:8).
Our world has forsaken God. But God wants to get mankind's attention. He wants people to repent of their sins, sins that are causing misery. "As I live," God says in Ezekiel 33:11, "I have no pleasure in the death of the wicked, but that the wicked turn from his way and live; turn back, turn back from your evil ways; for why will you die, O house of Israel?" (Revised Standard Version).
Ezekiel wrote this to the people of Israel. But this applies to anybody anywhere—even to the people of China.
If you would like to learn more about God's hand in weather disasters and what they mean for the world, please read our Trends article "Why the Trumpet Watches Increased 'Natural' and Weather Disasters." It gives the perspective nobody else can offer when tragedy strikes.