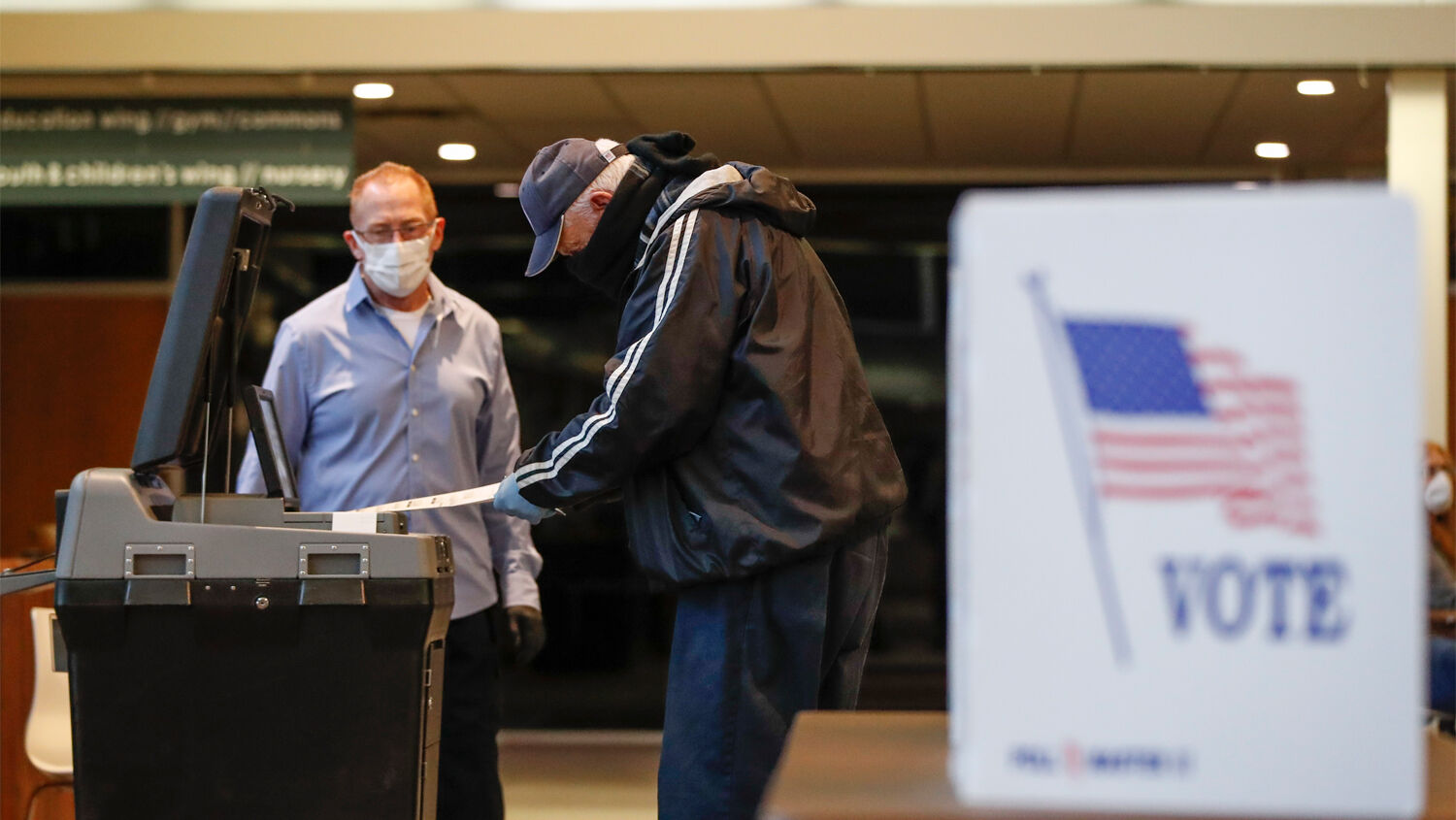 America Project: Enough Evidence of Voter Fraud to Decertify at Least Three States
The truth about the 2020 election is slowly leaking out to the public.
The former ceo of Overstock.com, Patrick Byrne, has teamed up with retired Lt. Gen. Michael Flynn to expose the theft of the 2020 United States presidential election. Toward this end, these two figures have cofounded a group called the America Project to train volunteers to "expose shenanigans at the ballot box." This group is already meeting with success. As Byrne recently announced, there is enough evidence of voter fraud to decertify the election in at least three states.
In a video posted to Rumble on March 13, Byrne highlighted how Special Counsel Michael Gableman, a retired justice of the Wisconsin Supreme Court, has investigated the Wisconsin election and found it should never have been certified. Byrne also highlighted how Garland Favorito's report on the Fulton County, Georgia, election found hundreds of thousands of votes that were irregular and how an investigation into Arizona's election has found 740,000 ballots with improper chain-of-title. He points out that Wisconsin has 10 electoral votes, Georgia has 16, and Arizona has 11. If the elections in these states are illegitimate, then Joe Biden is not the legitimate president.
A state court also ruled recently that Pennsylvania's expansive two-year-old mail-in voting law is unconstitutional. According to attorney Wally Zimolong, about 40 percent of the ballots cast in Pennsylvania during the 2020 election are fraudulent because Democrats illegally changed state election laws to make it easier for people to mail in unverified ballots from home. Therefore, Pennsylvania is a potential fourth state that should have its election decertified.
Currently, there does not seem to be enough political support to actually overturn the results of the 2020 election, but the truth about the election is leaking out to the public despite Democrats' best efforts to cover up fraud.
"It is practically an open secret that radical Democrats stole the 2020 United States presidential election," Trumpet editor in chief Gerald Flurry wrote in his July 2021 article "What Will Happen After Trump Regains Power." "Dr. Peter Navarro, a former White House adviser, has uncovered 3,069,002 'possible illegal votes' in just the swing states of Arizona, Georgia, Michigan, Nevada, Pennsylvania and Wisconsin. Since Joe Biden's 'victory' margin in these states was a 10th of that (312,992 votes), no reasonable person can conclude the presidential election was free and fair."
Along with former White House adviser Steve Bannon, Dr. Navarro sought to expose the election fraud by having over 100 congressmen object to the counting of electoral votes in six states during a joint secession of Congress on Jan. 6, 2021. But Vice President Mike Pence hung up on him while he was pitching the plan, and the Capitol Hill protests turned most of the 100 congressmen he was working with against him. So Biden took the oath of office on Jan. 20, 2021, leaving it up to people like Byrne and Flynn to expose the fraud retrospectively.
Even Gableman says it is no longer possible to decertify the election now that it has been certified, even though his investigation has proved that this would be the right thing to do. Yet Bible prophecy indicates that Gableman is wrong and the 2020 presidential election will be overturned one way or another. Mr. Flurry further explained in his article that the Bible shows President Donald Trump will definitely return to power, but "the indication is that regaining office may take considerable work. Donald Trump will have to fight for it. It doesn't have to be military action, but it certainly could. President Trump could also lead some states to secede from the union. That would lead to some kind of warfare."
This astonishing forecast is based on 2 Kings 14:26-28, which read: "For the Lord saw the affliction of Israel, that it was very bitter: for there was not any shut up, nor any left, nor any helper for Israel. And the Lord said not that he would blot out the name of Israel from under heaven: but he saved them by the hand of Jeroboam the son of Joash. Now the rest of the acts of Jeroboam, and all that he did, and his might, how he warred, and how he recovered Damascus, and Hamath, which belonged to Judah, for Israel, are they not written in the book of the chronicles of the kings of Israel?"
President Trump is a type of Jeroboam ii. God is using him to temporarily save America from the forces seeking to destroy it. He is going to have to fight to recover office, and the America Project might be the next step in this fight.