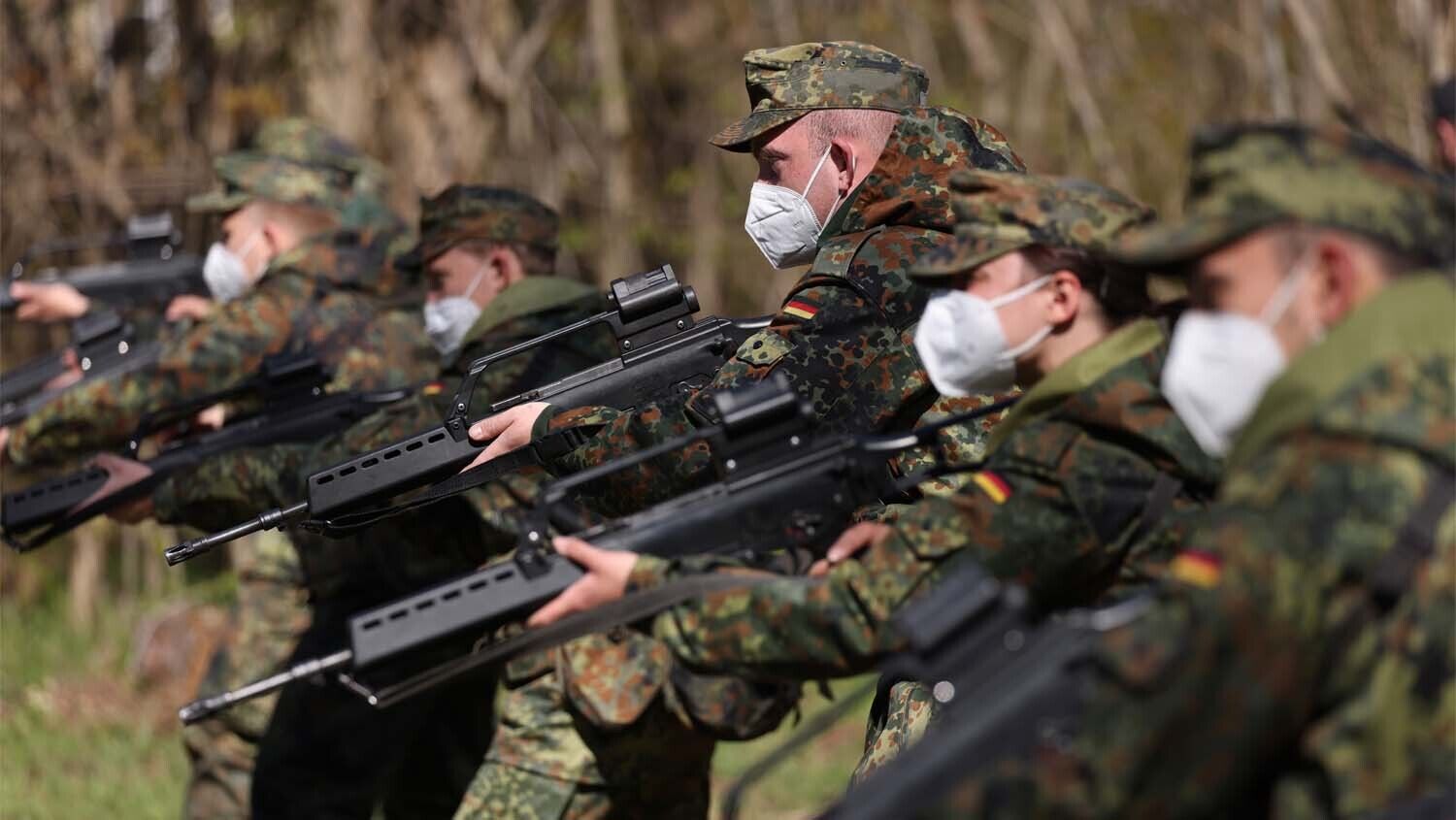 What Will a Militarized Europe Look Like?
With a potential military budget close to that of the United States, imagine what the EU could do with a strongman leader.
Countries all over Europe are pledging to increase their military budgets. Poland even demanded that the European Union's defense budget rise to the level of the United States', currently the world's largest. Europe already has a well-trained armed corps, officer schools and a high-tech military industry. A sudden militarization could drastically change the balance of power in the world. On February 28, German arms manufacturers met with the government to discuss the new deals.
Polish Prime Minister Mateusz Morawiecki called on the EU to double its defense spending in order to build a strong army. In a February 27 interview with Berliner Morgenpost, Morawiecki said the EU should increase its total defense spending from the current $333 billion to upward of $668 billion. By comparison, Russia currently spends around $69 billion on its military, and the U.S. around $767 billion.
Germany pledged to create a new $112 billion fund this year. Der Spiegel revealed how the government plans to use the additional money, including improvements in the defense against supersonic weapons, the development of strategic air transport capabilities, a new air-defense system and a new generation of battle tanks. Germany cooperates closely in various projects with France, Britain, the Netherlands, Norway and other European nations.
Germany has also committed to spend 2 percent of its economic output on its military by 2024. According to calculations by ubs banking group, Germany's annual defense spending is likely to rise to more than $94 billion.
In his speech over the weekend, German Chancellor Olaf Scholz announced progress on the purchase of the armed Heron drone from Israel and the procurement of a modern replacement for the outdated Tornado jets that can be used within nato's nuclear-sharing agreement. The planes Germany currently has for the job are old and need to be replaced with either the F-35 or updated European fighter jets. (With the procurement of American F-35s, Germany would be able to carry the B61 nuclear bombs the U.S. has loaned it.) Scholz indicated the current strategy calls for a hybrid solution, combining elements of the modernized Eurofighter and the American superfighter F-35.
Suddenly, Germany is preparing to use the full force of modern military technology as it prepares for a potential nuclear war. "As peaceful as Germany seems because its army has shrunk since 1990, its military potential has grown exponentially," we wrote in 2019. "The stage for sudden rearmament is set." We are about to see what Germany's "military potential" looks like in reality. Germany's arms manufacturers are ready for business—to arm all of Europe.
Sudden Militarization
Handelsblatt reported on February 28 an emergency meeting between Germany's government and its arms industry. Handelsblatt learned from representatives "that the existing military equipment should be upgraded and new material should be purchased as quickly as possible."
The German arms industry is delighted and ready to produce. Rheinmetall ceo Armin Papperger told Handelsblatt that his company offered the German government a comprehensive supply of ammunition, helicopters and armored vehicles: nearly $47 billion worth of equipment. "In many plants we work in single-shift operations, but we can also work around the clock," Papperger said, adding that production of tank ammunition could be increased from about 40,000 shells a year to 240,000.
"Companies now want to ramp up production quickly," Handelsblatt noted. "Airbus, for example, could supply military helicopters, Hensoldt radar systems, and Thyssen-Krupp Marine Systems (tkms) could upgrade the fleet." The ministry hopes to award a contract soon and speed up the process for acquiring new weapons.
Thomas Müller, ceo of Hensoldt AG, noted on February 23: "With this portfolio of innovative key technologies, we want to grow in the coming years in Germany and Europe, but also increasingly outside Europe. We have laid a very good foundation for this in recent years."
Germany's industry has been preparing for this moment for years. Rheinmetall, together with Krauss-Maffei Wegmann (kmw), produced the Leopard 2 main battle tank, the Puma infantry fighting vehicle and air defense systems. Papperger noted that the Leopard 2 could be upgraded and compete with the Russian T-14 Armata, the world's most powerful main battle tank, according to some experts. He also said Rheinmetall has prepared and purchased materials and semiconductors that have recently been in short supply. Papperger also noted that he received inquiries from a number of nato member countries especially from Eastern Europe.
For years Germany's arms industry has sustained itself by lucrative weapons exports and has thus been prepared to serve its own government. But that's not the only way Germany has prepared for this moment of crisis. (To learn more, read "Europe's Next Generation Combat System.")
Germany Commands Europe's Army
French President Emmanuel Macron has demanded a stronger European military. In a radio interview on Nov. 6, 2018, Macron called for a "true European army." "We have to protect ourselves with respect to China, Russia and even the United States of America," he added.
The financial backing for this army has now been approved. "In time, we will see Germany gain more influence and even exercise direct control over France's air force, Italy's navy and Poland's impressive tank brigade," we wrote in "Forging a Superpower." "Indeed, the effort to streamline these disparate sectors is already underway. Germany is working to merge Europe's weapons industry, its military operational headquarters, its armies and its leadership. Most of the Dutch Army is already integrated into the German Army. The Czech and Romanian armies have also agreed to join the Germans."
The recent war in Eastern Europe has made it increasingly clear that only a united European armed force can protect it from Russia. But in 2017, EU nations launched a military pact called Permanent Structured Cooperation (pesco) that has since helped coordinate member countries' operations, including logistics, transportation and training missions. Our article continued:
But Europe's army and military would be largely ineffective without capable leadership at the officer level. This is why Germany is training military officers all over Europe.

The Bundeswehr, Germany's armed forces, currently has 24 training facilities open to soldiers from other EU member states. It also has troops in 55 training facilities of other armies across Europe. Some Bundeswehr officers are attending the elite officers' school in Saint-Cyr, learning about the military structure, strategies, resources and mentality of France.

German officers are learning to work with and to command foreign soldiers. They are cooperating with the French on flying helicopters. German submarines could soon set off for patrol carrying joint German-Norwegian crews.
Germany's military industry, its military officers and even its soldiers have been forming close cooperation with the rest of Europe. All this groundwork will play a dramatic role in Europe's sudden militarization. (To learn more, read "Europe's 'Underground' Army.")
The Missing Link
The EU's combined military spending is already far higher than that of Russia's. The West has a lot of military power, but it's distributed across multiple armies, nations and chains of command. The one thing Europe's armed forces don't have is a commander in chief. Trumpet editor in chief Gerald Flurry made this plain in his article "Who Will Command Europe's Armies?", writing:
No European president has the executive powers to lead such an army. When crises escalate and the United States isn't there to help, Europe is helpless.

This desperate need for leadership leaves the door wide open for a strongman to take control.

European nations want to forge ahead and prove their independence from the United States. But if Europe builds a mighty single army, who would command it? Italian political scientist Ernesto Galli della Loggia asked this crucial question in Corriere della Sera on September 22. Making war would require consensus among 27 EU member states! "Is it ever imaginable that 27 political leaders—expressions of electorates, traditions and interests enormously different among themselves—would decide to embark on a military action that could become violent and cost the lives of some of their own citizens, beyond creating unpredictably serious complications?" he asked.

No—it is unimaginable! Europe cannot govern itself unless a single powerful strongman is at its helm.
But just as suddenly as we have seen European nations pledge to remilitarize, we can see the emergence of an overarching strongman. European leaders see Putin make rapid decisions as the absolute authority; he doesn't have to go through committees and consult with various people. Austrian paper Der Standard wrote on February 10: "The EU finally needs a leader who can deal with Putin and [Joe] Biden on an equal footing." This would, of course, require not only a strong leader but the establishment of a new form of government that would enable this leader to act with autonomy. Are we about to see some sort of constitutional change that would give a European strongman the same freedom to act on the level of autonomy Putin currently enjoys?
America has already withdrawn as the leader of the Western world. A European strongman could easily step in the vacuum that has been left behind.
Such an overarching leader in Europe could dramatically change the course of history. Imagine what would happen if Europe increased its military spending to $600 billion and then spent that money in a dictatorial way, bypassing the long regulatory chains. Europe could buy the most up-to-date weaponry, weapons the West has denied Russia. This would make Europe's army much deadlier than Russia's.
What the Bible Reveals
More than any other political development, the late Herbert W. Armstrong warned his listeners and readers of this coming military union. Based on Bible prophecy in Daniel 2 and 7, Revelation 13 and 17, and other passages, he wrote in May 1953, "Ten powerful European nations will combine their forces."
Daniel 2 describes the last human kingdom to govern this world as a mixture of miry clay and iron. "And as the toes of the feet were part of iron, and part of clay, so the kingdom shall be partly strong, and partly broken" (verse 42). Ten nations will unite as a military superpower that will rule this world for a short time.
Revelation 17:12-13 show how these nations will unite under one overarching leader: "And the ten horns which thou sawest are ten kings, which have received no kingdom as yet; but receive power as kings one hour with the beast. These have one mind, and shall give their power and strength unto the beast."
Individual European countries have been building up their strength. But it's during a time of crisis that they will unite. As a combined empire, these nations will set out to make war. They will be such a frightening superpower that a huge conglomerate of Asian nations will join their military forces to stop them in that last battle before the end of this age. Mr. Flurry explained this development in "Germany Responds to Russia With an Explosive Announcement!" He wrote:
The main prophecy that these events bring to mind is in Daniel 11. Verses 40-41 prophesy of a "king of the north"—a united Europe—that attacks the Middle East. (Read our free booklet The King of the South to learn more.) This power is going to dominate the Middle East and then the world!

The great powers of Asia, which are already coming together in many ways, will coalesce behind Russia and China. They know they are next on the hit list of the world's new number one superpower, Europe, which likes to attack without warning. So Russia and China will gather their armies on the borders of Europe.
Europe's unification is about to lead to a global war! But notice how the Daniel 2 prophecy ends: "And in the days of these kings shall the God of heaven set up a kingdom, which shall never be destroyed …" (verse 44). "These kings" are rising in Europe today. They will unite for a short time. But their reign will end with the return of Jesus Christ.
I encourage you to read Mr. Flurry's article "Germany Responds to Russia With an Explosive Announcement!" to see how rapidly current events are leading to the fulfillment of these prophecies.