A World-class Military—Overnight
'Not a small development'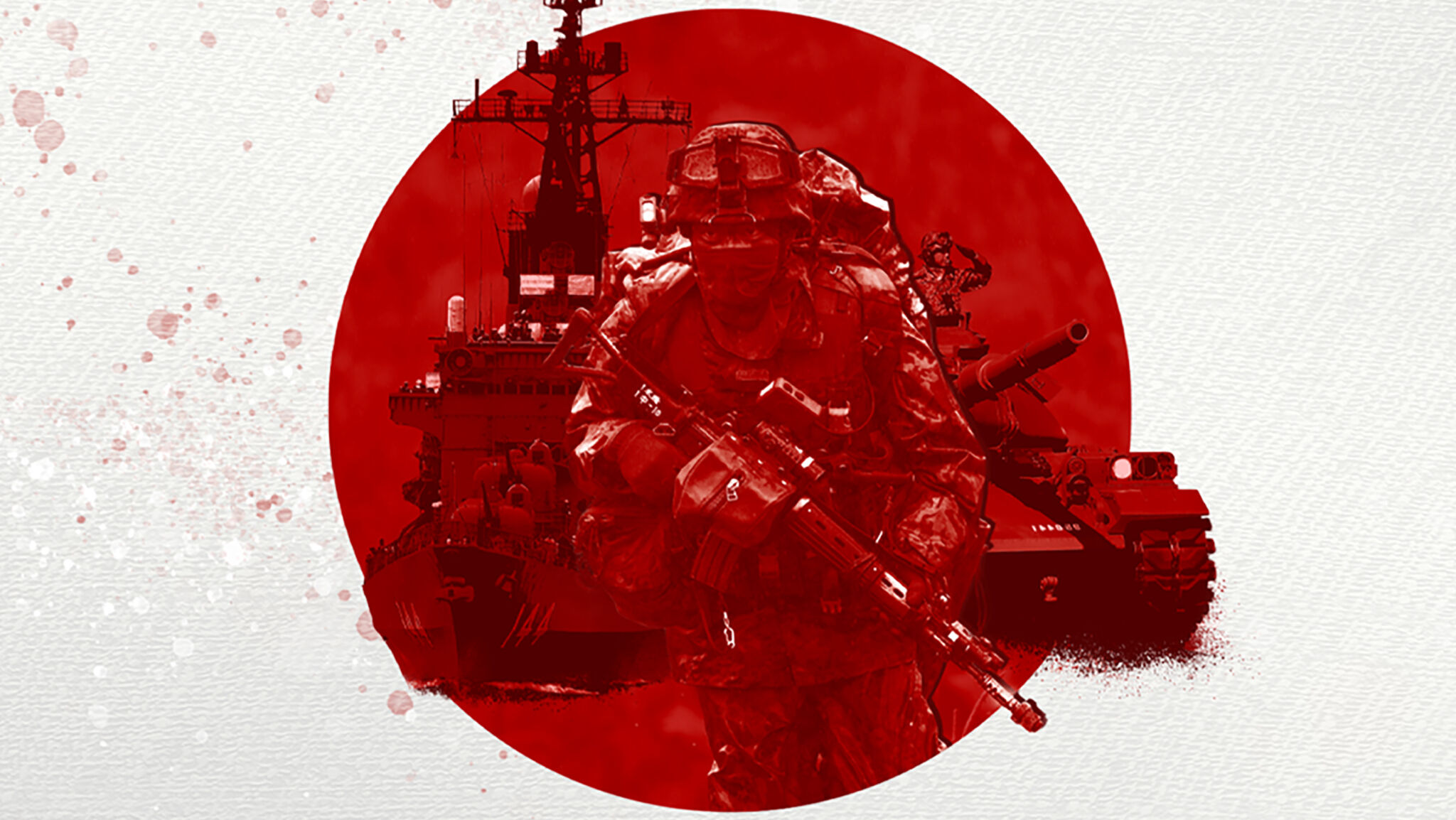 A World-class Military—Overnight
'Not a small development'
Japan's drive toward militarism has been rapidly accelerating. The decades of gradual propulsion from pacifism toward military normalization have now shifted into high gear. If it remains on its current path, the land of the rising sun could soon overtake France, Germany, Saudi Arabia, the United Kingdom and even Russia and India and build the world's third-most expensive and lethal military machine.
What's in a Percentage Point?
For decades, Japan has limited its defense spending to 1 percent of the nation's gross domestic product. This unofficial spending cap was in place to assuage worries, both within Japan and abroad, about a potential resurgence of the kind of fanatic militarism that drove Japan into World War ii and inflamed its soldiers with cruelty that even the Nazis found shocking. Japan kept the limit in place largely to keep the world from worrying about a repeat of its barbaric attempt to conquer East Asia and the world.
But now members of Japan's governing Liberal Democratic Party (ldp) believe these worries about the nation's history of war crimes are unfounded, and that the time has come to double military spending to 2 percent of gdp.
An increase of 1 percent may seem trivial. But Japan possesses the world's third-largest economy, generating $5 trillion per year. The proposed increase would boost defense spending to approximately $100 billion annually and propel Japan from ninth place in military spending to third place, behind only the United States and China.
ldp policy chief Sanae Takaichi said during an Oct. 13, 2021, press conference on the proposed boost, "We are demonstrating our resolve to defend the Japanese people's lives, property, territory, territorial waters, territorial airspace, sovereignty and national honor." He said Japan would be able to "offer policies that will result in firm diplomacy and stronger defense capacity."
Fear of the Dragon
It's no secret that Japan's "stronger defense capacity" would be directed mainly against China. President Xi Jinping and the Chinese Communist Party have strengthened China's military to staggering levels. It is well understood that China covets its neighbors' territories and resources and is intent on using force to subvert the regional and even the global order to get them. This determination is on chilling display in China's increased provocations in the South China Sea and parts of the East China Sea that are claimed by both China and Japan.
The Japanese see the danger of China's ambitions clearly. A recent survey of 1,696 Japanese respondents by the Nikkei Business Daily found that 86 percent believe China poses a serious threat to their nation, exceeding even the 82 percent who believe North Korea presents a danger.
Due mainly to these fears of China, Japan's military strategy is increasingly focused on naval strength. It currently possesses a world-class navy of 114 warships, including 26 destroyers, 22 submarines, 10 frigates, 6 destroyer escorts, 3 tank-landing ships and Izumo, an 820-foot-long, 27,000-ton, so-called helicopter carrier.
When Izumo launched in 2013, Japanese leaders were careful to officially brand it as a "helicopter carrier." The Japanese Constitution, imposed by the U.S. after the Empire of Japan killed more than 160,000 Americans in World War ii, aims to contain Japanese military fanaticism by strictly forbidding offensive sea and air weapons. Aircraft carriers—which are specifically built to carry warplanes and troops to enemy waters, airspace and terrain—are understood to be some of the most capable offensive-weapons platforms a nation can possess. The Japanese hoped this branding would temper accusations of violating the Constitution. But in 2020, Japan began dropping even that thin pretense. It began modifying both Izumo and its sister ship Kaga with heat-resistant flight decks and other support systems for fighter jets. Then in October 2021, Izumo launched and recovered a pair of F-35s. A Japanese warship has now fielded fixed-wing aircraft for the first time since its predecessors wrought havoc on China, Korea, Britain, the U.S. and others during mankind's bloodiest conflict.
However the Japanese classify Izumo, this is the new naval reality: A Japanese aircraft carrier once again sails the oceans.
Japan "is already the second-most capable navy in the world," geopolitical strategist Peter Zeihan posted on Twitter. "Now they're going to double spending? Not a small development" (Oct. 13, 2021).
Japan is expected to use the additional $50 billion per year to further enhance its naval power with more F-35 stealth fighters, Osprey tilt-rotor aircraft, submarines and other American matériel. Japan will also develop its own weapons systems, including stealth fighters, amphibious landing craft, warships, manned and unmanned submarines—and more aircraft carriers.
Truly this will constitute a stunningly powerful and lethal naval force.
Meet the New Boss, Same as the Old
Fumio Kishida has spent 28 years in the Japanese political arena. He was long seen as more of a dove than a war hawk. Even after longtime Prime Minister Shinzo Abe appointed him foreign minister in 2012, Kishida seemed lukewarm about Abe's "cherished wish" to rewrite the pacifist clause of the Japanese Constitution. As Abe boosted defense spending to record levels and led a historic reinterpretation of that clause, Kishida remained in favor of Japan mainly relying on its seven-decade ally, the United States, for strategic protection.
Then Kishida became Japan's new prime minister on Oct. 4, 2021. The new plan to double military spending comes from his administration. He is now determined to advance Abe's military agenda and firmly push for transforming Japan's military into a normalized, ultra-modern force.
With the new spending proposal, some analysts believe Kishida's hawkishness is actually eclipsing Abe's.
'Kings of the East'
The Japanese are an exceptional people with numerous admirable traits and unparalleled technological and economic abilities, especially considering their disadvantages in geography and natural resources. Their industriousness and cultural and technological contributions have enriched the human experience for billions around the globe.
But Japan's dark and disturbing wartime history shows why its accelerating return to militarism is a vital trend to watch. World War ii and several earlier conflicts show that in times of war, Japan can descend into a nightmarish fanaticism and shocking brutality. It was recognition of this reality that prompted American officials in the 1940s, led by Gen. Douglas MacArthur, to include the clause in Japan's postwar Constitution that outlawed war as a means for the nation to settle international disputes. "We are committed," MacArthur said after Japan's surrender, "to see that the Japanese people are liberated from this condition of slavery."
But now, in America's drive to contain China, it is ignoring Japan's recent history. With a wink and a nod, the U.S. is encouraging Japan to circumvent its pacifist Constitution and re-militarize. The U.S. is even supplying Japan with much of its new military hardware.
Alongside history, Bible prophecy also sounds the alarm about Japan's return to militarism. Journalists occasionally refer to the biblical word Armageddon found in Revelation 16:16, but few people mention "the kings of the east" discussed in verse 12. The Bible shows that these "kings of the east" will lead a bloc of Asian countries that will pool their militaries together in the near future to form a gargantuan force.
Revelation 9:16 states that this Asian military will field a stunning 200 million soldiers. Ezekiel 38 and 39 show that Russia and China will lead this massive force, and Ezekiel 38:6 specifies that a key part of it will consist of "Gomer" and "Togarmah," ancient names referring to the main peoples who comprise modern Japan.
Today, animosity and fear are surging between the peoples of Japan and China, motivating both of these world-leading economies to build up their forces. But these Bible passages reveal that these two nations will soon join forces. The Bible also makes clear that this multinational Asian superpower will participate in the most devastating war in human history.
Jesus Christ prophesied this future war, saying, "For there will be greater anguish than at any time since the world began. And it will never be so great again. In fact, unless that time of calamity is shortened, not a single person will survive" (Matthew 24:21-22; New Living Translation).
Each expansion of Japanese firepower puts that calamity closer within range. Japan's march toward militarization is leading directly to a terrifying future that will affect all human beings.
But there is more to this story.
Just after Jesus prophesied that this era- and civilization-ending war would almost wipe out the last human life on Earth, He added this promise of hope: "But it will be shortened" (verse 22; nlt).
Before mankind's warring renders humanity extinct, Christ will interrupt the carnage with superior force! He will conquer all militaries and all governments and establish a new government. This literal government of God will produce an epoch of unprecedented peace and prosperity for the peoples of Japan, China and all other countries. Regarding this future age of global harmony, Isaiah 2:4 says that "nation shall not lift up sword against nation, neither shall they learn war any more."
America's status as the world's lone superpower is rapidly fading. Other nations and groups of nations are angling to fill the void. Rising in the East is an emerging power bloc of tremendous potential—in manpower, economic heft and military might. Its growing presence is intensifying global competition for resources and for geopolitical influence. Where will this trend lead? You can know! Biblical prophecy provides a remarkable, penetrating preview of Asia's future!