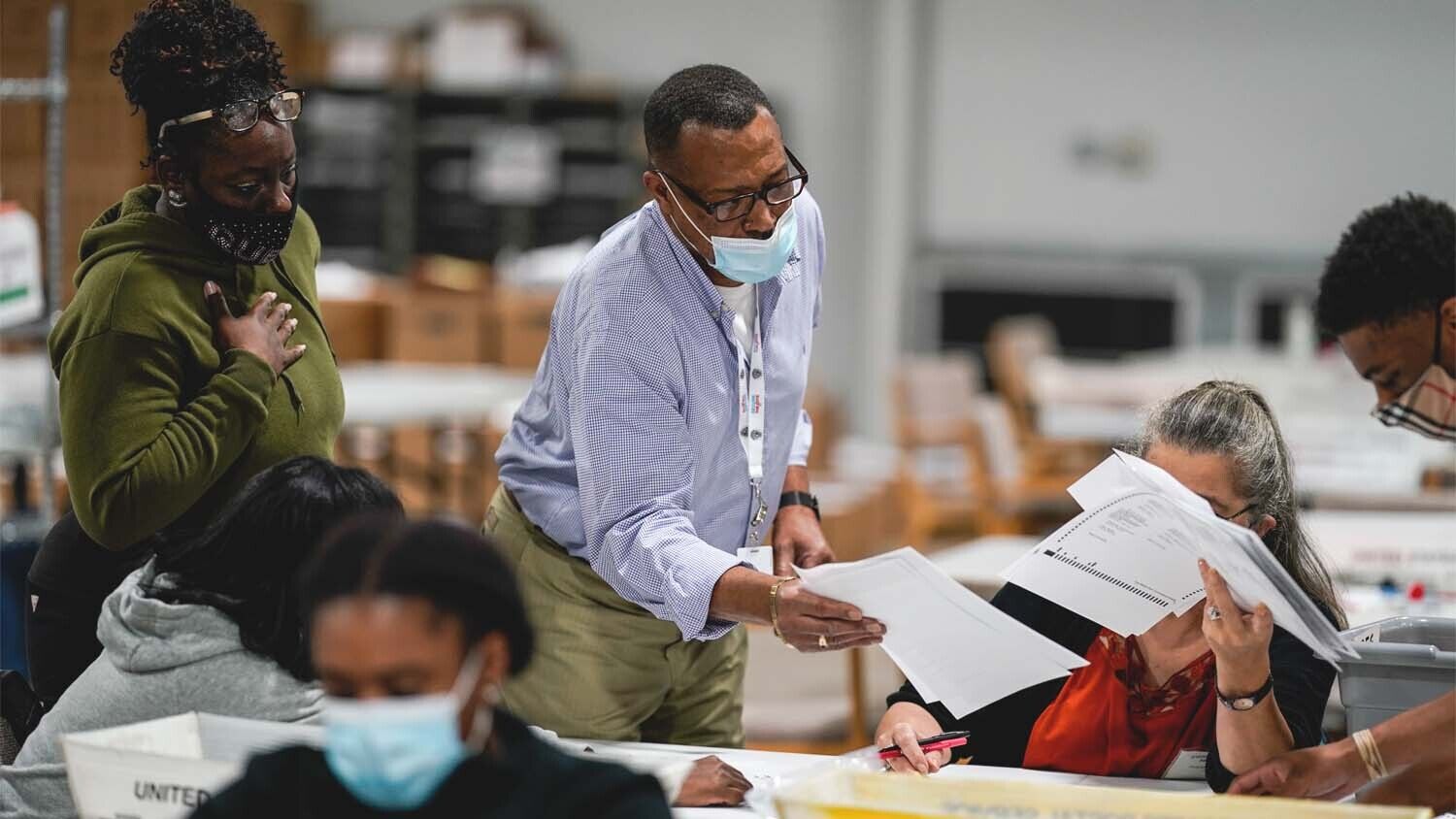 Something's Spoiled in the State of Georgia
Fulton Country, Georgia, accepted 5,000 ballots that should have been thrown out, recording many extra votes for Joe Biden in the 2020 election, according to an August 8 Just the News report.
Over 5,000 ballots in Fulton County were rejected by voting machines and subjected to human review, a process known as adjudication. Georgia's voting machines are programmed to reject overvotes—ballots that have more than one box filled in. Rejected ballots are reviewed by a panel of election workers. While adjudication is not new, the huge rise in absentee ballots made it a larger factor in last year's election.
Each absentee ballot in Fulton County has these instructions printed at the top:
If you make a mistake or change your mind on a selection:

Do not attempt to mark through the selection or attempt to erase. Write "Spoiled" across the ballot and across the return envelope.
Mail or return the spoiled ballot and envelope to your county board of registrars; a new official absentee ballot will be mailed to you.
Just the News examined the records of the adjudicated ballots and found the results were highly suspicious. For example, on one ballot, the voter mistakenly put marks next to both Trump and Biden, but wrote "spoiled" clearly at the top. According to Georgia's election code, spoiled ballots "shall not be reinstated." However, the adjudication panel awarded this vote to Biden.
Yet another ballot marked "spoiled" had only a mark for Trump. This ballot was not counted, however. Apparently, Fulton County only breaks the law in Biden's favor.
The ballots were still being adjudicated one to four days after Election Day, when counters would know exactly who was leading by how much.
The office of Georgia Secretary of State Brad Raffensperger said it was studying whether or not the spoiled ballots should have been allowed to go to adjudication.
According to official count in Georgia, Joe Biden won 2,474,507 votes and President Donald Trump received 2,461,837. That means Biden "won" Georgia by less than 13,000 votes. The 5,000 adjudicated ballots were not enough, by themselves, to have changed the election. But this is only one example of Fulton County corruption.
The Trumpet has reported previously about the videos of election workers sending election monitors home before pulling out boxes of ballots from underneath a table to count. An independent contractor hired by Raffensperger reported many irregularities with the tabulation, such as repeated identical vote tallies and missing absentee ballots. After reading the report, Raffensperger initially wrote "Georgia's Election Results Are Sound." After Just the News investigated the report, Raffensperger changed his tune, saying Fulton County's leadership failed the voters of Fulton County and Georgia.
Trumpet executive editor Stephen Flurry wrote about this in detail in his article "Raffensperger Knew About Fulton County Fraud." "No reasonable person can honestly conclude the 2020 presidential election was free and fair," he wrote. "And no observant person can honestly reason that fraud made no difference. Brad Raffensperger and the propaganda media know Fulton County was rigged, so they are doing everything they can to discredit attempts to expose election fraud. We at the Trumpet know that widespread election fraud will be exposed. We base that on Bible prophecy."
While the original report on Fulton County's corruption was bad enough, more evidence is surfacing that shows how far-reaching this corruption is.
Trumpet editor in chief Gerald Flurry wrote in the July 2021 issue: "It is practically an open secret that radical Democrats stole the 2020 United States presidential election. … I do not know how it will happen, but I am convinced Donald Trump is going to regain the presidency. Bible prophecy foretells it!"
Read "Raffensperger Knew About Fulton County Fraud," by Stephen Flurry, for more proof of fraud in Georgia. To find out how we know Donald Trump will take back his stolen presidency, read "What Will Happen After Trump Regains Power," by Gerald Flurry.