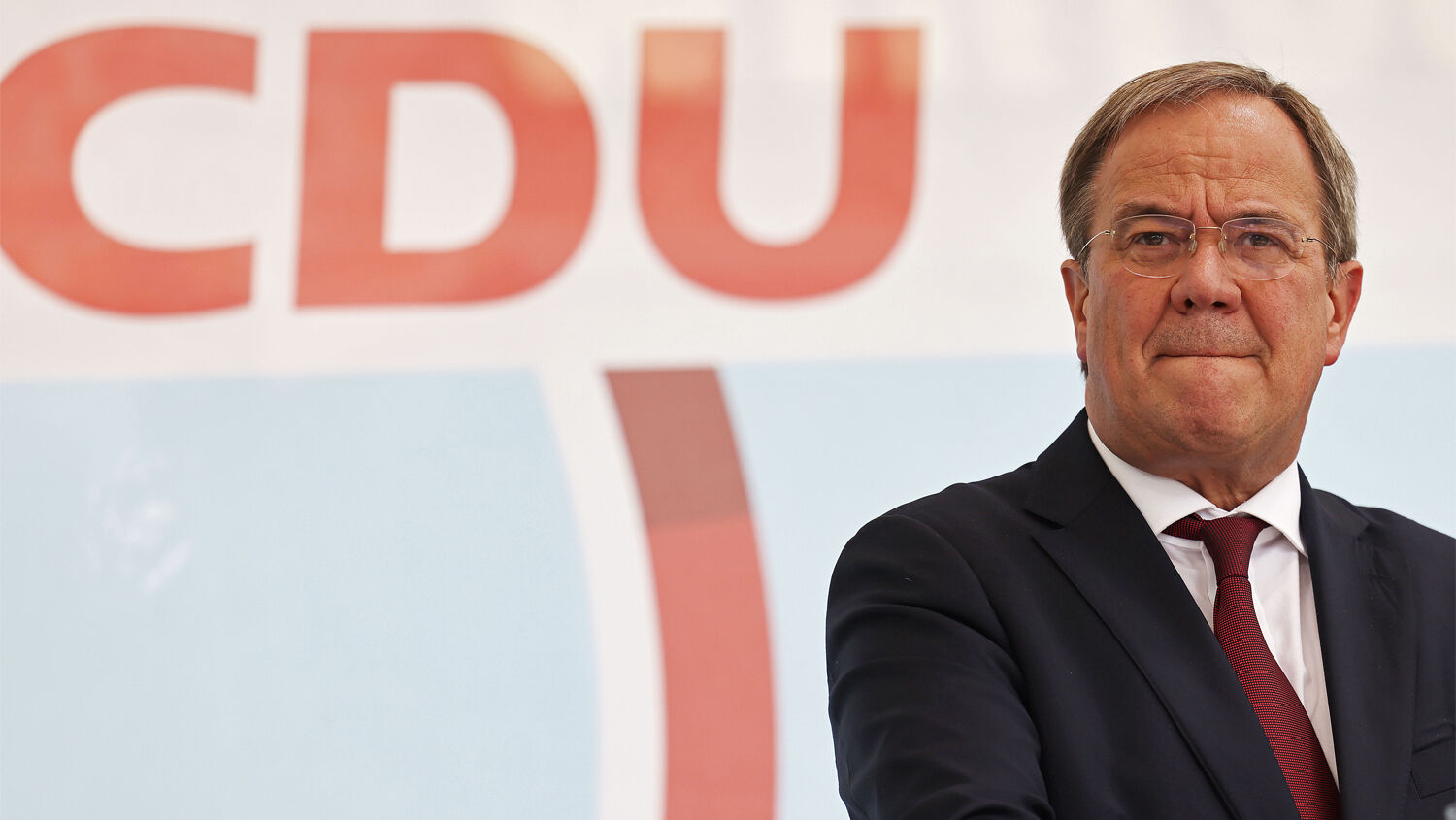 Germany's CDU at Historic Low Prior to Election
Crises demand leaders, but what if none are found?
According to the polls, support for Germany's leading party, the Christian Democratic Union, has plummeted to a historic low. For the first time since 2006, the cdu's rival, the Social Democratic Party (spd), is leading in the polls. According to the latest Forsa poll, published on August 24, the spd can expect to reach 23 percent of the vote in the next federal election, and the cdu, combined with the Christian Social Union, is expected to only receive 22 percent. This is the worst figure for the cdu-csu ever recorded by Forsa.
It's becoming increasingly clear that Germans are greatly dissatisfied with their leadership.
The recent collapse in the polls can, in part, be attributed to the government's disastrous response in Afghanistan. Germans fear that Afghanistan will be left in the hands of terrorists. They're also concerned about another refugee crisis.
The crises facing Germany, including last month's flooding and the coronavirus crisis, require leadership. But Germany's politicians lack the necessary leadership. Germans fear that their leaders are incapable of handling the issues at hand. These crises are transforming Germany.
The cdu is fighting to fill the leadership vacuum that Chancellor Angela Merkel is leaving. But the chosen candidate, Armin Laschet, not only fails to arouse excitement, his popularity declines with every crisis that hits Germany.
Though Germany doesn't vote directly for the candidate, but rather for the party, Laschet's lack of popularity is still concerning. Only 16 percent of voters said they would vote for Laschet "in a hypothetical direct vote" for chancellor; the spd's Olaf Scholz received 41 percent of the vote in the same poll.
https://twitter.com/COdendahl/status/1428637256479383553
Such polls sent shock waves through the ranks of the cdu. According to a Civey survey, 70 percent of cdu-csu supporters want to replace Laschet with csu chief Markus Söder. The far more popular Söder offered to run as the Union's chancellor candidate, but the cdu declined his offer, even though every poll indicated Laschet's candidacy would harm the party's chances for success.
Söder recently said: "There are still people who say they would have preferred me as candidate. But it's too late, the ballot papers have been printed and the election posters are up." Söder promised unity but criticizes Laschet at every chance. Perhaps he still hopes a desperate attempt will be made for him to become chancellor candidate. His criticism has furthered hindered Laschet's chances at the polls.
Even Scholz's success, however, is mostly due to the failure of his rivals; such success can be short-lived.
The fact that no party currently has a comfortable lead portends not only unfavorable election results but also complicated coalition talks. Following the federal election in 2017, it took Merkel an astonishing six months to form a coalition.
Things could change and the cdu could recover some popularity before most people vote. But a party that has a hard time running a successful election campaign will also have a hard time running Europe's most powerful economy.
Whether the cdu or the spd wins big or by a small margin, Germany desperately needs someone to manage the existing and looming crises.
The Trumpet has long forecast that weak German leadership would precede the arrival of a prophesied strongman. For a brief moment in time, there was a politician in Germany whom millions of Germans looked up to: Karl-Theodor zu Guttenberg. He served as Germany's defense minister between 2010 and 2011. In A Strong German Leader Is Imminent, Trumpet editor in chief Gerald Flurry writes: "Political, financial and social conditions in Germany and Europe are creating a sharp demand for a strong, capable, inspiring, decisive dignitary who will actually lead Germany, and Europe, to a brighter, more hopeful place. Merkel's weaknesses are being increasingly exposed, which intensifies the calls for a leader of Guttenberg's heritage and caliber."
This booklet was published in 2015. Since that time, the demand for a strong leader has grown stronger. But there is no leader willing or capable to fill this incredible leadership vacuum. Guttenberg, for his part, may await his calling. With certainty, the Bible reveals that a strong leader will rise in Europe.
About these prophecies, Mr. Flurry writes:
The Bible prophesies that in the end time, immediately before the Second Coming of Jesus Christ, a German-led, Catholic-inspired European superpower is going to appear. In Isaiah 10:5, for example, we read that God brandishes Germany as an instrument of correction upon the nations of Israel. "O Assyrian [modern-day Germany], the rod of mine anger," God says. …

Daniel 7 and 8 provide further insight into this seventh and final resurrection of the Holy Roman Empire. In fact, these chapters describe specifically the appearance of an end-time antitype of Antiochus Epiphanes—the cunning, calloused Greek dictator responsible for inflicting terrible destruction on the Jews and Jerusalem in the second century b.c. Notice how the Bible describes this end-time Antiochus: "And in the latter time of their kingdom, when the transgressors are come to the full, a king of fierce countenance, and understanding dark sentences, shall stand up. And his power shall be mighty, but not by his own power: and he shall destroy wonderfully, and shall prosper, and practise …. And through his policy also he shall cause craft to prosper in his hand; and he shall magnify himself in his heart, and by peace shall destroy many …" (Daniel 8:23-25).

This man is discussed again in Daniel 11:21: "And in his estate shall stand up a vile person, to whom they shall not give the honour of the kingdom: but he shall come in peaceably, and obtain the kingdom by flatteries."

Notice how this man is characterized. He has a "fierce countenance," meaning he's mighty, powerful and cruel. He has an "understanding [of] dark sentences." As Clarke's Commentary says, he's "very learned and skillful in all things relating to government and its intrigues"—a skilled politician. He inherits the throne of Europe "peaceably," obtaining his kingdom by "flatteries." He's crafty and sly, with an engaging, attractive personality. The Jamieson, Fausset and Brown Commentary says "the nation shall not, by a public act, confer the kingdom on him, but he shall obtain it by artifice, 'flattering.'" In other words, a deceived public, or a group of European leaders, likely invites this man into power.
The current weakness in German leadership may pave the way for this man to be invited to lead. Perhaps he will hold a position in Germany itself, or be appointed as the president of a conglomerate of European nations. Either way, this man is prophesied to lead 10 European nations. "And the ten horns which thou sawest are ten kings, which have received no kingdom as yet; but receive power as kings one hour with the beast. These have one mind, and shall give their power and strength unto the beast" (Revelation 17:12-13).
These prophesied events are to occur just before the Second Coming of Jesus Christ. It is, therefore, crucial that we watch events in Europe, as we anticipate the rise of this prophesied strongman. Germany's current weakness gives us a clear sign where we are in prophecy. For clear understanding of what that means for you, I encourage you to request a free copy of A Strong German Leader Is Imminent. Also watch Gerald Flurry's Key of David episode titled "America's Greatest Enemy."