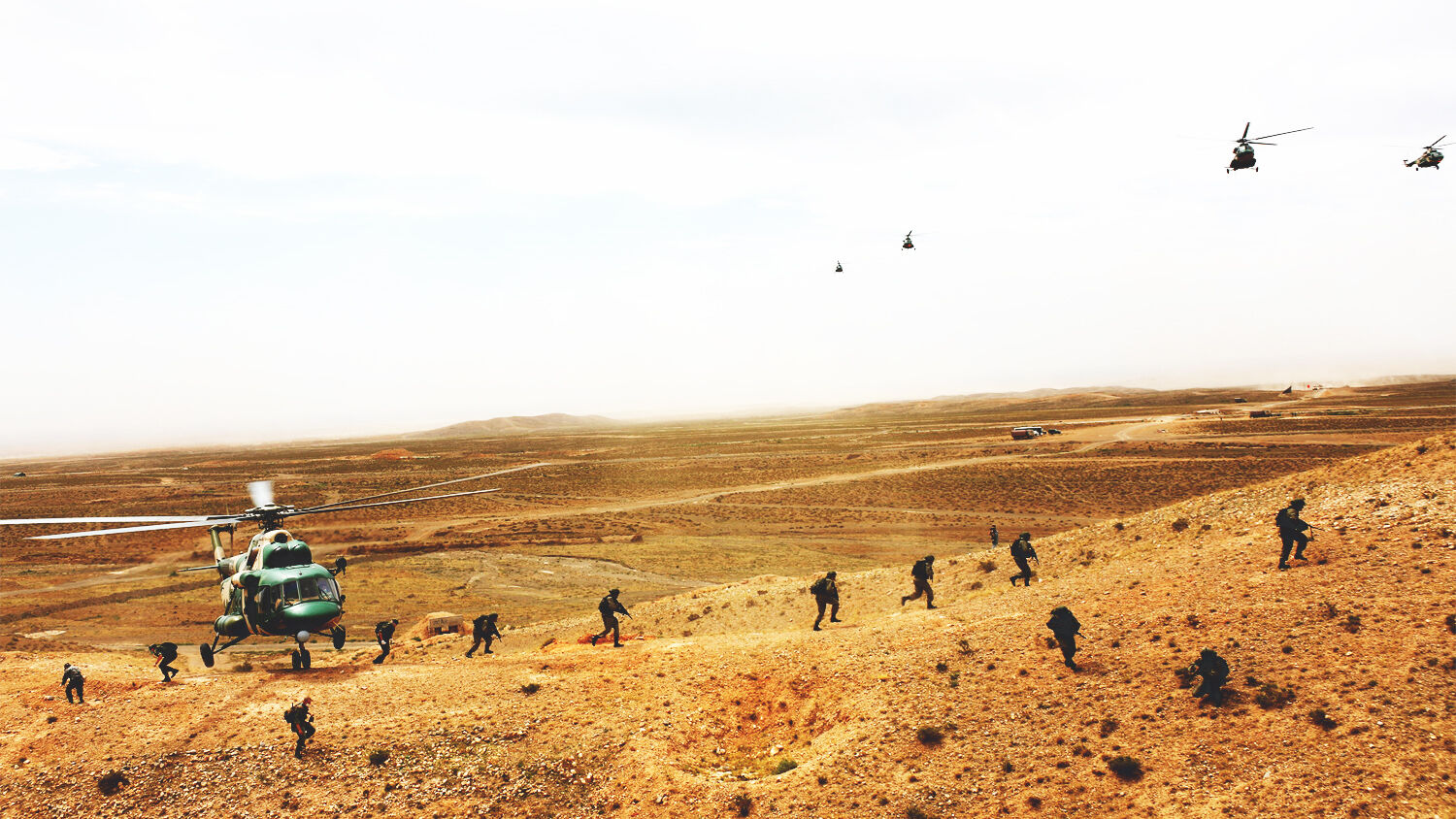 Amid Central Asia Tensions, Russia and China Practice for War
The giants of Asia are drawing ever nearer to each other.
More than 10,000 soldiers from Russia and China kicked off large-scale joint military exercises in north-central China on August 9, in the latest indication of deepening ties between the two Asian giants.
The war games, called "Sibu/Interaction-2021," ran until August 13 and involved both ground troops and combat aircraft.
They marked the first military exercises China has held with another nation since the covid-19 pandemic began. And they marked the first time, according to Russia's Kommersant daily, that Russian troops have trained with Chinese weapons.
Around 80 percent of the Chinese weaponry used in the drills was recently developed, including KJ-500 early-warning and control aircraft, J-16 and J-20 fighter jets, and unmanned vehicles. Russia, meanwhile, sent Sukhoi Su-30SM fighter jets to take part, as well as air defense systems and motorized rifle units.
China's Defense Ministry said the war games lifted the level of cooperation between Moscow and Beijing into a "new era."
The exercises focused on counterterrorism and came as the Taliban continues a takeover of Afghanistan in the wake of the withdrawal of United States forces from the Central Asian nation. The exercise location—Ningxia, China—was selected because its desert, high plateau and climate make it similar to much of Central Asia.
Russia has historically played the larger role in stabilization efforts in Central Asia, a region comprised of many former Soviet nations. But in recent years, Beijing has invested more into securing the region, particularly as many vital components of China's Belt and Road Initiative run through the region. In recent weeks, the Chinese have gone into overdrive reaffirming diplomatic relations with regional nations. China also held a highly publicized meeting with the Taliban last month aimed at safeguarding its Central Asian interests and preventing violence and extremism from spilling into China.
Xinhua said the "Sibu/Interaction-2021" drills are designed to "deepen the joint anti-terrorism operations between the Chinese and Russian militaries and demonstrate the firm determination and strength of the two countries to jointly safeguard international and regional security and stability."
"It reflects the new height of the China-Russia comprehensive strategic partnership of coordination for a new era and of the strategic mutual trust, pragmatic exchanges and coordination between the two countries," Xinhua wrote.
How efforts to stabilize Afghanistan will turn out is unclear. But what is certain is that the partnership between Russia and China is reaching new levels of depth and strength.
The relationship between these two behemoths did not begin warming until the end of the Cold War. But since 2003, they have held more than 30 joint military exercises, such as the latest one. This is a striking number of combined drills, which often give personnel from one country's forces insight into highly secretive aspects of the other side's command and control and technological know-how.
Next month, China and Russia will again practice making war together in drills held under the banner of the Shanghai Cooperation Organization in southwest Russia's Orenburg region.
The Trumpet monitors and reports on strengthening Russia-China ties because the Bible prophesies that a multinational Asian alliance will emerge in the end time. Revelation 16:12 calls this bloc "the kings of the east." Revelation 9:16 says it will include 200 million soldiers—a force 15 times larger than the largest army in history. These scriptures as well as passages in Ezekiel, Daniel, Joel and elsewhere make plain that this leviathan will play a central role in the Third World War.
Russia and China are prophesied to lead this multinational Asiatic bloc and are already fulfilling the early stages of these prophecies. In 2014, after China voiced support for Russia's unlawful annexation of Ukrainian territory, Trumpet editor in chief Gerald Flurry said the backing was "a stunning fulfillment of a biblical prophecy!" (Trumpet, May-June 2014).
He wrote: "[W]e have been proclaiming for over 50 years that Russia, China and other Asian nations would ally themselves in the end time."
Earlier in the article, he stated: "[W]e are in that end time now. … When these Asian nations—extremely powerful nuclear-armed countries—begin to show solidarity with each other regarding moves like that, what does that portend for the world? I tell you it is woe to the world. It will cause many serious problems."
To understand the Bible passages that prophesy of this colossal Asian military alliance, request your free copy of our booklet Russia and China in Prophecy.