Is the Fall of East Jerusalem Imminent?
Hamas is fighting to push Israel out. So is America.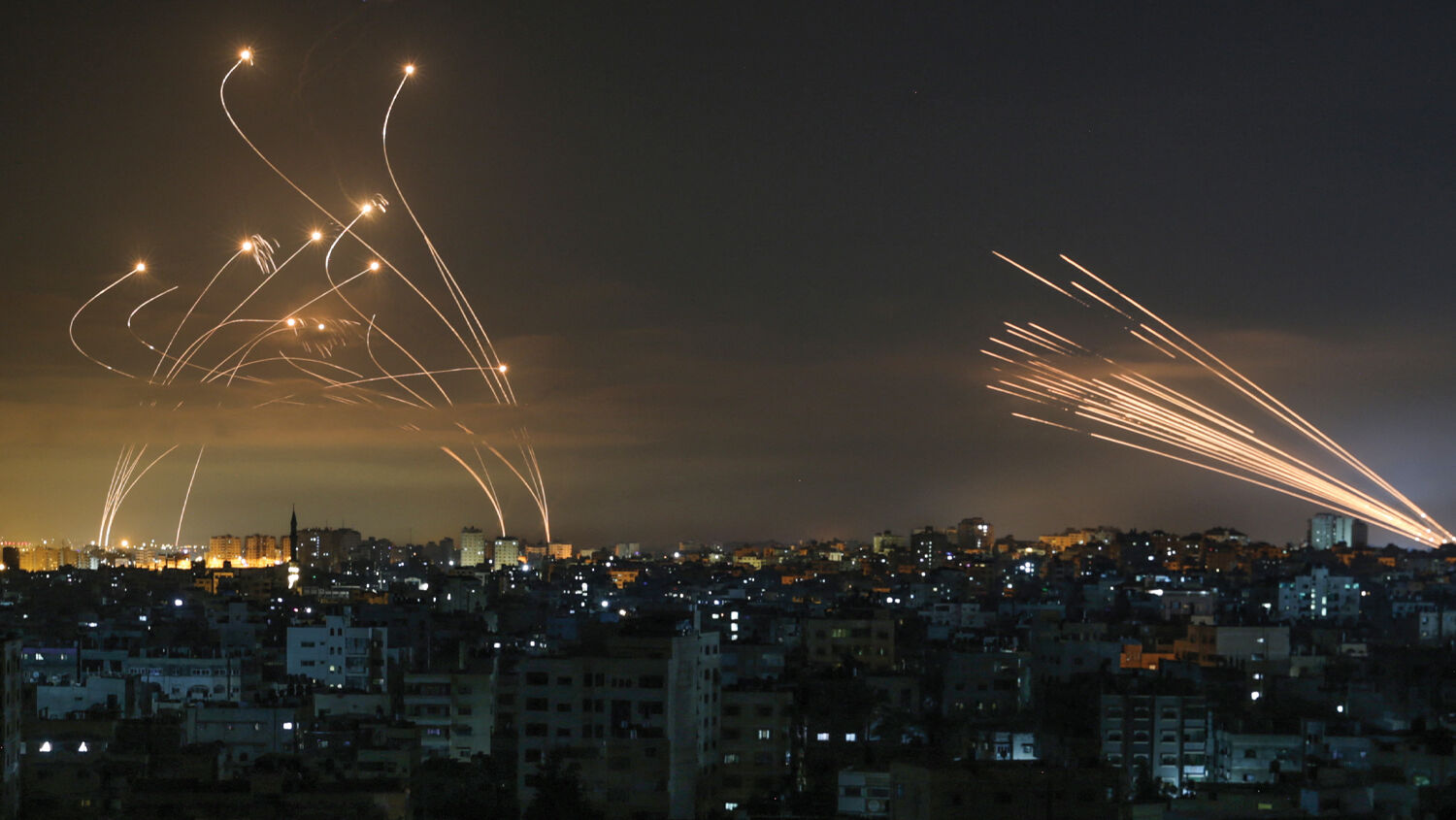 Is the Fall of East Jerusalem Imminent?
Hamas is fighting to push Israel out. So is America.
For 11 days in May, Iran-backed terrorists in the Gaza Strip unleashed over 4,000 rockets on Israeli civilians. The skies over Israel lit up with contrails from missiles and antimissile missiles.
Lost in the bombast was the fact that it was precipitated in part by a simple land dispute in East Jerusalem. Arab tenants living in Jewish-owned properties in the neighborhood of Sheikh Jarrah have not paid their rent, and their landlords threatened to evict them.
The enemies of Israel saw this as living proof that Israel was attempting to "ethnically cleanse" Arabs from East Jerusalem. This narrative gained stunning support. Hundreds of thousands of people from New York to London, from Toronto to Johannesburg came together, waving Palestinian flags and brandishing placards reading "Save Sheikh Jarrah." Celebrities such as The Avengers star Mark Ruffalo and Game of Thrones actress Lena Headey, along with international organizations such as the European Union and the United Nations, all pledged solidarity with the Palestinians in this one neighborhood.
Recognizing an opportunity, Hamas leaped into action. At 5 p.m. on May 10, the terrorist group demanded that Israel remove its soldiers from both the Temple Mount and Sheikh Jarrah within the hour. If Israel refused, Hamas would attack. Just after 6 p.m., air raid sirens sounded and the thud of dropping missiles was heard in Jerusalem for the first time in seven years.
Of course, Hamas never expected Israel to comply with its demand. Israel's police forces were on the Temple Mount because Palestinians had been throwing rocks and Molotov cocktails at Jews below; they were in Sheikh Jarrah to protect Arab and Jewish residents from rioters. Israel couldn't pick up and leave, not without leaving both Jews and Arabs in danger. Hamas wanted war. And on this occasion, Sheikh Jarrah was the way to get it.
Hamas exploited a routine legal dispute over land rights to justify war. Islamists have done this for years—for example, accusing Israel of attacking the al-Aqsa Mosque, then inciting violence and war. This case was notable for how vehemently much of the international community—and even Israel's strongest ally, America—agreed with Hamas.
These events, unlikely as it may seem, portend the eventual loss of Jewish control over East Jerusalem.
Defending Lawlessness
As a matter of law, the case against the Palestinian families in Sheikh Jarrah is simple. Legal disputes over other properties in East Jerusalem are far more complicated. In Sheikh Jarrah, both the law and ethics are squarely on Israel's side.
The land was lawfully purchased by Jewish organizations during Ottoman times, decades before Jordan and even Israel were sovereign states, and long before Jerusalem was divided. In 1948, the Jews in Sheikh Jarrah abandoned their properties at the outset of the war of independence. Under Jordanian rule, East Jerusalem was ethnically cleansed of all remaining Jews, leaving the Jewish-owned land and properties to Arab families. Jordan never drew up deeds of ownership for Arabs in Sheikh Jarrah. There was no legal transition of ownership to the Arabs.
In 1967, after Israel won control of East Jerusalem in the Six-Day War, it returned ownership of the land to its original Jewish owners. In some cases, however, where Jordan had provided new titles for the Arab residents, Israel did not remove the tenants but accepted them as the legal owners of the properties.
This did not occur with these properties in Sheikh Jarrah. Rather, the land was returned to its original Jewish owners. Instead of removing the Arab tenants, Israel's courts ruled that they could remain in the homes as long as they paid rent. The Arabs agreed to this deal—but then never paid the rent.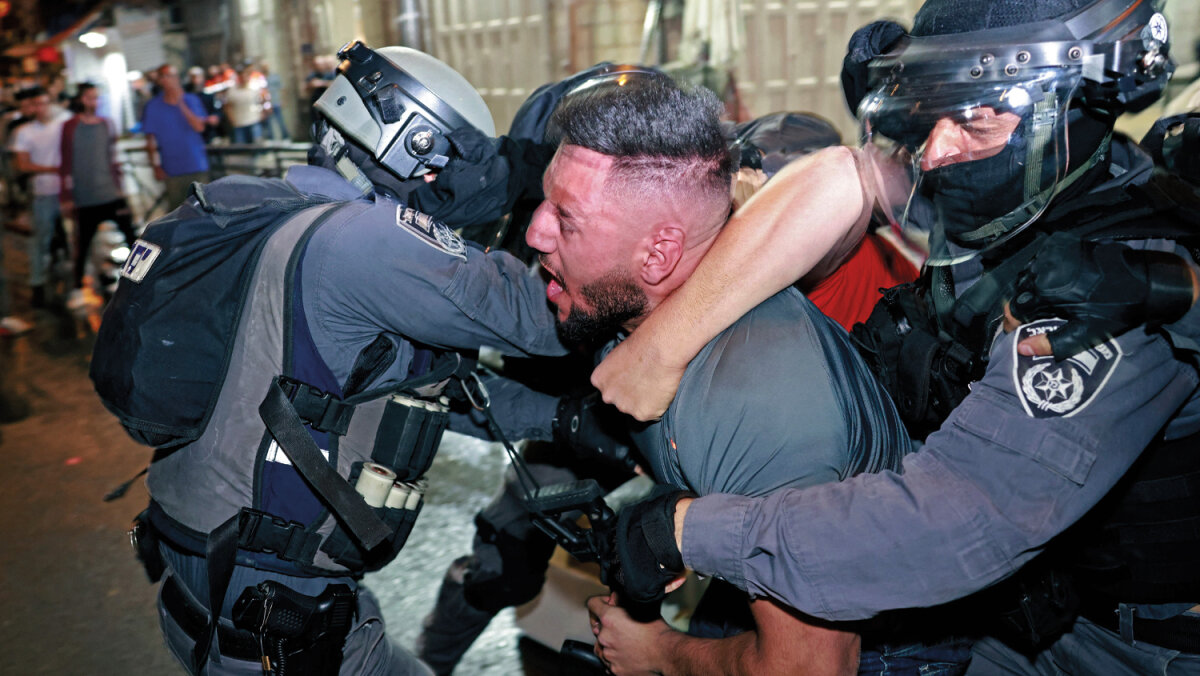 We are not talking about missing one or two payments. In Sheikh Jarrah, the Arab tenants haven't paid rent for decades.
The owners of these homes began legal proceedings to evict their nonpaying tenants in 1993—nearly 30 years ago. The case has moved through the courts extremely slowly, to put it mildly.
In May, the case was finally due to be decided by Israel's Supreme Court. This is when the international community, and Hamas, entered the scene—and when the rockets began to fall. The court responded to all the tensions by delaying its decision.
The law is indisputable: The tenants can legally be evicted. However, the "court" that is the international community, led by the new presidential administration in America, made its judgment: The Palestinians must stay!
Enter America
On May 7, United States State Department spokesman Ned Price released a statement about the violence in Jerusalem. "The United States is extremely concerned about ongoing confrontations in Jerusalem, including on the Haram al-Sharif/Temple Mount and in Sheikh Jarrah, which have reportedly resulted in scores of injured people," he stated.
"We are also deeply concerned about the potential eviction of Palestinian families in Sheikh Jarrah and Silwan neighborhoods of Jerusalem, many of whom have lived in their homes for generations," Price's statement continued. "As we have consistently said, it is critical to avoid steps that exacerbate tensions or take us farther away from peace. This includes evictions in East Jerusalem, settlement activity, home demolitions, and acts of terrorism."
Hamas was already agitating for a clash over Sheikh Jarrah. Three days earlier, a top Hamas leader, Mohammed Deif, had declared that his group would "not stand idly by in the face [of] attacks on the Sheikh Jarrah neighborhood." For the terrorist group to then receive such an endorsement from the Biden administration was no doubt reassuring. Was America's May 7 statement the green light Hamas needed to start lobbing missiles into Israel?
Never mind the lawful procedure making its way through the Israeli courts. Concerning East Jerusalem, the Biden administration believes the Palestinians have the right to stay—and the Jews should surrender their ownership and remove their presence.
International-law professors Avi Bell and Eugene Kantorovich addressed the Biden administration's endorsement of lawlessness in the Wall Street Journal on May 14. "The laws involved are the same as any landlord would invoke," they wrote. "There is only one objection to this case: The owners are Jews. Western progressives have elevated the desire of some Arabs not to have Jewish neighbors into a human right and a legal entitlement that even the Jewish state must protect."
In other words, Western progressives, including the Biden administration, now believe Jews have no right to exercise legal jurisdiction in East Jerusalem. Arabs living in East Jerusalem are sovereign, even if by law their home or land is owned by Jews.
The ramifications of this precedent are alarming!
It is noteworthy that Ned Price's statement referred to Silwan. This neighborhood, situated south of the Old City, is the location of the 3,000-year-old City of David. Silwan is home to some of Israel's greatest history, including the palace of King David himself. Yet according to the U.S. State Department, Israel has no right to Silwan.
Right now, Israel's Supreme Court is considering a case regarding the eviction of an Arab family inhabiting a home in the City of David. Just as in Sheikh Jarrah, the law is on the side of the Jews. But it appears the U.S. and undoubtedly much of the international community have made their decision: Israel cannot enforce its sovereignty, even when that territory holds evidence of the Jews' 3,000-year presence.
America's alignment with Hamas on this issue is neither a coincidence nor an accident. It is the result of a calculated anti-Israel policy crafted at the highest level of government.
Fruits of Obama
Price's statement on Sheikh Jarrah was more than a signal of America's disapproval of Israel's actions there. Though almost unnoticed by most commentators, it marks a massive policy shift on Jerusalem. However, this far-reaching new position is not surprising, given the fact that the Biden administration is effectively a continuation of Barack Obama's.
One month before President Obama left the White House, the United States infamously broke its historic precedent of supporting Israel at the United Nations, an institution with blatant systemic bias against the Jewish state. On Dec. 23, 2016, applause erupted in the UN hall when U.S. Ambassador Samantha Powers raised her hand to allow passage of Resolution 2334. This resolution considered any Israeli settlement in land occupied by Jordan before 1967 to be illegal. According to Resolution 2334, even Israelis living in the Jewish Quarter of the Old City of Jerusalem are criminal squatters.
When this resolution passed, the Trumpet described it as Barack Obama's "parting shot" toward Israel.
With the events in Sheikh Jarrah, Mr. Obama's final act became the opening salvo for the Biden administration's war on Israel. It is now clear that Obama's antipathy toward the Jewish state lives on in the Biden administration.
In May 2020, transcripts of phone calls between incoming Trump National Security Adviser Gen. Michael Flynn and Russian Ambassador Sergey Kislyak were declassified by the U.S. government in defense of Flynn. The phone call transcripts were used by the Federal Bureau of Investigation in its investigation into the Trump campaign for collusion with Russia, an allegation that turned out to be a complete hoax. However, the transcripts reveal that the discussions largely revolved around an attempt by the Obama administration to hurt Israel at the UN.
In the days leading up to the Dec. 23, 2016, vote, Israel had reached out to the Trump transition team and asked that it shut down the resolution. (The outgoing Obama administration refused to say whether it would use the veto.) General Flynn and others in the Trump transition team made calls to the other members of the Security Council to learn how they would vote.
On December 22, Flynn called Kislyak and inquired about Russia's position. Kislyak told Flynn that Russia intended to support the resolution: "So we will try to help to give additional time for the conversation on this issue. But if it is put on vote, for historical reasons, as I explained to you, we cannot vote other than to support it."
That same day, President-elect Donald Trump called Egyptian President Abdel Fatah al-Sisi and asked him to withdraw the resolution. Egypt, who then held the rotating Arab seat on the Security Council, did withdraw the resolution. However, the next day, New Zealand and three others put forward a similar resolution that would pass: United Nations Security Council Resolution 2334.
When the resolution passed, President-elect Trump tweeted, "Stay strong Israel." He was comforting Israel, telling it things would change when he took office on Jan. 20, 2017.
But Barack Obama wasn't finished. He still had four weeks left as president, and he used that time to intensify his attack on the Jewish state.
We now know that the Obama administration was planning another, even more forceful action against Israel at the UN. The administration had even begun colluding with other members of the UN Security Council to see whether it had the necessary support.
The fact that this violence is occurring just months into the Biden presidency is no coincidence
Although details of this resolution are unknown, a source told the Jerusalem Post in June 2020 that it would have forced parameters of a peace agreement upon Israel and the Palestinians, including setting a time frame for creating a Palestinian state based on the 1967 lines, and perhaps declaring a final status on Jerusalem. It was a natural extension of Resolution 2334, which had just called Israel's occupation of that land "illegal."
Immediately, Israel's UN ambassador, Danny Danon, informed Prime Minister Benjamin Netanyahu of the Obama administration's plan. According to the Jerusalem Post, the prime minister called Russian President Vladimir Putin as well as President-elect Trump to lobby against the forthcoming measure.
On Dec. 29, 2016, the Russian ambassador called Flynn to inform him that Russia would not support the new resolution that Obama was "pushing for." "We wanted to convey to you and through you to the president-elect that we had significant reservations about the idea of adopting now the principles for the Middle East that our American colleagues are pushing for. So we are not going to support it too—in the quartet, or in the Security Council. And we have conveyed to our American colleagues. So, in the spirit of full transparency, I was asked to inform you as well. So, it's not something that we—Russia—are going to support."
Russia also informed the Obama administration that it would not support its new resolution, scuttling the resolution. Both the Russian Foreign Ministry and Obama's U.S. ambassador to Israel, Dan Shapiro, have denied the reports of this secondary measure. However, the details of the Flynn phone call with Kislyak after Resolution 2334 had already passed show that there was a more forceful measure in the offing, and that this new measure was so sinister even Russia would not go for it.
Russia defended the State of Israel against the hostile Obama administration at the United Nations!
Is it any surprise then, that so soon into the Biden administration, the U.S. is applying serious pressure on Israel over its control of East Jerusalem? Will Obama's failed attempt to hurt Israel soon be resurrected by Joe Biden? In spirit, this is already happening.
The Biden administration has not explicitly endorsed an armed uprising to take East Jerusalem by force. Nevertheless, its statements condemning Israel's lawful evictions supply the Arabs justification to continue their violent struggle against the "occupier."
America has a checkered history of targeting Israel's "settlement building" deep in the West Bank. Now it seems America is targeting Israel's presence in East Jerusalem, the heart of Jewish history and identity.
East Jerusalem and Zechariah
Israel's one-time euphoria over its robust relationship with America during the presidency of Donald Trump has withered with the recognition that Joe Biden essentially represents Barack Obama's third term.
As long as Mr. Biden is president, we can expect America to continue pressuring Israel to reduce its sovereign power over East Jerusalem. The U.S. will likely cloak its endorsement of Palestinian control through UN resolutions and international law. There will be more seemingly innocuous statements asking for both sides to "reduce tensions."
In a feature article he wrote back in April, Trumpet editor in chief Gerald Flurry warned readers that the Biden administration's position would lead to increased violence in Jerusalem. "I am certain we will have more Palestinian terrorist attacks now because of who is in charge," he wrote.
Since this statement, violence in Jerusalem has increased dramatically. The fact that this violence is occurring just months into the Biden presidency is no coincidence.
Meanwhile, a crucial end-time prophecy from Zechariah is coming into focus.
For over two decades, Mr. Flurry has urged readers to watch the rift between Jerusalem's Arab and Jewish populations. He has specifically forecast that Hamas would far outstrip Fatah's power and lead the Palestinians to seek control of East Jerusalem. This forecast is based on a prophecy in Zechariah 14.
The Prophet Zechariah was involved in rebuilding Jerusalem after the Jews returned from Babylonian captivity in the sixth century b.c. Yet he warned that the city would be destroyed once again. This was an unpopular message; some believe it got him killed by his own people. However, Zechariah wasn't writing about a takeover to happen in his time, nor was he writing about Jerusalem's fall in a.d. 70. He was writing about the time we live in right now.
Zechariah 14 contains an astonishing message, one that is sobering but also full of hope and wonder. This chapter gives a remarkably detailed account of the transition from the final days of man's rule on Earth to the moment when Jesus Christ returns and establishes His family government on Earth!
Still, though the chapter ends in peace, it begins in war.
"Behold, the day of the Lord cometh, and thy spoil shall be divided in the midst of thee. For I will gather all nations against Jerusalem to battle; and the city shall be taken, and the houses rifled, and the women ravished; and half of the city shall go forth into captivity, and the residue of the people shall not be cut off from the city" (Zechariah 14:1-2). These two verses give the overview of the catastrophic events that lead to the Second Coming of Jesus Christ.
There are three phases to this crisis revolving around Jerusalem. As Mr. Flurry explains in his book The Eternal Has Chosen Jerusalem, Zechariah starts at the coming of the Messiah, the third phase, and works his way backward chronologically. The second phase—all of the city being taken—is elsewhere called "great tribulation," a period when all of biblical Israel, not just the nation of Judah called Israel today, will be attacked.
But notice how this whole procession of events leading to the Messiah's coming begins.
In the first phase, "half of the city shall go forth into captivity." This suggests a violent takeover of half of Jerusalem.
Based on this prophecy, Mr. Flurry has forecast that East Jerusalem will fall under Arab control as a direct precursor to Jesus Christ's return.
"Today the Arabs live in roughly one half of Jerusalem. They just don't control it—yet," he wrote in 2005. "Looking at the ongoing violence in Jerusalem today—the absolute inability of the involved parties to solve things by peaceful means—we can easily see how one half of Jerusalem shall be taken captive in the very near future. The present violence is an embryo that is about to grow into much greater violence" (Jerusalem in Prophecy).
With Hamas dominating the Palestinian street, and America and the international community rejecting Israel's sovereignty over East Jerusalem, will we soon see half of Jerusalem fall?
It would be easy to dismiss this idea, considering Israel's superior military. But what if the United States continues to support and justify Arab violence aimed at taking over that territory? How long can Israel sustain its defense? Particularly given its own grievous internal political struggles?
We need to watch Jerusalem for the fulfillment of this prophecy. This outburst of violence against Jewish control of East Jerusalem is not just the latest iteration of Arab-Jewish violence. Even Hamas is claiming that, for the first time, Israeli-Arabs are uniting under its banner to conquer East Jerusalem.
But as you watch conditions in Jerusalem and Israel, remember the full context of Zechariah's prophecy. These events precede the arrival of a new government, and a wonderful and unprecedented new epoch in human history.
This will be a time when Jesus Christ will rule all mankind, creating a new age of peace between all men, prosperity and eternal joy and contentment. "And the Lord shall be king over all the earth: in that day shall there by one Lord, and his name one" (verse 9).
Imagine it: No longer will Jews and Arabs fight over Jerusalem. Under the control of Jesus Christ, this city will finally live up to its name and be a city of peace, ruled by the Prince of peace!
Almost nobody understands this revelatory truth today. Now you can fully comprehend this vision. It will cause your hope and imagination to soar!