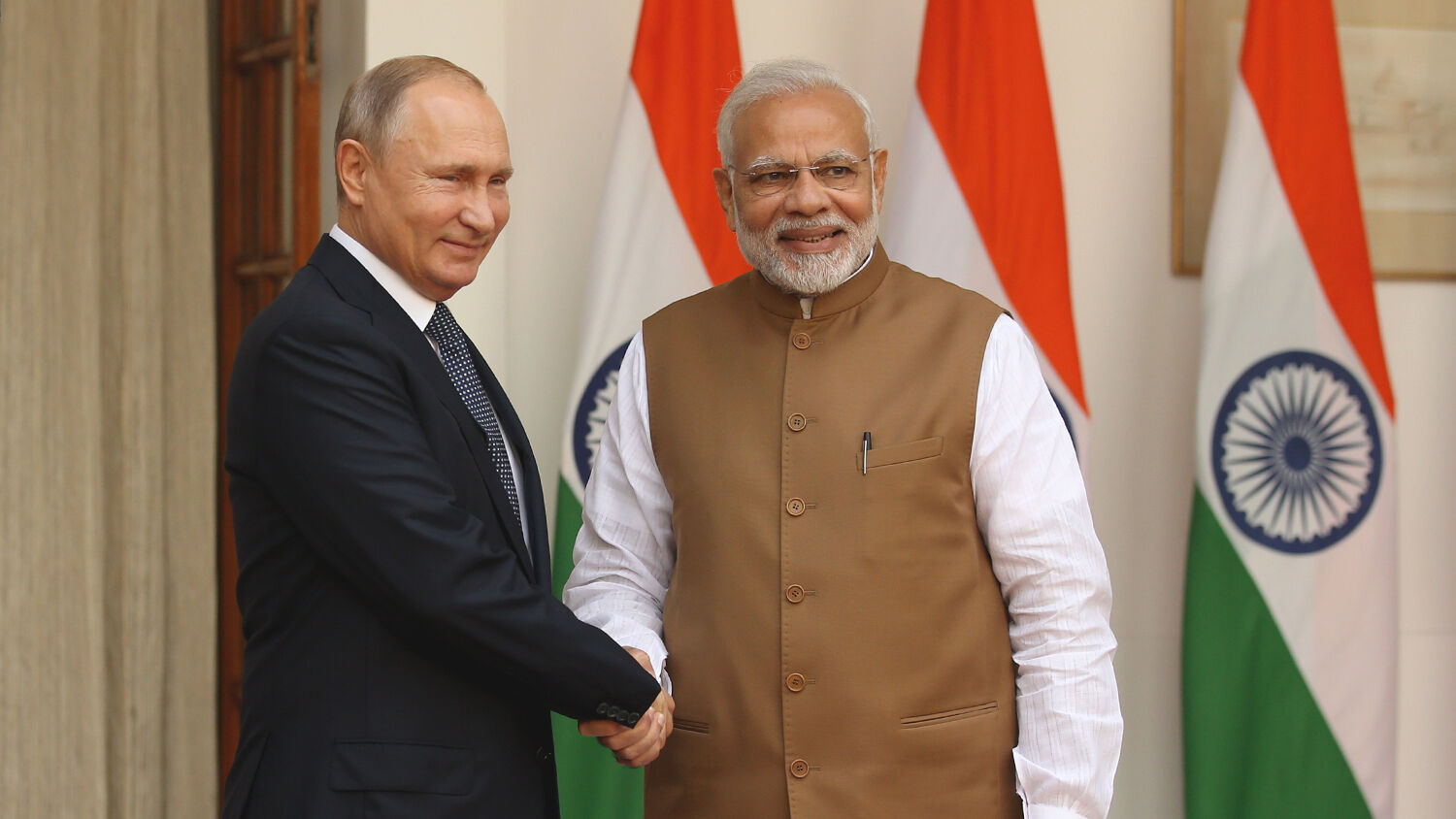 India Edges Nearer to Russia
And the U.S.-India partnership grows weaker.
Indian Prime Minister Narendra Modi announced on April 28 that he and Russian President Vladimir Putin had agreed to launch a "two-plus-two" meeting for the two countries' defense and foreign ministers.
During an "excellent conversation with my friend President Putin," Modi wrote, they decided to establish the two-plus-two to "add further momentum to our strong strategic partnership."
The two-plus-two is a framework India has used for several years to coordinate aspects of foreign and defense policy with other nations. But until now, New Delhi has opened the high-level dialogues only to other members of the Quadrilateral Security Dialogue—or "Quad." This nato-like alliance brings four partner democracies—India, Japan, Australia and the United States—together to coordinate strategies in the Indo-Pacific. The grouping is especially focused on countering China's threat.
Russia is the first nation outside the Quad that India has opened this "two-plus-two" program to, indicating how highly India values its ties with Russia.
"It is a very significant development," India diplomat Gautam Bambawale told the South China Morning Post. The move "shows our relations with Russia are as important as India's relations with the U.S., Japan and Australia."
The U.S. has endeavored to push India away from Russia in recent years and to reduce its dependence on Russian weaponry. But India has largely resisted this pressure. Opening the two-plus-two to Russia was intended partly as a signal to Washington that India retains its "strategic autonomy," said Kanwal Sibal, a former Indian foreign secretary.
During the same meeting, Putin pledged "full support" to help India with its soaring number of coronavirus infections. The Russian Emergencies Ministry, Putin said, would fly transport planes into India to deliver 22 tons of supplies, including oxygen condensers, ventilators, medical monitors and pharmaceutical products. Russia is also distributing its Sputnik-v vaccine to India.
Meanwhile, despite adamant objections from Washington, India is forging ahead with a plan to buy Russia's vaunted S-400 air defense system. The $5 billion purchase consists of five units, each containing two batteries with four launchers per battery. Pravin Sawhney, editor of India-based magazine Force, noted on October 5 that the S-400 will become a critical component of the Indian military.
Russia and India have been partners since the Soviet era. But with this two-plus-two meeting now set up, a remarkable level of covid assistance now coming to India from Russia, and India continuing to rely on Russia for weaponry that is central to its defense, that partnership will be considerably deeper.
The strengthening Russo-Indian bond takes on special significance in light of what Bible prophecy says about the two nations in the modern era.
Prophecies in the books of Ezekiel, Daniel, Jeremiah and Revelation describe a vast Asian force that will form in the years ahead. In our September 2014 issue, Trumpet editor in chief Gerald Flurry explained numerous details about this future alliance:
The Bible gives some important details about this largest army ever assembled on Earth. It tells us which nations will contribute soldiers to it. It shows it will include the combined forces from several Asian nations. It refers to this Asian confederacy as the "kings of the east" (Revelation 16:12). …

A prophecy in Ezekiel 38 gives us some of these important details. "And the word of the Lord came unto me, saying, Son of man, set thy face against Gog, the land of Magog, the chief prince of Meshech and Tubal, and prophesy against him" (Ezekiel 38:1-2). …

Scholars generally agree that "Gog" is Russia, and that "the land of Magog" includes China. The descendants of Meshech and Tubal have been found together throughout history. In Assyrian and Greek histories, Meshech appears as Musku, Muski or Mushki—all names related to the Russian spelling of Moscow, as you can read in the International Standard Bible Encyclopedia. What about Tubal? On the eastern side of the Ural Mountains lies the city of Tobolsk, named after the Tobol River, derived from Tubal. Tobolsk was once the seat of Russian government over Siberia and was basically considered Russia's Asian capital.
It is clear that this massive military force will be led by Russia. Ezekiel 38:5 states that it will include "Ethiopia and Libya." In this verse, these two names would more accurately be translated "Cush and Phut," as Young's Literal Translation, the Darby Bible and other translations correctly render them. Historical records show that while some segments of the peoples of Cush and Phut settled in Africa, the rest migrated to India. The context of this passage shows that it refers not to African peoples but mainly to modern-day Indians.
With India now relying more heavily on Russia, even at risk of damaging its relationships with the U.S., the stage is being set for India to take its place among "the kings of the east."
To understand more about India and the end-time Asian military force that is already in the early stages of forming, order your free copy of Russia and China in Prophecy.