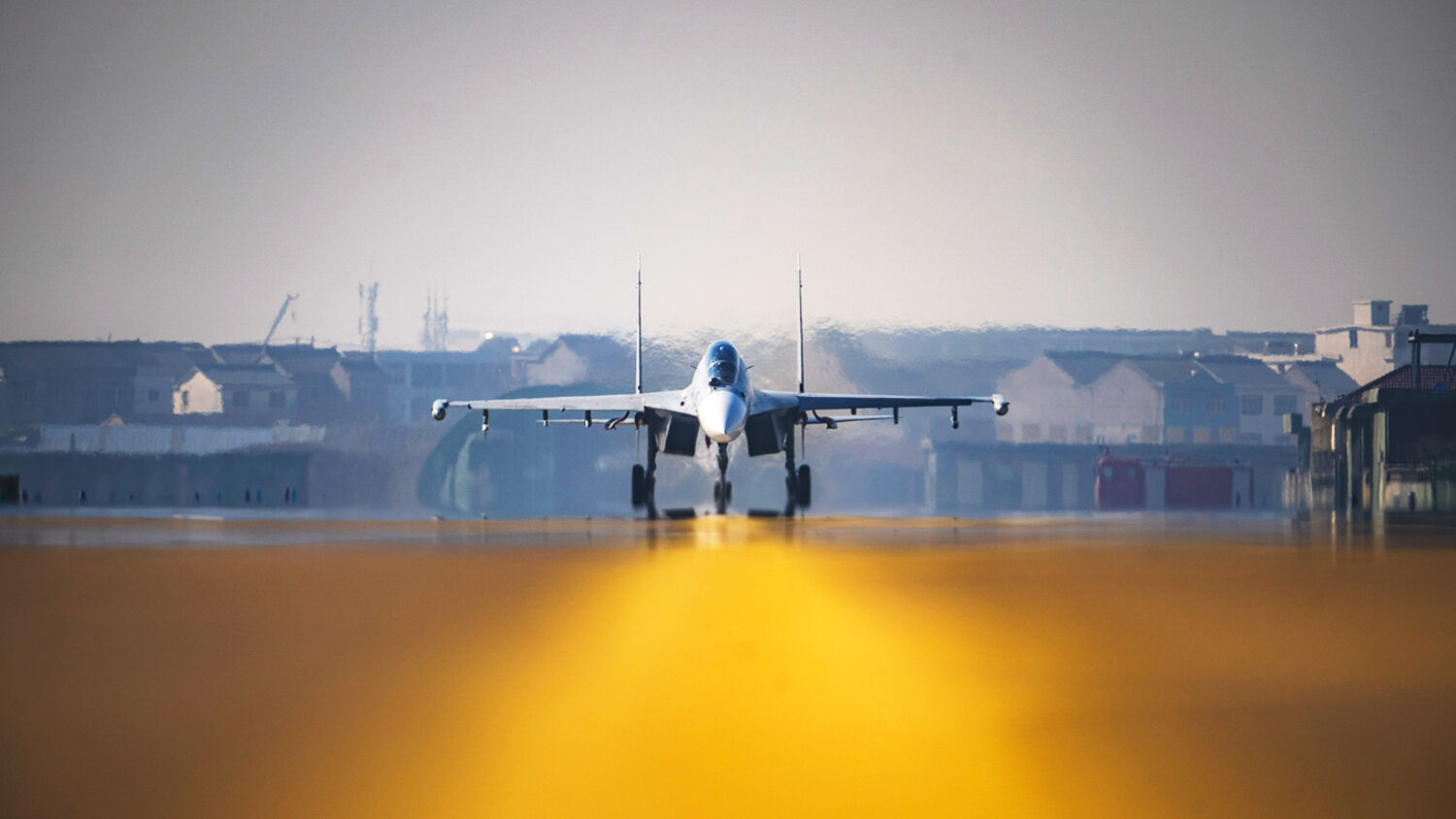 China Commits Record Violations of Taiwanese Airspace
'China is not taking its foot off the gas.'
China sent a record 25 warplanes into Taiwan's air defense identification zone on April 12, the second time in just over two weeks that it has broken its record for airspace incursions, the South China Morning Post reported. China claims it was a routine combat air patrol, but the incursion was clearly a show of force.
According to Taiwan's Defense Ministry, China sent in 18 fighter jets, four nuclear-capable bombers, two anti-submarine warfare planes, and one airborne early warning and control aircraft.
Chinese President Xi Jinping has openly stated his desire to take over Taiwan, which China considers to be a renegade province. And over the last year, China's intimidation exercises have been increasingly frequent.
Two weeks ago, China's incursion came the day after the United States and Taiwan agreed to increase cooperation between their coast guards. This latest incursion came a day after U.S. Secretary of State Antony Blinken warned Beijing against invading Taiwan.
China is sending an ominous message.
"[O]bviously, China regards Taiwan as its own," said Asia-Pacific defense analyst Jon Grevatt. "As it enters Taiwan airspace, it's also a show of force as well. It is intended to show that China is not taking its foot off the gas, that China is not retreating following the U.S. secretary of state's comments."
For decades, America has offered Taiwan political support, weapons sales and security assurances. These used to be enough to ward off China from using force to conquer the island. These most recent incursions show that American deterrence is not as effective as it used to be.
The erosion of U.S. deterrence began in 1998, when Bill Clinton became the first U.S. president to publicly oppose Taiwanese independence. Trumpet editor in chief Gerald Flurry explained that this marked the beginning of the end for Taiwan. In "Taiwan Betrayal," he wrote:
The Chinese leaders pressured the president and America to speak against our freedom-loving friends before the whole world. And he is the first president ever to do so publicly!

The people of Taiwan fear for their future. They feel betrayed. … We not only betray the Taiwanese, we betray our own ideals of freedom. … Once again, America has showcased its broken will to the whole world. How could anyone fail to see that Taiwan is destined to become a part of mainland China? These … people are going to be forced into the Chinese mold; and it is going to happen for one reason: because of a pitifully weak-willed America. Does freedom really mean so little to us?
In Leviticus 26:19, God warns the nation of Israel, "I will break the pride of your power." This is a punishment He carries out for their failure to turn to Him. Herbert W. Armstrong proved in The United States and Britain in Prophecy that America and Britain descended from ancient Israel. Therefore, Bible prophecies about Israel are chiefly about modern-day America and Britain.
America has made some shows of support for Taiwan. It sent the uss Theodore Roosevelt to conduct exercises with Malaysia last week in the South China Sea and has conducted numerous transits through the Taiwan Strait. The uss Makin Island amphibious warship was also recently sent to disputed waters. But Bible prophecy shows that despite such demonstrations, America's loss of "pride" in its power means Taiwan will fall to China.
America has rejected God. As a result, it is a superpower in decline. China can see this clearly and it is ready to capitalize. All evidence shows that it is unafraid and undeterred.
It might yet be months or years before China invades Taiwan. But as Mr. Flurry said in his Bible-based prediction, "Taiwan is destined to become a part of mainland China." To fully understand these prophecies, please read "Taiwan Betrayal" and request your free copy of Russia and China in Prophecy, to learn what America's decline and China's rise will mean for Taiwan and the entire world.