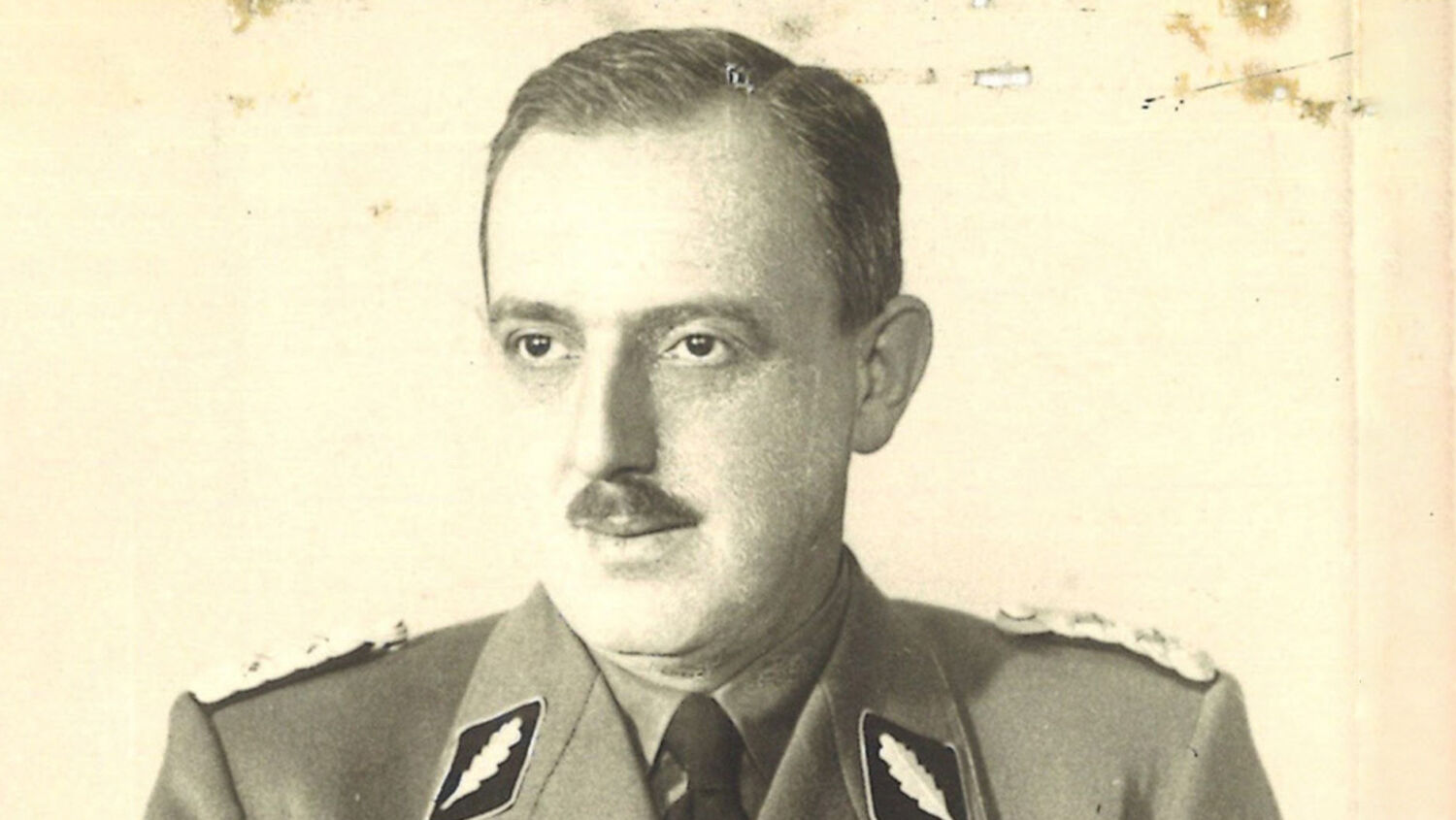 West Germany Hired Holocaust Architect as Intelligence Agent
Documents recently declassified by the German Federal Intelligence Service reveal that the West German government hired a major Nazi war criminal as a spy, German state broadcaster ard reported on April 6.
Franz Josef Huber was born in Munich in 1902. He worked as a Munich policeman during the 1920s and 1930s. One of his duties was to survey potentially threatening political parties, such as the National Socialist German Workers' Party. He must have liked what he saw; once Adolf Hitler gained power in 1933, Huber became an ardent Nazi. Through the 1930s, he rose in rank to become a high-ranking official in both the Gestapo, Germany's infamous secret police, and the SS, Hitler's elite soldiers who were tasked with implementing the Holocaust. Huber ended up attaining the equivalent ranking of general within the SS.
1938 was a pivotal year for Huber. That was when the Anschluss, Hitler's annexation of Austria, took place. Hitler then found himself with a new, large Jewish population within the Reich's borders. Roughly 10 percent of Vienna's population at the time was Jewish. Hitler appointed Huber as Vienna's Gestapo chief. He was also the leader of the Central Office for Jewish Emigration. This was an organization set up by Adolf Eichmann—also stationed in Vienna—responsible for deporting Austrian Jews to their fate. Not long after his assignment, Huber ordered the Gestapo "to arrest immediately undesirable, particularly criminally motivated Jews and transfer them to the concentration camp Dachau." The first "deportations" occurred a few days later.
Huber remained at his post until 1944. It is estimated that he was responsible for the death of 65,000 to 70,000 Austrian Jews, roughly 40 percent of Austria's prewar Jewish population.
His associate, Eichmann, escaped to South America where he hid for years before Israeli intelligence captured him. Huber, meanwhile, was captured by American forces in 1945. He was "cooperative," so he was released in 1948. A 1947 American report claimed he was "a fair, factual, impartial police officer who carried out the police functions without party bias or racial and political prejudice." The report also claims that Huber "was not an adherent of Nazi party ideologies … completely trustworthy and reliable." He was never charged for war crimes.
Huber claimed he had little to no knowledge of the atrocities in the concentration camps, although he visited Dachau, Sachsenhausen and Mathausen camps. According to historians Richard Breitman and Norman J. W. Goda, Huber claimed to have "never seen any cruelty there" and "that the laws of humanity were always his highest rule of conduct."
Meanwhile, Joseph Stalin's Soviet Union was wrapping Eastern Europe in an iron curtain. The West was looking for allies against communism and found one in Huber. "[T]he Cold War was looming, so above all they were of course looking for hard-line anti-Communists," said German Federal Intelligence Service (bnd) historian Bodo Hechelhammer. "Unfortunately, all too often they searched for, and found, such types among former Nazis."
According to a memo cited by the New York Times, the Central Intelligence Agency was "by no means unmindful of the dangers involved in playing around with a Gestapo general," but they "also believe … that Huber might be profitably used by this organization."
He was recruited by the Gehlen Organization, which later became the bnd, in 1955. The Gehlen Organization was set up by senior Nazi intelligence officer Reinhard Gehlen.
Historian Stefan Meining, according to the New York Times, said, "The bnd recruited many Nazis, but hardly anyone had such an outstanding position [as Huber]. They knew exactly that Huber was not some petty Gestapo murderer but an SS general who moved within the innermost circles of the Nazi terror apparatus and was responsible for the deaths of tens of thousands of Jews and opponents of the regime."
He remained with Germany's intelligence service until he was put on paid leave in 1964. The bnd was afraid of bad publicity if Huber's association with it were revealed. Huber retired in 1967 and received a state pension until his death at age 73 in 1975.
We wrote about the recent revelations of how West Germany knew where Adolf Eichmann was hiding and tried to cover its tracks. Eichmann was eventually captured and executed in Israel. But many other high-ranking Nazis, like Huber and Gehlen, were not. Instead, they became part of the West German government.
West Germany had more Nazi influence than most realize or like to admit.
Herbert W. Armstrong, editor in chief of our predecessor magazine, the Plain Truth, said in 1945:
We don't understand German thoroughness. From the very start of World War ii, they have considered the possibility of losing this second round, as they did the first—and they have carefully, methodically planned, in such eventuality, the third round—World War iii! Hitler has lost. This round of war, in Europe, is over. And the Nazis have now gone underground.
The idea that Nazis went underground and were planning their comeback may have sounded strange in the late 1940s. But as more evidence surfaces, it is clear that more and more high-ranking Nazis found their way inside the West German government. For example, Hans Globke, who wrote the handbook for the Nuremberg Laws, became chief of staff to Germany's first postwar chancellor, Konrad Adenauer.
Today, Germany is the undisputed economic heart of Europe. After the election of United States President Donald Trump, German Chancellor Angela Merkel was called by some the new "leader of the free world." Rarely does the European Union do anything without Berlin's approval. Germany has an economic empire today. But is it satisfied with just an economic empire?
Here's a question more should be asking: If modern Germany was founded on a bedrock of former Nazis, are Nazi ideologies of conquest and bringing glory to the fatherland influencing Germany today?
The answer is, yes.
To learn more, read our article "The Nazi Underground—Revealed!"