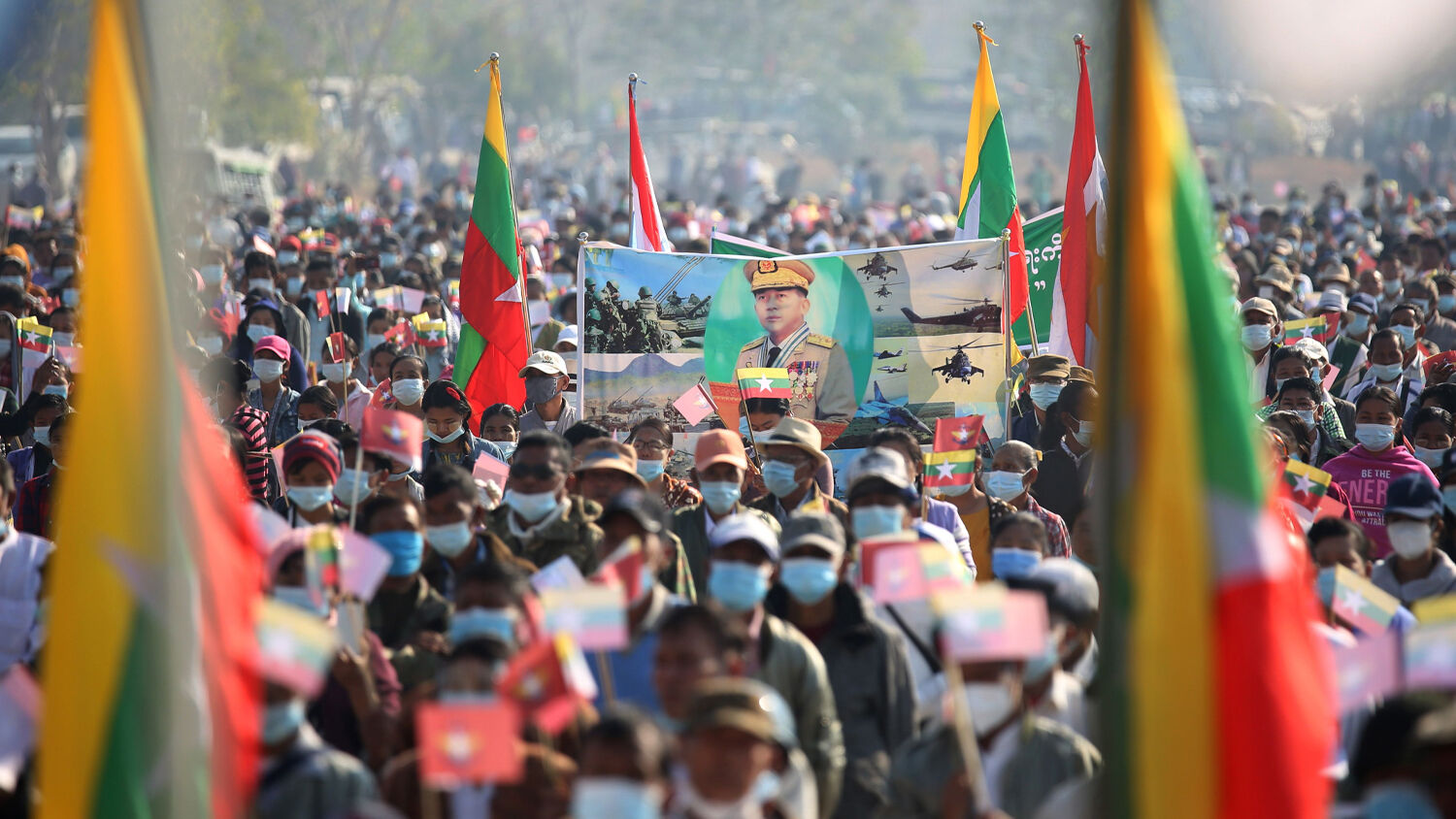 Russia Throws Its Weight Behind Myanmar Coup
Never let a crisis go to waste.
Russia is throwing a lifeline to the military junta in Myanmar that seized power from the democratically elected government earlier this year and plunged the nation into bloody chaos. While the West denounces the military takeover, Russia is stepping in and strengthening ties with the Southeast Asian nation, according to the Financial Times.
Myanmar, also known as Burma, attained independence from Britain in 1948. Since then, leadership has vacillated between military rule and civilian leadership. The military, however, remained the most powerful institution throughout this era. Whenever democracy threatened its power, the military would wrest control.
In 2011, however, the military finally allowed meaningful change. A type of hybrid democracy emerged and flourished. But last November, civilian leader Aung San Suu Kyi won presidential elections by a landslide, and the military's party garnered only 7 percent of the vote. This alarmed Myanmar's generals, prompting them to seize control of the government on February 1 and placing Suu Kyi and senior members of her party under house arrest.
The resulting protests and dissent against the military were met with a brutal crackdown.
Over 40 children and nearly 600 unarmed citizens across the country have been killed. On March 27, Aye Myat Thu had just received a coconut slice from her father. As she walked away from him toward the perimeter of their property, a bullet struck her left temple. Within an hour, she was dead. She was 10 years old.
Beyond the killings, over 2,100 people have been arrested and the military regime has imposed a nightly Internet curfew.
The military government is under pressure. Countries around the world have condemned the violence and placed individuals and companies related to the military under sanctions. The United States has frozen access to $1 billion of Myanmar cash held in America.
But some, like Dr. Sasa, Myanmar's special envoy to the U.S., are calling for even tougher sanctions and for nations such as China and Russia to discontinue their weapons sales to Myanmar's military. "It's very clear they should stop selling the weapons to Burmese military generals," he told cnbc. "What they are doing is terrorizing 54 million … people of Myanmar every day, every moment, every second."
China had close ties with Myanmar before the coup but has remained largely inactive within the nation. Regardless of accusations of genocide within Myanmar, China has stood in solidarity with the democratic government. It also has strong ties with the military junta. Therefore, China's interests are served no matter who holds control.
But then there is Russia.
Myanmar invited eight Asian countries to attend its Armed Forces Day parade. While the other invited countries sent low-level delegates, Russian President Vladimir Putin sent Alexander Fomin—his deputy defense minister. The delegates watched as the military junta paraded tanks, missiles and Russian-made combat jets into the capital. (This is the same day security forces gunned down 10-year-old Aye Myat Thu and 100 other people with weapons and arms also from Russia.)
Russia and China have been discouraging sanctions on Myanmar, saying they could escalate tensions, even as they continue to sell weapons to the military government.
Because Russia is geographically distant from Myanmar, Hervé Lemahieu, a director at the Lowy Institute, believes Moscow has very little to lose from supporting the junta. "Myanmar is not on Russia's doorstep," he told the Financial Times, "so they don't have to worry about the fallout, and don't have to deal with the refugee crisis."
Offering support to a violent regime shunned by the rest of the world represents an excellent opportunity for Russia to build both financial and political capital.
Moscow is not as diplomatically close to Myanmar as China is. But ever since being on the receiving end of Western sanctions following its 2014 annexation of Crimea, Moscow has been actively looking to deepen its economic and political ties with Asian countries.
Myanmar's vast natural resources allowed its first military regime to survive decades of sanctions. As of last year, it held about $6 billion in foreign reserves. And with its strategic location at the tri-junction of East, South, and Southeast Asia, it is a potentially crucial hub of regional connectivity.
That is part of the reason Russia is readily capitalizing on this opportunity to join its close ally China in entrenching itself in Myanmar. The conflict-ridden nation is a prime opportunity for Putin to extend his reach in Asia.
For years, the Trumpet has watched Putin's growing influence in the region. His power-grabbing moves represent the fulfillment of the early phases of Bible prophecies detailing his rise.
In Revelation 9:16, the Apostle John records a prophecy about an army with 200 million soldiers; he names this army "the kings of the east" (Revelation 16:12). Ezekiel 38 shows the make-up of this gargantuan military bloc and who leads it: "'Son of man, set your face against Gog, of the land of Magog, the prince of Rosh, Meshech, and Tubal, and prophesy against him, and say, "Thus says the Lord God: 'Behold, I am against you, O Gog, the prince of Rosh, Meshech, and Tubal'"'" (verse 2; New King James Version). "Gog" refers to Russia, and "the land of Magog" refers to a vast Eurasian stretch of land that includes China and other Asian nations. "Meshech and Tubal" are ancient names for the Russian cities Moscow and Tobolsk.
In his booklet The Prophesied 'Prince of Russia,' Trumpet editor in chief Gerald Flurry explains who will fulfill the role of the "prince of Rosh." He writes:
Rosh was the ancient name of Russia, once called Rus. Many encyclopedias and commentaries (such as the Jamieson, Fausset and Brown Commentary) recognize this. So who is this "prince" of Russia, Moscow and Tobolsk? The use of all three names shows that this is an individual ruler of all the peoples of Russia, from the west to the east. …

When you study these scriptures alongside current events revealing modern Moscow's imperialist direction, you see that Russian President Vladimir Putin could well be the prince of Rosh. We strongly believe he is.
In his article "Vladimir Putin Is the Prophesied Prince of Russia," Mr. Flurry wrote:
Can you think of any other Russian politician who could become so powerful and have the will to lead Russia into the crisis of crises? I see nobody else on the horizon who could do that. And only a tiny few years remain for the prince of Rosh to appear!

Such a man doesn't appear overnight. It takes years for even a strong-willed leader to gain such control. Vladimir Putin already has the power—and the will to use it. …

He has already solidly allied Russia with China. The prophecy about the prince of Russia includes that main alliance.

Other nations are leaning toward an alliance with Russia. Several of them are prophesied to join.
Myanmar could well be one of those nations. Russia is certainly on a charm offensive, advocating for the military junta, sending a top delegate to its armed forces parade, and continuing its arms sales.
This brutal regime in Myanmar is a throwback to autocratic regimes of the past. Stalinist Russia is one such regime. The fact that Putin is willing to support Myanmar's violent military is a warning about the nature of this Asian alliance he is prophesied to lead. It will be a violent coalition, and it will bring about unparalleled brutality.
But even amid all this prophesied darkness, there is hope. To fully understand these prophecies and the hope that lies ahead, please read our Trends article "Why the Trumpet Watches a Russian Strongman Dominating Asia" and request your free copy of Mr. Flurry's booklet The Prophesied 'Prince of Russia.'