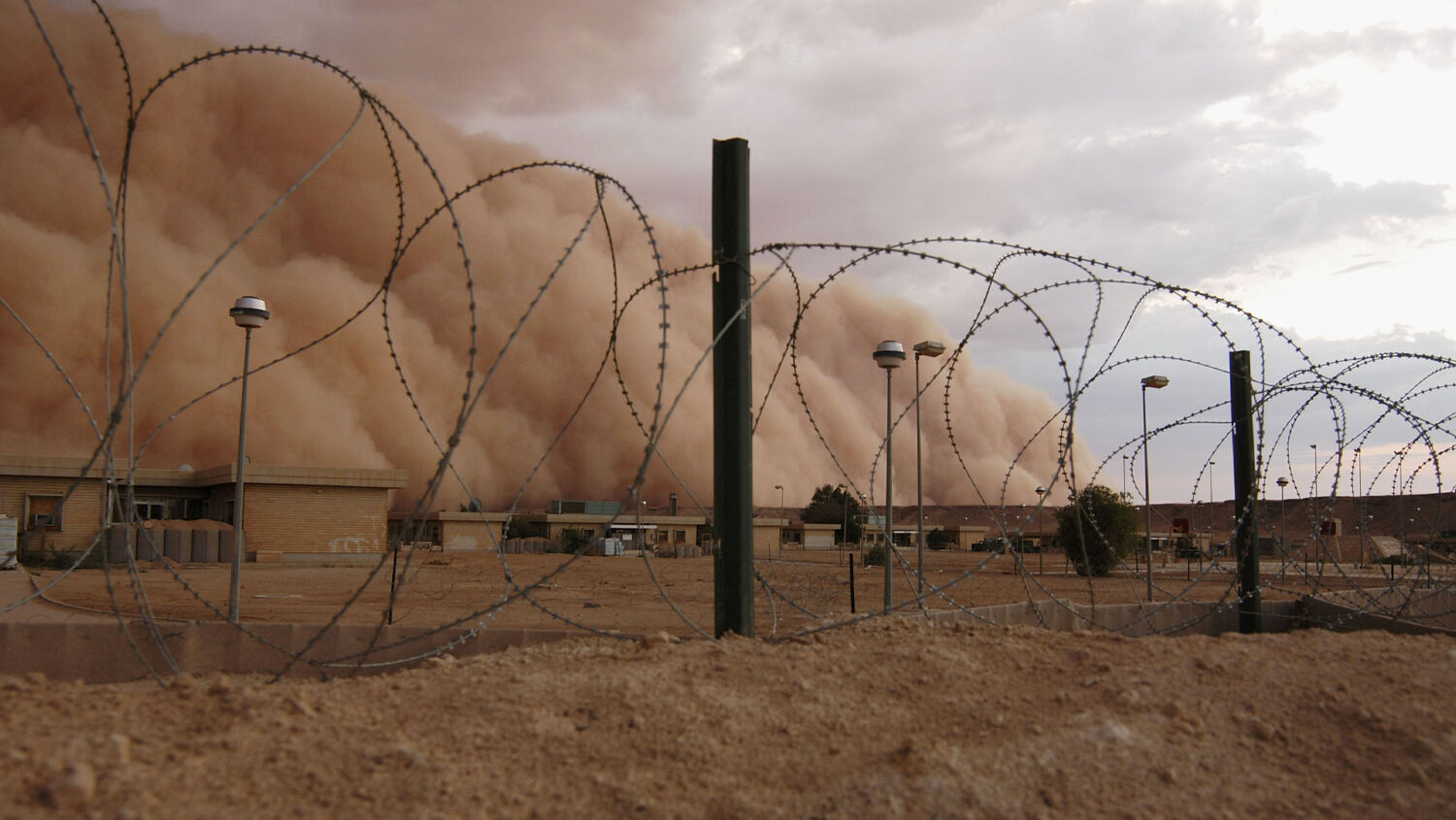 American Contractor Killed in Iran-Backed Rocket Attack in Iraq
As the Biden administration fails to deter Iranian aggression, American troops become sitting ducks in Iraq.
jerusalem
Early Wednesday morning, 10 rockets struck the United States Al-Asad base in western Iraq's Anbar province in another direct attack against American forces in Iraq. Coalition troops raced into shelters to wait out the attack. During the barrage, an American contractor embedded with U.S. forces suffered from a heart attack and shortly thereafter died.
This was the first death of an American citizen inside Iraq since Joe Biden took office. The rocket attack, at least the fourth by Iran-backed forces in just over two weeks, confirms that America is quickly losing power to deter Iran from attacking its forces in Iraq.
A truck with a false bed covering the Iranian-type rockets was driven into place before the rockets were offloaded and fired, a method used by Iran-backed Shiite militias, according to Middle East expert Seth Frantzman.
In mid-February, Iran-backed militias operating freely inside Iraq fired at the Erbil International Airport, which is shared by U.S. forces. American servicemen were injured in the attack, and two other foreign nationals who worked with the U.S. forces were killed. In response, the Biden administration launched air strikes against a border post in Syria used by Kataib Hezbollah and other Iraqi Shiite militias that answer to Iran.
The much-publicized retributive attack by the Biden administration was meant to send a clear message to Iran that there will be consequences for attacking U.S. forces. "The operation sends an unambiguous message: President Biden will act to protect American and coalition personnel," Pentagon spokesman John Kirby said on February 25. "At the same time, we have acted in a deliberate manner that aims to deescalate the overall situation in eastern Syria and Iraq."
As statements by the White House, the Pentagon and the State Department all reiterated, the American response was "proportional" to the Erbil attack and aimed to "deescalate" tensions with Iran.
In reality, as Michael Rubin noted, Biden's choice of target was far from proportional and would do little to deter Iran from future attacks. Writing for 19fortyfive.com, Rubin contrasted Biden's weak response with actual deterring attacks from the past. He wrote (emphasis added throughout):
Despite Biden's efforts to emphasize proportionality, the air strike was not proportional; rather, it was less. A U.S. Embassy or an airport where U.S. forces reside are not the equivalent of a dusty outpost used as a tea stop for militiamen traversing from Iraq into Syria. Nor are U.S. forces the equivalent of an Iranian-backed militia. A proportional response would more directly target Iranian interests or property. The danger is not Iranian escalation, but rather the normalization of rocket attacks on embassies or airports.
One week and 10 rockets later, Rubin was sadly vindicated in his assessment. But this time, an American citizen was killed. Rubin continued:
Iranian authorities might bluster—they certainly did after Operation Praying Mantis in 1988, or the deaths of Islamic Revolutionary Guard Corps missile chief Hassan Moghadam on Nov. 13, 2011, Quds Force chief Qassem Suleimani on Jan. 3, 2020, or nuclear chief Mohsen Fakhrizadeh in Nov. 27, 2020—but hindsight shows such targeted strikes do deter subsequent Iranian actions.
As Rubin related, "proportional attacks" do not deter Iranian aggression, only deliberate displays of disproportionate force deter future attacks.
Yet following the Wednesday morning rocket attacks, statements from the Pentagon and White House again indicated that there might be an American response, and if so, it would be proportional. White House press secretary Jen Psaki said Biden's "model" in dealing with Iran would be in a "manner that is calculated, proportionate and fully covered by legal authorities."
Clearly, Iran is taking advantage of Biden's approach to defending U.S. forces inside Iraq. And although United States forces are far superior to any Iranian militia, there is an inherent weakness in America's shrinking footprint in Iraq, specifically related to defense against rocket attacks. According to Frantzman:
America lacks many of the key components of a multilayered air defense system to stop these rockets. Iran is using the same kind of munitions it advised Hezbollah and Hamas to use against Israel. However, Israel developed Iron Dome and other systems to protect itself and stop those rockets. The U.S. has Patriots for longer-range ballistic missiles, and it has c-ram for shorter-range munitions. But Washington does not appear to want to move more air defense systems into Iraq. This leaves U.S. forces and coalition contractors a bit at the mercy of the Islamic Republic.
Put another way, unless the United States can deter Iran from firing these rockets in the first place, American soldiers are sitting ducks from rockets raining down on their bases inside Iraq.
Perhaps this knowledge was the reason an American contractor experienced a cardiac arrest during the barrage and died immediately thereafter; he knew they were vulnerable.
What is the goal of the Iranians? The same one that led the late Qassem Sulemani to orchestrate the killing of over 600 U.S. servicemen in Iraq over the past 20 years: the complete withdrawal of U.S. forces from Iraq and turning Iraq into a Persian satrapy.
According to Iranian media, Wednesday's attack was in response to Biden's own retributive attack and, more importantly, was aimed at sending the message that America's forces must leave Iraq.
Kataeb Hezbollah, a Shiite militia that falls under the guidance of the Islamic Revolutionary Guard Corps, formerly led by Suleimani, considers itself the vanguard of this effort, although it rarely attacks U.S. forces using its own name. Of late, several "new" militias have taken credit for attacks on American forces. In reality, it is all the same militias just giving themselves different names to give plausible deniability to Iranian involvement. Even Biden's February 25 strike on Kataib Hezbollah forces shows they were behind the Erbil attack.
Nevertheless, though the Biden administration may correctly locate the militia involved, all understand that these groups act at the behest of the Iranians.
Unless the Biden administration breaks from its "proportional response" model, there will be no let-up in Iranian attacks against U.S. forces in Iraq. And as such, there will become less and less reason for Americans to stay in the country.
Such a departure would validate a landmark forecast Trumpet editor in chief Gerald Flurry made nearly three decades ago. Since 1992, Mr. Flurry has warned of an Iranian takeover of Iraq. Following U.S. President Donald Trump's declaration of victory against the Islamic State in 2018, Mr. Flurry wrote:
America is celebrating after helping to drive the Islamic State out of Iraq and Syria. But it should not be celebrating. The reality of the situation is being dismissed: The United States has just suffered its greatest defeat ever in the Middle East!

As shocking as that statement may sound, I can prove it to you.

America may have helped drive the Islamic State out of Iraq and Syria—but now America is about to be driven out of Iraq and Syria by Iran! We are about to see a vicious turnaround. In many ways, it has already started.
Since Mr. Flurry made that statement, the U.S. has withdrawn from eight facilities or bases in Iraq, and now only resides in three, including the Al-Asad airbase. As the potential for American casualties increases under Biden's Iraq model, will America finally hand over Iraq fully to Iran?
As Mr. Flurry details in his booklet The King of the South, end-time prophecy in the biblical book of Daniel says this shift is expected and soon.