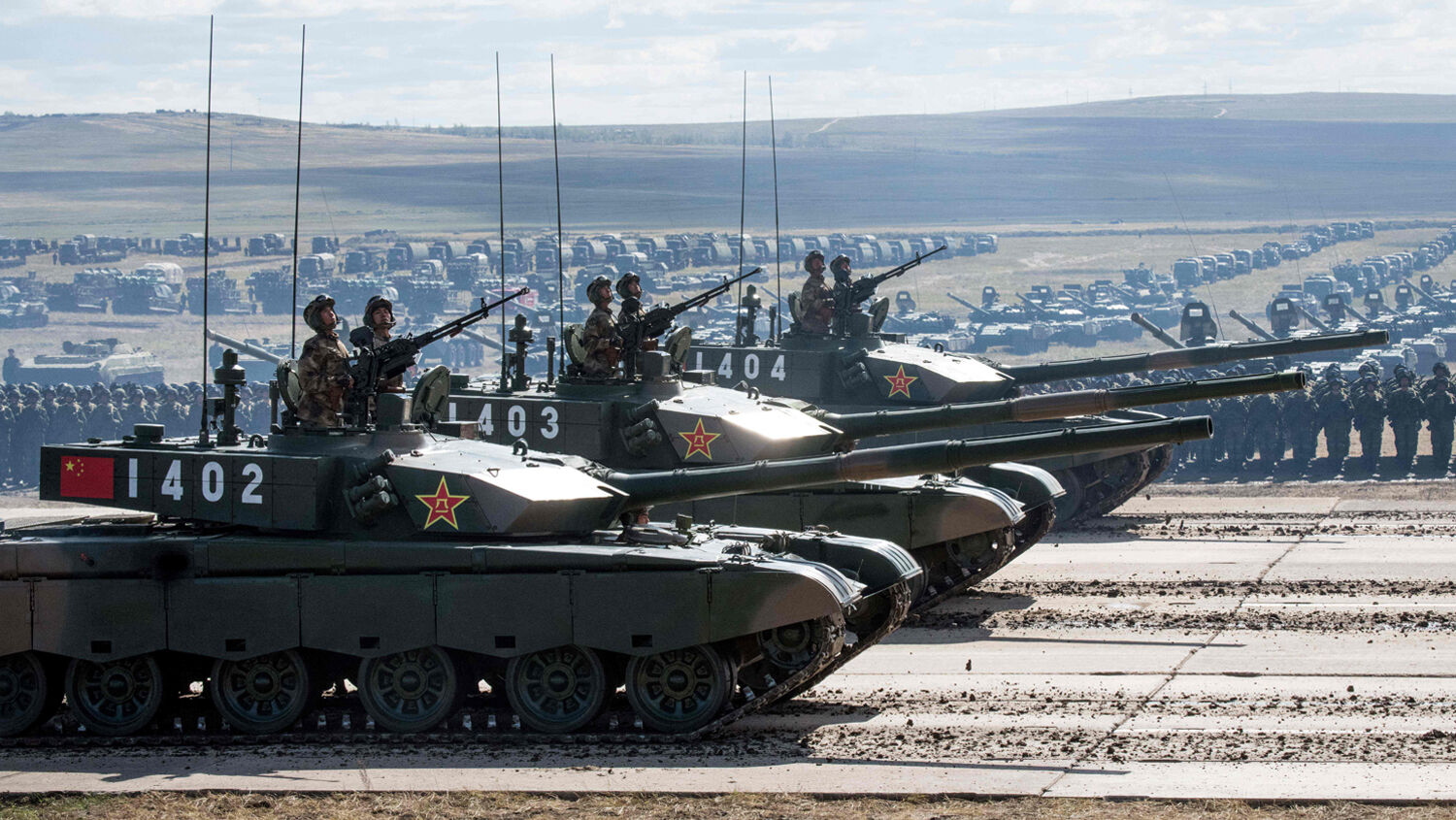 Russia to Host War Exercises Fit for Kings
2021 could be the year 'the kings of the east' begin to unsheathe their swords.
After the collapse of the ussr, the Russian bear came to be viewed as nothing more than a paper tiger. But Russian President Vladimir Putin has sharpened its claws through significant military overhaul. By shredding the old limitations, Russia's defense forces have been transformed into a deadly outfit. Now, in what seems to be preparation for a major war, Putin has turned his attention to boosting Russia's ability to militarily integrate and cooperate with its neighbors.
At the beginning of the year, the Russian Defense Ministry announced that Russia would participate in nine military exercises with foreign troops in 2021, hosting eight of them. "A new training year began in the troops on December 1," Russian Defense Minister Sergei Shoigu was quoted by tass news agency as saying. "In 2021, we will keep the intensity of combat training."
With a slew of military drills and exercises outlined, 2021 looks set to be the year that Putin further solidifies his role as the head of an emerging Asian military alliance.
Soviet Reunion
In 2005, Putin lamented the "catastrophe" that was the collapse of the Soviet Union. He has taken several steps to reverse this collapse, mainly through reasserting Russian power over former Soviet states. And over the course of this year, Russia plans to continue the trend by holding military exercises with several of these nations under the banner of the Collective Security Treaty Organization (csto), members of which include Russia, Armenia, Belarus, Kazakhstan, Kyrgyzstan and Tajikistan.
According to a report by the Institute for the Study of War, Russia's goal with the csto is to establish a "multinational armed force of former Soviet nations." And it is pushing the United Nations to label the organization as an official peacekeeping force.
Russia led several csto exercises at the end of 2020. In all of them, the report said, Putin "concealed the significance of these exercises by casting them as pre-announced and preplanned despite making major changes immediately before their execution."
This year's csto exercises are shrouded in mystery but have similar labels as "preplanned exercises," which, according to the report, creates a "false sense of normality." They will be aimed at practicing rapid joint deployments, improving hybrid war capabilities, and mobilizing forces faster and in greater numbers than ever before. The exercises are also aimed at running battle scenarios in the event that one or more of the ally forces is incapacitated.
The drills are preparing these nations for real-combat situations, with soldiers from the six nations fighting shoulder to shoulder.
Belarus
Belarus and Russia will hold the joint "Zapad-2021" military exercise later this year. The only known details thus far are when and where it will be taking place: September 10 in the territories of both nations, including Russia's Arctic. According to the plan, the forces will work out tactics for small units waging combat in cities.
Details about the number of participating navy ships and how far into the Arctic the exercise will take place are being kept quiet. But the previous round of Zapad exercises, held in 2017, provides some indication of what this year's iteration may entail: Those drills involved 13,000 Russian and Belarussian military personnel, 70 aircraft, 680 pieces of military hardware and 250 tanks.
Analysts speculate that this year, Russia will deploy tens of thousands of troops to the Baltic and increase air force flight activity, along with that of Northern Fleet and Black Sea warships. Russia's First Guards Tank Army is also likely to deploy some of its forces for the exercise.
This joint military activity is also notable for its timing. Most Belarussians believe incumbent President Alexander Lukashenko rigged the presidential election in August. But despite heated protests, he has remained in power—largely due to Putin's support. This almost obligates Lukashenko's loyalty to Russia as shown in his comments about the inviolability of the bilateral defense ties. "[Russia and Belarus] can quarrel and argue about any matters, but we've never argued and have never been in doubt about defense and security," he said in a 2020 meeting with Putin. "We will make plans for army exercises for years ahead and we are going to specify them. We should stage small exercises and big ones together." Those plans are coming to fruition this fall.
As these exercises commence, one wrinkle to look out for is China's possible participation.
China
Sino-Russian relations are as strong as ever. As Russia's closest ally, China has purchased several defense systems and weapons from the Kremlin. It has also regularly participated in military exercises with Russia. Should Chinese armed forces decide to participate, it could strengthen China's role as Russia's number two.
The importance of China's role in the rise of a Russian-led Asian military force cannot be overstated. Its relationship with Russia is the bedrock of a forming multinational alliance. It therefore makes sense to see China consistently appear alongside Russia round after round of military exercises.
After holding the largest-ever joint-military exercises in 2018 and several other notable drills in 2019, covid-19 lockdowns prevented large-scale military drills from being held last year. But we should expect Russia and China to continue staging military exercises that reflect their growing importance to one another.
Pakistan
The "Aman-21" exercise, which ran from February 12 to 16, is one the few that Russia did not host. Pakistan's decision to invite Russia to these war games exposes its desire to strengthen military cooperation with Moscow. And Russia's acceptance of the invitation, despite the fact that North Atlantic Treaty Organization powers also took part, sends an important signal.
Russian relations with Islamabad are improving. Gone are the frosty relations that saw Cold War-era Pakistan cuddle up to the United States and rebuff Russia. In recent years, Russia and Pakistan have grown closer as they worked together in Afghanistan against the Islamic State. Putin masterfully cultivated the relationship born of those anti-terrorist aims into a long-term strategic cooperation.
Rise of the 'Kings of the East'
Meanwhile, India reportedly joined Russia's naval drill with Iran last month, Russia and Vietnam will soon carry out tank exercises, and Russian and Laotian forces are planning war games. Russia will also conduct war exercises with Sri Lanka and Mongolia later this year.
Russia's Defense Ministry has tried abating concerns, saying, "All exercises will be aimed at boosting peacekeeping and counterterrorism efforts."
But this is Putin's Russia. The same Russia that took advantage of protests in Ukraine to annex Crimea. The same Russia that saw the opportunity to seize a fifth of Georgia's territory, and took it. This is the same Russia that saw the chance to regain influence in the Caucasus last year and accordingly deployed 2,000 troops to the region following the Nagorno-Karabakh war.
The level at which Russia is cooperating with the militaries of so many countries is unusual. Rarely has any nation been involved with so many other countries in such a short span. Putin is setting the stage for a gargantuan military alliance to be built. The result will be an army of literally biblical proportions.
Long-time Trumpet readers will be familiar with our forecasts of a mammoth pan-Asian military alliance to rise up in the near future, one the Bible calls "the kings of the east" (Revelation 16:12). This army will be the biggest in mankind's history, with 200 million soldiers (Revelation 9:16). A companion prophecy in Ezekiel 38 explains who will be in this army, and who will be its leader.
It mentions "Gog, the land of Magog, the prince of Rosh, Meshech, and Tubal" (Ezekiel 38:2; New King James Version). Gog refers to Russia, while Meshech and Tubal are ancient names designating the modern Russian cities of Moscow and Tobolsk. Rosh is also an ancient name for Russia.
Trumpet editor in chief, Gerald Flurry explains in his booklet The Prophesied 'Prince of Russia' that Vladimir Putin is the "'prince of Rosh' that God inspired Ezekiel to write about 2,500 years ago!"
Russia is prophesied to be the king over other kings of the east. 2021 will go a long way toward reinforcing Russia's, and particularly Vladimir Putin's, leadership position over former Soviet Union states. But it doesn't end there. The Bible prophesies that even more powers will be involved in this enormous Asiatic military force under Putin's command. For example, Mr. Flurry writes, "Scholars generally agree … that 'the land of Magog' includes China."
He continues:
Current events show this Asian army is taking shape already. You can see it in Putin's growing authoritarianism and also in his outreach to other Asian powers. Russia has supplied China with many military armaments over the last decade or so; it also helped the Chinese go nuclear. For many years the Russians have been allied with China, at least to some degree.
Mr. Flurry goes on to explain that Japan, India and probably Pakistan are also prophesied to take part:
[T]here will also be other powers involved. Ezekiel's prophecy says the Russian-led army will include "Persia, Ethiopia, and Libya … Gomer, and all his bands; the house of Togarmah of the north quarters, and all his bands: and many people …" (Ezekiel 38:5-6). Gomer refers to Japan, which wields some of the world's most advanced weaponry and technology. Ethiopia and Libya should be translated "Cush" and "Phut." Some of Cush and Phut migrated to African nations, but the rest settled in parts of India. The context of this passage shows that it refers to modern-day Indians (and perhaps Pakistanis) rather than Africans.

This is significant because India has a population of 1.2 billion people—plus an advanced nuclear arsenal! When you put India and Japan together with Russia and China, it is easy to see how an army of 200 million soldiers could be formed. With other Asian nations joining in, you quickly reach combined populations of 3.5 to 4 billion people! Under extreme circumstances like those described in these end-time prophecies, it is not hard to imagine 1 in 10 or 20 people going to war.
This incredible army is coming. It will be a fierce army under Putin's lead. This year's spate of exercises are all training and uniting "the kings of the east." Several of these kings are nuclear powered. This explains how this army will contribute to the death of "a third of mankind" (Revelation 9:18; Revised Standard Version).
This is what the Trumpet is here to explain. For amid all the sure and inevitable violence and bloodshed, there is also hope. Mr. Flurry writes:
We have to realize that this is all good news because Jesus Christ is going to return to this Earth at the very end of the coming world war. The powers fighting the war are going to be destroyed by Jesus Christ Himself!

Jesus Christ is about to return—biblical prophecy makes that clear. Surely we ought to be studying our Bibles and understanding these prophecies. They have such deep meaning and are so important to you!
Request Mr. Flurry's booklet The Prophesied 'Prince of Russia' to fully understand the prophecies surrounding this forming Asian alliance.