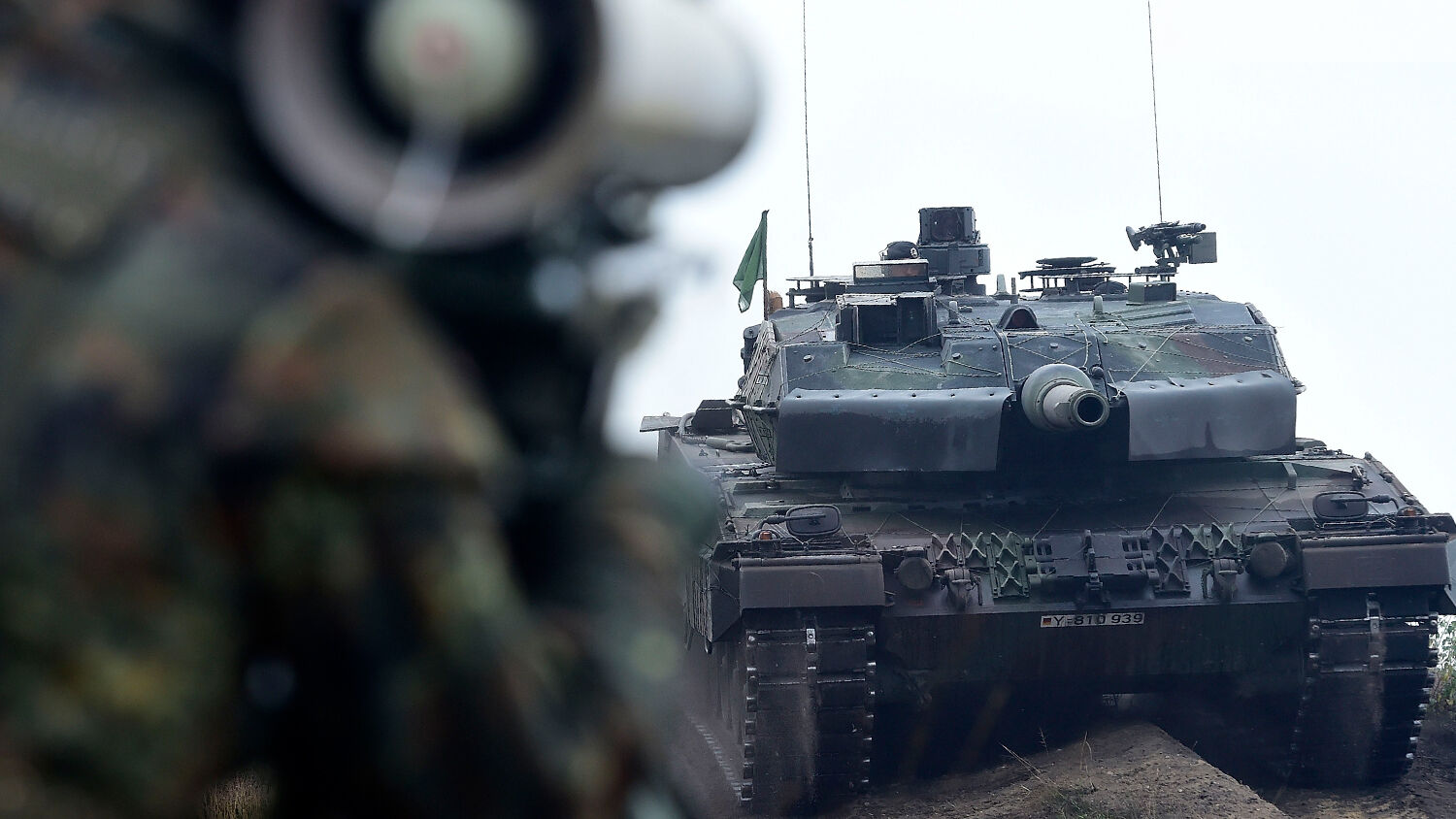 Hungarian Gunners Learning Germany's Battle Cry
The Holy Roman Empire's eastern leg is gaining strength.
Hungary has launched a large procurement program switching from the Soviet T-72 tank to the German Leopard 2A7s tank. It also ordered German helicopters, modern Panzerhaubitze 2000 self-propelled howitzers, and switched to a different bridge-laying system and control system for air defense. The German Bundeswehr is now in the process of training their Hungarian counterparts to adapt to the new systems.
"In the future, Hungarian gunners will know the battle cry of German artillerymen just as well as the word 'Panzerhaubitze,'" the website of the German Bundeswehr noted on January 6 in "Training in Thunder and Lighting" (Trumpet translation throughout). Hungary's soldiers are joining a core European group that understands Germany's military commands.
With Hungary's purchase of German military equipment, its military is becoming more compatible with that of its Western neighbors.
The two countries fought together centuries ago under the cross of the so-called "Holy" Roman Empire. But the alliance is now reviving in a special way. Hungary, for example, is the first North Atlantic Treaty Organization and European Union member state to order Rheinmetall's Lynx Infantry Fighting Vehicle (ifv). During a visit by German Defense Minister Annegret Kramp-Karrenbauer, Hungarian counterpart Tibor Benkö said that Hungary wants to "switch from Eastern technology to Western technology." The country is preparing to cut military ties with Russia and is therefore becoming all the more reliant on Germany.
The Hungarian "Honvédség" armed forces want to build up a whole tank artillery battalion and replace their old self-propelled guns with the German self-propelled howitzers. This also requires Hungarian artillerymen to be trained in Germany.
The artillery battalion 131 in Weiden, Germany, is now training the first eight Hungarians on the Panzerhaubitze 2000. In February 2022, the trainees will teach their comrades back home.
Eight Hungarian sergeants and officers completed their three months gunnery training. Soon they will take courses designed for platoon leaders and company commanders. The Hungarian battalion commander, Lieutenant Colonel Barnabás Bartók, who witnessed the training of his soldiers on November 17 and 18, remarked: "I am grateful for the excellent training of my soldiers and look forward to further cooperation with our German partners."
The German trainers are assisted by translators from Hungary. But the Eastern European soldiers have to learn German technical terms and fire commands because there are still no service regulations in the Hungarian military for the new weaponry. The training has so far "worked perfectly," as the commander of the Weiden Artillery Battalion 131, German Lt. Col. Sven Zickmantel, noted.
German Sgt. Maj. Ivo Köhnke said the Hungarians are "highly motivated, they really want to learn and are looking forward to getting the new weapon system."
Bundeswehr.de noted: "The Hungarians know: They are pioneers in their armed forces, and their motivation is correspondingly high."
Various other European battalions and brigades are already merging into multinational troops under German command. The New York Times wrote on Feb. 20, 2019:
In a former Cold War base, German and Dutch soldiers, serving together in one tank battalion, stood to attention one recent morning and shouted their battle cry in both languages.

"We fight—," their commander bellowed.

"—for Germany!" the battalion replied in unison.

"We fight—," the commander shouted.

"—for the Netherlands!" his soldiers yelled back.

They are not shouting "for Europe." Not yet.
Germany holds similar exercises with France, the Czech Republic and Romania. (Read more about this development in "German Army Continues to Swallow Its Neighbors.") In 2016, the German newspaper Die Welt noted: "The Bundeswehr Is a Laboratory for an EU Army."
Concerning Europe's recent history, this development is remarkable. But the European continent witnessed similar military cooperation during the rule of the Holy Roman Empire. This empire is prophesied to rise once more in the heartland of Europe.
The late theologian Herbert W. Armstrong used Bible prophecy to accurately predict what we are seeing today. In the May 1953 issue of the Good News, he wrote:
Suddenly the world will behold a United States of Europe! Some of the Balkan nations which have been under Russia's boot will be members of it! Ten dictators in Europe will unite, in a gigantic European combine, turning their united military power and resources over to the new leader of Europe! Not only this, but a great religious leader will also emerge, in a world-shaking pact with the military leader which will far overshadow the effect of the Hitler-Stalin nonaggression pact of 1939!

It will be a union of church and state. The religious influence will be used to cement together, and unify, these 10 nations in Europe. These will include Germany and Italy, probably Spain and Portugal and France, Greece, and probably some of the Balkan nations from among Yugoslavia, Austria, Czechoslovakia, Hungary, Bulgaria, Romania or others.
You can see trends taking place now that are leading to the fulfillment of what Mr. Armstrong warned about.
Revelation 17 warns about this rising European military superpower: "And the ten horns which thou sawest are ten kings, which have received no kingdom as yet; but receive power as kings one hour with the beast. These have one mind, and shall give their power and strength unto the beast. These shall make war with the Lamb, and the Lamb shall overcome them: for he is Lord of lords, and King of kings: and they that are with him are called, and chosen, and faithful" (verse 12-14). A beast in biblical symbolism is an empire. This particular beast is made up of 10 nations, or groups of nations, that unite under one command. Despite Germany's defeat in World War ii, Mr. Armstrong repeatedly warned that this super-arching power would come from Germany.
This soon-coming empire will be the final resurrection of the Holy Roman Empire.
Our free booklet He Was Right explains many of these prophecies Mr. Armstrong proclaimed that are now being fulfilled or already have been fulfilled. It also explains how Mr. Armstrong was able to forecast that Hungary would join the now rising German-led European superstate.