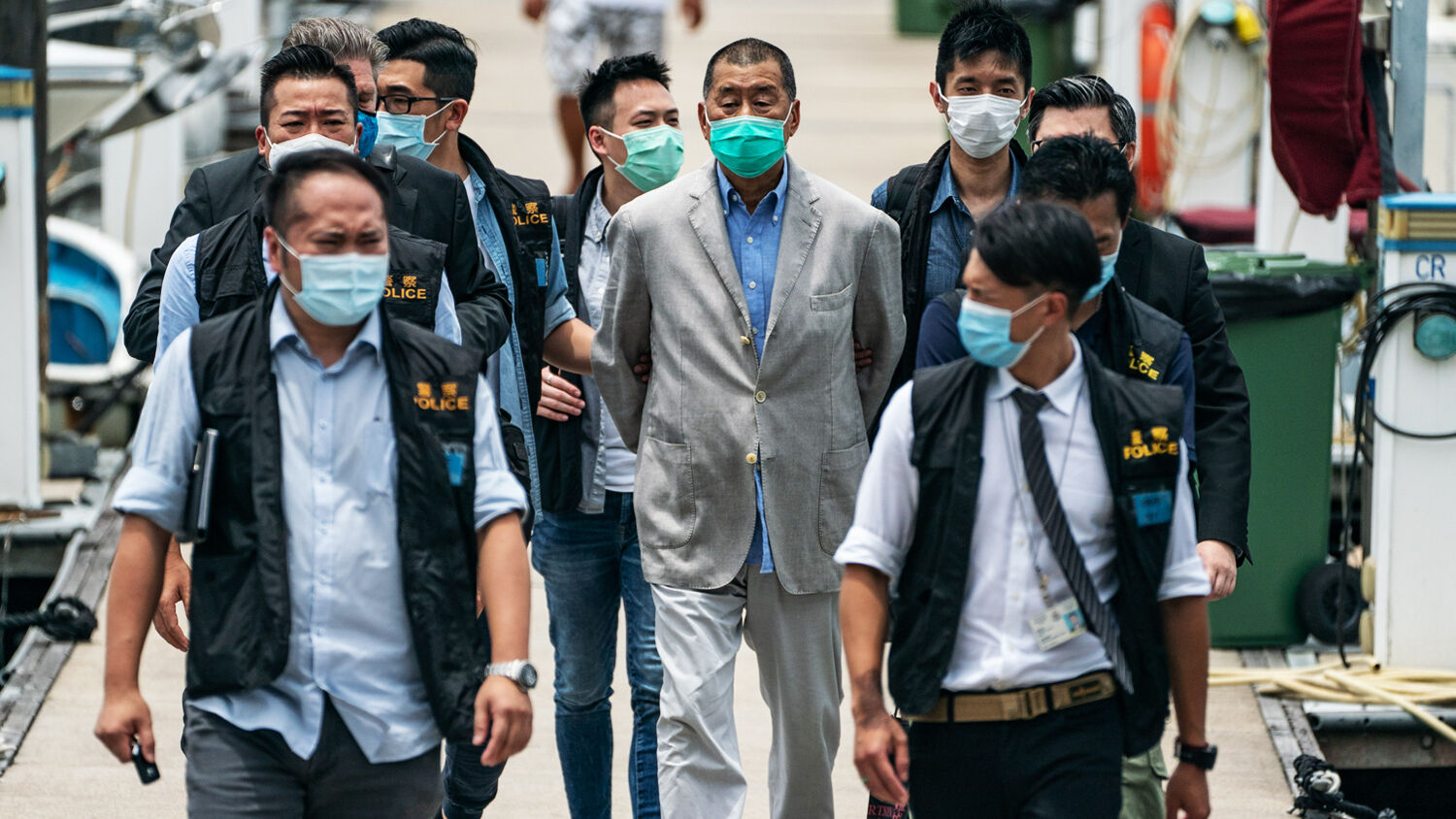 Hong Kong Police Arrest Pro-Democracy Publisher
Media mogul Jimmy Lai is the most prominent victim so far in the Chinese Communist Party's takeover of Hong Kong.
In the latest sign of China's encroachment on Hong Kong, the publisher of a pro-democracy newspaper was charged with foreign collusion on December 11. Jimmy Lai, the publisher of Apple Daily, is the highest-profile casualty of the new China-imposed security law aimed at quashing dissent. The law directly attacks Hong Kong's democracy.
After 2019's tumultuous pro-democracy protests over the infamous extradition bill, China imposed the national security law on July 1, outlawing secession, subversion, terrorism and complicity with foreign powers seeking to intervene in Hong Kong. It allows China's secret police to operate in Hong Kong while giving Chinese officials great latitude to affect matters in the territory.
Lai was charged after an investigation by the National Security Department, a body set up under the new national security law. According to the Apple Daily, the media tycoon was charged with asking foreign entities to engage in hostile activities against China, such as placing it under sanctions. Among the "evidence" are over 1,000 tweets and comments from his Twitter account, as well as interviews with foreign media, made after the national security laws were passed.
The arrest of Lai, and his subsequent denial of bail, is the latest example of China's dangerous encroachment in Hong Kong. It follows the expulsion of pro-democracy lawmakers from the legislature and the arrest of several pro-democracy activists.
China's overreach in Hong Kong is 27 years ahead of schedule. Britain ceded Hong Kong to China in 1997 under the condition that Hong Kong would maintain a high degree of autonomy for 50 years. For this, China promised "One Country, Two Systems," allowing Hong Kong to retain its identity and freedoms. Jimmy Lai said on June 30 that the new security law China was about to pass would prove to be the death knell to this system.
How right time has proved him to be.
In the last two decades, China has made several trespassing moves on Hong Kong, but its recent incursions demonstrate a more ominous resolve. Similarly unsettling is the Western world's corresponding spectatorship.
For the last 300 years, America and Britain have stood as the pinnacles of freedom and guarantors of relative world stability. Hong Kong itself is the perfect example of the wealth, prosperity and freedom that America and Britain have represented for decades. But the rapid disappearance of these ideals as a consequence of China's bold power grab heralds a new, dark era.
Jesus Christ called it "the times of the Gentiles" (Luke 21:24). Trumpet editor in chief Gerald Flurry explained in his article "What Are the Times of the Gentiles?" that the Gentiles are non-Israelite peoples. Israel in end-time prophecy refers mainly to the United States and Britain. Prophecy indicates that as the modern Israelite nations decline, Gentile nations, such as China, will become the dominant world powers.
And while such events as those in Hong Kong might appear to be contained in Southeast Asia, these times of the Gentiles will lead to global events of devastation unparalleled in human history. Mr. Flurry calls them a "catastrophic storm" of which we are on the outer edges. In "The Climax of Man's Rule Over Man," he wrote: "Throughout history, China has often taken on an expansionist policy to conquer, destroy, subdue and enslave people. In recent years, the United States has acted like China has changed, but that same policy is materializing again, stronger than ever."
Hong Kong is a prime example.
The era of British and American dominance has by no means been a period of perfect peace and diplomacy. No human government is perfect. But as the Hong Kong people plea for intervention as they are swallowed up by Communist China, you can clearly see the contrast between Anglo-American dominance and the times of the Gentiles.
The Gentiles are gaining power, just as Christ prophesied. China will surely gain complete control over Hong Kong. Anglo-American influence will dwindle into oblivion. But there is hope. Christ Himself spoke of it. To fully understand what is going to happen to Hong Kong and the world, and the hope for us all, please read Mr. Flurry's article "The Climax of Man's Rule Over Man."