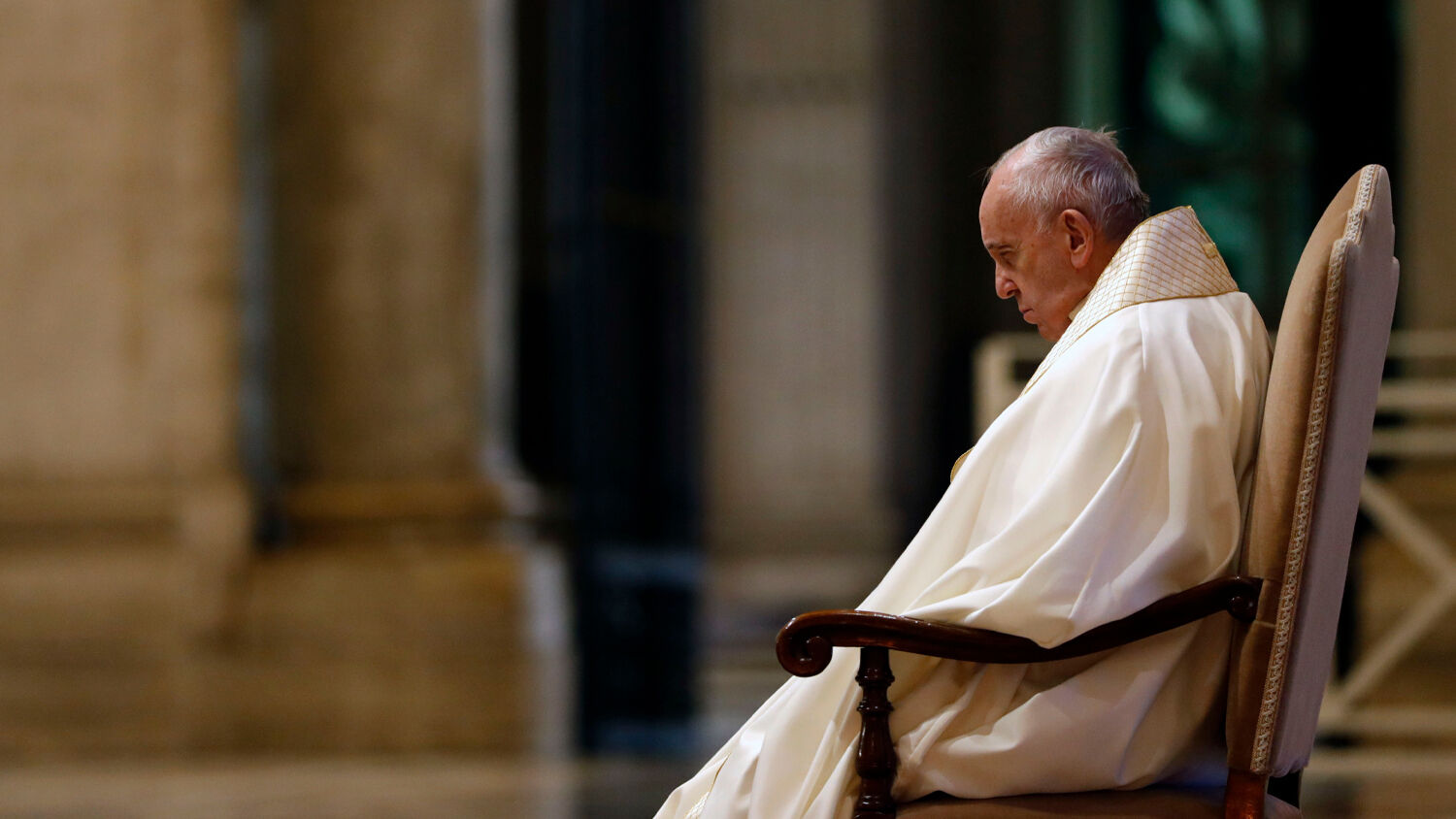 Vatican Report: Clerics of All Ranks Covered for a Sexual Predator
But there is an even worse scandal in the Roman Catholic Church!
The Roman Catholic Church is mired in a pedophilia scandal. On November 10, the Vatican issued a 461-page report on former Cardinal Theodore McCarrick. The report acknowledged that bishops, cardinals, and even popes dismissed reports that McCarrick was a homosexual and a pedophile, allowing him to stay in power for decades.
Perhaps the most explosive revelation of the report is that Pope John Paul ii, who was declared a Catholic saint in 2013, received numerous confirmed reports that McCarrick slept with seminarians, yet the pope still appointed him archbishop of Washington, D.C., in 2000. John Paul believed McCarrick's denials rather than the findings of a Vatican investigation.
The report also revealed that Pope Benedict xvi asked McCarrick to retire in 2006 after Archbishop Carlo Maria Viganò questioned the extent of McCarrick's perverted sexual activities. But because McCarrick swore on his "oath as a bishop" that the allegations about him were false, Benedict decided not to order a full inquiry into his actions.
"Viganò's superiors, Secretary of State Cardinal Bertone and Substitute Archbishop Sandri, shared Viganò's concerns, and Cardinal Bertone presented the matter directly to Pope Benedict xvi," the report says. "Ultimately, the path of a canonical process to resolve factual issues and possibly prescribe canonical penalties was not taken. Instead, the decision was made to appeal to McCarrick's conscience and ecclesial spirit by indicating to him that he should maintain a lower profile and minimize travel for the good of the church."
Pope Francis removed McCarrick from the clergy in 2018 after an investigation confirmed that McCarrick had sexually molested adult men and young boys. After Francis defrocked McCarrick, Archbishop Viganò published an 11-page testimonial revealing that he warned Francis that McCarrick was a serial predator in 2013, but that Francis did nothing about it for the next five years. The new Vatican report alleges that neither Archbishop Viganò nor anyone else provided Francis with any documentation regarding allegations against McCarrick, except for rumors that he slept with adult men in the 1980s. It was not until Francis received allegations of sexual abuse from a former altar boy that he took action.
The new McCarrick report is an attempt by the Vatican to restore Francis's credibility at a time when traditionalist Catholics—like Viganò—are calling on him to resign. The report faults John Paul ii and Benedict xvi for McCarrick's rise to prominence while sparing Francis. Now that Francis is promising to rid the Catholic Church of sex abuse, it looks like he may have escaped the penalty for any role he played in the cover-up.
Yet the McCarrick scandal goes far deeper than most realize!
The Vatican-China Concordat
Cardinal McCarrick was active in United States politics for decades, controversially weighing in on a debate over whether pro-abortion politicians should be barred from Communion.
When U.S. bishops gathered in Denver in 2004 to decide whether Democratic presidential candidate John Kerry should be able to receive Communion, McCarrick said he thought it would not be "pastorally wise and prudent" to deny Communion to pro-abortion politicians because it could "turn the Eucharist into a perceived source of political combat."
In addition to sexually abusing children and supporting pro-abortion politicians, McCarrick was also a chief architect of a secret Vatican concordat with China. During the papacy of John Paul ii, Cardinal McCarrick became the first Western cardinal to set foot in mainland China since Mao Zedong's Communist revolution. Between 1996 and 2016, McCarrick visited China eight times in an "unofficial" capacity to advocate for Vatican-Chinese reconciliation.
On two visits, McCarrick met with Fr. Shu-Jie Chen, vice rector of the Catholic Seminary in Beijing, and a member of the Chinese Patriotic Catholic Association. According to a report from the U.S. Embassy to the Vatican, Fr. Shu-Jie Chen "downplayed persecution of the underground church" and called faithful Chinese Catholics "uneducated." He wanted the Vatican and Chinese Catholics to start compromising with China's Politburo.
Despite the stand John Paul ii took against Communist Russia, Benedict xvi wanted the Vatican to reestablish diplomatic relations with Communist China. Allowing McCarrick to continue his "unofficial" missions to China was part of his strategy to make this happen. It was not until 2011 that Benedict forced McCarrick to withdraw from his diplomatic efforts because of allegations that he was sexually abusing minors. But Francis allowed him to resume his missions in 2013, just months into his pontificate.
McCarrick later suggested that the similarities between Xi Jinping and Pope Francis could be "a special gift for the world." After his last visit to China in 2016, McCarrick said, "A lot of things that China worries about, [Pope Francis] worries about, about the care of poor, older people, children, our civilization and especially the ecology. I see a lot of things happening that would really open many doors because President Xi and his government are concerned about things that Pope Francis is concerned about."
McCarrick may be out of the Catholic clergy, but the deal he helped Benedict and Francis negotiate with China is still in place. It gives an atheist regime a direct role in appointing Catholic bishops and does nothing to help the millions of underground Chinese Catholics suffering under Xi Jinping's dictatorship. But neither John Paul, Benedict, nor Francis cared enough about Catholic children to investigate the pedophile allegations against McCarrick, so why would they care enough about Chinese Catholics to speak against Communist China?
McCarrick also helped the Obama administration enlist the help of Francis in establishing diplomatic relations between the U.S. and Communist Cuba, something Benedict began pushing the U.S. to do in 2012 (please read "The Deadly Dangerous U.S.-Cuba Deal" for Trumpet editor in chief Gerald Flurry's analysis on why that deal was prophetic).
Amid the current Catholic pedophile scandal, many analysts make a lot of the apparent differences between popes Benedict and Francis. But they are not as different as most imagine. They disagree on civil unions for homosexual couples. They disagree on whether Lutheran housewives can take Communion with their Catholic husbands. And rumor has it, they may disagree on priestly celibacy requirements. But when it comes to covering a pedophile scandal so a sexual predator can help the Vatican establish diplomatic relations with Communist dictatorships, the two living popes are mostly in agreement!
The Real Vatican Scandal
In 2010, Mr. Flurry wrote an article titled "The Real Vatican Scandal" after the extent of the Catholic Church's pedophile problems became public knowledge. "The Roman Catholic Church is mired in a pedophilia scandal in several nations," he wrote. "However, there is a far worse scandal in that church that we all should be deeply concerned about. Most of the media is not even exposing it. … The real Vatican scandal revolves around the ratlines of the sixth head of the Holy Roman Empire—Germany and the Vatican in World War ii."
This article discusses how Germany fought to keep files sealed that detail Nazi Adolf Eichmann's life on the run before Mossad agents captured him. Eichmann was a Nazi senior assault unit leader who escaped to Argentina after World War ii with the help of Bishop Alois Karl Hudal, a Catholic cleric who ran Vatican ratlines helping former Nazis and Ustashi agents to find haven in overseas countries. Pope Pius xii allowed Hudal to smuggle Nazis into Argentina for the same reason that Pope Francis allowed McCarrick to open negotiations with Communist China: to resurrect the Holy Roman Empire.
Uki Goñi is an Argentine author whose research focuses on the Vatican's role in helping Nazi criminals escape to Argentina. In a 2015 editorial for the New York Times, he wrote that you couldn't understand Francis without acknowledging that his worldview was shaped in Juan Peron's Argentina. That is why Pope Francis often warns about the "excesses of capitalism" while expressing sympathy for communism and other forms of socialism. He follows the sort of Catholic socialism that was practiced in Argentina during Peron's presidency.
To resurrect the Holy Roman Empire, Benedict and Francis first need to defeat American capitalism. They need to convince Catholic nations across Europe and Latin America to adopt a more socialist way of running their economies. And what better way to accomplish this than a deal with the world's leading Communist economy? Benedict may have told McCarrick to "maintain a lower profile and minimize travel for the good of the church," but Francis sent him right back to China to continue his mission. The secret deal he helped lay the groundwork for may go a long way in helping the Vatican restructure the world economy.
Bible prophecy describes a great church in the end time that holds significant political influence with "the kings of the earth." It has special power over a union of nations described in symbolic terms as a "beast" (Revelation 17). This description can only apply to one church in modern history—a church that meddles in the affairs of nations and considers itself mother to all—a church aligned with the Holy Roman Empire.
Many prophecies reveal what this church will do in the time just ahead of us. In Isaiah 47, for example, God calls this church the "daughter of Babylon" and the "lady of kingdoms." Verse 6 of this chapter prophesies that God will deliver His people—speaking of the modern-day nations descended from ancient Israel, more specifically the United States and Britain—over to this "lady of kingdoms" because of their many sins.
Today, many Catholic leaders are engaging in sexual perversion even as the Vatican negotiates with some of the world's worst dictators. If Francis—or his successor—can bring Europe and China together in an alliance against the United States, then Americans, Britons and Jews will learn what it means to be victims of the Holy Roman Empire!
To learn more about the Vatican's history of making concordats with "the kings of the earth," please read our free reprint article "The Pope, the Vatican, the Holocaust."