German Weapons Manufacturer's Nazi Past Exposed
The same man who led one of Hitler's concentration camps led Germany's weapons industry after World War
ii
.
The weapons from German arms manufacturer Heckler & Koch are well known for their deadly precision. Their rifles and other small arms are used in advanced militaries of countries such as the United States and Great Britain. The Bundeswehr and German police units have been using Heckler & Koch weapons for decades. Even now, the company is hoping to obtain a coveted order of around 120,000 new assault rifles, valued at €250 million (us$295.8 million), for Germany's troops.
MilitaryTimes.com noted, "For decades, German arms giant Heckler & Koch has served as the gold standard for military and civilian weapons manufacturing—building revolutionary and, oftentimes, game-changing rifles, machine guns, grenade launchers, submachine guns and pistols for a variety of customers including special operations forces, conventional infantry units and law enforcement agencies." But "the gold standard for military and civilian weapons manufacturing" has a tainted history, to say the least.
Recent research from Bild am Sonntag revealed that Edmund Heckler was deeply entangled in Adolf Hitler's Nazi apparatus.
Heckler served in the arms industry as Hitler was rising in the 1930s. In 1936, Heckler became an authorized representative at German metal manufacture Hugo Schneider AG (hasag). hasag was soon recognized as an "NS model company." Heckler eventually became head of a plant in Taucha, Saxony. The reports reveal that he used forced labor from concentration camps as the workforce for his plant. "More than 1,000 Jewish women as well as Sinti and Roma from the Auschwitz and Buchenwald concentration camps were deported here to assemble bazookas in Heckler's factory," Bild noted. "The forced laborers lived in wooden barracks behind barbed wire" (Trumpet translation throughout).
Many of these forced laborers got sick or died. An SS document from Oct. 13, 1944, shows that 500 Jews were deported from Auschwitz to Taucha.
People who had survived the forced labor in Taucha reported the crimes to the authorities later. Bild has now unearthed these reports and summarized the findings. Theresia Baranyai and Hildegard Särgel, two of the women at Taucha, reported that the forced laborers were "especially at work," repeatedly beaten, oftentimes to the point of death, shot and hanged. Bild wrote:
Elisabeth Winter told the authorities in Düren on Oct. 1, 1968: "Our working hours at the Taucha plant were from 6 a.m. to 6 p.m. When we returned to the camp after work, the women in particular were checked to see whether they hung blankets under their clothing. A cousin of mine … was beaten by a guard on one such occasion and injured so much that she died on the spot."
Prof. Christopher Kopper, leading historian for Nazi economic history, told Bild am Sonntag: "As plant manager, Edmund Heckler was the '[operations manager]' … and was … ultimately responsible for the working conditions of the employees."
In April 1945, U.S. soldiers opened the gates in Taucha and freed the sick and emaciated prisoners. On May 7, the mayor of the city of Taucha turned to the hasag management. He wrote: "There are currently around 50 former concentration camp prisoners in the city district." The rescued survivors were left with nothing and in need of food, clothing and shelter. The mayor noted: "I am of the opinion that hasag has to pay for these expenses."
But "the hasag management refused to care for and help the people who had been tortured in their plants for years and forced to work," Bild noted. Heckler delivered the company's response to the request personally. It read: "We ask you to consider that it cannot be hasag's job to equip the concentration camp prisoners who were previously employed with clothing, etc."
Heckler likely escaped prosecution in Eastern Germany by flying to Baden-Württemberg, while other hasag employees were sentenced to death. During his denazification process, Heckler hid his work as plant manager and was thus only classified as a "follower." A year later, in 1949, he founded Heckler & Koch, Germany's most important arms factory.
In 1999, Heckler & Koch wrote concerning its founder Heckler: "The devastating Second World War also ended his career. Nothing was left to him except his experience and skill."
"Heckler & Koch is still based in the tranquil Oberndorf am Neckar," Bild wrote on September 6. "Engineer Edmund Heckler founded the armaments company here in 1949. He is revered for this to this day: On the 50th anniversary of his death, Mayor Hermann Acker posed with a wreath at the grave, invoking Heckler's 'special merits.'"
Heckler & Koch have promised to reexamine its founder's history. But for decades, Heckler has been portrayed as "a victim of the war," Bild noted.
Heckler's Nazi past, however, is not surprising.
"Some of Germany's most successful businesses have a history of arming Germany with the tools of war, and they rebounded remarkably from their World War ii defeat," we wrote in April 2019. "After some mergers, splits and acquisitions, the same industrial conglomerates that powered Adolf Hitler's Third Reich have reemerged to dominate the modern European Union."
Eighty percent of the approximately 15,000 officers who laid the foundation of the German Army in 1955 fought under Adolf Hitler just a few years previous. Our infographic "The Roots of German Military Might" and free booklet Germany's Conquest of the Balkans, by Trumpet editor in chief Gerald Flurry, tell the story in remarkable detail.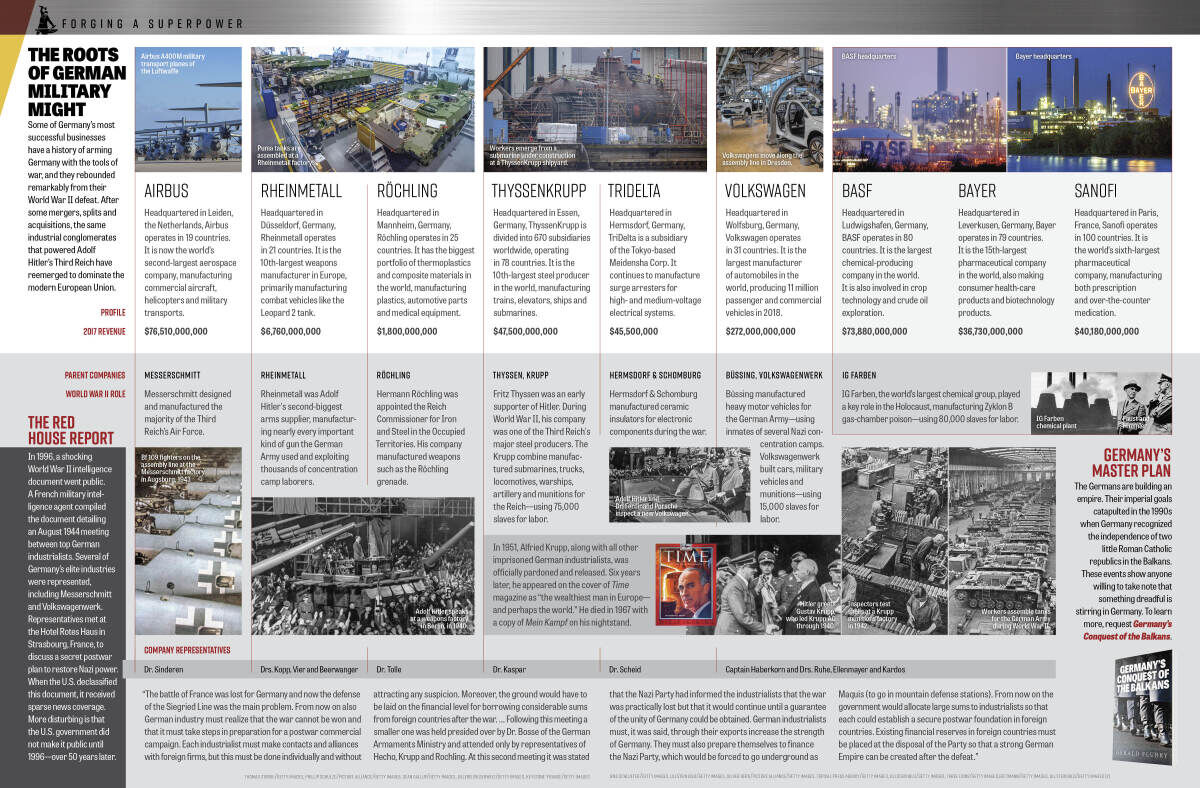 This is not a coincidence. The German Army and its industry were formed with the intention of resurrecting the Nazi empire. With every generation, these ideas and intentions have been passed on. Recent investigations have shown that a shockingly high number of right-wing extremists are spread throughout the Army.
In May 1945, Herbert W. Armstrong told his radio audience: "From the very start of World War ii, [the Germans] have considered the possibility of losing this second round, as they did the first—and they have carefully, methodically planned, in such eventuality, the third round—World War iii!" He wrote in the September 1948 Plain Truth newsmagazine:
Even before the end of [World War ii], I revealed to you the Nazi plans for a Nazi underground movement, to go underground as a secret organization the very moment they lost the war—to lay low a few years during Allied and Russian military occupation, then to come forth when least expected, restore Germany to power, and go on to finally accomplish their aims in a World War iii.
Mr. Armstrong's warning was proved true in 1996, but few paid attention.
In Germany's Conquest of the Balkans, Gerald Flurry notes:
In 1996, a shocking World War ii intelligence document was made public. The document, detailing an August 1944 meeting between top German industrialists, reveals a secret postwar plan to restore the Nazis to power. Several of Germany's elite industries were represented, including Messerschmitt and Volkswagenwerk. These companies, the document asserts, were to "prepare themselves to finance the Nazi Party which would be forced to go underground." When the U.S. declassified this document, it received only sparse news coverage. Yet even more disturbing than the deep stupor of the press is the fact that the U.S. government did not make it public until 1996—over 50 years later!
It is, therefore, not surprising that Heckler's Nazi activities have also been kept secret.
The Bible prophesied that Germany's Nazi empire would go "underground" and return. Revelation 17:8 says, "The beast that thou sawest was, and is not; and shall ascend out of the bottomless pit, and go into perdition: and they that dwell on the earth shall wonder … when they behold the beast that was, and is not, and yet is." Mr. Flurry explains: "The word translated 'bottomless pit,' or abyss, in verse 8 actually means underground. That's where the Nazis have been since before the end of World War ii."
The God behind these Bible prophecies has led Mr. Armstrong and Mr. Flurry to closely watch Germany. More and more evidence is surfacing, proving that Nazi leaders did indeed plan the "third round." But few are heeding the message.
Even Bild believes the only conclusion to be drawn is that Heckler & Koch should suffer some consequences from the revelations. But the story is so much deeper than one company or even one country. Through His prophecies, God pleads with the whole world to repent. Sadly it will take "great tribulation" before mankind finally heeds His message (Matthew 24:21-22).
These prophecies should give mankind hope—not in men but in God's promises to soon intervene and bring an end to mankind's evil. Germany, for its part, hasn't repented of its past and will soon commit a far greater crime: World War iii.
To learn more about how Germany's Nazi past is resurfacing and how God will soon intervene, read "Why Does Germany Have So Many Neo-Nazi Conspiracies?" by theTrumpet.com assistant managing editor Richard Palmer, and request a free copy of Germany's Conquest of the Balkans, by Gerald Flurry.