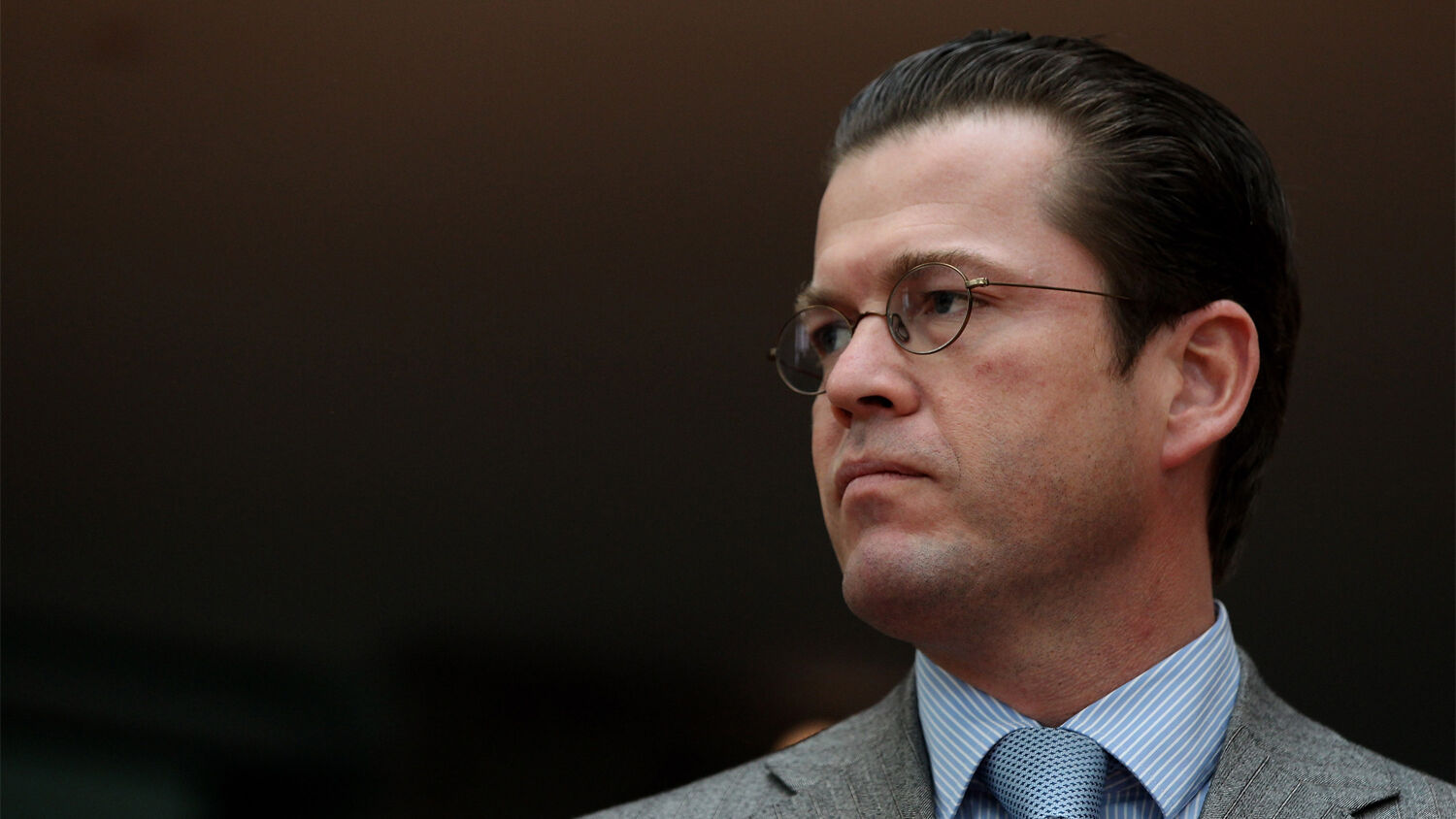 The Power of a Fallen Star
Guttenberg is a fallen star in German politics, but this summer it was revealed what unusual power he still holds.
Two companies have dominated the news cycle in Germany this summer: Wirecard and Augustus Intelligence. Both these companies were considered possible options to succeed in fields dominated by China and the United States. Wirecard is an electronic payment company, and Augustus Intelligence is an artificial intelligence company. Both were granted unusual government favor. But now, both have been accused of fraud and corruption. One interesting common denominator between the two companies is Karl-Theodor zu Guttenberg.
The former defense minister left German politics in 2011. But he frequently travels to Berlin, visiting top government ministers and holding private meetings with German Chancellor Angela Merkel. He was involved with both Wirecard and Augustus Intelligence.
Millions of Germans once viewed Guttenberg as Germany's great hope. After a plagiarism scandal over his doctoral thesis forced him from office, all seemed lost. But this has changed. Speculations about his political comeback are on the rise. He still holds great influence over government officials and has connections worldwide. It recently became public that Guttenberg re-obtained a doctorate in 2019 from the prestigious University of Southampton in England.
Wirecard was a small Bavarian start-up that grew so large it replaced Commerzbank on Germany's dax stock market index in 2018. Many expected the company to make a notable mark in the emerging sector, and it received major funding from Deutsche Bank, the largest bank in the nation. However, Markus Braun, then ceo of Wirecard and adviser to Austrian Chancellor Sebastian Kurz, was denied a meeting with Chancellor Merkel. Guttenberg was later granted a meeting, and soon after, the chancellor discussed the company while on a trip to China. In 2019, "Guttenberg and his company apparently lobbied the federal government for Wirecard," Der Spiegel noted on July 15.
On November 5, Wirecard announced it would buy shares in a Chinese company, AllScore Payment Services. This gave it access to one of the largest financial technology growth markets in the world, and its share price rose 1.9 percent the day of the announcement.
Guttenberg had met with Chancellor Merkel on September 3. Just days later, she campaigned for Wirecard while visiting China.
Some had been suspicious about Wirecard early on. In June, the skeptics forced the company to admit that it claimed $2 billion in assets it never had.
Germany's Handelsblatt noted on July 22, "The fall of Wirecard is already the biggest scandal in the history of dax." It could even be the most extensive case of financial fraud in German history.
Guttenberg cut ties with Wirecard shortly before its fraudulent affairs were revealed. He claims to have known nothing about them. His other activities, however, are also drawing scrutiny.
According to Der Spiegel, Guttenberg has been a shareholder of Augustus Intelligence since March 2019 and has been on the company's board of directors since May 2019. In October 2019, he took on a management position, as president in charge of "general affairs." Intelligence Online noted on July 8 that "Augustus received Guttenberg's help to establish itself in the U.S." where it leased an office at One World Trade Center in New York City.
Augustus Intelligence was founded by a young businessman, Wolfgang Haupt. He was then joined by the former head of Germany's foreign intelligence agency, August Hanning; former head of the German Federal Office for the Protection of the Constitution Hans-Georg Maassen; billionaire August François von Finck; Philipp Amthor, a member of the national legislature; and Roland Berger, a management consultant.
This is considered to be a strange mix of talent for a company focusing on artificial intelligence. But as Faz.net noted on June 26, "They all have one thing in common: They are or were conservative figureheads."
Examining Guttenberg's connections with Wirecard and Augustus Intellligence, one can identify a web that connects him with active and former politicians, heads of state and governments, businesses and start-ups, investors, the Catholic Church, Russian spies and more.
Before the scandals were revealed, Augustus Intelligence had an unusually esteemed portfolio. Its website claimed that the company provides "the leading gateway to AI [artificial intelligence]" and helps people find "data solutions for the ongoing benefit of humanity." The company offered no products to back its claims, due to needed secrecy in the market, according to its board of directors. Der Spiegel noted that Guttenberg apparently fired two managers at Augustus who have since accused the company of deceiving investors.
In January, French President Emmanuel Macron "proudly fanfared" the planned opening of an Augustus Intelligence research laboratory in Paris (Intelligence Online, February 26).
An entry into Germany was also planned. Spiegel Online reported that Guttenberg had written an e-mail to Chancellor Merkel on Sept. 3, 2019, referring to the two founders of the company, "apparently with the aim of an interview," as the federal government writes. The interview never happened. But Amthor, to whom Guttenberg has been a mentor, had previously been able to arrange a meeting with Economics Minister Peter Altmaier. The company's founders also met with Germany's Ministry of Transport, currently led by Andreas Scheuer from the Christian Social Union, one of Guttenberg's party colleagues.
Augustus Intelligence likely deceived investors, and Guttenberg provided the company needed prestige. On July 31, Die Welt learned that Guttenberg had cut his ties with Augustus.
Guttenberg is seen by many as an expert in digitalization. Some in high offices in Europe may even conclude that Europe needs to take more risks with these kinds of companies in order to catch up with China and the United States.
In the January issue of the Trumpet, editor in chief Gerald Flurry asked "Is KT zu Guttenberg About to Come to Power?" He referred to a prophecy in Daniel 8:23 that reads: "And in the latter time of their kingdom, when the transgressors are come to the full, a king of fierce countenance and understanding dark sentences, shall stand up."
The expression "dark sentences" means riddles, difficult or dark speeches, or sayings, questions or parables, referring to "a higher social level," the Theological Wordbook of the Old Testament explains. Gesenius' Hebrew-Chaldee Lexicon defines "dark sentences" as "twisted, involved, subtlety, fraud, enigma." These words could describe some of the companies Guttenberg has been involved with recently.
"The prophesied strongman operates on a high social level; he is capable of understanding and solving complex issues and questions. He is brilliant and sophisticated, and he has intellectual depth and power. The context shows he enjoys notoriety and fame for it," Mr. Flurry noted.
Daniel 11:21 reveals that this man obtains "the kingdom by flatteries." Concerning this prophecy, Mr. Flurry noted in "Germany—A New King Is Imminent," "In other words, a deceived public, or a group of European leaders, likely invites this man into power."
For many years, Mr. Flurry has said that Guttenberg may fulfill these prophecies. Many Germans scoff at the idea that a man whose plagiarism has been exposed and who has been involved in other dubious affairs could rise to lead Europe. But Guttenberg appears to enjoy the trust of many high-ranking politicians, members of academia and millions of Germans.
Adolf Hitler came from a broken family, was a failure in school, but was self-educated through the study of many books. "Adolf Hitler was a man of mental strength, but he was not as adept at deceiving people as this coming strongman will be! This leader will come as an angel of light," Mr. Flurry noted.
There is a lot ahead for Europe, but many will remember the Trumpet's warning when they see another powerful dictator rise in Europe.
I encourage you to read "Is KT zu Guttenberg About to Come to Power?" by Gerald Flurry and request a free copy of Who or What Is the Prophetic Beast?, by Herbert W. Armstrong. Mr. Armstrong's booklet will help you understand the full prophetic context of events in Europe and the world we live in. Times are changing rapidly, but the Bible can give hope and stability in uncertain days.
The fact that high officials trust Guttenberg and take his advice may indicate that in a time of great economic turmoil, they will also entrust him to lead Europe into its future.