WorldWatch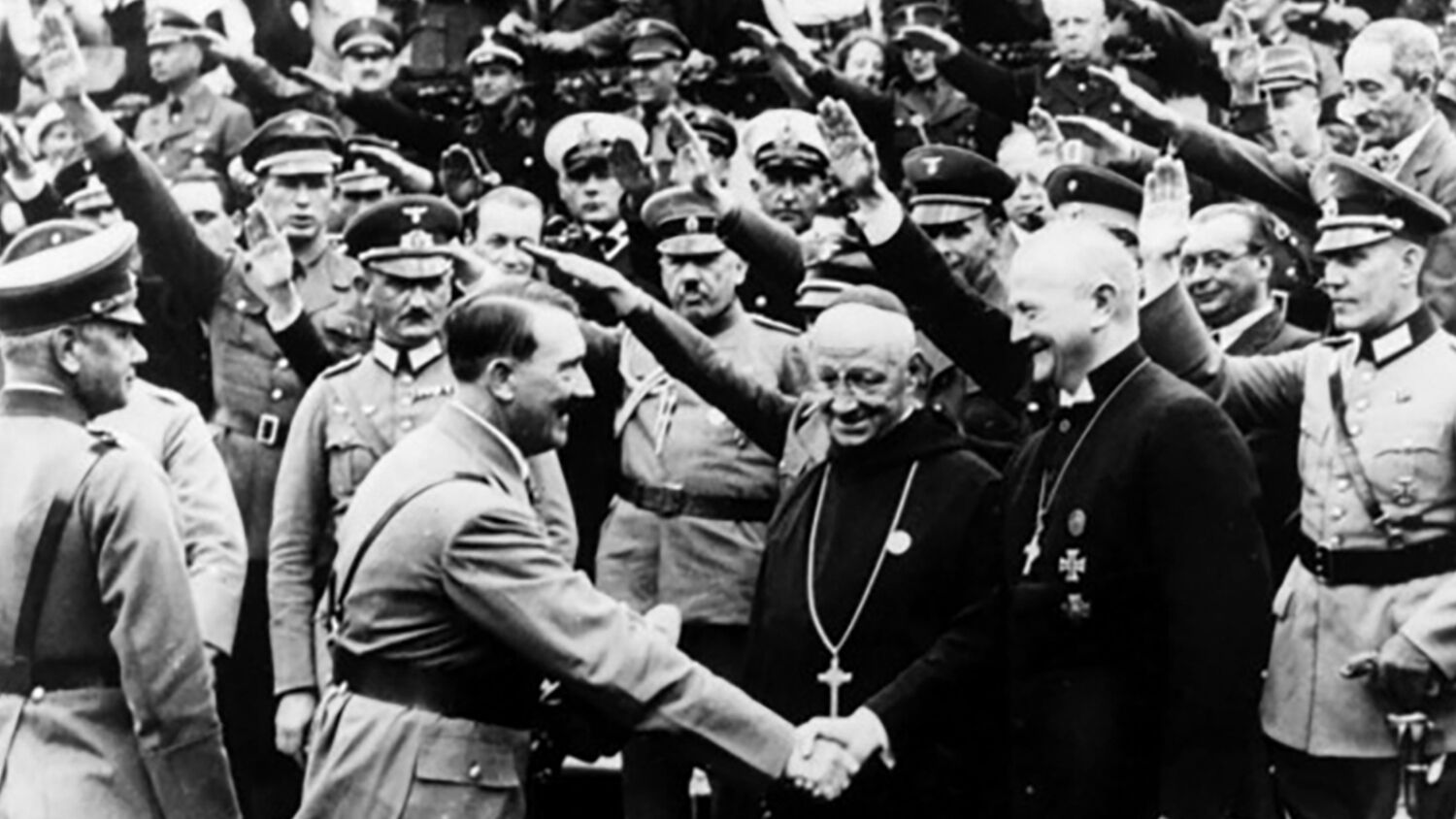 WorldWatch
Details Emerge about Catholic support for Nazis
The German branch of the Catholic Church has admitted it was complicit with Adolf Hitler and the Nazis. German bishops published a 23-page document in early May describing their predecessors' conduct during World War ii (1939–1945). During that time, hundreds of priests accompanied the Wehrmacht on the front lines, thousands of churches and monasteries were converted into military hospitals, and tens of thousands of nuns served as nurses.
This new report comes as close to a "confession of guilt" as German Catholicism has ever made.
They wrote that "their words and their images gave succour both to soldiers and the regime prosecuting the war, as they lent the war an additional sense of purpose." When Hitler started the war by sending Nazi troops into Poland, the overwhelming majority of bishops fully supported the invasion. Those few who criticized the regime were silenced by Cardinal Adolf Bertram. The Times' Oliver Moody pointed out that the report says nothing of the years before the war. For example, many churches celebrated Hitler's 50th birthday in 1939 by flying swastika flags and holding special prayers for the "fosterer and protector of the Reich."
Meanwhile, historians finally gained access to begin examining the Vatican's archive on the war, which was unsealed after decades. In March of this year, about 60 historians began studying the files, only for the archive to shut down a week later due to coronavirus lockdowns. Yet within that time, Herbert Wolf and other historians found more evidence that, as early as 1942, top leaders in the Vatican knew much more about Nazi atrocities against the Jews than it has admitted.
Wolf claims he has found evidence that word of Nazi atrocities against the Jews was received at the highest levels of the Vatican as early as August 1942, but they dismissed them. One internal Vatican memo dismissed claims of the Holocaust, saying that "the Jews also tend to easily exaggerate."
This one revelation from one week in the Vatican Archive shows that there is much more history to be uncovered in the relationship between the Third Reich and the Vatican before, during and after World War ii. Request our free reprint article "The Pope, the Vatican and the Holocaust."
Germany: Anti-Semitic, far-right crime increasing
The official rate of anti-Semitic crimes in 2019 increased 13 percent over the previous year to more than 2,000, German Interior Minister Horst Seehofer said on May 27. This means anti-Semitic crimes in Germany are at their highest levels since record-keeping began in 2001. Cases of far-right and far-left crime grew from 36,000 cases in 2018 to more than 41,000 cases in 2019. Crimes perpetrated by the far right, including against Jews, have been the deadliest. Ten racially motivated murders had already occurred by the end of May in 2020, compared to three over the same period in 2019.
New highs, new secrets regarding German weapons exports
The Stockholm International Peace Research Institute reported on April 27 that Germany was among the top four weapons exporters in the world between 2015 and 2019. Its exports of armaments over that period was 17 percent higher than 2010 to 2014. When including military equipment such as armored ambulances and military trucks, the German government issued a record $8 billion in arms exports last year. However, as Spiegel Online reported on May 5, Germany has now classified information about its deliveries to North Atlantic Treaty Organization countries, such as Australia, Israel, Japan and Switzerland. In reality, Germany is likely pumping out billions of dollars more in weapons.
Germany and France lead European coronavirus fund
Germany and France proposed on May 18 a $549 billion recovery fund to help the eurozone cope with coronavirus. The European Commission followed up with its own proposal, that would hand out $559 billion in grants and $280 billion in loans. But nations like Austria, Denmark, the Netherlands and Sweden are resisting.
The proposal would see the European Union borrow the money on financial markets. The money would then be given to countries and businesses in need. All member states, rich and poor alike, would then be expected to cover the expenses through the EU budget. Paying back this loan is estimated to take until 2060.
EU nations, including Germany, have rejected using EU-wide financial resources to pool debt until now. By taking the lead on an EU-wide recovery fund, Germany is changing its position and even more openly advocating the erasure of national sovereignty in favor of creating a superstate.
Germany and Iran bound to clash in Libya
The balance of power in Libya appears to be shifting. The government recognized as legitimate by the United Nations announced on April 13 that it had reconquered territory previously lost to Field Marshal Khalifa Haftar's forces. The victory came largely as a result of Turkey and Iran supplying armored vehicles, munitions and other weapons to both the Libyan government and local Islamic militias fighting Haftar. Turkey has also deployed Syrian mercenaries, Turkish warships, and dozens of drones to Libya, all in spite of a UN embargo against weapons shipments to Libya.
As the flow of weapons and blood continues in Libya, more and more migrants will seek asylum in Europe. In an attempt to deescalate the conflict and stop the stream of refugees to Europe, Germany has committed 300 troops to Operation Irini with the stated goal of enforcing the arms embargo. Naval ships are also expected to join the operation. This move threatens to end Iranian weapons trafficking to Islamic militias in Misrata, shrinking Iranian influence over Libya. Watch for Iran-backed and Europe-backed forces to have a spectacular clash of interests in Libya and beyond, as prophesied in Daniel 11:40-43.
China-Europe freight at full steam
Rail freight between China and Europe hit a record high in April, despite covid-19 slamming the brakes on much global trade, highlighting the increasing resiliency of China-Europe commerce.
China Daily reported on May 2 that 979 trains crossed the thousands of miles between China and Europe during April, a 46 percent increase over the same time last year. The period of January to April saw a year-to-year increase of 24 percent in freight traffic.
Each train hauled an average of 90 teus, or 20-foot-equivalent units of cargo, a 27 percent increase over the 2019 figure.
Significantly, these increases occurred while covid-19 and the reaction to it derailed economic activity around the world: Supply chains have been broken, debt of all kinds has soared, production has plummeted, and many industries have slowed to a crawl or stopped altogether. Yet trains are hauling record freight between China and Europe.
More than 2,500 years ago, God inspired the Prophet Isaiah to prophesy of a massive anti-American "mart of nations" trade bloc. We are now seeing China and Europe forming the core of this bloc. Trumpet editor in chief Gerald Flurry wrote in Isaiah's End-Time Vision that "China and the giants of Asia" will enter a "brief alliance" with the German-led European bloc "to besiege America, Britain and the Jewish nation."
Request: Isaiah's End-Time Vision
Israeli air strikes pushing Iran out of Syria
On May 4, the Israeli Air Force killed several Iranians in strikes against Iranian targets in Syria near Aleppo and the al-Bukamal border crossing with Iraq, where Iran has a military base. These air strikes followed five others over the previous two weeks and several hundred strikes over the past few years.
Israel's persistence has finally begun to pay off. For the first time since the first Iranians deployed to Syria in 2013, Iran has begun withdrawing troops.
The day before the May 4 air strike, Israeli Defense Minister Naftali Bennett said, "We will not give up nor allow the establishment of a forward Iranian base in Syria," adding he had established "a goal that within 12 months Iran will leave Syria."
In February, Bennett said, "We are in a process of switching to hurting the head of the octopus—Iran's power" and vowed to "continue to increase the strikes" against Iran "until we reach the ultimate goal: driving Iran out of Syria."
Whether it occurs by next May or not, Iran appears to be on the way out of Syria, something the Trumpet has forecast for 17 years. Whatever happens, expect Iran to lose its power and influence in Syria, and for the benefactor to be not just Israel, but also German-led Europe.
Germany declares full Hezbollah ban
After being pushed by United States President Donald Trump, German Interior Minister Horst Seehofer imposed a full ban on all Hezbollah activities in the country on April 30. Germany joins the Netherlands, the United Kingdom and the U.S. in implementing the ban.
After a Hezbollah terrorist attack on German soil in 1992, Germany allegedly struck a deal with Hezbollah that allowed it to operate inside the country if it undertook no further attacks there. It has classified Hezbollah's military as a terrorist organization, but not its political operation, which dominates the government of Lebanon.
Germany's decision comes as Hezbollah is under increasing pressure in Lebanon due to reduced Iranian funding and nationwide protests. The Trumpet forecasts that Germany will not only follow the U.S. in targeting Iran and its proxies, like Hezbollah, but will eventually take the lead in anti-Iranian sentiment throughout the world. Daniel 11:40 prophesies that a German-led united Europe will clash with the radical Islamic bloc led by Iran. Expect further, far more drastic conflict between Germany and Iran.
American bombers return from Guam
The United States Air Force has ended its continuous presence on Guam. After 16 years of constantly rotating bombers through the island territory, the final flight returned to the mainland on April 16.
"U.S. strategic bombers will continue to operate in the Indo-Pacific, to include Guam," stated U.S. Strategic Command, "at the timing and tempo of our choosing." This could be part of the military's new "dynamic force employment" doctrine of shortening rotations and making them less predictable. It could also be a cost-saving measure.
"[I]t is hard to overstress how significant a development this is, despite [Strategic Command's] view that it will not impact its ability to employ bombers to respond to contingencies in the region," Joseph Trevithick wrote for the Drive. "The potential for major crises to erupt in the Pacific remains very real" (April 17).
The U.S. has dominated the Pacific since the end of World War II, and it is inarguable that it is reducing its available firepower, which will benefit its rival, China, and potential rival, Japan.
This is another example of English-speaking nations losing their unprecedented territorial holdings, including strategic islands, capes, straits, canals and other choke points. In his book The United States and Britain in Prophecy, Herbert W. Armstrong showed that gaining control of those territories actually fulfilled God's prophecy that Abraham's descendants would control the "gates" of their enemies (Genesis 22:17). He also showed that losing control of those same territories, due to disobedience to God is also prophesied.
Digital euro: doom for the dollar?
France's central bank announced on May 20 that it successfully tested a blockchain-based transaction of its digital currency, another milestone in creating a potential replacement for the U.S. dollar in world trade. Banque de France is continuing its tests between banks that could result in a digital euro that is much more widely used.
Meanwhile, the stability of the U.S. dollar as a reserve currency is becoming less and less predictable. Economic damage from covid-19 shutdowns has increased the likelihood that the dollar will lose its "unparalleled global reserve currency" status, the U.S. National Intelligence Council suggested. This will wreck America's economy as interest on its enormous debts balloons, and it will end America's ability to impose sanctions against its enemies.
EU-Mexico trade deal
The European Union and Mexico established the terms of a trade agreement on April 28, updating the previous 2000 accord. The deal eliminates almost all tariffs on goods, simplifies customs procedures, and removes fees. It also shifts Mexico's economic outlook further toward Europe—and away from the United States. The agreement now awaits signing into law by EU and Mexican officials.
"Few Americans are paying attention to the situation that is developing to our south. But I guarantee they won't be able to ignore it indefinitely," wrote Trumpet editor in chief Gerald Flurry in a March 2019 article on a deal between the EU and mercosur (a trade bloc consisting of Argentina, Brazil, Paraguay and Uruguay). "This trade agreement will impact the whole world! It is going to affect your life dramatically. The seeds are being sown for a trade war and an economic besiegement that will help destroy America."
Russia adds new ships to Baltic fleet
The Russian Navy announced on May 18 that it will add six advanced warships to the Baltic Fleet. The new Project 22800 Karakurt-class corvettes are designed for improved seaworthiness, advanced maneuverability and minimal radar signature.
All six will be equipped with an eight-cell 3S-14 vertical launcher for Kalibr cruise missiles. Four will also be armed with the marine version of Russia's Pantsir-M antiaircraft systems.
This augmentation of the Baltic Fleet is part of a broader buildup of military power by Vladimir Putin's Russia, including on Europe's periphery and even inside it (as in Kaliningrad and Crimea).
Trumpet editor in chief Gerald Flurry has said for more than 15 years that the fear Europeans feel over Russia's increasing power and authoritarianism is leading to the fulfillment of a specific Bible prophecy. In his 2004 article "Russia Frightens Europe—and Fulfills Bible Prophecy," Mr. Flurry quoted Daniel 11:40-44, which say that in the near future "tidings out of the east and out of the north" will "trouble" a power called "the king of the north." Mr. Flurry explained that this is about modern-day Russia and China frightening modern-day Europe, and thereby prompting the Europeans to militarize and unite behind a strong leader.
As the people of Europe watch Putin's shadow growing longer and his power in the Baltic and elsewhere growing mightier, they will work to politically and militarily unite their countries.
Request: The Prophesied 'Prince of Russia'
Vladimir Putin is playing a key role in Bible prophecy. Every world leader needs to understand how critical that role is going to be. We are entering into the worst crisis ever in man's history. This prophecy is woeful and super-inspiring at the same time.
Isaiah had a prophecy for the end time that was twofold. He delivered his message to the temple priests and to the people of Israel. Did you know that most of Isaiah's temple prophecies are also addressed to God's own Laodicean Church in the end time? The Laodiceans' rebellion revolves around God's government. They don't want God to rule them. Isaiah has a powerful vision for the Laodiceans, the nations of Israel—and even the whole world. You won't find a more inspiring, far-reaching vision in all the Bible. It pictures a beautiful and peaceful Earth. The vision reaches out into the universe. This prophet also reveals how Satan successfully destroys that vision for many of God's own people. Those who overcome Satan's deception will be the most honored people ever on this Earth. They will become the Bride of Christ!