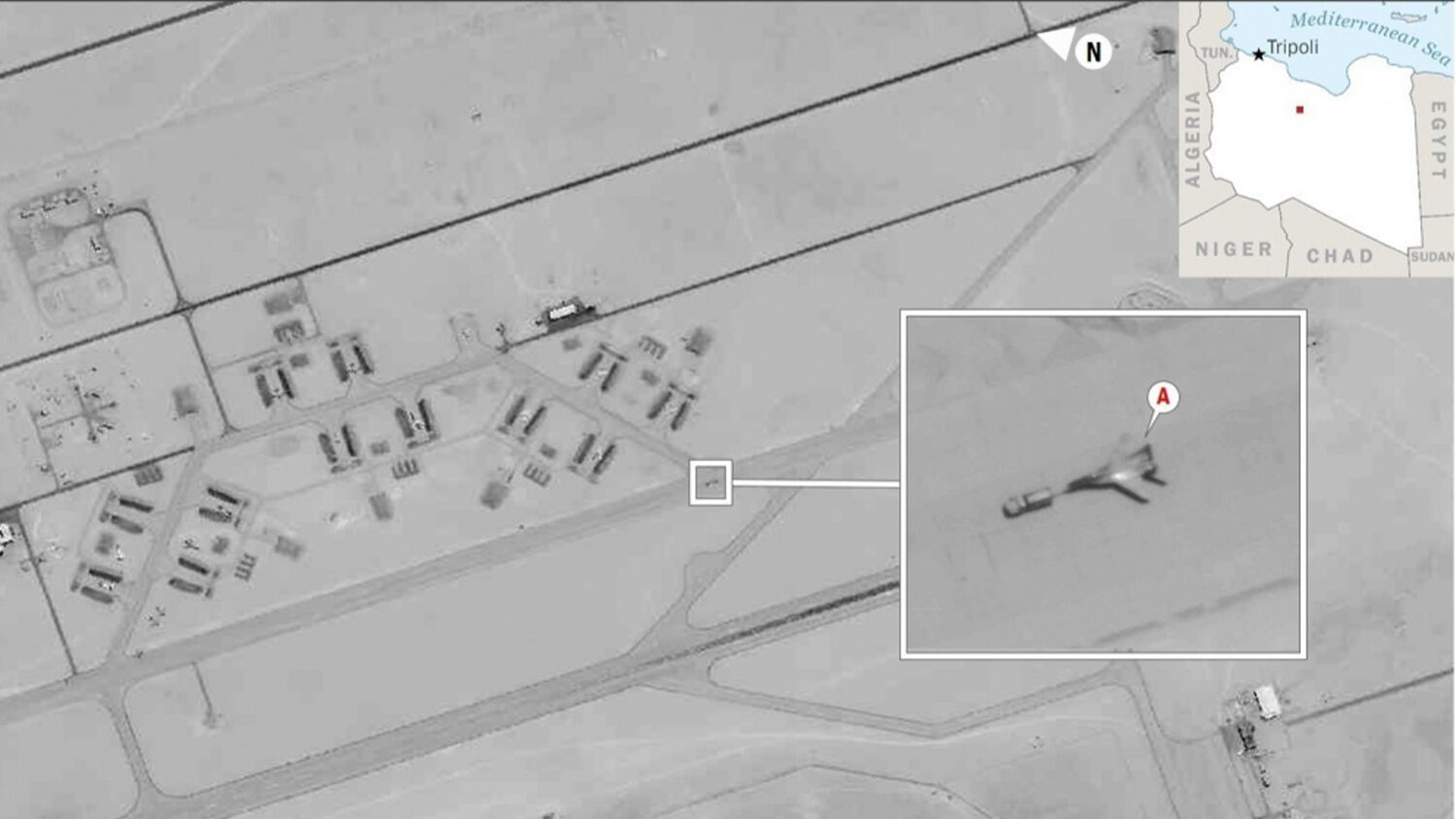 Russia Expands Its Presence in Libya
How this rising power is cementing itself as an immovable pillar in Libyan territory
The United States military on Tuesday accused Russia of delivering "repainted" stealth fighter jets to Libya in support of Field Marshal Khalifa Haftar's forces. The U.S. Africa Command statement said the "Russian military aircraft are likely to provide close air support and offensive fire" in an effort to once again give Haftar the upper hand against the Government of National Accord. In doing so, Russia is cementing itself as an immovable pillar in Libya.
The U.S. Africa Command claimed that the jets came from a Russian air base before briefly stopping in Syria where they were repainted to "camouflage" their Russian origin. Russian officials dismissed the claim as "fake" news. The country has long denied involvement in Libya.
U.S. Army Gen. Stephen Townsend said, "Russia is clearly trying to tip the scales in its favor in Libya," describing the newly arrived planes as Russia's "fourth-generation jet fighters." Haftar's forces would not be able to "arm, operate, and sustain these [jet] fighters" without support from Russia, according to the U.S.
Townsend continued: "Just like I saw them doing in Syria, they are expanding their military footprint in Africa using government-supported mercenary groups like Wagner," referencing the Wagner Group, a Russian private military contractor, which the United Nations claims has 1,200 fighters in Libya. The use of private contractors, like Wagner, has helped Russia "to conceal its direct role and to afford Moscow plausible deniability of its malign actors."
When Russia first got involved in Syria, some thought it would get bogged down in the civil war. However, its support for President Bashar Assad, primarily in the form of air strikes, has made it one of the most important power brokers in the nation. Russia's decision to send its air force into Libya is an attempt to do the same in Libya.
In "Putin's Power Play for Libya," Trumpet Middle East correspondent Brent Nagtegaal wrote:
It's unlikely Putin will intervene in Libya nearly to the extent he did in Syria. But he doesn't need to. By simply supporting the rival government, Putin gives himself the power to destabilize or stabilize Libya. Put another way, Putin has the power to slow the migrants from coming into Europe, or to send them north by the tens of thousands.
U.S. Air Force Gen. Jeff Harrigian warned that if Russia seized military bases on Libya's coast it would "create very real security concerns on Europe's southern flank" and cement Russia as a key player in Libya. This puts Russia right on Europe's doormat, something the Continent is unlikely to accept. However, because of Russia's power in Libya, the only way Europe will rid Libya of Russian influence is through an agreement.
As the situation stands in Libya, Iran has thrown its support behind the local Islamic militias in Tripoli and Misrata. These militias are fighting with the Government of National Accord against Haftar's forces. In Syria, Iran's and Russia's interests aligned and both sides supported Assad's regime. However, Iran's rising power and continual belligerence have created a divide between Russia and Iran.
Germany and Europe have also begun to show more resistance to Iran. Earlier this year, European delegates triggered the Joint Comprehensive Plan of Action's dispute mechanism, a largely symbolic action showing that Europe is becoming less tolerant of Iran's ballistic missile program and nuclear development. In January, Europe began its anti-Iran naval mission in the Persian Gulf to protect its trading vessels from Iranian sabotage as they traverse the Strait of Hormuz. On April 30, Germany joined the Netherlands and the United Kingdom in banning all Hezbollah activities, a move that significantly hurt the Iranian proxy.
Specifically in reference to Libya, on April 22, Germany approved the use of up to 300 troops to enforce the UN arms embargo on the nation. Both Russia and Germany are growing increasingly more frustrated with Iran, and Europe wants to protect its soft underbelly by removing Iran from North Africa; it also wants to stop the flow of migrants from North Africa. This will likely be accomplished through a temporary agreement.
Before World War ii, Germany and Russia entered a short-lived alliance, the Molotov-Ribbentrop Pact, to focus on other interests. Likewise, these two powers will likely form another temporary alliance, or at least work together in some form, against radical Islamic extremism, led by Iran.
A Bible prophecy found in Daniel 11:40-43 describes Germany's "whirlwind" attack against Iran and its proxies as it sweeps through Libya and North Africa to protect its vulnerable southern borders. The Bible says that this clash occurs between Germany and Iran. Given Russia's current military presence in Libya, as a result of a temporary alliance or agreement, Russia must turn a blind eye to Germany's conquest.
Verse 44 says, "But tidings out of the east and out of the north shall trouble him [Germany]: therefore he shall go forth with great fury to destroy …." This prophecy shows that, in fear, Germany will turn its attack against Russia, breaking the temporary alliance, just as it has in the past.
As the Libyan civil war continues to drag on and the proxy conflict between Germany, Iran and Russia intensifies, watch for God to bring about the fulfillment of these sure Bible prophecies and watch for the creation of a temporary deal between Germany and Russia.
For more information, please read "The Next War in Libya," by Trumpet editor in chief Gerald Flurry.