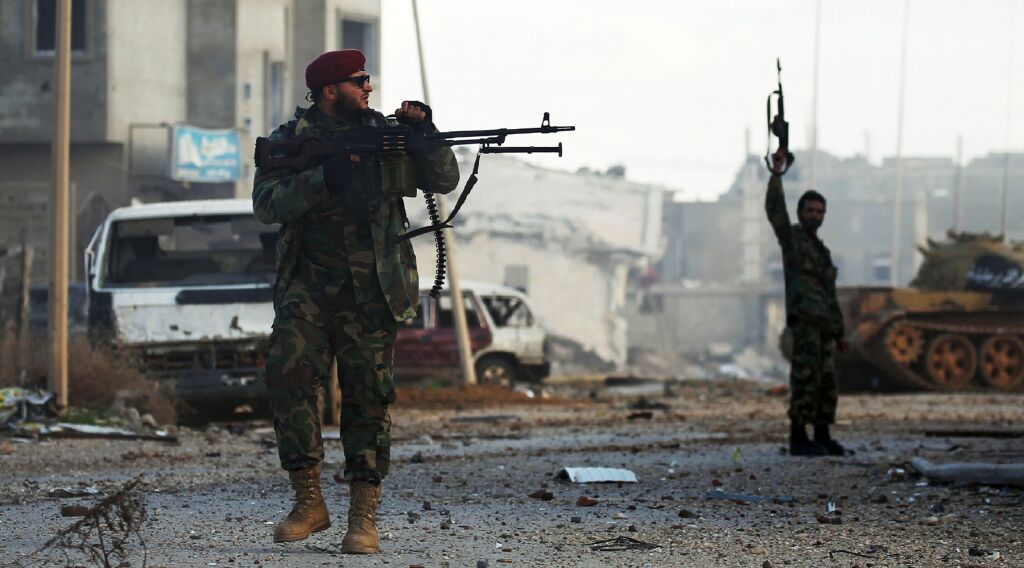 Putin's Power Play for Libya
After Syria, Russia looks to become the indispensable nation in determining Libya's future.
Malta is terrified. The tiny Mediterranean island nation sitting between North Africa and mainland Europe is on the front lines of a growing wave of African migrants. Last year, a record 160,000 migrants and refugees set out for Europe, many of them reaching Malta's waters first. This number was up from 138,000 in 2015. Now Malta, fearing 2017 will be worse, is sounding the alarm.
One reason for Malta's increased concern is Russia's sudden entrance into Libyan affairs.
Malta is worried that Putin's increasing support for Gen. Khalifa Haftar, the eastern Libyan warlord, could spark a civil war in Libya causing thousands of migrants to flee, reminiscent of the situation in Syria. Since nato ousted Muammar Qadhafi (a Russian ally) in 2011, Libya has been divided between two rival governments, one in the east and one in the west. In 2015, the United Nations (led mainly by European diplomats) brokered a deal that recognized the Tripoli-based western government as the sole representative of the Libyan people, and installed Fayez al-Sarraj as its head. The deal left the eastern government and especially General Haftar, the leader of its armed forces, out in the cold.
Instead of siding with the UN-backed government, Russia is now overtly courting Haftar and jeopardizing the Europeans' goal of how Libya should be stabilized. In January, Haftar was seen aboard the Russian aircraft carrierKuznetsov, docked off the Libyan coast. On February 1, the Times of Malta reported that around 70 wounded soldiers from Haftar's army had been sent to Russia for treatment. Russian President Vladimir Putin's support comes at the same time Haftar is slowly moving his army westward, fighting jihadists along the way.
Last month, Maltese Foreign Minister George Vella warned that "Haftar with his army is moving gradually, slowly from the east to the west … and possibly, eventually linking up with his colleagues from the west, from Zintane, and advancing in a pincer movement on the region of Bani Walid, Misrata, and Tripoli." Haftar's advance is disastrous, warned Vella, "because it would create civil war and it would create more refugees running away from Libya."
European officials gathered in Malta last weekend agreed to pledge €200 million (us$215 million) to bolster the EU-backed government based in Western Libya. The hope is that a stronger western government will prevent a crisis, which will in turn prevent migrants from fleeing toward Europe. However, most European leaders realize that without Russia's support, the money is unlikely to prevent a crisis and stem the flow of migrants. And Putin will probably be unwilling to give his support, at least not until he has extracted something in return.
Leonid Bershidsky wrote for Bloomberg View last week:
At an informal summit on Malta on Friday the leaders of European Union states affirmed their support for the UN-backed government, run from Tripoli by Prime Minister Fayez Mustafa al-Serraj. They also backed a deal Italian Prime Minister Paolo Gentiloni signed on Thursday with Serraj. Italy is taking the lead in funding the construction of refugee camps in Libya, and the EU as a whole recently earmarked an additional 200 million euros ($215 million) for its efforts to keep potential migrants in Libya, Tunisia and Niger.But refugees are not Putin's priority in Libya. He's far more interested in restoring Russian influence there, and establishing a military presence if he can.
Even the Maltese foreign minister declared, "I'm not comfortable. We all know the Russians' dreams have always been to have bases in the Mediterranean."
While it's unlikely that Russia will have a base in Eastern Libya anytime soon, the Kremlin is quickly making itself indispensable in Libya. In the aftermath of the Malta conference, the Times reported yesterday that European nations are even reaching out to Russia for help in stabilizing Libya:
Italy is turning to Russia to help combat the immigration crisis, despite warnings from European allies about Vladimir Putin's motives. "Italy has always had close ties with Russia, and now that we want a peaceful, unified Libya, we will be happy if Russia wants it too," Mario Giro, the Italian deputy foreign minister, said.
The fact that Russia is even in the discussion regarding securing Libya's future is simply astounding. A year and a half ago, the world watched in shock as Russia sent its troops into Syria to support the regime. Some leaders predicted Russia would get stuck in the Syrian quagmire. That didn't happen. Now, with its presence in Syria secure, Russia is beginning to also focus on Libya. Clearly, the balance of power in the Middle East and Mediterranean region is shifting in favor of Russia. "That Russia is in the process of achieving day by day a role in determining the balance … in the Middle East and now in the Mediterranean—it's a role that must be acknowledged," said Leonardo Tricarico, a retired Italian general who presides over the Intelligence Culture and Strategic Analysis Foundation, a Rome-based think tank.
It's unlikely Putin will intervene in Libya nearly to the extent he did in Syria. But he doesn't need to. By simply supporting the rival government, Putin gives himself the power to destabilize or stabilize Libya. Put another way, Putin has the power to slow the migrants from coming into Europe, or to send them north by the tens of thousands.
This gives Putin enormous leverage against Europe. Libya can now be added to his hand of cards, which already includes Syria, Ukraine, Cyprus and even Afghanistan. So far, Putin has not played his hand. Europe, however, recognizes that right now Putin has the upper hand.
This swift shift in the balance of power through the Middle East points to the key role Vladimir Putin is now playing, a role that was forecast centuries ago in the Bible. Prophecy also indicates that this crisis will soon result in a deal between Europe and Russia. To understand how this situation was prophesied in your own Bible, please read "A New Strategic Partnership Emerges," and request Trumpet editor in chief Gerald Flurry's new booklet The Prophesied 'Prince of Russia.'