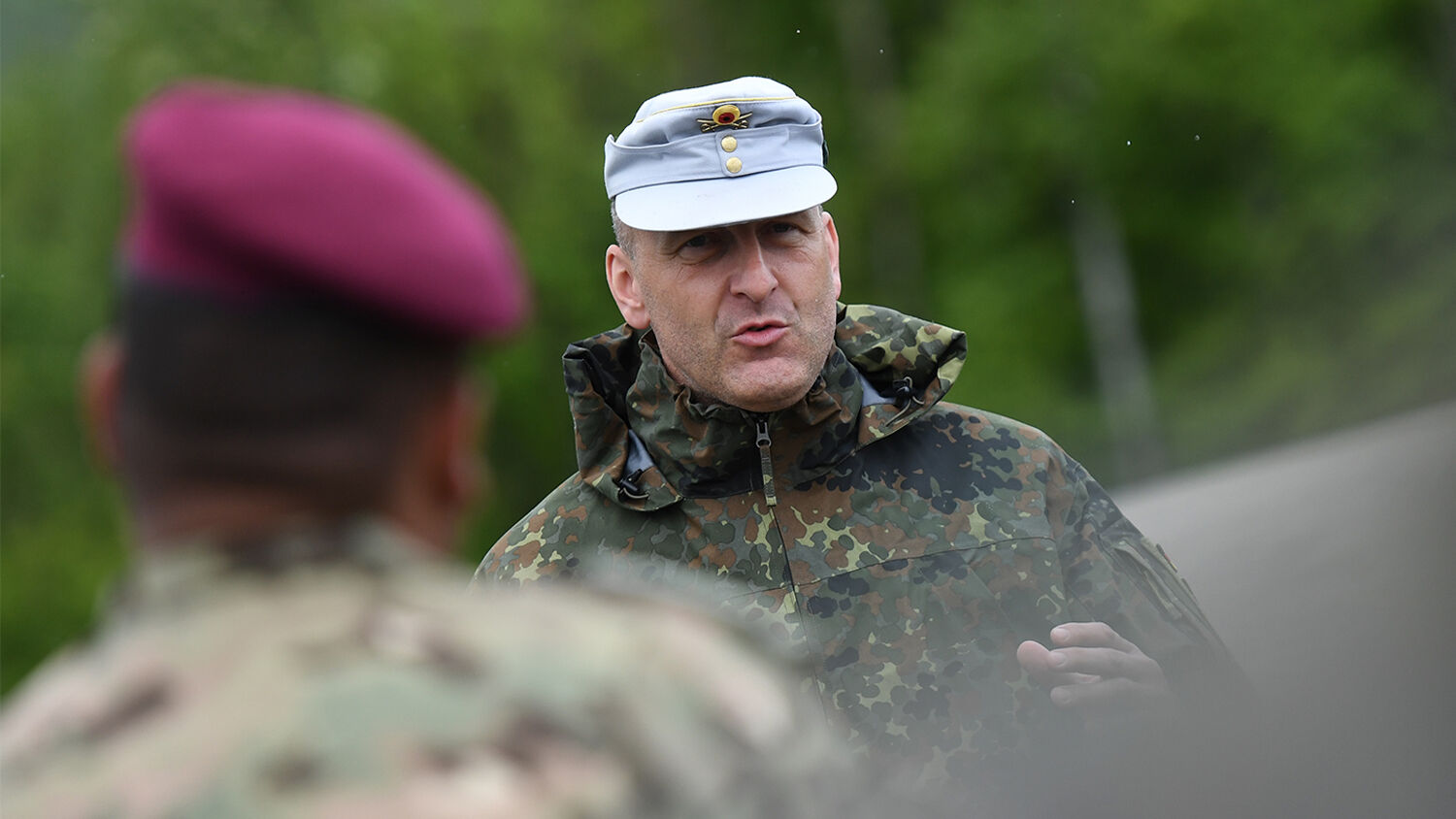 German Generals Serving in the U.S. Army Becoming a Tradition
It's either an unreasonable sign of trust or betrayal to one's own country.
On May 8, German Brig. Gen. Jared Sembritzki became the fourth multinational chief of staff for the United States Army Europe. Prior to receiving his new appointment, Sembritzki served as the commander of the 23rd Mountain Infantry Brigade in Bad Reichenhall, Germany.
Earlier this year, Sembritzki's hopes were to continue in the German Army. He said in January that he hoped to continue his career with the German Army "until the end of the year" (Trumpet translation throughout). He even told the Bundeswehr at the same time to "become significantly more capable of war."
Yet on Victory in Europe Day, that changed when Sembritzki was suddenly promoted to serve in the U.S. Army Europe. Defense News wrote at the time of his appointment: "Though the trans-Atlantic relationship may be sailing through choppy waters, the U.S. and German armies are demonstrating collaboration that's vital for both sides."
The tradition to appoint German generals to this position started in July 2014 with Brig. Gen. Markus Laubenthal. The German edition of the Wall Street Journal wrote that he would be "practically the right hand of the commanding general of the U.S. land forces in Europe, Lt. Gen. Donald Campbell Jr." U.S. Army Europe, at the time, was responsible for over 37,000 troops, 90 percent of which are stationed in Germany.
After Laubenthal returned to serve in the Bundeswehr, commanding Germany's 1st Panzer Division, Maj. Gen. Kai Rohrschneider replaced Laubenthal in the U.S. Army Europe and served as brigadier general until September 2018.
Upon his departure from the position, U.S. Army Europe Lt. Gen. Christopher Cavoli said: "Saying goodbye to Kai Rohrschneider will not be easy because he is an officer of the highest caliber." Rohrschneider replied: "I'm extremely thankful for the trust you put in me, although my idea of being a chief of staff and your idea of commanding United States Army Europe is not fully synchronized. … I know that is not easy, but I am extremely grateful for two commanders who really said don't worry, we will work with that. That was a great pleasure for me." In his next assignment, Rohrschneider served as the chief of staff at the Joint Multinational Command in Ulm, Germany, and continued his career from there.
Rohrschneider was followed by another German general as U.S. Army Europe's chief of staff: Brig. Gen. Hartmut Renk. Following his promotion, Sembritzki has now taken his place.
All these men served in high positions in the German Army before and after their brief service for the U.S. Army. These generals were not only given an unprecedented amount of trust but also strategic insight into the inner workings of the U.S. Army.
When the first of these generals was appointed, U.S. Army Capt. Terry M. Hestilow (Ret.) warned in letters to U.S. senators John Cornyn and Ted Cruz and the Rep. Dr. Michael Burgess of this dangerous mistake. In a corresponding Facebook post, he noted:
President Obama has hit a new low in his record of betrayals. It is with absolute and terrible grief that I tell you that President Obama has appointed a German brigadier general to serve as the chief of staff at the United States Army Europe Command (usareur), headquartered in Wiesbaden, Germany. While this may seem difficult for many civilians to grasp, the gravity of this action placing a German general officer in a U.S. command, is, nonetheless, a shocking and unprecedented betrayal by the Commander in Chief, President Obama, of the sovereignty of the United States and her magnificent military forces.
But "Laubenthal earned the Americans' trust," Defense News noted. "On promotion boards, for example, nobody contested the German's recommendations. [Retired U.S. Army officer Ben] Hodges and his team, in turn, established a significant amount of information was overclassified. They changed some of the classifications, which made U.S. Army Europe cooperation with allies more effective."
"America's security is being entrusted to the goodwill of other nations," theTrumpet.com assistant managing editor Richard Palmer wrote in 2014. "This is built on the assumption that the days of war between major powers are over."
What if things change in the next few years?
Another war between Western nations seems unthinkable. Winston S. Churchill wrote in The World Crisis: "Civilization has climbed above such perils. The interdependence of nations in trade and traffic, the sense of public law, the Hague Convention, liberal principles, the Labour Party, high finance, Christian charity, common sense have rendered such nightmares impossible. Are you quite sure? It would be a pity to be wrong. Such a mistake could only be made once—once for all."
This warning was published in 1923. And we could say something similar today. This means we should reconsider the present conditions.
"Germany had a history of striking down nations with little-or-no warning before World War i! Churchill knew its history," wrote Trumpet editor in chief Gerald Flurry in 1999.
Are we sure we have truly learned from history? The Bible clearly warns we have not.
Jesus Christ Himself warned what would happen to our world if we failed to learn from history. In Matthew 24, He prophesied of "great tribulation, such as was not since the beginning of the world to this time, no, nor ever shall be. And except those days should be shortened, there should no flesh be saved: but for the elect's sake those days shall be shortened" (verse 21-22).
In Hosea 5:13, God warns the modern descendants of Israel, primarily the U.S. and Britain, against turning to Germany for help. (For a full explanation of these prophetic national identities, please read The United States and Britain in Prophecy, by Herbert W. Armstrong.) In His warning, God makes clear that Germany will turn its back on the nations of Israel in a violent double cross.
In Ezekiel: The End-Time Prophet, under the subhead the "German Double Cross," Mr. Flurry explains: "Ezekiel 23 explains this heinous double cross. Israel is represented by Aholah, and Judah (separated from Israel at that time) is Aholibah (verse 4). Israel (mainly the U.S. and Britain) and Judah (called Israel today) become lovers to the Assyrians, today's Germans (verses 5-7, 11-12). God then delivers Israel and Judah into the hands of the Germans (verses 9, 22)."
God prophesied the nations of Israel would put their trust in an enemy nation. The outcome of such a mistake will be far worse than any war this world has ever experienced. Trust is something precious, and mankind has proved over and again you can't trust man.
Jeremiah 17:5 warns: "Thus saith the Lord; Cursed be the man that trusteth in man, and maketh flesh his arm, and whose heart departeth from the Lord."
Americans often use the phrase "In God we trust"—something we even put on our dollar bill. If this truly were the case, then America could avoid great peril. However, we are increasingly putting our trust in Germany, which will end in our demise.
In "Alamogordo: A Mistake You Only Make Once," Mr. Flurry reiterates Churchill's warning and shows how dangerous it is for America to trust in its military cooperation with Germany. I encourage you to read this article and also request your free copy of Winston S. Churchill: The Watchman, to learn why Churchill's warning is more urgent than ever.