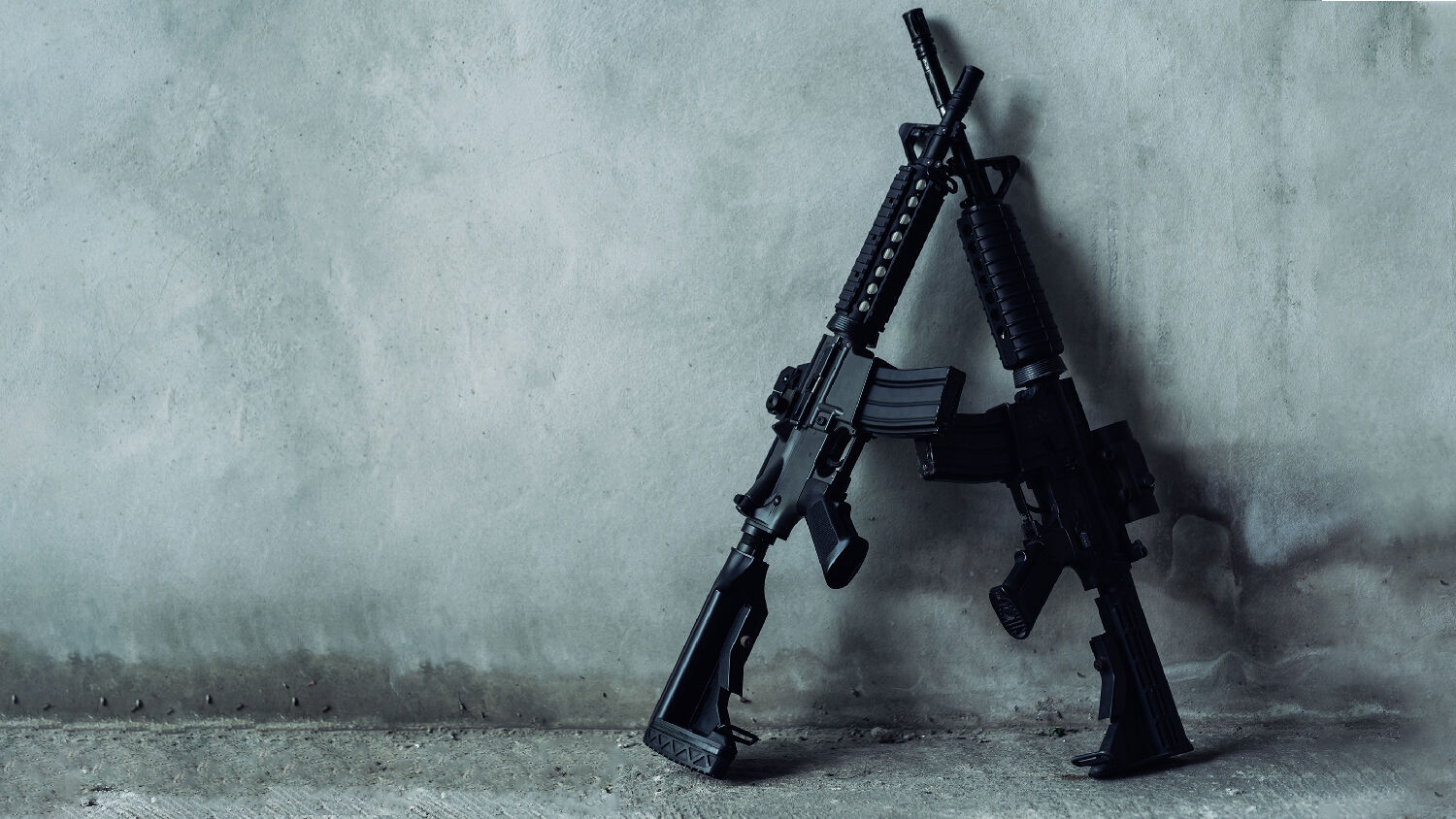 'Deep State' Stockpiles Guns
The Animal and Plant Health Inspection Service is not buying .308-caliber rifles and explosives because it expects a bad tomato worm season.
As coronavirus spreads, Americans are preparing for the worst. People are dashing to the stores to buy toilet paper, hand sanitizer, bread, beans, sugar, chicken, respiratory masks, ammunition and guns. On March 16, background checks for firearm purchases were up 300 percent compared with the same day last year, according to federal data shared with the National Shooting Sports Foundation. Several states such as California, New Jersey, New York and Pennsylvania have now issued shutdown orders demanding that gun stores and other nonessential businesses close up shop during the quarantine.
These orders have led to a debate over whether or not the Second Amendment of the United States Constitution makes firearms stores essential businesses during a pandemic.
As people debate the legality of closing gun shops during a national emergency, many Americans seem to have forgotten an issue that was once a major talking point in gun control debates. Namely, that several government agencies—including the Environmental Protection Agency, Animal and Plant Health Inspection Service, the Small Business Administration, and the Social Security administration—have stockpiled enough guns, ammunition and military-grade weapons to supply a standing army of federal agents.
Shortly before President Barack Obama left office, investigative journalists Tom Coburn and Adam Andrzejewski wrote an article for the Wall Street Journal titled "Why Does the IRS Need Guns?" The authors pointed out that 200,000 unelected federal bureaucrats have the authority to carry firearms and make arrests. That does not include soldiers and local police officers. That is the number of federal bureaucrats (aka "deep state" agents) with the power to use a gun to make arrests; a number that now exceeds the number of soldiers in the U.S. Marine Corps and the British Armed Forces.
"The number of non-Defense Department federal officers authorized to make arrests and carry firearms (200,000) now exceeds the number of U.S. Marines (182,000)," wrote Coburn and Andrzejewski. "In its escalating arms and ammo stockpiling, this federal arms race is unlike anything in history. Over the last 20 years, the number of these federal officers with arrest-and-firearm authority has nearly tripled to over 200,000 today, from 74,500 in 1996."
What are these federal officials up to?
On June 17, 2016, the American Transparency organization released a report on "The Militarization of America." It details how 67 deep state agencies spent $1.5 billion on guns, ammunition and military-style equipment between 2005 and 2014. About 77 percent of this money was spent by "traditional law enforcement" agencies like the Federal Bureau of Investigation and the Department of Homeland Security. The remaining 23 percent was spent by "administrative" agencies like the Internal Revenue Service, National Oceanic and Atmospheric Administration, and the Bureau of Engraving and Printing.
The irs armed each of its 2,316 special agents with $11 million in guns, ammunition and military weaponry ($5,000 in gear for each agent). Meanwhile, the epa spent $3.1 million on military-style equipment; and the Animal and Plant Health Inspection Service spent $4.8 million on .308-caliber rifles, night-vision goggles, propane cannons, liquid explosives, pyro supplies, buckshot, drones, remote-control helicopters, thermal cameras and military-grade waterproof thermal infrared scopes.
The U.S. must have some of the best-armed accountants and entomologists in the world.
Media outlets were growing alarmed at the Obama administration's militarization of federal agencies, but this alarm seems to have subsided since President Donald Trump took command of the executive branch. Yet while Mr. Trump has reversed many Obama-era policies, the militarization of the deep state does not seem to have been one of these reversals.
The deep state is still arming itself to the teeth.
In December 2018, the Government Accountability Office published a report informing Congress about $1.5 billion in deep state purchases of guns, ammunition and military-style equipment between 2010 and 2017. The Department of Veterans Affairs bought 2,800 rounds of ammunition for each of its 3,957 officers. According to Forbes, "The VA also purchased camouflage uniforms, riot helmets and shields, specialized image-enhancement devices and tactical lighting," while the "Social Security Administration purchased 800,000 rounds for their 270 special agents, amounting to nearly 3,000 rounds per agent."
These purchases are concerning. America has 1.3 million active-duty soldiers to protect it from foreign attack, and 760,000 state and local police officers to protect it from domestic criminals. Why does the government need another 200,000 federal agents armed to the teeth with guns, ammunition and weapons of war? The Animal and Plant Health Inspection Service is not stocking up on propane cannons because it expects a bad tomato worm season. The government does not stockpile guns, ammunition, camouflage uniforms, riot helmets and remote-control helicopters unless it is anticipating domestic rioting and urban warfare that local police would be unable or unwilling to handle.
In his article "Nunes Memo Exposes Unseen Threat to America," Trumpet editor in chief Gerald Flurry detailed how Obama's top national security officials took part in a Jan. 5, 2017, meeting to discuss how to use unverified propaganda, paid for by Hillary Clinton's presidential campaign, to illegally obtain a warrant to spy on the Trump campaign. This shows that there is virtually no limit to what former Obama administration officials are willing to do to undermine the last election—and the next one. What would these officials have done with 200,000 armed agents if they had successfully rigged the last election? What will they try to do with those agents still more loyal to the last president than the current one?
"On Jan. 16, 2013, President Obama signed 23 executive actions on gun control, and then urged Congress to pass even stricter gun laws," Mr. Flurry wrote in his booklet America Under Attack. "At the same time the president is putting more restrictions on guns among the populace, his administration is arming itself to the teeth! What is going on here? Investor's Business Daily editorial writer Andrew Malcolm wrote Feb. 8, 2013, about how the Department of Homeland Security had just placed an order for 21.6 million bullets. Several government agencies have been buying massive amounts of ammunition—even the Social Security Administration, of all things. As Malcolm wrote, the government's total store of ammo amounts to 'sufficient firepower to shoot every American about five times.' Why does the government need to be so heavily armed but not the people? This government is showing its tendency more and more to force its will on the public."
Over the past three years, President Trump has made a lot of progress in exposing the crimes of the radical left and reining in Obama's deep state. But it is still important to keep a close eye on the federal agencies that the Obama administration worked so hard to fundamentally transform. Something sinister is happening in the nation—and the Bible reveals that the devil has been cast down to Earth in this end time (Revelation 12:12).
Stockpiling toilet paper, respiratory masks and guns will not save the nation from civil war. Only God can protect His people from disease, civil war and corrupt leaders. It is vital for people to turn to Him in repentance and cleave to His law.
For a deeper understanding of the spiritual dimension to America's decline, read our free booklet America Under Attack, by Mr. Flurry.