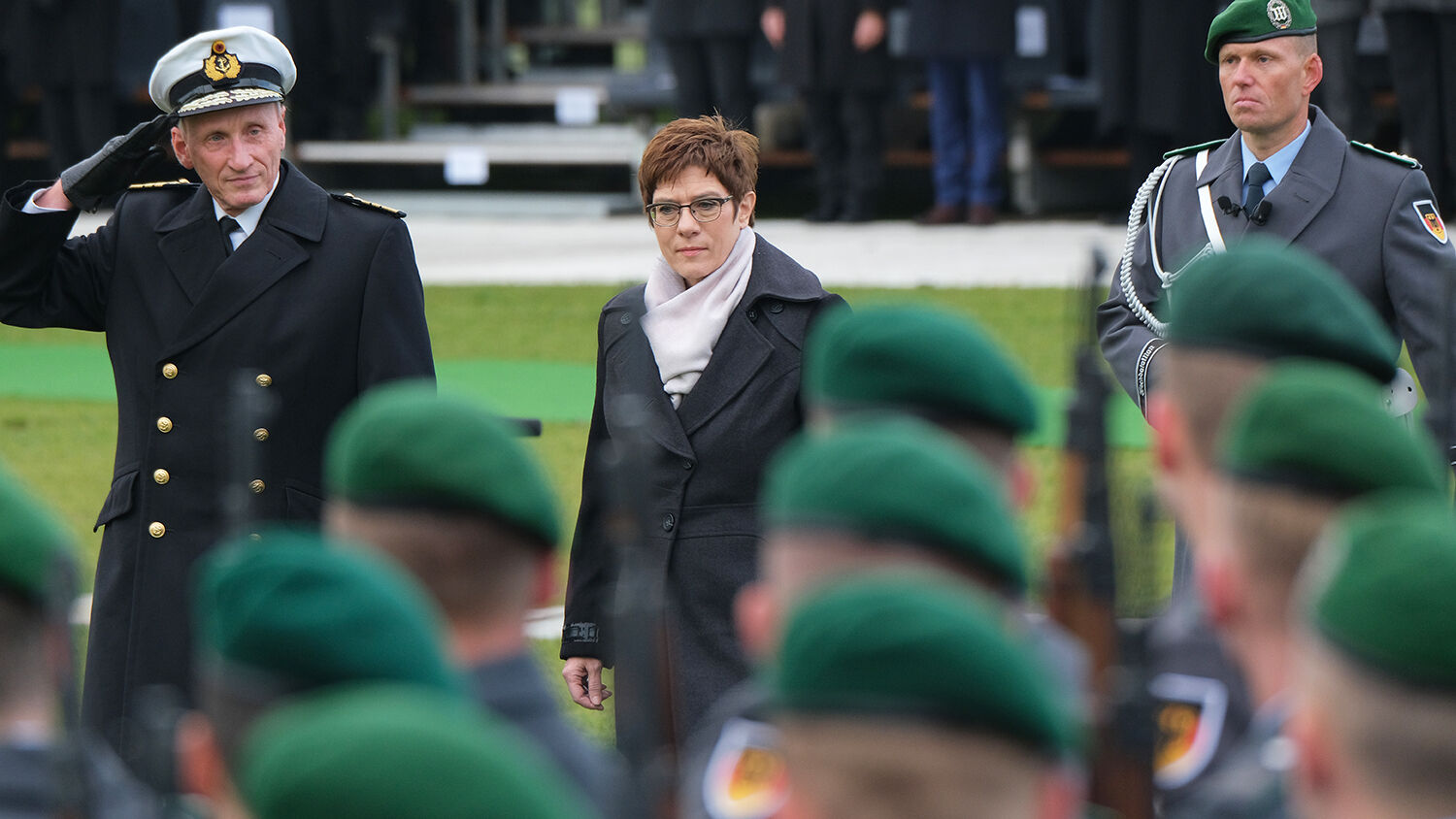 Germany Prepares for a Sudden Military Buildup
A new Bundeswehr initiative signals a transfer of power in procurement to Army leaders.
At this year's Bundeswehr conference, German Defense Minister Annegret Kramp-Karrenbauer said she wanted the Germany military to be better prepared to swing into action. While prior defense ministers announced similar turning points, the new initiative breaks with former traditions and incorporates ideas from Army leaders, Germany's n-tv.de noted on February 3. She wants to change the way the Army buys weapons, so it can arm more quickly.
In his current annual military report, military commissioner Hans-Peter Bartels criticized the Army, saying it has "[t]oo little materiel, too little staff, too much bureaucracy."
Kramp-Karrenbauer is tired of hearing repeated criticism from within and outside the Army portraying the troops as unfit for battle. She is promising sudden and noticeable change. She declared 2020 to be a turning point for the Army. "We have to deliver results in a shorter period of time and increase operational readiness this year," she said (Trumpet translation throughout).
Germany's parliament already approved corresponding legislation in January that aims to simplify procurement for the Army and police. The change will enable the Army "to react quickly and effectively to security-related developments both at home and abroad," the bill reads.
The amendment, which is not yet approved by the Federal Council, allows for orders, under certain conditions, to be directly placed at the German industry without a European Union-wide tender. When it comes to key technologies or materiel that is needed on short notice, the German Army could place its orders directly to the German industry.
Germany is the EU's largest economy and hosts its most-advanced arms industry. By removing burdensome bureaucracy, Germany's military will be able to arm more rapidly.
N-tv.de noted that unlike previous initiatives, the new initiative "takes up ideas from the Bundeswehr leadership itself—from inspectors, department heads and office presidents—and has not been drawn up by the ministry leadership, expert committees or external consultants."
The Army's Procurement Office will also be reformed and involve experts from the troops itself. This will ensure that the troops will receive equipment faster.
Many high-ranking officers in the military have been demanding reforms to the Army's Procurement Office for quite some time. Last year, retired Brig. Gen. Erich Vad, who served as Chancellor Angela Merkel's chief military policy adviser from 2006 to 2013, publicly accused the military's leadership of consisting of "cowards and bureaucrats."
There is a danger in empowering the Army's leadership by making such crucial changes. The Army's needs are defined by its leadership. Germany's military leaders have a different view of what the Army's future should look like than many politicians.
Its current government has a hard time formulating what role the military should play in the country's future. Military leaders, however, have a much more concrete vision. From the beginning of the Army's founding, its leadership was set to restore its lost military glory. Late theologian Herbert W. Armstrong wrote in the September 1948 Plain Truth magazine:
Even before the end of [World War ii], I revealed to you the Nazi plans for a Nazi underground movement, to go underground as a secret organization the very moment they lost the war—to lay low a few years during Allied and Russian military occupation, then to come forth when least expected, restore Germany to power, and go on to finally accomplish their aims in a World War iii.
Over 80 percent of the approximately 15,000 officers who laid the foundation of the German Army in 1955 fought under Adolf Hitler just a few years previous. The German Army was formed with the intention to resurrect the Nazi empire. With every generation, these ideas and intentions were passed on. Recent investigations have shown that a shockingly high number of right-wing extremists are spread throughout the Army.
God revealed to the Apostle John a vision of end-time Germany's military empire: It would rise in World War ii, go underground, and reemerge later to even greater power: "The beast that thou sawest was, and is not; and shall ascend out of the bottomless pit, and go into perdition: and they that dwell on the earth shall wonder, whose names were not written in the book of life from the foundation of the world, when they behold the beast that was, and is not, and yet is" (Revelation 17:8).
Our free booklet Germany and the Holy Roman Empire gives a detailed explanation of this prophecy. It also details how many Nazis went underground after World War ii and shows how they are actively working to resurrect this army today. The fact that we are now seeing Germany's military leadership gain more power and face less restrictions shows that this prophecy is nearing its fulfillment.
However, John's vision in Revelation 17 and various other prophecies illustrate that we won't see this military fully emerge until Germany has found a strong leader, as Trumpet editor in chief Gerald Flurry explains in A Strong German Leader Is Imminent.