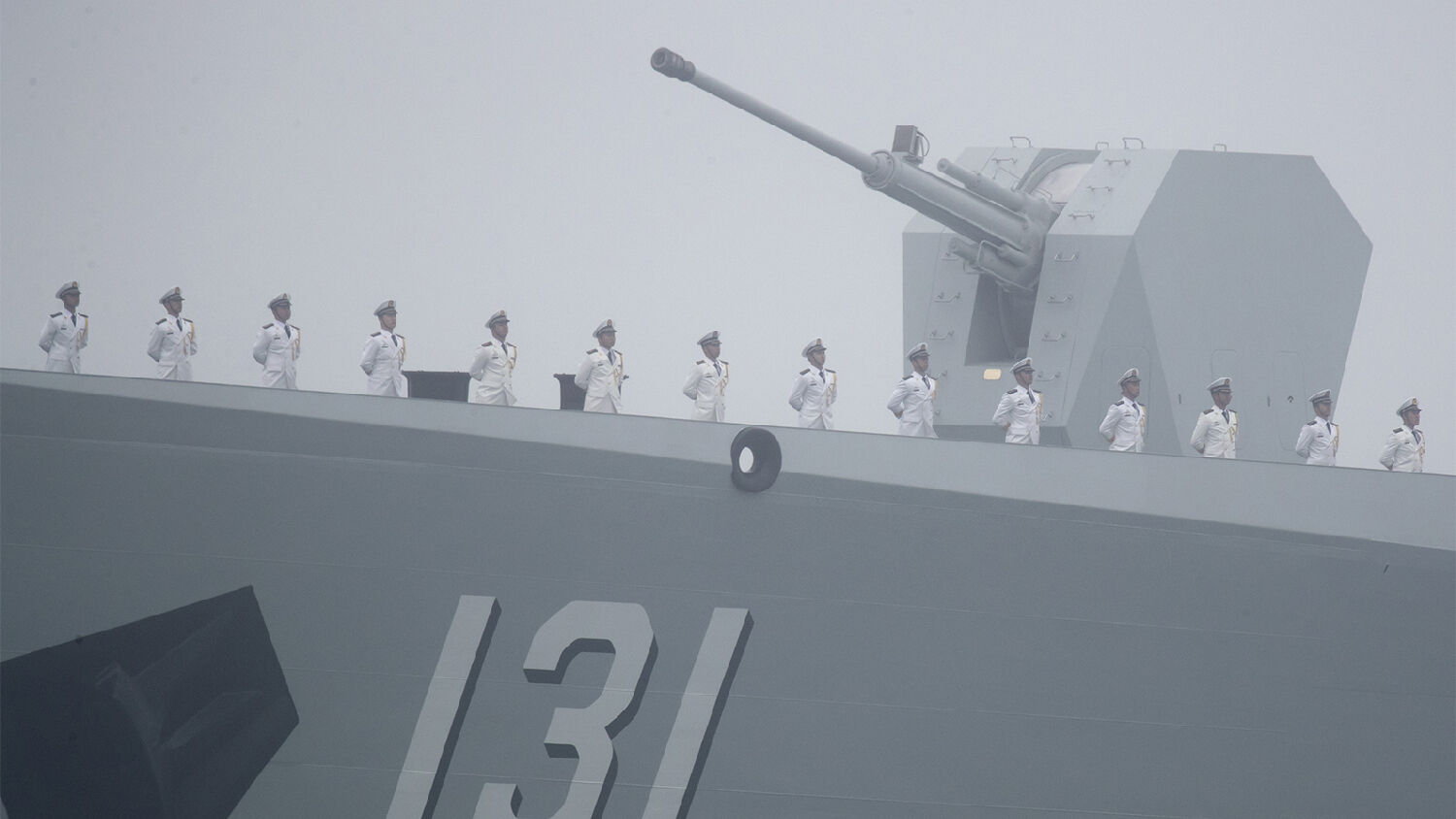 China Is Building an Alarming Number of Warships
'China's maritime transformation' is one of this century's 'most significant events.'
The Chinese Navy is bringing an eye-popping number of new warships online, including last week's commission of its first indigenous aircraft carrier, as the nation accelerates its drive toward military modernization.
An unusually detailed glimpse of China's naval buildup came on December 13 when the Beijing-based Loong Naval published an aerial photo of the Jiangnan Shipyard near Shanghai. The image shows at least 12 advanced warships in various stages of construction.
Defense expert H. I. Sutton published an analysis of the photo for Forbes on December 15, writing:
Nearest the camera, a line of four newly constructed destroyers catch the sunlight. Two are Type-052D air-defense destroyers, generally equivalent to the U.S. Navy's Arleigh Burke Class aegis destroyers. These displace 7,500 tons and can carry 64 large missiles including long-range surface to air missiles (sams) and cruise missiles. The other two are larger Type-055 Class ships. These are also described as air-defense destroyers but are verging on cruisers in terms of size and fit. These are about twice the displacement and carry over 100 large missiles.
Behind the nearest line, the shipyard's numerous cranes and construction facilities are clearly visible. And so are three additional Type-052D destroyers and two more Type-055s. "[T]his brings the total number of large destroyers visible to nine," Sutton wrote. "To put that into context, the [British] Royal Navy's entire destroyer fleet is just six ships."
Also pictured are hovercraft for use on amphibious ships, a gargantuan Yuan Wang Class tracking ship, and the crown jewel of the shipyard: a Type-003 catapult-equipped aircraft carrier, which will enter service in 2023.
The photo reveals the urgency of the People's Liberation Army Navy's modernization and expansion efforts. And Jiangnan is just one of six massive shipyards along China's coast where warships are being built and launched rapid-fire.
On December 17, China's first domestically made aircraft carrier, built at the Dalian shipyard, was officially commissioned by President Xi Jinping. The new warship is a Type-002 named the Shandong. It can carry 36 J-16 fighter jets, which is a dozen more than China's first aircraft carrier, the Soviet-built Kuznetsov-class Liaoning.
Altogether, the Chinese Navy now has two active aircraft carriers, 30 destroyers, 48 frigates, 42 corvettes and over a hundred smaller hulls. Under the surface, it boasts 62 submarines, including nuclear-powered attack submarines and ballistic missile models armed with long-range nuclear missiles.
"China's maritime transformation," wrote Andrew Erickson in Chinese Naval Shipbuilding, is one of this century's "most significant events." He added that it is "triggering intense speculation and concern from many quarters and in many directions."
Trumpet editor in chief Gerald Flurry has said that China's naval buildup and concomitant takeover of the South China Sea is "steering the world toward war." In our July 2016 issue, he wrote about China's belligerent claims over areas that rightfully belong to such nations as the Philippines, Malaysia, Taiwan, Brunei and Vietnam.
"China is ignoring these nations' territorial claims," Mr. Flurry wrote. "China is being aggressive and provocative," and thereby challenging "seven decades of American naval dominance in the Pacific Rim." This belligerent behavior, he wrote, "should alarm the world!"
Regarding the South China Sea, through which a third of the world's maritime trade transits each year, Mr. Flurry wrote, "Since Japan's defeat in World War ii, America has protected this vital trade route and brought peace to this part of the world." But since the U.S. military is now retreating from the region, "other great powers are coming in to fill the vacuum," he continued. "China is intimidating the nations of Southeast Asia into submission to its will. It is forcing these countries to do what it wants. Everything is headed in the direction of war."
Mr. Flurry's assessment of the South China Sea situation is built on the sure word of Bible prophecy.
In the book of Deuteronomy, God issues a solemn warning to the nations of Israel, explaining that if they reject Him and His law of love, He will see that control over the world's strategic sea gates is handed to their enemies. And He warned that these enemy powers would use that control to besiege the nations of Israel: "And he shall besiege thee in all thy gates, until thy high and fenced walls come down, wherein thou trusted, throughout all thy land …" (Deuteronomy 28:52).
Mr. Flurry explained that this ancient warning is not just for ancient peoples. "It is a prophecy for the modern-day descendants of Israel," he wrote. "Two nations in particular represent Israel in this end time: America and Britain." These two nations "are full of terrible sins today, and God is going to correct them for that!" he wrote. "This prophecy and several others show that He will send foreign enemies to punish America and Britain!"
The rapid rise of China's Navy and its tightening hold over the South China Sea and other parts of its periphery is moving toward the fulfillment of this prophecy.
But Mr. Flurry emphasizes that the approaching besiegement and conflict are connected to profoundly hope-filled news: "All this prophesied destruction is what it will take for God to reach this world!" he wrote. "After this, people will be ashamed—and they will get to know God! Ezekiel repeatedly talked about that inspiring conclusion (e.g. Ezekiel 6:7; 7:4; 11:10; 12:20; 13:9; 23:48-49; etc). Yes, there is a lot of bad news when you consider what it takes to get people to the point of knowing God. But ultimately, the outcome is spectacularly good news!"
To understand the details of this "spectacularly good news," order your free copy of Mr. Flurry's book Ezekiel: The End-Time Prophet.