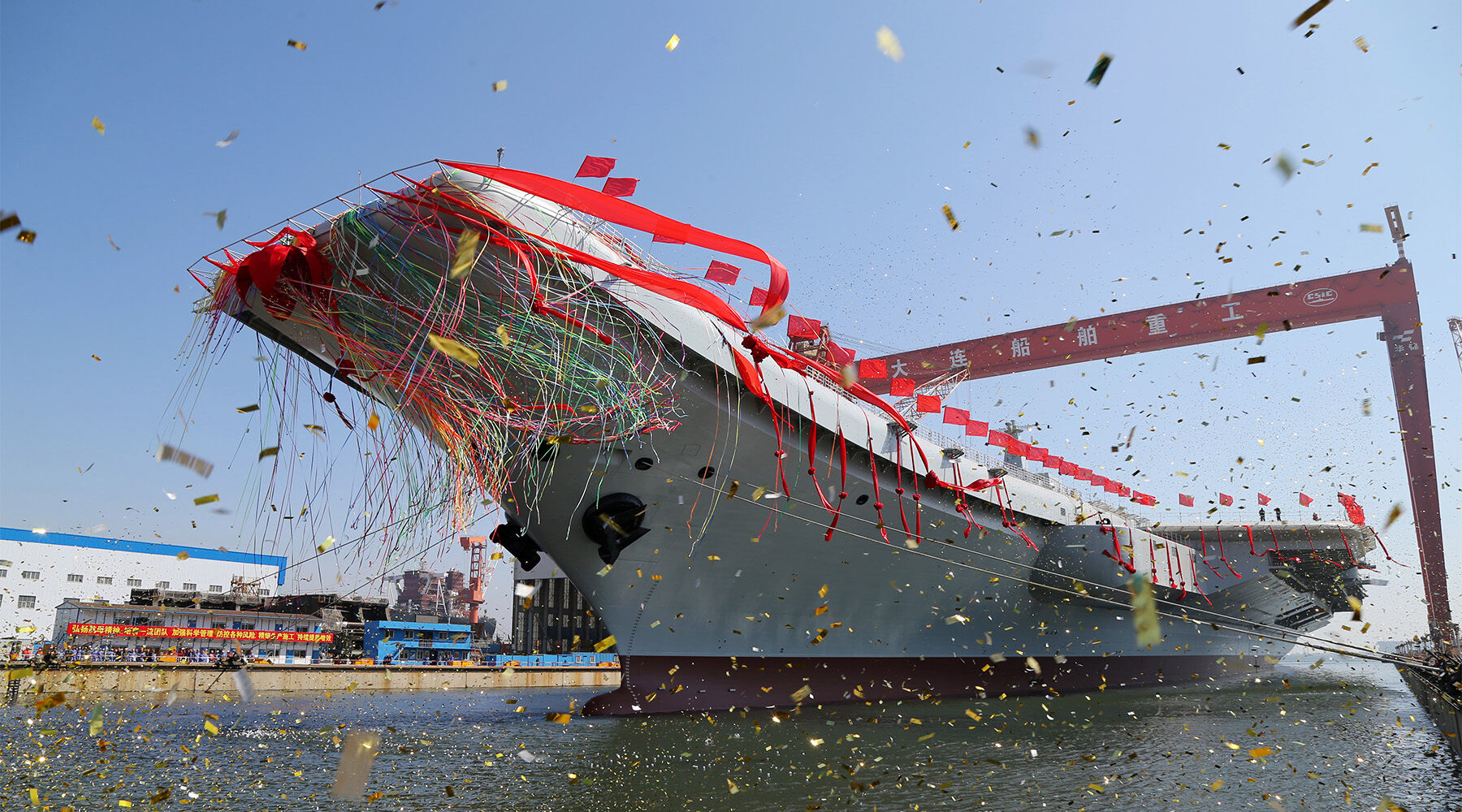 China Launches First Homegrown Aircraft Carrier
The launch signals China's increasing military might and its determination to safeguard its territorial claims.
As the Chinese national anthem boomed in the background, officials on Wednesday smashed a bottle of champagne over the bow of China's second aircraft carrier and launched the vessel into open water. The lavish launching ceremony at the port city of Dalian was broadcast throughout China and represents the most powerful symbol yet of the nation's rising military might—especially since the vessel is China's first domestically built aircraft carrier.
The as yet unnamed vessel is based on the Soviet-made Liaoning aircraft carrier, which China purchased from Ukraine in 1998 and launched in 2011. Like the Liaoning, the new carrier is conventionally powered and equipped with a "ski jump" flight deck. But in some aspects, the new carrier is more advanced than the Liaoning. Its radar system is superior, and its larger deck allows it to hold about 32 aircraft, which is eight more than the Liaoning can carry.
The launch was a landmark event in President Xi Jinping's goal of extending Beijing's military reach far past its coastlines. Within China, where aircraft carriers have come to symbolize national power, the move was widely celebrated. In a press release, China's People's Liberation Army said that "it signified a major stage of progress of our country's indigenous design and construction of aircraft carriers."
To the United States and its Asian allies, the launch is an undeniable indication of China's increasing military might and its growing determination to safeguard its disputed territorial claims in the South China Sea and beyond. "With each new aircraft carrier, China is sending a signal that it has no peer among its neighbors," said Patrick M. Cronin, the head of the Washington-based Asia-Pacific Security Program at the Center for a New American Security.
Nankai University military specialist Sun Haidong said, "It symbolizes the rise of China, which will also boost China's ability in dealing with territorial disputes."
Also significant is that while the Liaoning required 13 years of development and construction, work on the new carrier began only in late 2013. It will not be formally commissioned until 2020, after it undergoes sea trials, but this still represents a massive reduction in overall development time. Experts say China is planning to build up to four additional carriers, with progress already under way on at least one. If the learning curve effects continue, Chinese engineers could complete future carriers with just a few years of construction.
The state-run Global Times said that China will need "at least five to six aircraft carriers … in order to protect China's territories and overseas interests."
Besides aircraft carriers, Beijing has also been prioritizing the development of other watercraft designed to support and protect carriers in the event of conflict. By 2020, the Chinese Navy is projected to have between 265 and 273 deployable warships, logistics vessels and submarines. That would nearly match, at least in numbers, the 275 battle force ships that now comprise the U.S. Navy, Beijing's main opponent in the Asia-Pacific region.
To understand why China's rising military power and its increasingly aggressive stance in the South China Sea have global implications, read Trumpet editor in chief Gerald Flurry's article "China Is Steering the World Toward War."