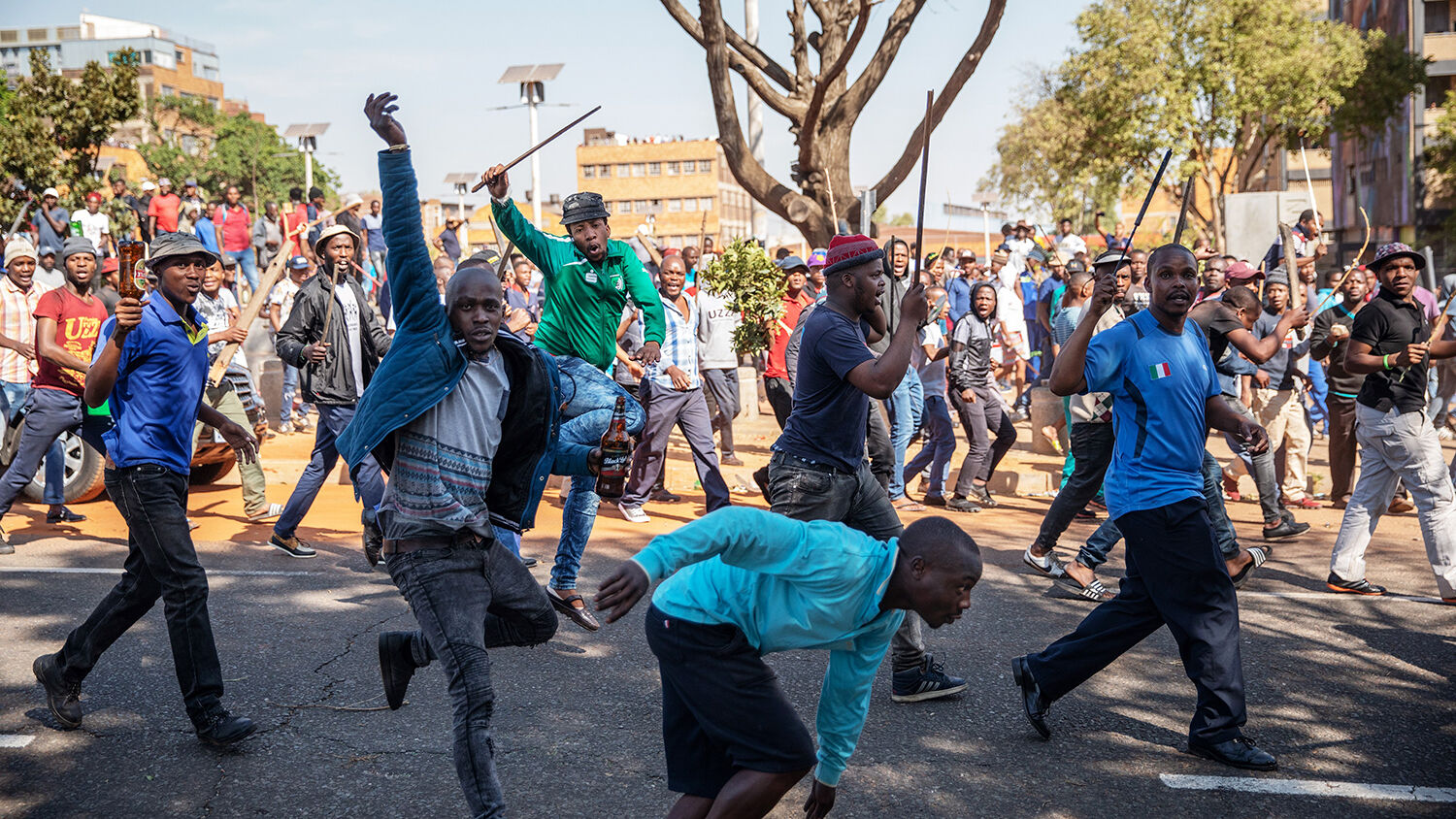 Xenophobic Violence Is a 'Long-standing Feature in Post-Apartheid South Africa'
The latest spate of violence makes the crisis more critical than ever.
In the past few days, South Africa was again plagued by what President Cyril Ramaphosa condemned as "acts of wanton violence": illegally blocking roads, rioting, looting, vandalism, and arson attacks on cars, semi-trucks and business premises.
During this spate of violence, which South African police officials initially attributed to "pure criminality," at least 50 shops were looted and burned in Johannesburg, the nation's financial capital, and in Pretoria, its executive capital. One of the buildings set ablaze eventually collapsed and killed at least three people. More than 110 people have been arrested for their alleged engagement in the chaos.
These attacks have been more accurately attributed to a recurring problem in South Africa: xenophobia—intense, irrational fear and hatred of foreigners.
The latest crisis began September 1, but President Ramaphosa only acknowledged it two days later, saying, "[W]hatever concerns or grievances we may have, we need to handle them in a democratic way. There can be no justification for any South African to attack people from other countries."
What's the reason for these attacks on foreigners? And why are they becoming a seemingly common feature in South Africa?
The Protesters' Perspective
The unemployment rate in Africa's second-largest economy is about 28 percent. Native South African truckers started a nationwide strike on Sunday to protest their country's increasing employment of foreigners. Presumably, it didn't matter to them whether these foreigners were properly documented. "People of South Africa are hungry, they are sitting at home … while companies in South Africa are employing foreigners [because] its cheap labor," one official from the nation's All Truck Drivers Foundation told Agence France-Presse. "We are hungry and angry."
While the All Truck Drivers Foundation said it didn't incite the violence or even the strike, a group known as Sisonke People's Forum reportedly circulated a pamphlet on social media inciting South Africans to chase away foreigners, accusing them of stealing jobs and selling narcotics.
As a result of the violence and the threat of more violence, Zambia's Transport Ministry told the nation's truck drivers to "avoid traveling to South Africa until the security situation improves." The Ethiopian Embassy in South Africa instructed its citizens to close their businesses until further notice, warning them to "distance themselves from any confrontation and conflict." The Nigerian government summoned the South African High Commissioner to Nigeria, issuing a statement saying, "The continuing attacks on Nigerian nationals and businesses in South Africa are unacceptable. Enough is enough."
Some South African businesses in other African countries are currently being threatened with retaliatory attacks.
The Politicians' Perspective
Johannesburg Mayor Herman Mashaba attributed the attacks primarily to criminality and secondarily to xenophobia. "I'm putting this at the door of the South African government for failing to ensure that we have law and order," he said, accusing government leaders of not properly securing national borders.
Enhanced border security is obviously important, but the lack doesn't justify any extrajudicial confrontation with documented-undocumented criminal immigrants or with with documented-undocumented noncriminal immigrants, as has been the case with many of the nondiscriminatory attacks on foreigners in South Africa.
South Africa's main opposition party leader, Mmusi Maimane, wrote: "It is common cause that a significant contributor to our social ills is [South Africa's] collapsing economy. Protests, violence and looting are often caused and exacerbated by vast inequality, joblessness and economic exclusion faced by millions across our country. With over 10 million South Africans unemployed, and half the nation living below the poverty line—we have run out of 'extra time.' It's now or never. If we don't fix our economy we will not fix our broken society."
God's Perspective
Perhaps if South Africa had a better economy, xenophobic violence would be much less than it is right now. Perhaps if border security improved, foreign criminal elements would be screened out before reaching Johannesburg or Pretoria. These fixes would indeed provide some relief. But unfortunately, they wouldn't solve the problem because they don't address the root cause of xenophobic violence.
Xenophobia is one of the many blotches in South Africa's history, both before the racial tensions of the Apartheid era and after independence in 1994. Politicians have, for 25 years, promised to resolve the nation's many problems, but some of them have actually made them worse.
In March, Xenowatch published a report documenting xenophobic violence in South Africa from 1994 to 2018. The report said:
Xenophobic violence has become a long-standing feature in post-Apartheid South Africa. Indeed, since 1994, tens of thousands of people have been harassed, attacked or killed because of their status as outsiders or foreign nationals. Despite claims to the contrary, violence against foreign nationals in South Africa did not end in June 2008 when the massive outbreak that started a month earlier subsided. Hostility towards foreign nationals is still pervasive and remains a serious threat to outsiders' and local communities' lives and livelihoods. It indeed continues to result in rising cases of murder, injuries, threats of mob violence, displacement, looting and the destruction of residential property and businesses. Since May 2008, attacks against outsiders—most notably foreign shopkeepers and workers—have resulted in an ever growing number of murders and injuries at the hands of members of their host communities.
According to Xenowatch, there have been at least 529 xenophobic violence incidents, which resulted in the displacement of over 100,000 people, the looting of 2,193 shops, physical assaults on 901 people, and 309 deaths.
Such recurring problems clearly require more than just a better economy or resolved border security.
"What leads to [the unending] quarrels and conflicts among you?" God asks through the Apostle James. "Do they not come from your [hedonistic] desires that wage war in your [bodily] members [fighting for control over you]? You are jealous and covet [what others have] and your lust goes unfulfilled; so you murder. You are envious and cannot obtain [the object of your envy]; so you fight and battle. You do not have because you do not ask [it of God]. You ask [God for something] and do not receive it, because you ask with wrong motives [out of selfishness or with an unrighteous agenda], so that [when you get what you want] you may spend it on your [hedonistic] desires" (James 4:1-3; Amplified Bible).
Stronger economies that enhance the livelihoods of citizens can indeed stem such violence. Strong border security, effective law enforcement, and respect for the rule of law can indeed reduce the threat of xenophobic attacks—even dramatically. But ultimately, obedience to, and enforcement of, God's laws against lust, theft and murder will resolve all of these problems.
Ending such violent riots also requires an understanding of the invisible spirit world. The Bible describes Satan as a masterful, manipulative deceiver who surcharges the air with his spirit of lawlessness, anger and violence.
Consider one of America's most notorious riots, the Los Angeles riots of 1992. One of the rioters said 20 years later: "I got caught up in the emotions like everyone else …. You know, honestly, it was something that just happened, man. I never even knew [the victim]. Just the anger and the rage just took hold to where I, nor anyone who was out there that day, was in their right frame of mind." Social media is replete with images and videos that show how easily people can get caught up in emotionally charged discord.
Thankfully, God is soon going to intervene in world affairs in a way that's far more dramatic than anything He documented in Bible history. He will intervene to end quarrels, conflicts and wars among people. And His solution will be perfect: He will eliminate both the proverbial match and the tinder that have all too often inflamed our societies. And He will educate our emotions!
To learn more about God's solutions, download or request a copy of our free booklet The Wonderful World Tomorrow—What It Will Be Like. You also might be interested in Human Nature: What Is It? and The Ten Commandments.