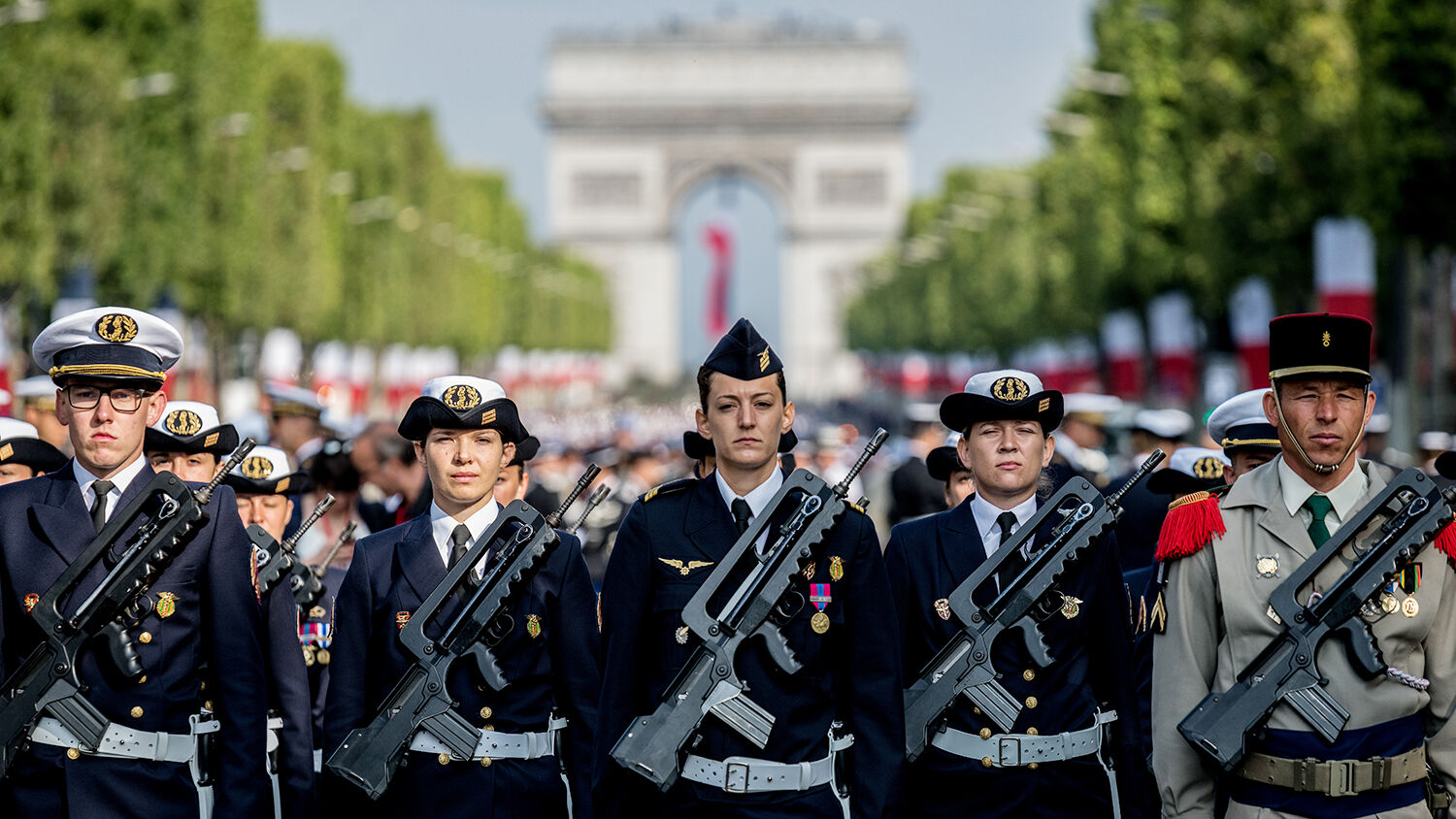 Bastille Day Showcases European Military Cooperation
This year, France's national holiday is about more than just France.
On July 14, France commemorated Bastille Day with a major military parade, involving 4,300 armed forces personnel, 196 vehicles, 96 airplanes, 39 helicopters and 237 horses. Though it recalls a key event of the French Revolution and honors the French military, this year's parade went beyond celebrating France. It also celebrated the armed forces of Europe.
The parade along the Champs-Élysées was observed not only by French President Emmanuel Macron but also German Chancellor Angela Merkel and leaders from the Netherlands, Belgium, Portugal, Estonia and Finland. Marching in the parade itself were personnel from nine other European nations: Germany, Spain, the United Kingdom, Belgium, Denmark, Estonia, the Netherlands, Portugal and Finland.
Why were nine other nations marching on France's big day?
They are all members of the European Intervention Initiative, an exclusive European military alliance operating outside of European Union rules yet benefiting from shared EU military projects.
The initiative aims to involve only nations willing and able to use their militaries. It is designed to achieve Macron's vision for a "sovereign, united and democratic Europe," according to a British Parliament briefing on the subject.
"With the European Intervention Initiative, 10 European countries are committed to [Europe's] protection," tweeted the French Defense Ministry.
The Bastille Day parade was carefully planned to confirm the importance of close cooperation among European allies.
Macron used the days leading up to the Bastille Day celebrations to show the world that France wants to lead Europe's military into the future. On July 12, Macron visited the coastal city of Cherbourg to watch the launch of France's first Barracuda-class nuclear attack submarine. The next day, he announced the creation of a space forces command within the military. This will merge the former Joint Space Command with the French Air Force. Until this point, the space command has been purely research and surveillance oriented. Merging it with the Air Force makes it part of a combatant branch of the French military, opening the door for developing space-based warfare. The only other nation to have done this is the United States.
Bastille Day, the submarine launch and the space command announcement send a message.
"The construction of a Europe of defense," said Macron, "in connection with the Atlantic alliance … is a priority for France."
Macron is well aware that the "Atlantic alliance" is falling apart. And these European initiatives are actually designed to compete against the United States.
"To face new threats, Europe needs a strong defense," the French Defense Ministry stated online after Macron unveiled his plans. What exactly are those threats? According to Deutsche Welle, among the nations that worry France is the U.S., because of its increasing spending on space warfare. The U.S. is now listed alongside aggressive rivals Russia, China, India and others.
France is competing with a former ally, working to outsmart and excel the United States in the emerging theater of space warfare.
All of this is being done from a perspective of European unity. This year's Bastille Day highlighted not only the military power of France, but also European nations working together militarily.
Macron is correct: Europe is on the path to becoming "sovereign" and "united."
But he is not the first to predict that Europe will reunite.
In "France Is Betraying America and Fulfilling Bible Prophecy!" Trumpet editor in chief Gerald Flurry wrote, "We must see what is now rapidly building in Europe. This push for a united European army is nothing less than an effort to resurrect the old Holy Roman Empire! That empire has risen up within Europe repeatedly throughout history."
Long before Macron took office, before the European Union ever became reality, even before the end of the Second World War, one man proclaimed that Europe would unite, politically and militarily.
In an April 2006 article, Mr. Flurry pointed back to that man, writing:
Since we started the Trumpet magazine in 1990, we have consistently predicted that a united Europe would ultimately become a global superpower. For over 50 years before that, Herbert W. Armstrong declared the same message in the Plain Truth newsmagazine, and on the World Tomorrow program on radio and television. Bible prophecy clearly shows that Europe will unite!

Current events are starting a chain reaction that is going to stir Europe into actions that will shock this world. The iron strength at the core of an imperial European Union is growing. As it has done repeatedly in history, once again it is going to smash its way to global dominance!
Bible prophecy and secular history show that six prophesied resurrections of this violent empire have already come and gone. A German-dominated union of 10 nations will rise, the seventh resurrection of this Holy Roman Empire (Revelation 17:10, 12). This coming empire will not be led by France. Today, the EU is already German-dominated and working to integrate more closely, as the Bastille Day celebrations in France show.
Not all 10 nations currently in the European Intervention Initiative will be in this empire (Britain will certainly be no part of it). But the initiative is preparing the way for this prophecy to be fulfilled.
To prove for yourself where Europe's integration is really leading, request a free copy of our book The Holy Roman Empire in Prophecy.