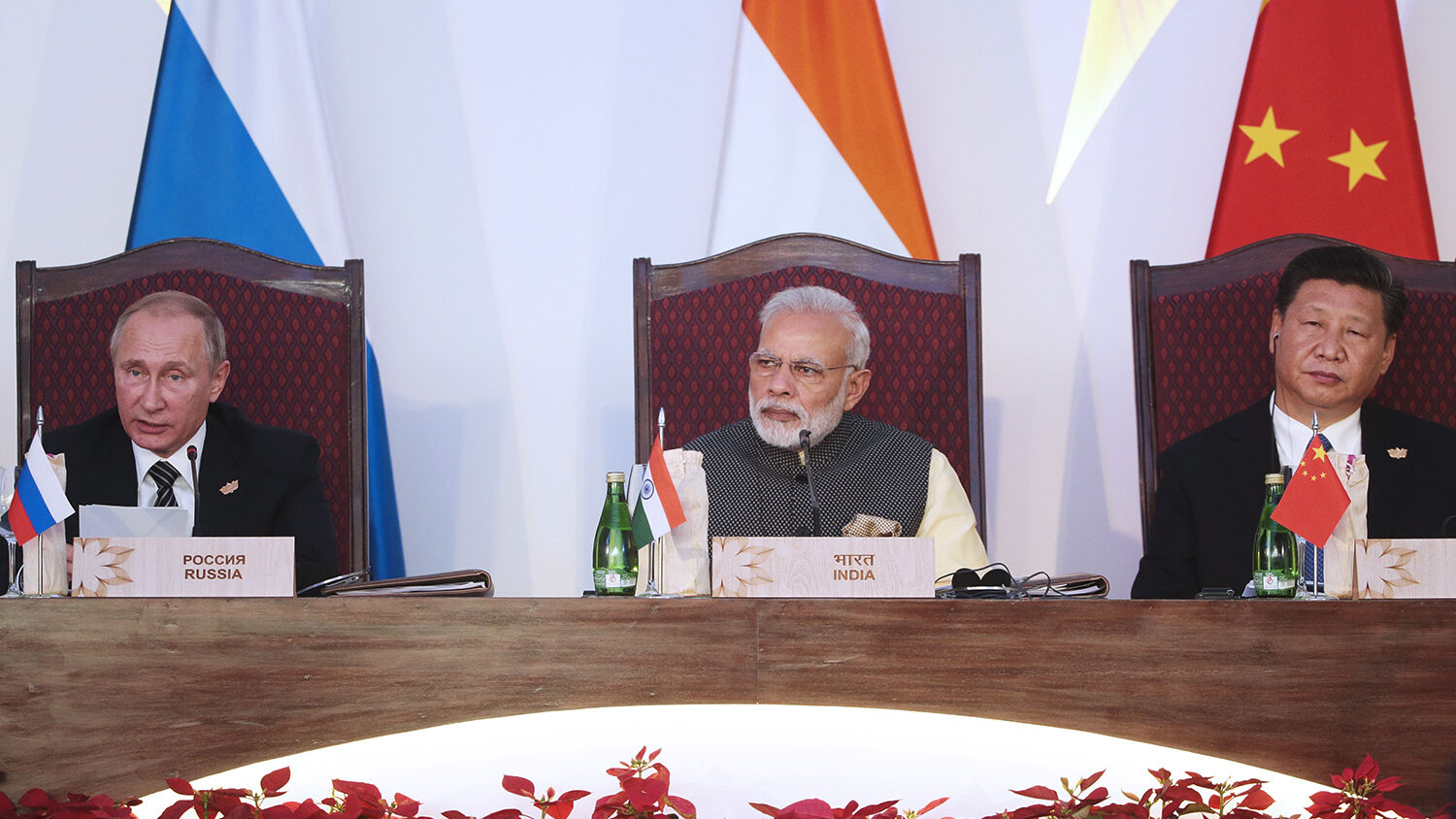 The Russia-India-China Trilateral
Leaders of Asia's three largest nations are increasing their meetings, joining their nations, and becoming 'the kings of the east.'
Russian President Vladimir Putin, Chinese President Xi Jinping and Indian Prime Minister Narendra Modi have planned a series of meetings with each other to occur throughout the year in order to enhance relationships between Asia's three largest nations.
The leaders held their second trilateral summit last year on the sidelines of the G-20 Summit, where they agreed to meet again and discuss ways to strengthen their collaboration through the Shanghai Cooperation Organization, the East Asia Summit and brics (Brazil, Russia, India, China, South Africa). After the summit, Modi commented on the "excellent meeting of the ric (Russia, India, China) Trilateral," saying, "President Putin, President Xi Jinping and I discussed a wide range of subjects that would further cement the friendship between our nations and enhance world peace."
Days after Prime Minister Modi won a resounding reelection, his administration announced a second informal summit to be held between Modi and Xi, possibly on October 11. The meetings will likely continue the progress made at their first informal summit in Wuhan last year, which aimed to normalize relations between them.
The meeting will allow the two leaders to discuss recent developments such as how their trading relationship is affected by the United States-China trade war. China could possibly offset damages from the trade war by tapping into India's huge economy. With its rising unemployment and weak consumer market, India would benefit from Chinese investments.
In a goodwill gesture to India, China stopped vetoing a United Nations proposal to label Pakistan's Masood Azhar as a "global terrorist" on May 1 and instead approved the decision. "It should be seen as a positive outcome of the two countries' ties," Sana Hashmi, an analyst in the Australian think tank Future Directions, told the South China Morning Post. "China's decision is a result of the understanding the two reached thanks to their ongoing dialogue, especially since the Wuhan summit."
Xi visited Russia from June 5 to 7 and met with President Putin. Xi received an honorary doctorate from St. Petersburg State University. The leaders were expected to sign 30 trade, energy, investment and security agreements. Prior to the visit, Xi called Putin "my best and bosom friend."
This was Xi's second meeting with Putin in two months. Putin visited Beijing in April and increased Russia's support for China's Belt and Road Initiative. The meeting also marked Xi's first trip overseas after trade talks with the U.S. fell apart this month. Due to the trade conflict, China has greater motivation to seek economic and political support from Russia.
Xi and Putin were expected to discuss their nations' bilateral trade in the visit. Russia and China have increased their bilateral trade by almost 25 percent to a record high of $108 billion per year. Russia is now the biggest supplier of Chinese energy. Both nations aim to reach $200 billion in bilateral trade by 2024.
From June 13 to 14, Xi, Putin and Modi are expected to meet at the Shanghai Cooperation Organization summit in Bishkek, Kyrgyztan, focusing on trade, investment, connectivity and security cooperation.
The Trumpet has often reported on the deepening relationships between Russia, China and India, not only because of the threat this trend poses to the established order, but more so because of what Bible prophecy foretells about it.
The book of Revelation prophesies of an Asian conglomerate called "the kings of the east" (Revelation 16:12). Ezekiel 38 shows that this Asian bloc will be led primarily by Russia and secondarily by China. It also identifies other Asian nations that will be a part of this bloc. Verse 5 mentions "Cush" and "Phut" (Young's Literal Translation). While some of Cush and Phut remained in Africa, the rest migrated to India. The context of verse 5 also indicates that it is mainly referring to the Indians and perhaps the Pakistanis as well.
Revelation 9:16 states that the conglomerate will form an army of 200 million men. In our free booklet Russia and China in Prophecy, we write:
Most Bible critics today argue that it would be impossible to assemble an army this size. Yet consider the numbers. The current population in China is over 1.3 billion. Russia has 144 million. Other Asian nations are prophesied to join this alliance—among them, India, with its 1.2 billion people and third-largest army in the world. …

There will easily be a total approaching 4 billion people from which to make up an army of 200 million! … Now, to muster an army of 200 million men, these Asiatic masses would likely only have to call upon a small fraction of their combined populations to fight this battle—hardly unrealistic.
With Putin, Xi and Modi's upcoming meetings with each other, and with such organizations as brics, Shanghai Cooperation Organization, East Asian Summit and the G-20 summits bringing them closer together, the stage is being set for these vastly populated nations to coalesce and for the "kings of the east" prophecies to be fulfilled.
Mankind will soon suffer a third world war, far more devastating than any conflict in human history. But there is good news! Russia and China in Prophecy continues:
Are you awake to what is really happening in this world?

Think about this: The soldiers of Europe, Russia and China today are some of the same soldiers that will march from Megiddo to Jerusalem to be destroyed by Jesus Christ Himself!

That is how close we are getting to the end of this age of man! Are you ready for what is about to occur? …

These events are hurtling toward Jesus Christ's Second Coming! How magnificent! How wonderful!

Will you believe God?
To understand more about these prophecies, the hope that is tied to them, and what it means for your life, request your free copy of our booklet Russia and China in Prophecy.