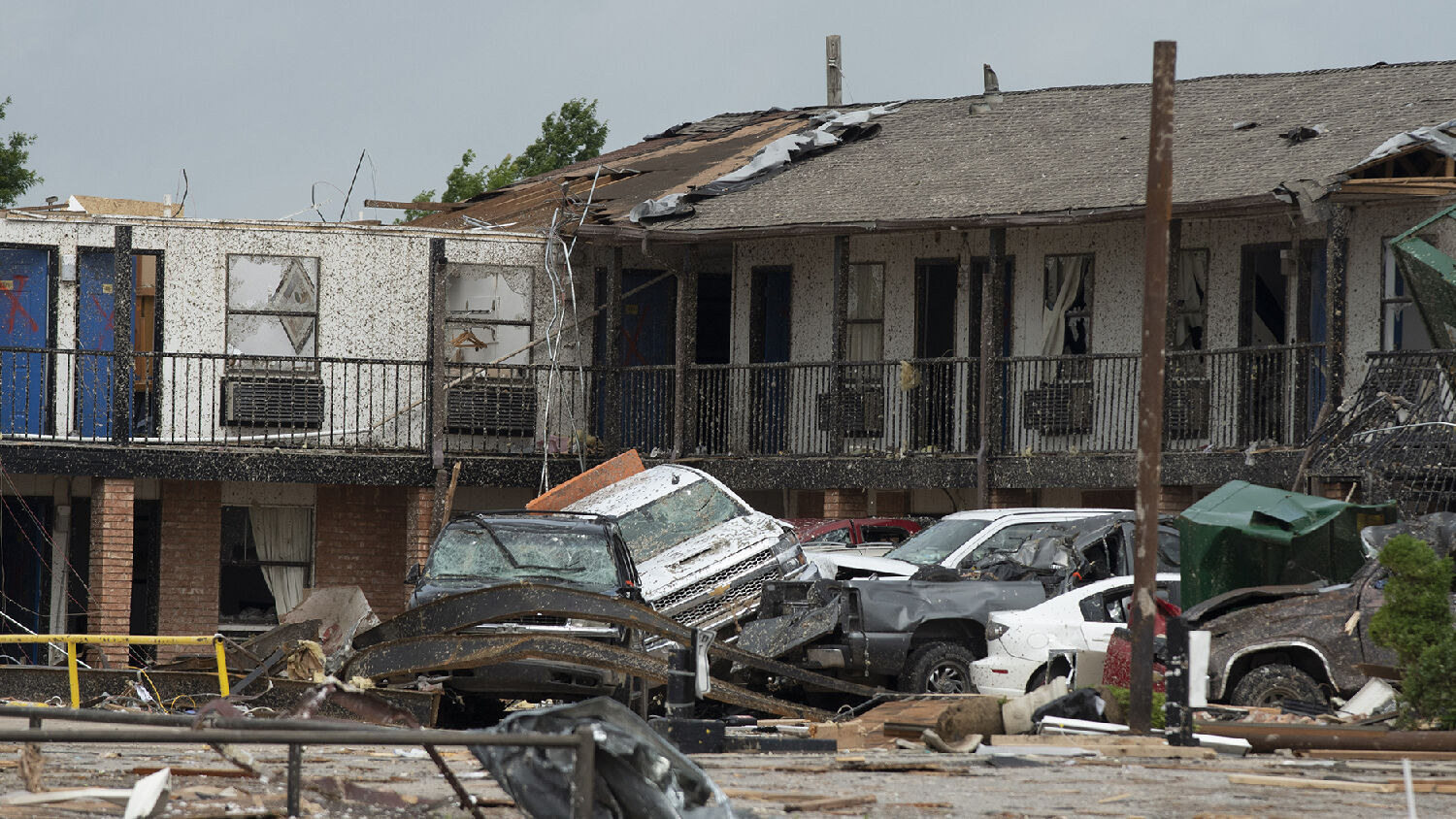 Central U.S. Again Hammered by Storms
Is this just nature running its course, or is there another cause for these disasters?
Residents of the already waterlogged states of Texas, Oklahoma, Kansas, Missouri and Iowa have been facing severe storms since last week. The region experienced more tornadoes in less than a week than it did during the entire month of May last year. The bad weather and massive flooding come on the heels of the wettest 12 months the United States has experienced since record keeping began in 1895.
The weather, which has included hundreds of tornadoes, has claimed at least nine lives so far, and that number is expected to rise as the bad weather continues. Three people were killed in a tornado in Golden City, Missouri, two of which were carried 200 yards from their home. Another tornado killed a woman in Iowa. Another killed a couple in Oklahoma.
Jefferson City, Missouri, resident Larry Jett said, "I thought we were dead," after he and his mother were "picked up off the floor and thrown back down" in the major tornado that tore through the center of Missouri's capital, injuring dozens and leaving a path of destruction with buildings and cars smashed and twisted.
The Kansas City Star reported that the last time Kansas and Missouri had "so many back-to-back tornadoes was in May 2003."
Several others were killed in weather-related traffic accidents or swept away and drowned in floodwaters. A 19-year-old and a 20-year-old were reported missing on May 15. The pair was found dead days later. They had drowned after becoming trapped in a flood while driving late at night, unable to see the danger until it was too late. The search continues for a 4-year-old boy who was swept away when playing near fast-moving floodwaters in Indiana.
On top of last week's weather and deaths, Indiana and Ohio experienced a series of tornadoes and flash floods late Monday night that caused widespread damage, knocked out power to 5 million people in Ohio, and resulted in a number of injuries.
The financial cost of this month's severe weather has yet to be calculated, but it will be massive. The weather has also added to the already major delays in planting crops, which will have a extremely negative affect on the U.S. economy. Food supplies have already been affected and food prices are rising.
While many people recognize that these disasters are increasing rapidly, most do not recognize their true cause.
In October, the United Nations Office for Disaster Risk Reduction published a 20-year review. It reported a massive 151 percent increase of direct economic losses from "climate-related disasters" from 1998 to 2017. During this period, 1.3 million people were killed and 4.4 billion lost their homes, were injured or displaced, or required emergency assistance.
Noting that the worst impacted are poverty-stricken regions, Prof. Debarati Guha-Sapir, head of the Center for Research on the Epidemiology of Disasters, commented: "This report highlights the protection gap between rich and poor. Those who are suffering the most from climate change are those who are contributing least to greenhouse gas emissions."
According to the report, the frequency and severity of "extreme weather events" is the direct result of climate change, which is caused by human activity. But is this accurate? Can we really blame only the rich for the sudden increase in weather disasters? Blaming climate change is a convenient excuse to ignore the reality.
The reality is that both rich and poor are at fault, and the cause is not climate change. It is our sins.
In Leviticus 26 and Deuteronomy 28, God promised the Israelites specific blessings if they would obey Him, and specific curses if they did not. These blessings included the weather they needed for the land to produce overflowing abundance. "And the Lord shall make thee plenteous in goods, in the fruit of thy body, and in the fruit of thy cattle, and in the fruit of thy ground, in the land which the Lord sware unto thy fathers to give thee. The Lord shall open unto thee his good treasure, the heaven to give the rain unto thy land in his season" (Deuteronomy 28:11-12).
But we don't see this today. The increasing curses of weather disasters are the prophesied result of our disobedience (verse 15). In fact, Jesus Christ said that these natural disasters would be a sign of His Second Coming: "… and there shall be famines, and pestilences, and earthquakes, in divers places" (Matthew 24:7). The very next verse says that this is just "the beginning of sorrows."
The increasing natural disasters in the U.S. and around the world are prophesied to get worse until the people are brought to repentance. This is why God allows these disasters and sorrows to continue—to bring the world to repentance. Only then will the disasters end and the land be healed.
"If I shut up heaven that there be no rain, or if I command the locusts to devour the land, or if I send pestilence among my people; If my people, which are called by my name, shall humble themselves, and pray, and seek my face, and turn from their wicked ways; then will I hear from heaven, and will forgive their sin, and will heal their land" (2 Chronicles 7:13-14).
"That will mean the dawn of a new age," we wrote in our Trend article "Why the Trumpet Watches Increased 'Natural' and Weather Disasters." When the world is finally brought to this repentance, then God will bless the land and establish His loving government. That article continued:
With all mankind walking in God's statutes, keeping His commandments and doing them, the … world will be blessed with beautiful weather and stable climates. There will be no anxiety over crop failures and famine, no fear of being killed in a severe weather event. With obedience to God will come abundance in the land. …

Finally, with God's benevolent government in place, the hope of the resurrection will become reality, and everyone who has ever lived—including all those who have perished in the disasters and cataclysms that have afflicted our world—will be raised into a world where the right choice has been made, where, as the Prophet Isaiah said, the knowledge of God covers the Earth as the waters cover the sea.
For those nine people who have lost their lives in these recent storms, for the 1.3 million people who have died as the result of sin-related disasters in the last 20 years, and to the many millions more who have died over the centuries, it is not over. They will have another chance to live—this time in a world of overflowing abundance.
To learn more about why God sends natural disasters and where they are leading, please request a free copy of Why 'Natural' Disasters.