Midwest Floods: Worst Agricultural Disaster in Modern U.S. History
Catastrophic flooding swamped America's breadbasket. The effects could last years.
Three weeks ago, a highly unusual weather event hit the heart of America—an extremely rapid pressure drop that meteorologists call a "bomb cyclone." It swept through the central United States, from Minnesota to Texas. The hardest-hit states suffered fierce winds, heavy snow and rain.
After an especially cold winter, the earth was frozen and encased in snowpack. The ground was thus unable to absorb the moisture, so the rainfall swiftly turned into flooding. Unprecedented, catastrophic flooding.
Flood watches and warnings have been issued in parts of 15 states. Rising water levels breached levees all along the Missouri River. These have a cascading effect: Once one levee is breached, water surges to the next levee downstream, causing more breaches. The Spencer Dam in Boyd County, Nebraska, collapsed, sending an 11-foot wave strewn with large chunks of ice downstream, razing a house and smashing the county's main water line.
Thousands of people have been stranded for weeks on islands created by floodwaters. On March 20, Nebraska's governor, Pete Ricketts, said 200 miles of highways will be unusable until they are repaired, and 14 bridges have been damaged. Eighty-one of Nebraska's 93 counties have issued disaster declarations. At least three people have been killed.
Satellite data shows that over a million acres of American farmland were submerged for at least seven days last month. Reuters reports that "the 'bomb cyclone' storm left wide swaths of nine major grain-producing states under water" (emphasis added throughout). Thousands of farms have been ruined. The flooding has washed away huge tracts of corn, soy and other crops. Calves, chickens, hogs and other livestock are being wiped out, including more than a million calves in Nebraska, according to the state's agriculture secretary.
One Nebraskan farmer said the river near his home "just exploded on us." "Within 15 minutes it was devastation," Richard Panowicz told the Omaha World-Herald. "He described some ice chunks as three feet thick and the size of an extended-cab pickup," the paper reported. He lost 40 of his 60 recently born calves, and many of the carcasses he found had broken legs. He said that after being around cows for five decades, he'll probably get out of the business.
Losses
"Just from an agriculture standpoint, we think we've got at least $400 million in livestock losses, $440 million in crop losses," said Ricketts. "We think the public infrastructure damage is in the hundreds of millions of dollars a well." Iowa estimates $1.6 billion in losses.
Part of the losses came from stores of last year's harvest. "As of December 1, producers in states with flooding—including South Dakota, Nebraska, Kansas, Minnesota, Iowa, Missouri, Wisconsin and Illinois—had 6.75 billion bushels of corn, soybeans and wheat stored on their farms—38 percent of the total U.S. supplies available at that time, according to U.S. Department of Agriculture data," Reuters reported.
"Fremont County farmers estimate about 390,000 bushels of stored soybeans and about 1.2 million bushels of stored corn are under water," reported Des Moines Register. "And [local farmer Jeff] Jorgenson said more of last year's grain was being swallowed up Tuesday as the Missouri River crests. At local cash prices for corn and soybean, that's about $7.3 million farmers may be unable to replace. And that's just one county, Jorgenson noted."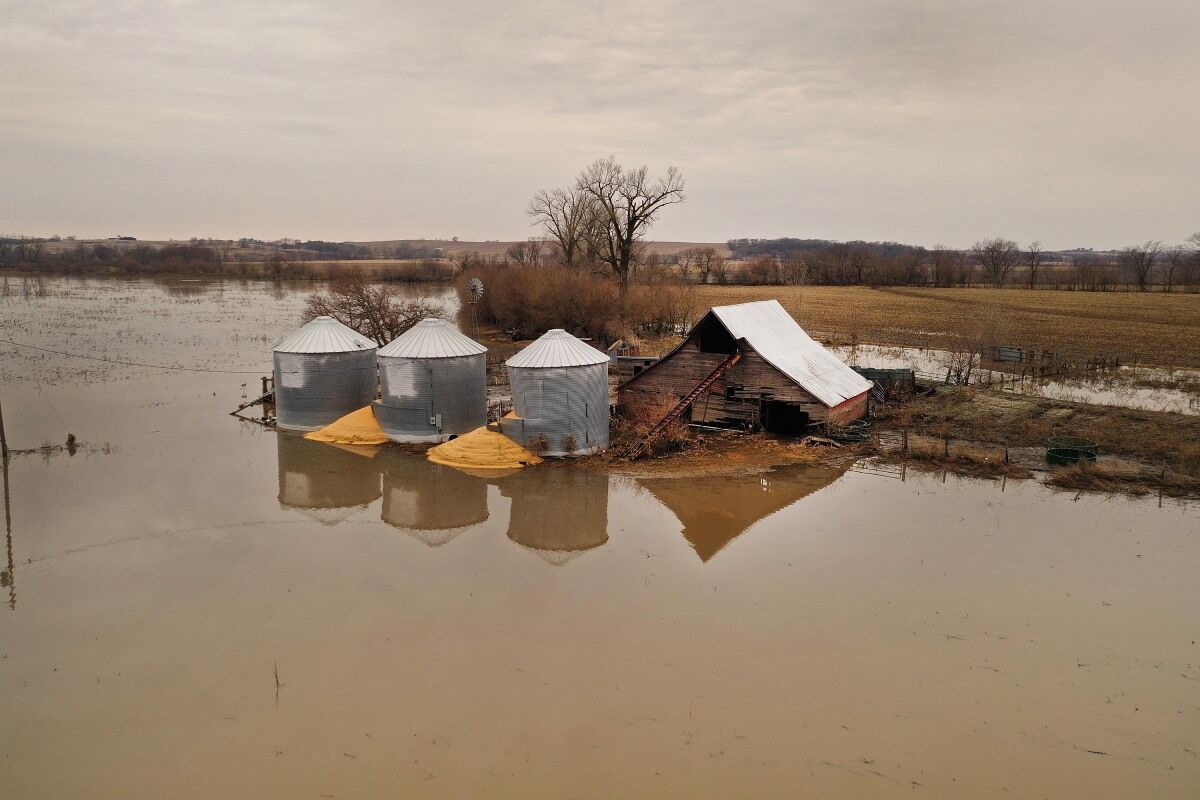 The U.S. Food and Drug Administration considers flood-soaked wheat, corn and soybeans "adulterated" and says they must be destroyed.
It is the worst agricultural disaster in modern American history, and the numbers are still rising. Real losses are impossible to calculate yet because the floodwaters haven't even receded.
It is the worst agricultural disaster in modern American history, and the numbers are still rising.
"There's just devastation everywhere," said Colleen Rambo, who has been working out of Fremont, Nebraska, with a disaster-response team called No Town Left Behind. "The water is covering entire towns to the rooftops, and the water is contaminated. So, not only are they covered in water, but now whole areas don't have any usable water for their towns."
Flooding threatens the safety of more than a million private water wells, cnn reported. "The National Ground Water Association estimates that people living in more than 300 counties across 10 states have their groundwater threatened from bacterial and industrial contamination carried by flood waters."
The scarcity of clean water is exacerbating the losses to livestock caused by the flooding itself: Farmers are simply unable to get feed and water to them.
"Some of these towns, the people are never going to be able to go back home," Rambo told the Trumpet. "Because of the way that the water came down and covered the town, it's going to take a long time for the water to drain back out, and as you know that causes mold issues and that kind of thing. So there are whole towns where people are not going to be able to return."
Far-Reaching Effects
The real effects of this disaster on America's food supply will only appear over time.
This is the time of year when farmers prepare to plant wheat, corn and soy. Submerged fields certainly cannot be planted. Waters may not recede in time to sow, causing farmers to lose an entire growing season.
And while farmers hope for a quick recovery, more flooding is predicted. Government figures say that "at least 91 percent of the upper Midwest and Great Plains in snow covered to an average depth of 10.7 inches," Bloomberg reported. Thus, as spring gets warmer, this snowpack will melt, swelling rivers even further.
"The extensive flooding we've seen in the past two weeks will continue through May and become more dire," Ed Clark, director of noaa's National Water Center, told Vox. "This is shaping up to be a potentially unprecedented flood season, with more than 200 million people at risk for flooding in their communities."
On top of the immediate threat, the violence of the flooding has already wrecked the soil.
"[T]he croplands have been covered with sand," Rambo told the Trumpet. "I felt like I was in the Florida beaches. … One of the farmers was telling me that this happened back in the '50s and they turned over the land five feet in order to bury the sand, and they can't do that again because they'll just bring that sand back up. So there are millions of acres that are not going to be planted this year. The amount of food that is going to be produced by the Midwest is going to be drastically reduced this year."
Great expanses of American farmland simply will not be usable this year—and perhaps beyond. National Weather Service meteorologist Dr. Barb Mayes-Bousted said, "Lands may be silted and unusable for more than just this year" (Forbes, March 18).
Great expanses of American farmland simply will not be usable this year—and perhaps beyond.
Mother Jones reported: "And severe winter and spring floods take another toll that's much more difficult to quantify: soil loss, on a grand scale, right in the region that provides a huge amount of our food supply. The Midwest boasts one of the globe's greatest stores of topsoil, more than half of which has been lost in the past 50 years."
This all means that the effects of this disaster will extend far beyond the families directly impacted. To this point, not many people outside the affected areas are expressing much concern. America's news media are preoccupied with more political concerns. But this disaster will affect all Americans. Shortages of beef, dairy, wheat, corn and soy products will cause food prices to rise significantly—possibly for years to come.
Why Is This Happening?
Some are saying this latest weather disaster is caused by climate change—which means the blame lies with politicians who aren't taking drastic enough measures to combat climate change—which means it's U.S. President Donald Trump's fault.
But consider a few verses in Deuteronomy 28: "And it shall come to pass, if thou shalt hearken diligently unto the voice of the Lord thy God, to observe and to do all his commandments which I command thee this day, that the Lord thy God will set thee on high above all nations of the earth: And all these blessings shall come on thee, and overtake thee, if thou shalt hearken unto the voice of the Lord thy God. Blessed shalt thou be in the city, and blessed shalt thou be in the field. Blessed shall be the fruit of thy body, and the fruit of thy ground, and the fruit of thy cattle, the increase of thy kine, and the flocks of thy sheep. Blessed shall be thy basket and thy store. … The Lord shall command the blessing upon thee in thy storehouses, and in all that thou settest thine hand unto; and he shall bless thee in the land which the Lord thy God giveth thee. … And the Lord shall make thee plenteous in goods, in the fruit of thy body, and in the fruit of thy cattle, and in the fruit of thy ground, in the land which the Lord sware unto thy fathers to give thee. The Lord shall open unto thee his good treasure, the heaven to give the rain unto thy land in his season, and to bless all the work of thine hand: … if that thou hearken unto the commandments of the Lord thy God, which I command thee this day, to observe and to do them" (verses 1-5, 8, 11-12).
If you are one of the few people who truly believes the Bible, this passage ought to be quite moving. Obedience to God brings blessings—blessings that America is not experiencing today!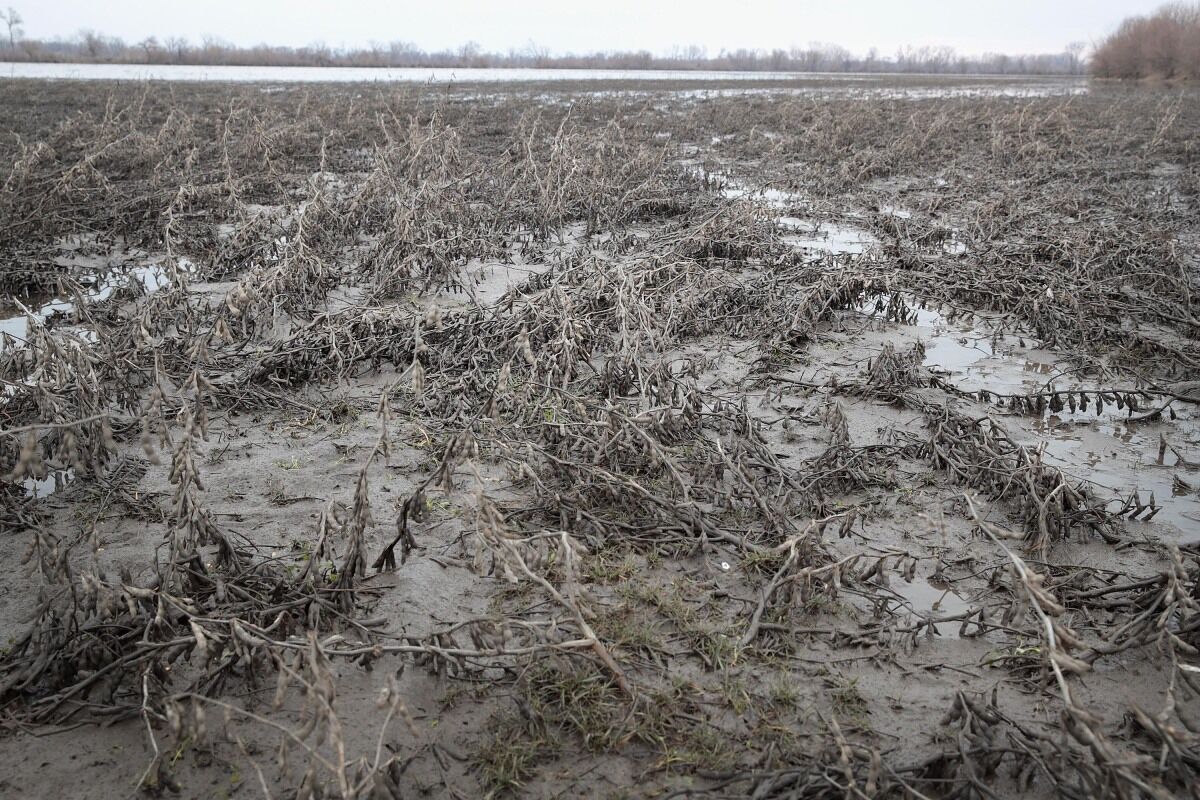 This same chapter goes on: "But it shall come to pass, if thou wilt not hearken unto the voice of the Lord thy God, to observe to do all his commandments and his statutes which I command thee this day; that all these curses shall come upon thee, and overtake thee: Cursed shalt thou be in the city, and cursed shalt thou be in the field. Cursed shall be thy basket and thy store. Cursed shall be the fruit of thy body, and the fruit of thy land, the increase of thy [cattle], and the flocks of thy sheep. … Thine ox shall be slain before thine eyes, and thou shalt not eat thereof: thine ass shall be violently taken away from before thy face, and shall not be restored to thee …" (verses 15-18, 31).
Again, if you believe the Bible, you must recognize the link between the conditions that are overtaking us and our disobedience to God—our sins! Not our "sins" of fossil fuel consumption, but sins like blasphemy, adultery and lust, idolatry, coveting and materialism.
God intends that these curses help us see the error of our ways.
Those who blame climate change push God from the picture. But the Bible is clear that God controls weather, climate and even crop production—and these are contingent on our relationship with Him.
Job 12:15, for example, reads: "Behold, he withholdeth the waters, and they dry up: also he sendeth them out, and they overturn the earth." God has power over the waters, to cause droughts or induce floods. These types of disasters are a warning—and an appeal from God to repent and change! That is something our society is unwilling to consider.
Those who blame climate change push God from the picture. But the Bible is clear that God controls weather, climate and even crop production—and these are contingent on our relationship with Him.
In this case, Governor Ricketts signed a proclamation declaring this coming Sunday as a Statewide Day of Prayer. "Nebraska has experienced the most widespread natural disaster in state history," he said. "This coming Sunday [April 7], we are asking Nebraska to lift our state up in prayer. As Nebraskans roll up our sleeves and work together on recovery efforts, we ask God for wisdom in seeing and best responding to the needs around us. By the grace of God, Nebraska's communities will emerge from this challenge stronger and better than ever."
That proclamation says that "throughout our history, Nebraskans have united in prayer to God to humbly ask for strength and steadfastness during times of difficulty." It says that "prayer provides peace and guidance in times of crisis and conflict, and reminds us of the comforting assurance of God's love for us all …." This is a good start. This proclamation says nothing about repentance—but at least it is making an appeal to God!
We will see if God responds. There have been many times in history that He has responded to these types of requests.
The forecast is for higher-than-normal rains to continue. If the skies yield sunshine and warmth instead, it would lessen the extent of the damage considerably. We will see.
But the fact is, as a whole, America has turned its back on God, and we are experiencing the curses that result from that.
"For they have sown the wind, and they shall reap the whirlwind: it hath no stalk: the bud shall yield no meal …" (Hosea 8:7). We must sow differently if we expect to reap differently.
The Bible is loaded with truth on this point. Passage after passage show the cause for curses and the cause for blessings. You can prove this to yourself by reading our free booklet Why 'Natural' Disasters?
God wants to bless us abundantly—and He will do so! But first, we must learn the lessons we need to, and turn to Him in repentance and obedience.