God's College Proclaims the Gospel to the World
God is an Educator. He is preparing people today to help Him establish schools all over the Earth!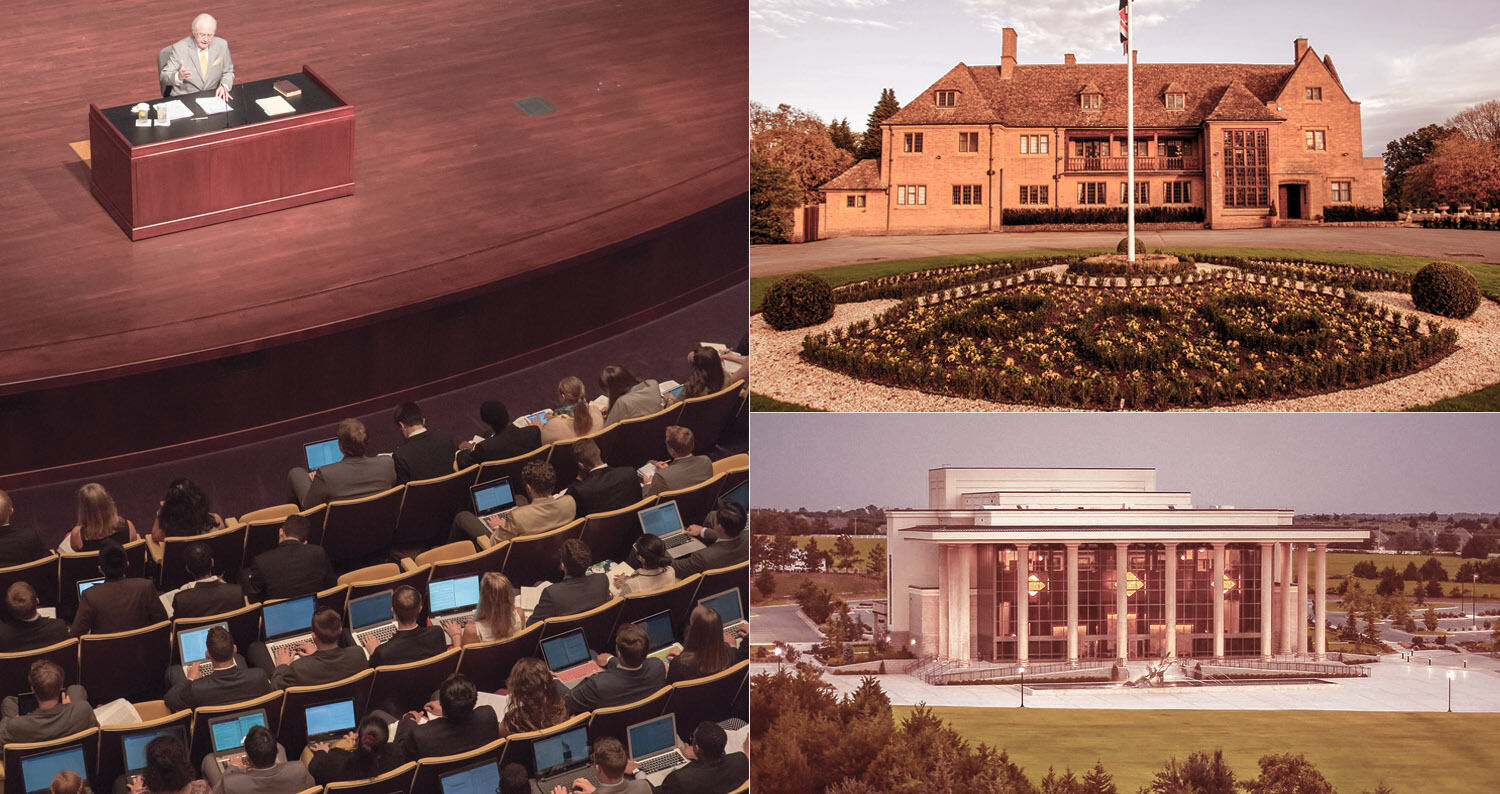 God's College Proclaims the Gospel to the World
God is an Educator. He is preparing people today to help Him establish schools all over the Earth!
God puts a high value on education. Did you know that His people on Earth have often founded schools and colleges?
In fact, three of God's prophets each raised up three colleges. These men—Samuel, Elijah and Elisha—are all discussed in the biblical books called the former prophets. That means at least nine colleges are mentioned in these books, and the former prophets are mainly prophecy for this end time. They were written by prophets, and most of it is intended for our day. (I discuss this extensively in my book The Former Prophets. We will gladly send you a free copy.)
That these colleges feature so heavily in these prophetically significant books is actually a prophecy that there would be colleges in this end time, during the last two eras of God's Church.
Why is God so focused on education? There is an important reason why.
What do you know about godly education, and specifically God's college?
What is God's college like? It teaches its students how to be teachers in God's wonderful World Tomorrow. It also teaches students how to hasten their spiritual education.
To learn more about God's colleges, let's look first at the Gospel of Matthew.
An End-time 'Elijah'
In Matthew 16:28, Jesus Christ told His disciples, "Verily I say unto you, There be some standing here, which shall not taste of death, till they see the Son of man coming in his kingdom." He was about to show them a vision of His Kingdom.
That vision is described in the very next verse: "And after six days Jesus taketh Peter, James, and John his brother, and bringeth them up into an high mountain apart, And was transfigured before them: and his face did shine as the sun, and his raiment was white as the light. And, behold, there appeared unto them Moses and Elias talking with him" (Matthew 17:1-3).
Then a voice came from heaven that struck fear in the disciples, and they fell on their faces (verses 5-6). "And Jesus came and touched them, and said, Arise, and be not afraid. And when they had lifted up their eyes, they saw no man, save Jesus only. And as they came down from the mountain, Jesus charged them, saying, Tell the vision to no man, until the Son of man be risen again from the dead" (verses 7-9).
Christ showed His disciples an unparalleled vision of His Second Coming. Then He told them a sign that would occur in this end time, just before that greatest event in the universe, when He will establish His Kingdom on Earth: "And his disciples asked him, saying, Why then say the scribes that Elias must first come? And Jesus answered and said unto them, Elias truly shall first come, and restore all things" (verses 10-11).
Just prior to Christ's return, Elijah would come and "restore all things."
Anciently, the Prophet Elijah founded three colleges, probably in Gilgal, Bethel and Jericho (e.g., 2 Kings 2:1-7). The work of restoration performed by the end-time Elijah includes his establishment of God's colleges. You cannot "restore all things" if you don't restore God's colleges!
Christ's statement points back to the prophecy of Malachi 4:5: "Behold, I will send you Elijah the prophet before the coming of the great and dreadful day of the Lord." This is an end-time event! Once this end-time Elijah has come, the stage is set for the Day of the Lord, the time that leads directly into Christ's return.
God is talking about a man, a human being, who would come on the scene and restore all things. If you really know your Bible, you will be able to recognize this.
Malachi's prophecy continues, "And he shall turn the heart of the fathers to the children, and the heart of the children to their fathers, lest I come and smite the earth with a curse" (verse 6). This Elijah would proclaim a family message, turning fathers' hearts to their children, and children's hearts to their fathers, so there would be family unity. And that unity within physical families would be restored in God's Church as well, as they learn about God Family unity. God wants unity in His Church.
Did you know that this end-time Elijah has already come, restored all things, and died?
God is talking about a man, a human being, who would come on the scene and restore all things. If you really know your Bible, you will be able to recognize this. The sign of His return that Jesus Christ gave His disciples has already occurred!
The role of this end-time type of Elijah was fulfilled by Herbert W. Armstrong, and you can prove it. This is a truth that needs to be proved! (To do so, request our booklet A Pivotal Sign of the End Time. For a more in-depth explanation, request my book Malachi's Message, which explains it all. We will send you these materials free of charge.)
Mr. Armstrong fulfilled this prophecy mainly through the colleges he raised up. He founded three colleges, just as the ancient Elijah did. This end-time type of Elijah accomplished the same basic work the original Elijah had to do!
Mr. Armstrong said, "It was the development of the college in Pasadena that made possible the growth of the whole gospel work!" (Autobiography of Herbert W. Armstrong). He had a great work: His television program aired on over 400 stations worldwide, his Plain Truth newsmagazine had a circulation of 8 million copies (a greater subscription list than Time and Newsweek combined at that time), and the accumulated income for the work was $200 million annually. The work through which God said He would restore all things was powerful and great!
It is a worldwide sign of Christ's imminent return.
And it was made possible by the college.
Elijah's Colleges
The name Elijah means "My God is God." He represented the real God—the true, living God—not a phony deity.
Anciently in Israel, evil King Ahab followed the sins of Jeroboam and committed terrible atrocities against God and against the people. A prophecy in Amos 7 explains how people are making the same mistake today. (This is explained in my free booklet Great Again.)
God commanded Elijah to confront the king, and Elijah obeyed. He was a courageous man; he walked right into the king's palace. The nation was being cursed, and Ahab tried to pin the blame on Elijah (1 Kings 18:17). But Elijah told Ahab about his sins and warned what God would do to punish Israel if the Israelites didn't repent.
God's work today must deliver a warning about that just as the ancient Elijah did. Oftentimes, you must have great courage to do the job God has commissioned you to do. It takes courage to do God's work. It takes courage to get this message out to the world. But if you do that, and assist God in finishing His work, God will reward you in wonderful ways!
In order to do that work, Elijah needed help. That is why he raised up schools. He was educating students to teach the whole world. That is what the Elijah work—including this end-time Elijah work—is all about: preparing teachers now to teach and lead the whole world in the future!
Like the ancient Elijah, Mr. Armstrong had to have help to do the work of God. For years, the church remained relatively small. Then he started the colleges. This provided much-needed ministerial and administrative help, and the work grew at a phenomenal pace! For 35 years, it averaged 30 percent annual growth. That is unparalleled in the business world.
Following Elijah
The students at Elijah's colleges were called "the sons of the prophets" (1 Kings 20:35; 2 Kings 2:3). It was a family-oriented work.
When Elijah was making his last visit to each of those colleges, Elisha pleaded to join him (2 Kings 2:4-6). He told Elijah that he would never leave him.
Elijah had said that he was about to be taken away, and that Elisha would take over the work. He asked what Elisha would like done for him. Elisha responded, "[L]et a double portion of thy spirit be upon me. And [Elijah] said, Thou hast asked a hard thing: nevertheless, if thou see me when I am taken from thee, it shall be so unto thee; but if not, it shall not be so" (verses 9-10).
Then Elijah was taken up in a chariot of fire, and he went up in a whirlwind. (The King James Version says "into heaven," but that is just referring to Earth's atmosphere. Other scriptures show that he was simply transported to another place on Earth.)
When Elijah was taken up, Elisha saw him and cried, "My father! My father!" (verse 12). Elisha looked upon Elijah as his spiritual father. He had a marvelous attitude. This is how it should be in the "Elijah work." We should cling to it and say, "My father, my father! I will not leave these teachings!"
Elisha ended up following Elijah's example. He also had three colleges. He saw that, ultimately, all Israel would be governed by the foundational teachings of Elijah.
This is all recorded in the former prophets, which is prophecy for this end time. By clinging to Elijah, Elisha showed us that even in this end time we have to cling to the teachings and example of God's end-time Elijah. This is critical for our spiritual well-being.
We have done this. Mr. Armstrong had three college campuses. Now, we have two—one in Edmond, Oklahoma, another in Edstone, England—and we often send students to Jerusalem, where they participate in archaeological digs and take classes online from our headquarters campus. We also fully sponsored one of those digs. In a sense, you could say we have 2½ colleges. Maybe that third one will be fully realized shortly.
Elijah and Elisha teach us that only the Elijah work will carry the nations of Israel forward! There is only one spiritual chariot of God, and if you want to move forward, you must get on that chariot (verse 12, last part). It alone has all the wonderful truth that God gives to His people to inspire them and stir them. We must cling to the teaching of Elijah!
This is prophecy from your Bible, and it must be fulfilled!
Elijah wasn't the first man to establish three colleges; Samuel did the same. When he came along, Israel's priesthood was so polluted that he had to push it all aside and raise up a whole new priesthood. He used the colleges to do that! That is also in the former prophets, which means it too is end-time prophecy.
Whom Will God Teach?
Isaiah 28:9 says, "Whom shall he teach knowledge?" To whom will God teach knowledge? Everybody needs to answer this—it is the biggest question about education in the Bible! Whom shall God teach? What must we do to receive God's knowledge?
The verse continues: "… and whom shall he make to understand doctrine? them that are weaned from the milk, and drawn from the breasts." That is an interesting statement. To answer this crucial question, the Prophet Isaiah uses the example of a nursing child.
Most people were taught the religion they keep today from an early age. Like nursing children, we pick up ideas from the very beginning of our lives. Much of the time, most of those ideas are wrong, because Satan is the god of this world (2 Corinthians 4:4). God says, If it's the wrong religion—and it is, most of the time—then you must be prepared to get it out of your system and unlearn all that! If you have a tree of wrong ideas, it must be ripped up by the roots if God is going to be able to teach you. Only then can you fill your mind with God's knowledge.
God wants to teach us His world-changing knowledge. However, that's not easy for God to do. He has only a little flock today (Luke 12:32). Most people simply will not get rid of their false ideas and their false religion.
Matthew 11:25 says, "At that time Jesus answered and said, I thank thee, O Father, Lord of heaven and earth, because thou hast hid these things from the wise and prudent, and hast revealed them unto babes." Think about this: God only reveals His truth "unto babes"—those with a teachable attitude. So we must go from unthinkingly accepting wrong ideas, having a wrong "babe" understanding—what you understood from infancy all the way to adulthood—and become a "babe" toward God and let Him teach you!
God will not teach the wise and the prudent of this world, because they will not become as babes and let Him teach them. They're too arrogant, too self-willed or just too selfish. But if we have the right attitude, God will fill our minds with His wonderful truth and understanding—the very doctrines that God's end-time Elijah restored and taught.
Jesus Christ said, "It is written, Man shall not live by bread alone, but by every word that proceedeth out of the mouth of God" (Matthew 4:4). He was quoting Deuteronomy 8:3, pointing us back to Moses's writings and tying the Old Testament into the New Testament. You must live by every word God utters! He said. That means both the Old and New Testaments!
Not every single word is accurate, because men have translated it—but if you really know the whole Bible and are learning what Elijah taught, you will quickly discern that error, throw it out, and let God teach you. The blessings this will bring into your life are almost beyond description! I wish more people would strive to understand this.
Eternal Education!
Notice this truth in the first verse of the book of Revelation: "The Revelation of Jesus Christ, which God gave unto him …" (Revelation 1:1). This is where this revealed prophecy originated: God the Father gave this truth to His Son—Jesus Christ.
Notice what He says: "Blessed is he that readeth, and they that hear the words of this prophecy, and keep those things which are written therein: for the time is at hand. John to the seven churches which are in Asia; Grace be unto you, and peace, from him which is, and which was, and which is to come; and from the seven Spirits which are before his throne" (verses 3-4).
These "seven churches" are prophetic. They were seven physical congregations in Asia in the first century, and they represent seven successive eras of God's true Church throughout its 2,000-year history since that time. This book is addressed to those seven Church eras from the time of Christ's first coming until His Second Coming!
Notice verses 5-6: "And from Jesus Christ, who is the faithful witness, and the first begotten of the dead, and the prince of the kings …. And hath made us kings and priests unto God and his Father; to him be glory and dominion for ever and ever. Amen." This is all prophecy before the Second Coming of Christ! And here He is saying that He will make those people who declare His message and publicize the Elijah message to this world kings and priests, rulers over church and state of the whole world! That will continue throughout all eternity, because they will sit on David's throne, sharing it with Jesus Christ Himself! They will rule with Him from that throne in Jerusalem for all eternity, and will bring peace, happiness and joy to the world.
Events are truly sobering and frightening! But if we understand God's plan, we do not fear these problems at all.
This passage says God will give them real authority; they will rule with a rod of iron. Mankind will no longer be able to wander around in self-willed ignorance and miseducation as they have for 6,000 years. They will receive a godly education and come to understand God's religion.
Survey the terrifying troubles plaguing this world: man's hatred against fellow man, poverty and deprivation, nations making aggressive, militaristic moves, weapons of mass destruction, nuclear proliferation. Events are truly sobering and frightening! But if we understand God's plan, we do not fear these problems at all. We understand the causes and have faith in God's solutions.
The history of Samuel, Elijah and Elisha is truly inspiring. Look at the wonderful truth they were able to institutionalize in the colleges they raised up. This is prophecy that shows us how God is about to revolutionize this whole world! We can see the kind of colleges that we should have on Earth today and will have, shortly, in the World Tomorrow! The colleges that Samuel, Elijah and Elisha raised up are a blueprint for the colleges that are about to fill this Earth with God's truth. What spectacular, inspiringly wonderful news!
Education is something most people take for granted. We assume it is something one acquires after graduating from college. Yet the 20th-century knowledge explosion has done little to solve the problems of this world.What's wrong with education today? More importantly, what is true education?