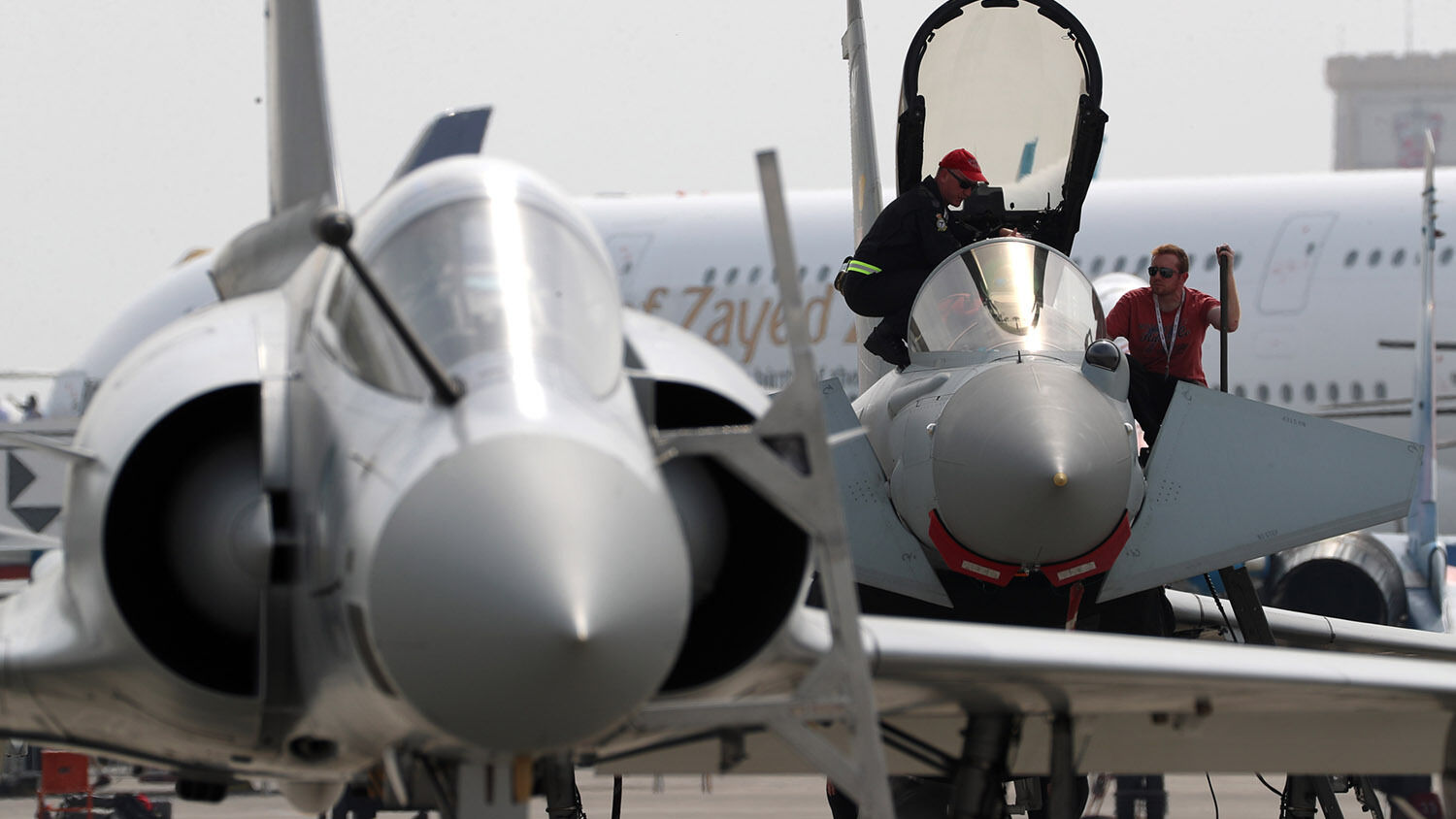 Report: One Third of Britain's Air Force Can't Fly
In an increasingly dangerous world, Britain's military is losing credibility. Your Bible explains why.
At any given time, 1 out of 3 British warplanes can't fly, according to recent information provided by the Royal Air Force. Out of 434 total aircraft, including training aircraft and helicopters, 142 are currently unavailable due to maintenance needs or being in long-term storage. Many fear the nation's shrinking military power is taking it down a dangerous path.
Britain's main fighter is the Eurofighter Typhoon. Approximately 55 of 156 Typhoons were unable to be deployed at the time the raf released its report. Five of the raf's 20 Airbus A400M transport aircraft are in storage, possibly to save costs, possibly undergoing major maintenance. Such a low readiness level is unusual for a plane that only entered raf service in 2014. More than 80 other aircraft are also in storage in the "sustainment fleet," undergoing long-term maintenance and upgrades or parked because the Air Force does not have enough money or manpower to fly and maintain them all at once.
The National Audit Office says Britain's current recruiting shortfall is the "largest gap in a decade." The military as a whole has experienced a 24 percent shortfall in the number of recruits between 2016 and 2017. In the Army, those choosing to leave the service increased from 3.8 percent per year in 2010 to 5.6 percent per year by the end of 2017. The recruiting shortfall has left the Air Force with 800 fewer pilots than it needs. At the same time, Britain is cutting its defense budget. The Ministry of Defense has tried to cut costs by introducing 10-year spending plans, delaying modernization, and other temporary measures. However, this will increase future costs and reduce capabilities, causing the British military to lose credibility. Already raf Eurofighter capabilities have been cut to the point that when Russian bombers fly near British airspace, fighter intercepts sometimes must take off from bases further away, taking longer to reach the Russians, who note the sluggish reaction times.
The Royal Air Force centenary was in 2018, but its budget problems and reduced capabilities were little cause for celebration. The Royal Navy observed its centenary in 2017, when its fleet of six new £1 billion Type-45 destroyers spent 80 percent of the year tied up in port with engine problems that aren't scheduled to be fixed until 2020.
Shadow Defense Minister Nia Griffith stated:
Conservative cuts have had a crippling effect on this country's defenses and our ability to respond to the range of threats that the UK faces. In 2017, it was the year of the Navy, but so many of our frigates and destroyers are tied up for months on end. In 2018, when we were all so proud to mark the centenary of the raf, it is very surprising that so much equipment is unavailable.
To readers of the Trumpet, however, this should not come as a surprise. This is yet another sign of the long, downward spiral of Britain's national power. In his June 2015 Key of David program, "Times of the Gentiles," Trumpet editor in chief Gerald Flurry said this about Britain's shrinking military power:
[T]his violent world, is becoming one big military arsenal of nuclear weapons and other weapons of mass destruction and all kinds of conventional warfare armaments. But as we look at these powers of the world, they keep expanding their military as the United States and Britain shrink theirs. Does that really make sense to you? What is happening in this world? And what is happening to America and Britain at this time in our history?
Herbert W. Armstrong, author of The United States and Britain in Prophecy and editor in chief of the Plain Truth newsmagazine, taught that the British peoples descended from the ancient Israelites. The Bible gives detailed prophecies of Israel's descendants receiving blessings of national power, then rebelling against God, and experiencing the catastrophic loss of that power.
Your Bible says that Britain—and the entire world—will be punished for rebellion against God. But that is not the end for Britain. The British and the whole world have a far more glorious future ahead.
To learn more about Britain's origins and what is prophesied to occur in the years ahead, request your free copy of The United States and Britain in Prophecy, by Herbert W. Armstrong.