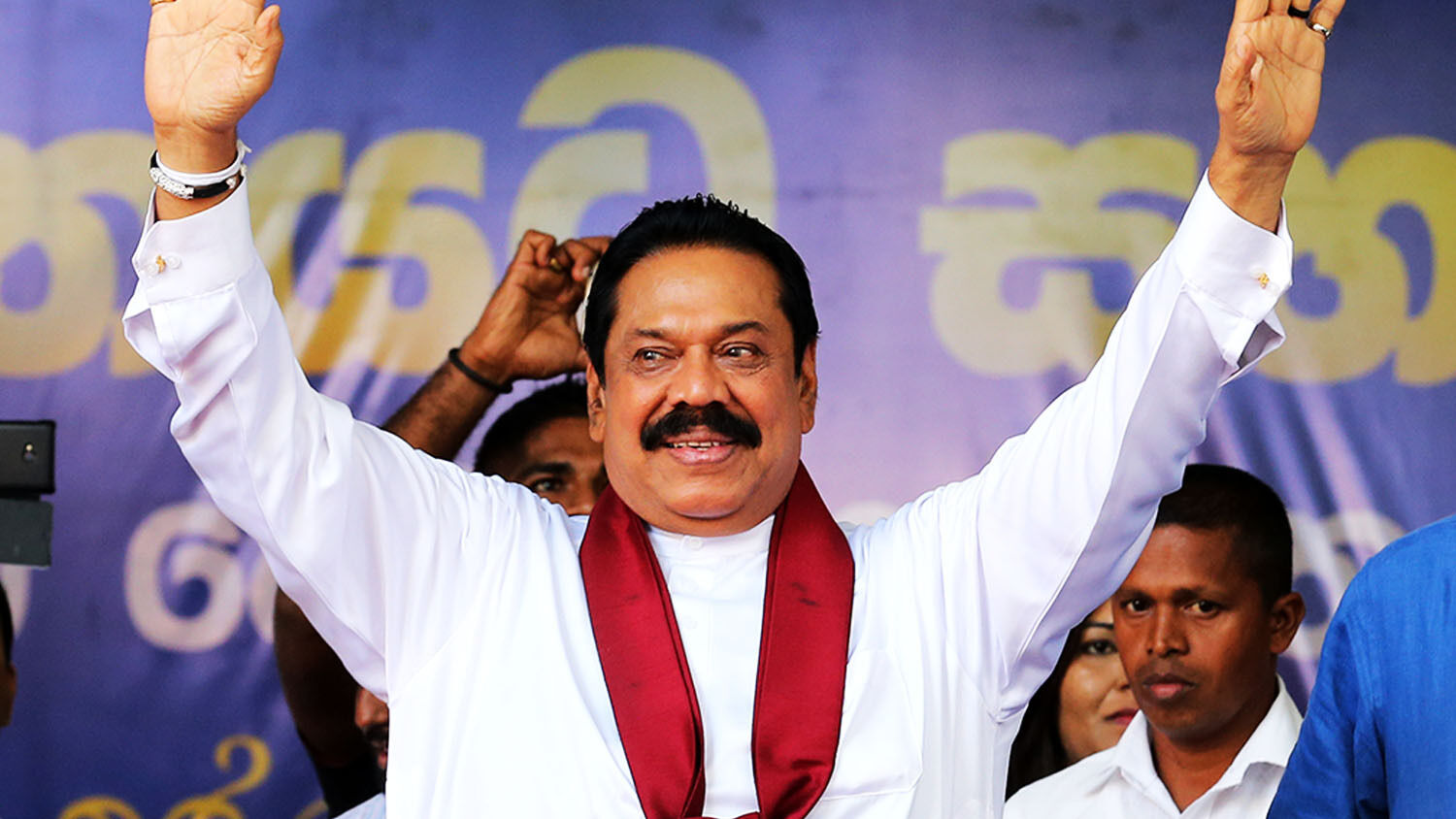 Sri Lanka's Political Crisis—an Opportunity for China
Former strongman and new Prime Minister Mahinda Rajapaksa is a Chinese ally.
A political shakeup is underway in Sri Lanka. It is expected to result in China increasing its influence in the South Asian island nation. On October 26, Sri Lankan President Maithripala Sirisena abruptly fired Prime Minister Ranil Wickremesinghe and replaced him with Mahinda Rajapaksa, who was the nation's president from 2005 to 2015.
Sirisena claimed the move was motivated by economic turmoil and a plot to assassinate him. On October 27, he suspended parliament, apparently to deny lawmakers a platform from which to decry the changes and urge adherence to the Constitution.
The next day, one person was killed and two were wounded after one of Wickremesinghe's cabinet members tried to reenter his office, prompting at least one security guard to open fire. Wickremesinghe maintains that his ousting is illegal and that he remains the rightful prime minister.
The dust is far from settled on the tumult, and Ranjan Ramanayake, a legislator from Wickremesinghe's party, said Chinese leaders have secretly offered some Sri Lankan officials up to $4.6 million each if they will switch sides and support Rajapaksa. "This is an international conspiracy," Ramanayake told Reuters on October 28. He said China is "spending money to buy over members."
It is not difficult to see why the Chinese would be eager to sideline Wickremesinghe and help bring Rajapaksa into power once again.
During Rajapaksa's decade as a strongman-style president, he embarked upon a spree of infrastructure spending, accepting billions of dollars worth of Chinese loans in an effort to stimulate economic growth. Among the multimillion-dollar projects that China bankrolled and built under his tenure were the Mattala Rajapaksa International Airport and the Magampura Mahinda Rajapaksa Port in Hambantota.
But these projects were poorly conceived, and rather than fueling economic growth, they plunged Sri Lanka into unsustainable debt. In 2010, Sri Lanka's foreign debt stood at nearly 36 percent of gross domestic product, but after five years of Rajapaksa making these ill-advised deals with China, that number had soared to 94 percent. One third of total government revenue was put toward servicing Chinese loans, and Sri Lanka had to apply for debt relief with the International Monetary Fund.
In 2015, the Sri Lankan people rejected Mahinda Rajapaksa's authoritarian regime and its policy of doing big deals with China. But in some geopolitically significant ways, the damage was already done. Late last year, the intensifying debt pressures prompted Sri Lanka to give China a controlling stake in the Rajapaksa Port.
The transfer set off alarms in Sri Lanka and beyond because it represented a major victory for China, with potential military applications. "The acquisition provided Beijing with a deepwater port in the region in which it can dock its navy, off the coast of its key regional competitor, India," Foreign Policy wrote on October 29.
Sri Lanka is often cited as the textbook example of China's "debt-trap diplomacy." In numerous situations, the Chinese appear to be offering valuable economic lifelines to a given nation, but the final result mangles the nation's economy and sometimes equates to a neocolonial type of conquest for China.
Some countries such as Malaysia and Nepal are awakening to the perils of accepting easy cash from China, and canceling Chinese-funded infrastructure projects. But in Sri Lanka, with Mahinda Rajapaksa suddenly back in power, China has a chance to increase its leverage over the nation and its assets.
The Trumpet carefully monitors and reports on China's rising influence among Asian nations because this trend was forecast in Bible prophecy. Bible verses such as Revelation 16:12 and 9:16 reveal that in the end time, our time now, a group of Oriental countries referred to as "the kings of the east" will field a collective military force of "two hundred thousand thousand" (200 million). Ezekiel 38 shows that the lead nations in this Asian force will be Russia and China and also reveals that several other smaller Asian countries will end up assimilating into it, which could include Sri Lanka.
Trumpet editor in chief Gerald Flurry discusses this massive Asiatic force in his booklet The Prophesied 'Prince of Russia.' He writes:
Current events show this Asian army is taking shape already. You can see it in [Russian President Vladimir] Putin's growing authoritarianism, and also in his outreach to other Asian powers. Russia has supplied China with many military armaments over the last decade or so; it also helped the Chinese go nuclear. For many years the Russians have been allied with China, at least to some degree.
Mr. Flurry explains that the formation of this Asian army means a third world war will soon break out, more violent than any conflict mankind has ever suffered. But he makes clear that there is also profound and inspiring hope tied to this trend. He continues:
This immense war between European and Asian forces will end in the return of Jesus Christ! … [T]he world is going to see the greatest event ever in the universe: the Second Coming of the Messiah, Jesus Christ! As Christ Himself said, if He didn't return, there would literally be no flesh saved alive (Matthew 24:22; Moffatt). But before humanity annihilates itself, He will return and stop all this madness!
To understand more about the rise of Russia and China, their assimilation of other nations, and the hope that is connected to these trends, order your free copy of The Prophesied 'Prince of Russia.'